Wandrd Tech Bag Sizes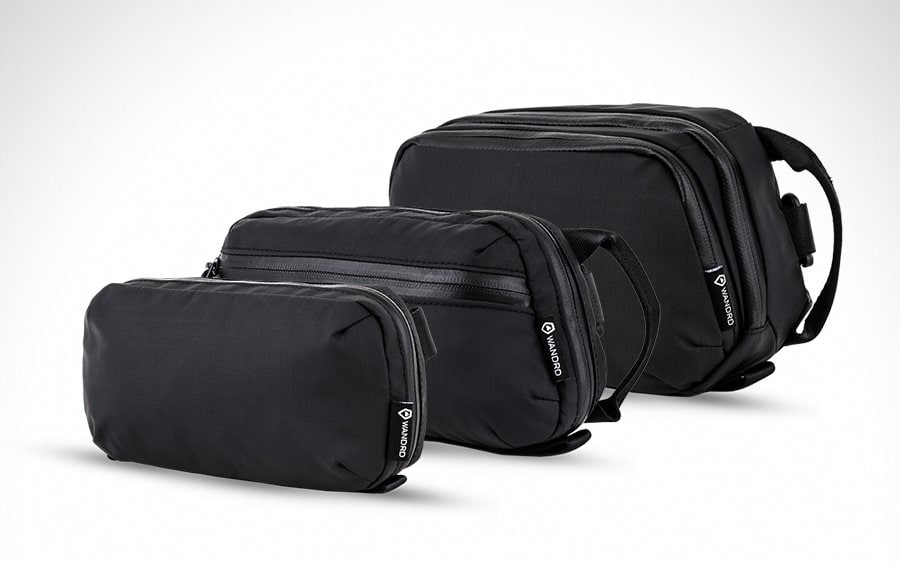 For this review, I tested and photographed the medium Wandrd Tech Bag. A Small and Large are also available. All three of the bags are made out of the same N420D ripstop nylon. All of them are available in black only, with a black interior.
The smallest of the three bags has a slightly different design to its larger siblings. While the medium and large sizes both have a main compartment and a zippered front pocket, the small 1L Tech Bag has a single zipper that wraps far enough around the bag's edge for the pouch to lay flat on a table.
If I were to try and sum up the potential uses of the three sizes, I think it would go something like this:
Small 1L – Lay-flat design makes it excellent for carrying a small notebook and several pens, along with some earbuds and a charging cable.
Medium 2L – Perfect for your EDC tech kit. Up to a 20,000 mAh USB battery bank, phone charger, Airpods.
Large 3L – Computer or photography travel kit. SSDs, laptop charger, camera battery chargers and memory card readers.
Specifications
Materials: N420 HD Ripstop with 5PM Coating
Small: 4.5" H x 7.75" W x 2" D (11.4cm x 19.7cm x 5cm) 1 Liter
Medium: 4.5" H x 9" W x 3" D (11.4cm x 22.9cm x 7.6cm) 2 Liter
Large: 5.5" H x 9" W x 4" D (13.9cm x 22.9cm x 10.2cm) 3 Liter
Carry Strap: 1" W x 45" L (2.5cm x 114cm)
Price: $29/$44/$59
Design and Build Quality
The textured 420D nylon feels tough yet supple. It is similar to the texturing found on the Wandrd Fernweh backpack and the Route Pack. I think it looks fantastic, and I much prefer it to the smoothly coated nylon that gets used on the Wandrd Prvke backpacks.
The zipper hardware is all YKK AquaGuard. This means it's weather-resistant, but not fully waterproof. Do you really need such fancy zipper hardware on a tech pouch? That's debatable. But it looks awesome and Wandrd still managed to hit competitive price points with the bags.
The bottom of the Tech Bag has a wide nylon handle on it that comfortably fits your hand. Supposedly this so that you can get a solid handle on the bag while you access its contents. In reality, it seems like an aesthetic addition, or perhaps just one more bullet-point on the feature list. I never used it, and I doubt you would either. Still, it doesn't get in the way or do any harm, so no foul.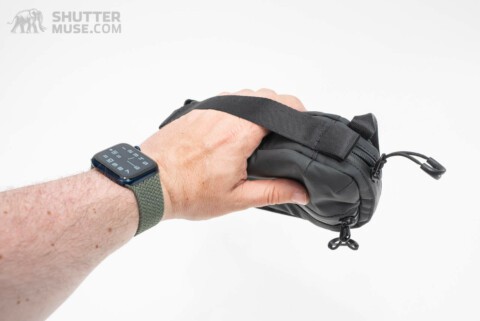 Ordinarily, I might have said that the bottom grab handle could be used simply as a good place to clip things, like memory card wallet leashes, or perhaps your car keys on a small carabiner. However, the medium (and large) Tech Bag's both have another pair of grab handles on the sides, too. Again, they seem to be mainly for aesthetics. Nobody really needs three hand-sized handles on a small pouch.
These handles don't get in the way, and I do think they add to the overall look and feel of an ultra-rugged tech pouch. I'm just not willing to sit here and tell you how incredible it is to have three handles on this tiny bag, like so many YouTubers I have seen reviewing these.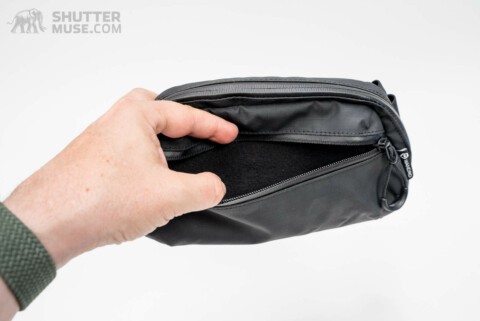 In terms of internal organization, the accordion-style pocketing on the medium bag gives you plenty of options for such a small space, but I do think it's a shame that the interior is so dark. I have several black pens, a black phone charger with black cables, a black USB battery bank and a black set of wireless earbuds.
In fact, most of my EDC gear is black. On more than one occasion I found myself rummaging through it trying to find things, only to conclude they weren't there. Of course, they were. They were just in the black mesh pocket in the black main pocket inside the black bag. This is something I have moaned about before with Wandrd products, and I'm pleased to see them rolling out a brighter tan colour in bags like the Fernweh. I would have loved to see a tan Tech Bag or even just a tan interior to the black ones.
You'll also find a softly-lined front pocket that can be used for glasses or a small phone. My iPhone Max in the basic Apple case did not fit in this pocket, so keep that in mind if you are looking or a bag that can hold and protect your phone alongside your EDC kit.
Exterior Bag Carry
The Wandrd website states that the Tech Bags can be clipped to the exterior of the Duo and Prvke backpacks. However, in my testing, I could see clearly that this is not true of the Prvke 41L. This pack is considerably wider than the Tech Bag, so the clips cannot be used to attach it to the pack's exterior, despite the nylon receiving loops being present on the pack. My guess is that they all work fine on the 21L and 31L Prvkes, along with the Duo and the Prvke Lite. The 41L Prvke is a newer size that didn't exist when the Wandrd Tech Bags came to market.
Optional Tech Bag Carry Strap
The optional Carry Strap is a $19 add-on that can be used with any of the three Tech Bag sizes. The most comfortable way to wear this is would be on your front as a cross-body bag. Once you have used the fiddly end-point clips to attach the strap to the bag, it can be "opened" with a magnetic buckle.
I think the small Tech Bag is too small for this purpose, and I think the large Tech Bag is borderline too big. The medium-sized Tech Bag is the perfect partner to the Carry Strap, and for $19 I think most people will, at some point, find enough use to justify adding it to your cart. It would make a great air travel companion in this state.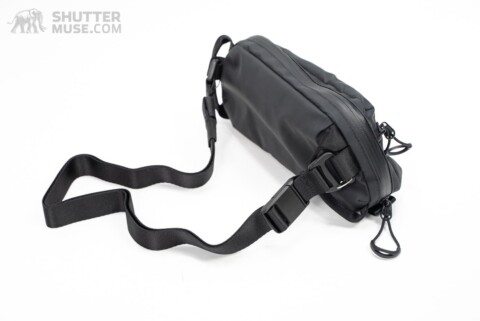 Wandrd Tech Bag Alternatives
Peak Design Tech Pouch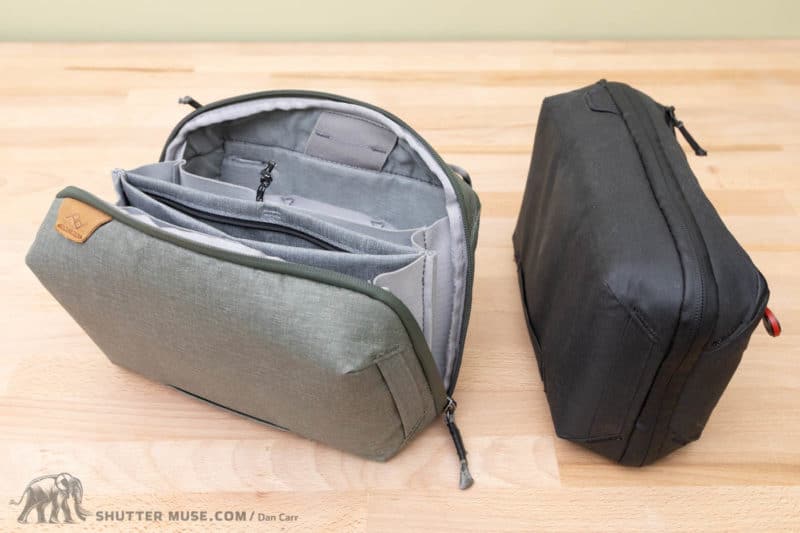 Peak Design was first to market with the accordion-style tech organizer, so it makes the only logical alternative to consider. The PD Tech Pouch is roughly the same size as the large Wandrd Tech Bag. Lo and behold, they are the same price: $59.
I have to say that I prefer the visibility of my gear in the Peak Design pouch, with its grey interior. From an organizational point of view, though, it's a stalemate. One big advantage that Wandrd has, is the 3-size lineup. I often find the Peak Design tech Pouch is too bulky to fit in my camera bag. The reviewed medium-sized Wandrd Tech Bag is a much better size for everyday carry, and I can always find a space for it in the top of my backpack.
Check out my Peak Design Tech Pouch review for more details on this option.
Peak Design Field Pouch V2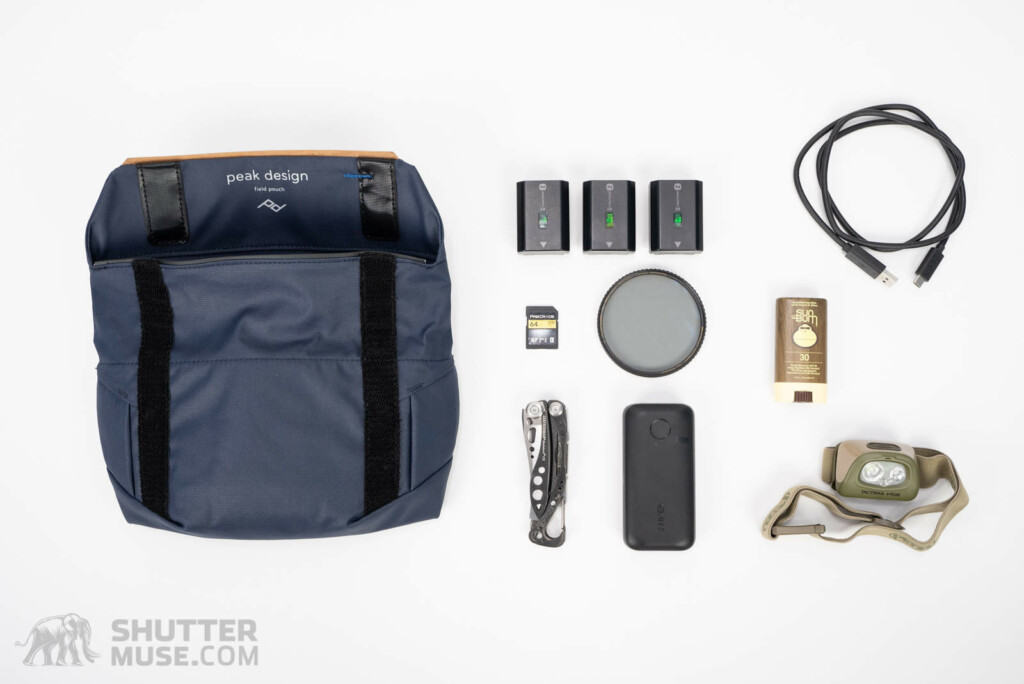 If you like Peak Design gear, but don't need the size of their Tech Pouch, the Peak Design Field Pouch V2 is more comparable in size to the smaller two sizes in the WANDRD Tech Pouch lineup. You can see more details about this bag in my review.
Conclusion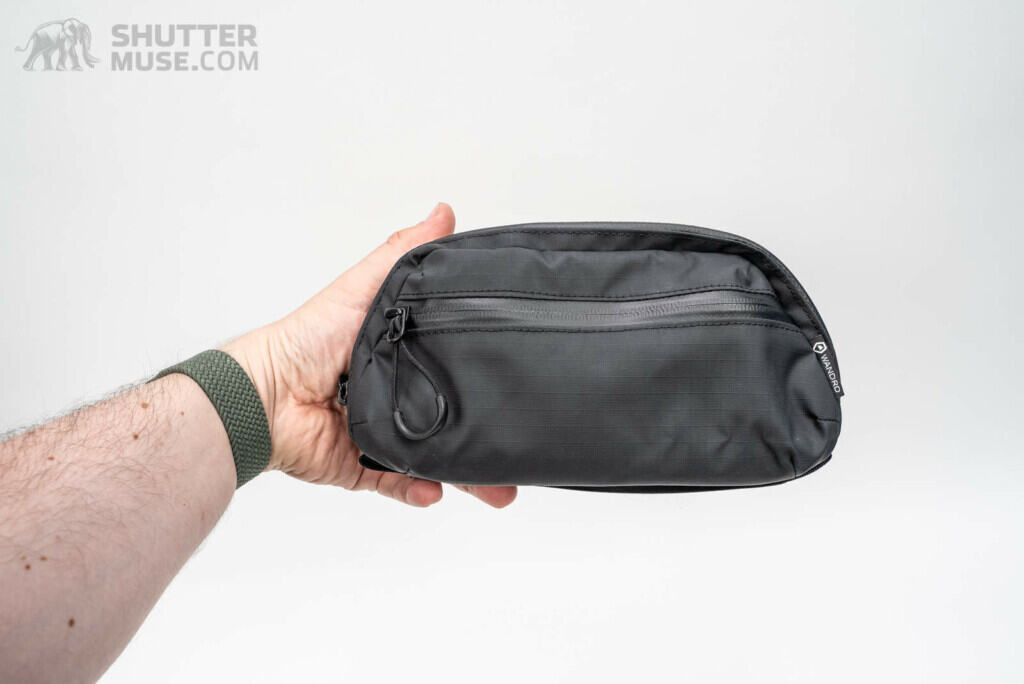 The Wandrd Tech Bag is built to a very high standard and it satisfied my EDC tech carry needs during the testing. If you're looking for a durable bag to carry chargers, battery banks and the seemingly ever-present bundle of cables that power our lives, these are worth a close look. I think the medium version hits a sweet spot, but all three sizes are worth some consideration.
The only negative comment I have is one that I repeat every time I review a black Wandrd product. The all-black interior can make it very hard to find darker objects in the bag. All it would take to solve this is a change to a slightly lighter grey on the interior of the bag, but I'm not holding out much hope. They really seem to love black!
Where to Buy
Wandrd ships internationally, and I always recommend buying direct when you can. The price for the Wandrd Tech Bag is $29, $44 or $59 depending on the size. The optional Carry Strap is $19 and for $119 Wandrd will do a bundle of all three sizes. Note that the special bundle is only available directly from Wandrd.
Tech Bag
Optional Carry Strap