Toxic Bags (previously Morally Toxic) is the new sister camera bag brand to UK tripod manufacturer 3-Legged Thing. Their initial offering to the market includes the Wraith messenger-style camera bag we are looking at here. and the Valkyrie camera backpack I have reviewed here.
Wraith Variations and Specifications
The Wraith messenger bag is available in two different sizes: a 15L Medium and a 20L Large. Each size is available in three different colours: Onyx, Emerald, and Sapphire (black, green and blue to you and me). A 13/14″ laptop will fit in the 15L Medium Wraith, and a 15/16″ laptop will fit in the 20L Large Wraith. In this review, you'll be seeing photos of the Large Emerald Wraith which was sent to me for testing.
Wraith Messenger Bag Material
For all their camera bags, Toxic Bags are using a custom jacquard fabric that blends a reptilian skin with a historical map of the brand's home base in Stagsden, UK. Instead of having a screen-printed design, jacquard fabrics have the design woven directly into the fabric. The tessellating nature of the pattern also means that every bag is slightly different.
On paper, I have to admit that I thought this sounded quite weird. In person, I changed my mind when I saw how the light played off the different thread types within the material. The bag looks slightly different from every angle, and under every different light source. The material also feels luxurious and tough.
Wraith Features and Design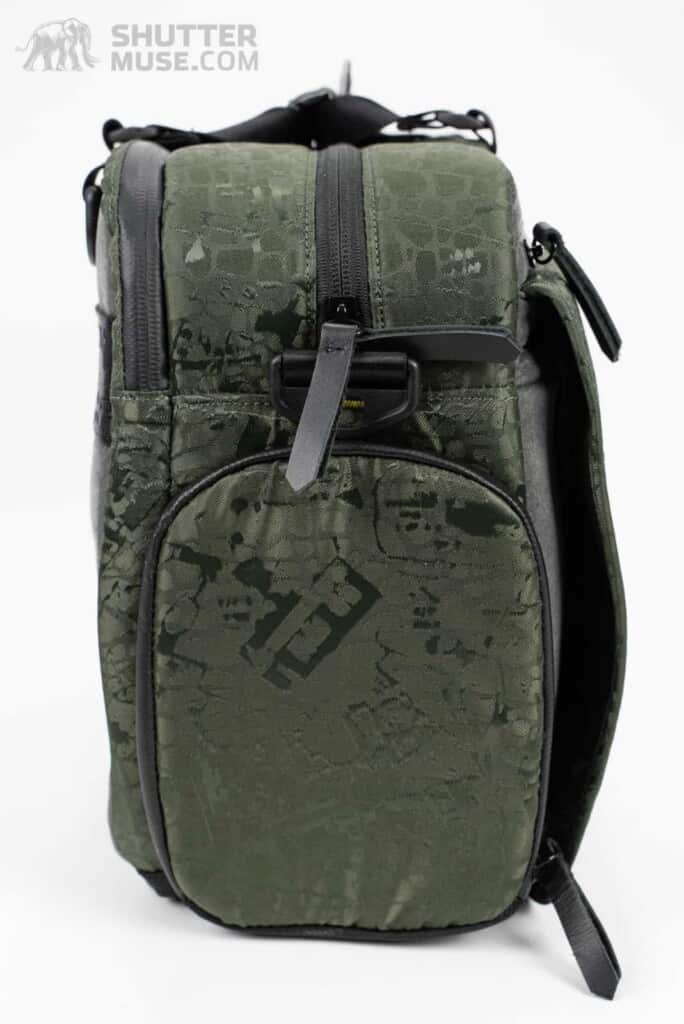 Handle
The Wraith has a handle cover that I found to be unnecessary. If you don't do it up, it just hangs around getting in the way. If you do it up, it doesn't even feel that comfortable to carry. With most new camera bags offering faster ways to access your gear, adding this additional barrier to camera access isn't an idea I can get on board with. This is a purely aesthetic addition to the bag.
Shoulder Strap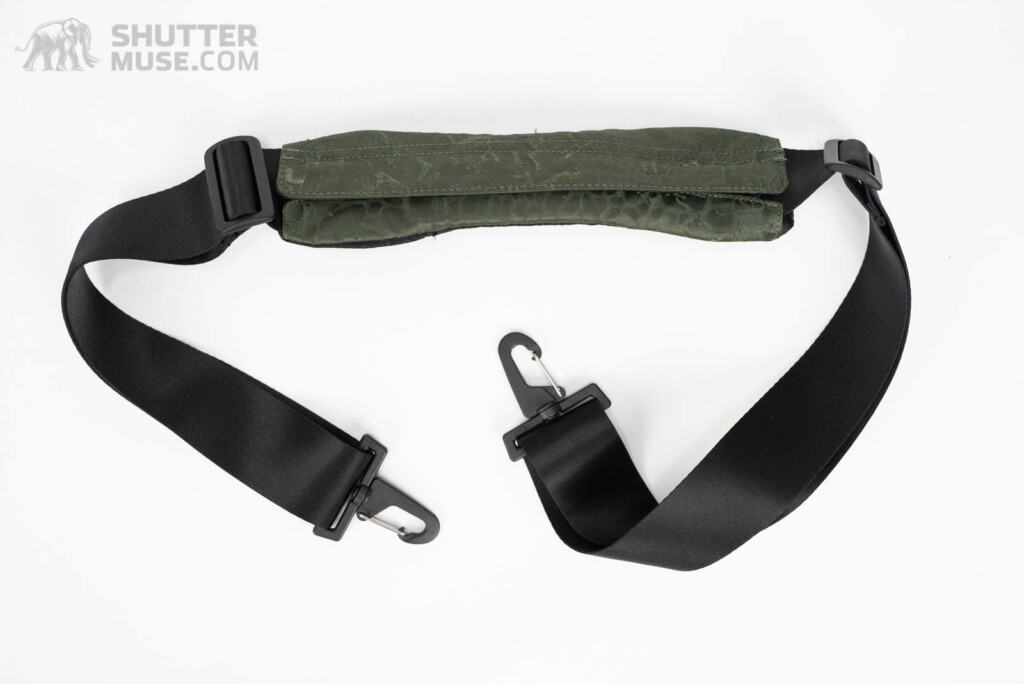 The shoulder strap can be attached to the sides of the bag like a regular messenger, or to the back of the bag to carry it more like a sling. I tried both methods and didn't really have a preference, but it's nice to be given the choice. The strap itself has a nice padded sleeve on it that gets the comfort just right. A combination of aerated mesh and grippy rubber material keeps the bag in place on your shoulder. The strap is one of my favourite features of the bag.
Camera Compartment
I found the inside of the Wraith to be very dark. This is compounded by the fact that it's hard to really open the top of the bag wide and let a lot of light into it. While there is some contrasting stitching on the interior side panels, it doesn't do enough to help. I will never understand why bags designed to store predominantly black items, are sometimes given a black interior.
I also found it hard to store my camera and lenses in a way that made me happy. The bag is tall enough to hold a 70-200mm f/2.8 lens. If you aren't carrying such a tall lens, you inevitably need to stack some lenses on top of each other. But the bag comes with very few dividers. I was left wanting more so that I could divide the vertical sections to stack my smaller lenses.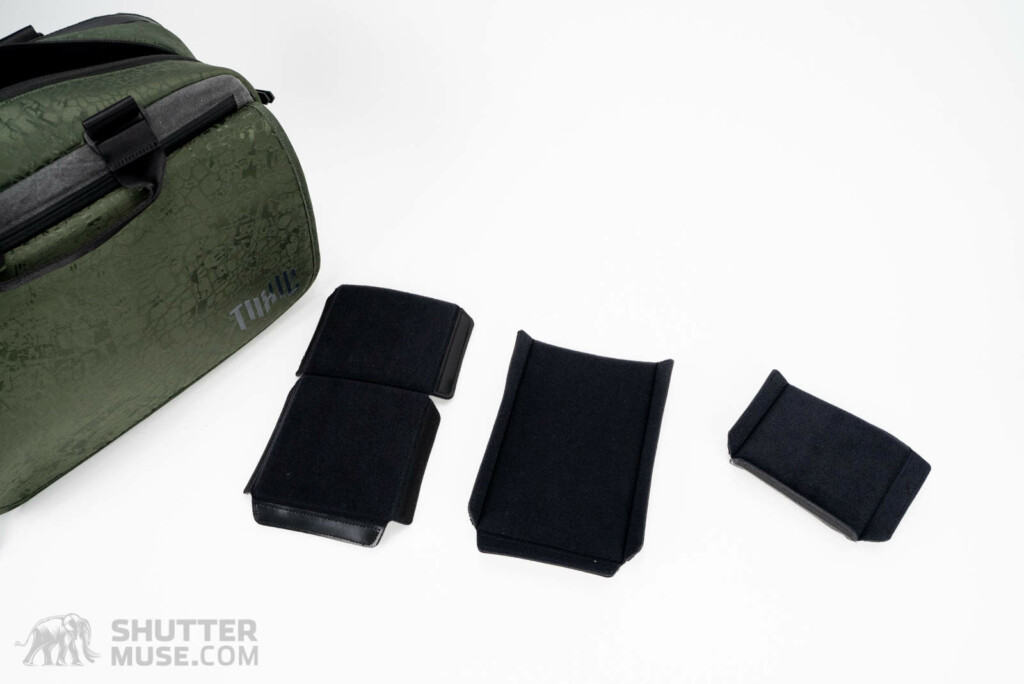 Most of the camera bags I'm sent to review come with way more dividers than you would ever need. I usually spend a great deal of time customizing the interior space to get it just right. For a bag in this price range, it's unfortunate that you are not given more to work with. I would have much preferred to have more dividers and forgo the "divider pocket" feature that I never use.
Why don't I like "divider pockets"? It's simple. Anything you put in them just creates a lump in the side of the lens slot making it harder to slide lenses in and out. To combat that, you have to make the lens slots wider so that your lenses don't snag. But then they rattle around and you end up making inefficient use of the interior space. Perhaps your mileage varies, but I never find them useful.
Frog Pocket
The Frog pocket on the side of the bag is designed as a place to store your wet rain jacket. To use it in this way requires some forethought because you need to leave that part of the bag's camera compartment empty if you plan to push the waterproof section through from the Frog Pocket side. As a feature, it does work. But if you even think you might want to use it, it really compromises about one-third of your internal storage area. Are you going to leave some of your lenses at home just in case you want to put your jacket in there?
Can you put a camera in it?
Yes, a mirrorless camera and a very small prime lens will fit. It's not large enough for any sort of mid-zoom like a 24-70mm, or even a 28-75mm. You'll want to limit it to a nifty fifty or something of equivalent size.
Front Flap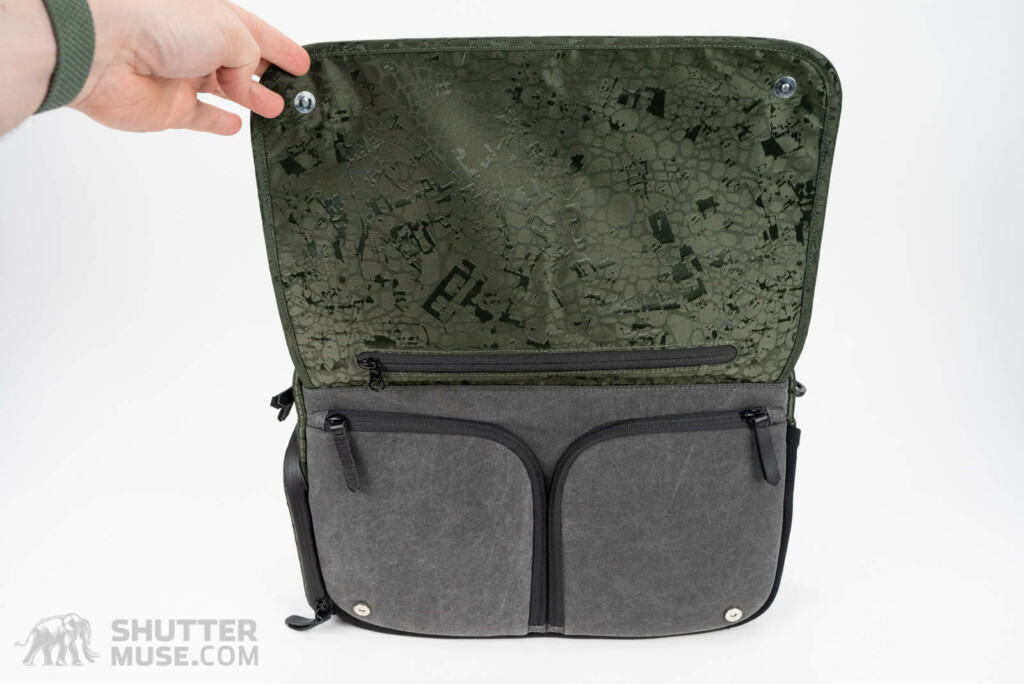 Even if you do bother with this fiddly procedure, I quickly discovered that the slightest movement of the flap would simply release the magnets. Whatever I did, wherever I carried this bag, the magnets were always undone by the time I got there. They are simply not good enough for a bag of this price point. Particularly when there are several other brands out there using magnets so well for closure systems in their bags.
What this bag needed, to keep pace with its high-end price point, was neodymium magnets sewn directly into the flap so that they would close themselves.
Flap Pocket
This pocket on the inside of the front flap is upside down. Things will fall out of it when you open it unless you first lie the bag down on its back. I might use this to store very rarely accessed flat items on a longer trip.
Front Pockets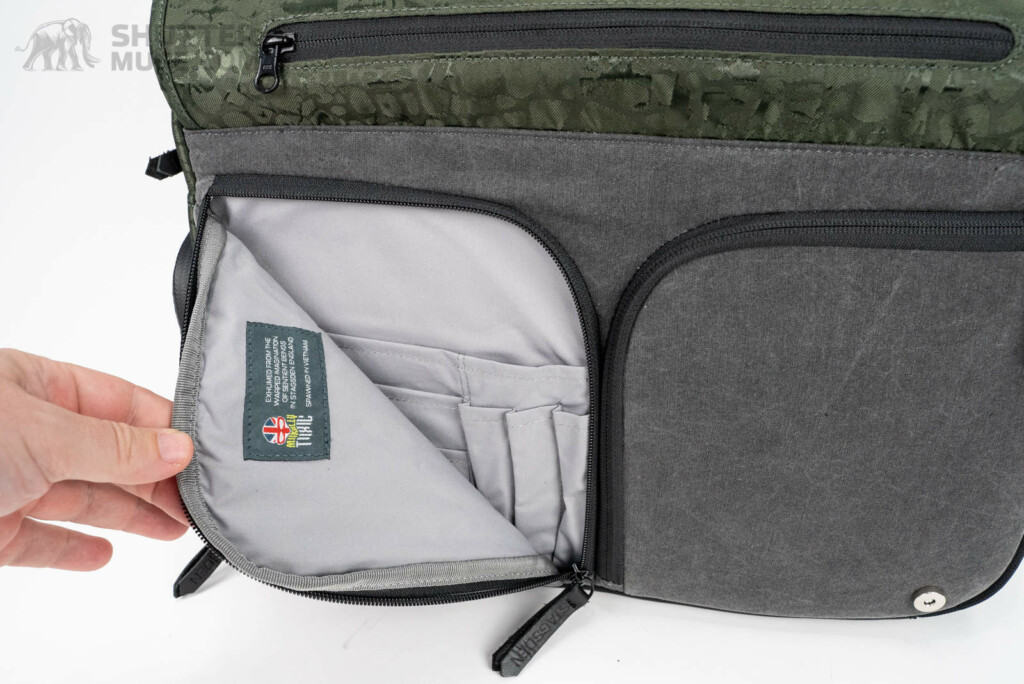 The face of the two front pockets under the flap is covered in a nice grey canvas material that contrasts well with the coloured jacquard design. Inside the right-hand pocket are a basic key ring and a couple of flat sleeves for notepads. On the left-hand side, you'll find a few pen holders and several smaller sleeves for small cards.
This front organization is a bit disappointing considering there are no other accessory pockets on this bag. The volume of these pockets is very small, and as you can see from the above photo, the zipper design means that one corner of the pocket is pinched, making it hard to access and hard to see small items that might be at the bottom. When I loaded up my usual camera accessory kit, I really struggled with where to put things in this bag.
Laptop Carry
The laptop is at the rear of the bag. It has a good amount of padding and a stitched design on one side that I really do like. The zipper on the left-hand side of this compartment travels further down, allowing you to open this pocket quite wide. In the Medium 15L Wraith, you can get a 13/14″ laptop. In the Large 20L Wraith, you can get a 15/16″ laptop.
The laptop compartment uses a more expensive, weather-resistant YKK Aquaguard zipper than the main camera compartment zipper that is right next to it. A choice I don't really understand. Why is the laptop compartment being prioritized for weather protection on what is primarily a camera bag? The same thing was true on their Valkyrie backpack, too.
By now, I have probably reviewed 100+ camera bags. Some bags use Aquagaurd zippers and some do not. Sometimes, a bag will have a mixture of the two. But in these cases, it's usual for the zippers that are likely to be exposed to the rain to have the Aquaguard treatment. While other zippers on the sides of a bag, or perhaps underneath a flap, will use the cheaper, regular zippers. It's a head-scratcher to have two zippers alongside each other be of different types.
Tablet Pocket?
A second flat pocket can be found on the front of the bag. I think it might be designed to be used as a tablet pocket, although it is not padded in the same way as the laptop pocket. Curiously, this pocket does have a YKK Aquagurad zipper like the laptop pocket. Why? I really can't say. As with the laptop zipper, I'm baffled by this. The two zippers on either side of the camera compartment are given the nicer, weather-resistant zippers.
If this pocket is for a tablet, it's missing some sort of softer material to protect the screen. If it's just meant to be a general accessory pocket, on the one hand, that is useful because there's nowhere else to put your laptop power supply, but on the other hand, why would an accessory pocket get the nicer weather-resistant zippers?
Tripod Carry
There is no way to carry a tripod on this bag. I wouldn't mark a messenger bag down for not including a tripod carrying system of some type. More often than not, such systems are unsatisfactory on a bag of this type. However, in this instance, given that this bag was designed by the folks from a tripod company I was surprised not to find one.
3 Legged Thing and Toxic Bags unsurprisingly share much of the same quirkiness. I'm sure there will be marketing that crosses over between the brands, and fans of one will likely be fans of the other. I think they have missed a trick at not devising a smart way to carry what are essentially their own tripods. This topic probably wouldn't even have deserved a sub-heading, had it not been for the fact that I think some people might simply assume there is some way to carry their tripod if they know these bags are made by the folks at 3LT. There are two good ways to carry a tripod on their Valkyrie backpack.
Luggage Pass-Through
On the back of the bag is a luggage handle pass-through to help you carry the bag through an airport with your carry-on roller. The nylon webbing features the same design as the coloured parts of the bag and the colour-contrasting stitching is also a nice touch.
Secret Rear Pocket
Toxic calls this a secret pocket. I'm just going to call it a passport pocket because there is nothing very secret or hidden about this. The fact that it is on the back of the bag does give it some added security while you are wearing the bag against your body in a crowded city, though.
Rain Cover
The Wraith comes with a rain cover that is stored in a pocket on the bottom of the bag. Even though the bag's materials are weather-proofed, I'm glad to see this has been included because as we established earlier, the camera compartment zipper is not a weather-resistant one.
Conclusion
I always feel a bit guilty when I have to write conclusions like this, but the honesty of my reviews is one of the foundations of this website. The Toxic Wraith messenger has several design and hardware decisions that detracted from my enjoyment of using it.
The deep black interior makes it hard to see what's inside, and the internal organization is compromised by including the Frog pocket feature. Baffling zipper choices, limited accessory storage, and cheap-feeling hardware on a very expensive bag make it tough to recommend in a crowded market. If you like Toxic's style, check out their Valkyrie backpack. It's a much better camera bag.
Where to Buy