Toxic Bags (previously Morally Toxic) are the new sister company to British tripod brand 3 Legged Thing. This brand has been in development for the past five years and launched with the Valkyrie camera backpack that I'm reviewing here, and the Wraith shoulder bag which you can find in a separate review. I have had both of these new bags in my possession for the last couple of months, and I'm pleased to be able to bring you these reviews on the brand's launch day.
3 Legged Thing are a brand that has given us tripods named Ray, Mike, Albert and Winston. Their marketing has always been a little off the wall, so I wasn't surprised to see Toxic Bags described as "a brand that brings together British design, coupled with a fusion of alien and reptilian design concepts."
3 Legged Thing's tripods and ball heads have always impressed me. They have certainly carved out a nice niche for themselves by being different in the camera support market, and it doesn't look like they plan to change that with their new brand, and the new adventure into the camera bag sector.
Valkyrie Backpack Variations and Specifications
The Valkyrie backpack is available in two different sizes: a 20L Medium and a 25L Large. As we'll see later on in the review, the Valkyrie backpack features a padded laptop sleeve. Aside from slight dimensional differences, the laptop carrying capability is the main differentiator between the two sizes. A 13/14″ laptop will fit in the 20L Medium Valkyrie, and a 15/16″ laptop will fit in the 25L Large Valkyrie. Both sizes of the backpack are available in three different colours: Onyx, Emerald, and Sapphire (black, green and blue to you and me). In the review, you'll be seeing photos of the Large Sapphire Valkyrie which was sent to me for testing.
Valkyrie's Materials
I wouldn't normally dedicate an entire sub-heading to a bag's materials, but in the case of the Toxic bags, it is worth a more detailed look because it greatly affects the aesthetic. The primary material is a custom jacquard fabric that was created specifically for the brand. Jacquard fabrics have patterns that are woven directly into the fabric, rather than being screen-printed on afterwards.
These fabrics are not cheap to use on bags, especially when you are getting a completely customized pattern. And what is that pattern, exactly? In this case, it's as quirky as the brand name. What you are looking at is the combination of a vintage map of the brand's home in Stagsden, UK, combined with a reptilian skin design. Due to the tesselating nature of the pattern, every bag will also be slightly unique.
The jacquard fabric doesn't cover the whole bag, though. The base of the bag features a much higher denier black nylon to prevent abrasion, and a grey canvas-like nylon is used around the patterned design, as well as on the back panel between the padding. All of the fabrics are also treated to "protect against liquids and stains" which I assume means they have the usual DWR coating applied.
I think the overall effect will be polarizing. It's certainly a more interesting aesthetic than most camera bags on the market, but I can also see some people preferring to fly a little more under the radar with their camera gear. Personally, and frankly much to my surprise, I really like it. I think the effect ends up looking much better in person than it sounds like it would on paper.
Much of that positive impression comes from the interesting way the light plays off the different threads in the pattern, causing it to look different from every angle and under every lighting condition. The combination of the patterned fabrics and the grey stone-washed canvas is also nicely done, and the overall feel of the bag is one of very high quality.
Toxic Bags Valkyrie Backpack Features and Design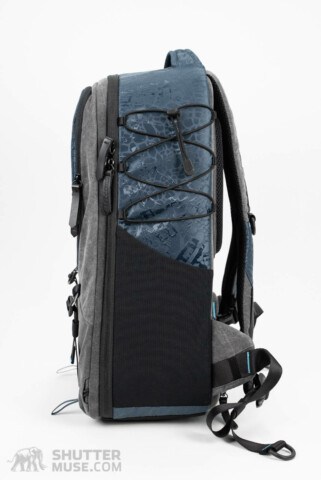 Harness and Comfort
The shoulder straps are thickly padded and comfortable. The padding on the back panel of the pack is minimal, but the three sections of elevated foam-filled mesh do a good job. At 20L or 25L, the Valkyrie is not a huge backpack and I would consider the comfort provided by the straps and back padding to be more than enough for a bag of this size and potential weight. I particularly liked the D-rings on the end of the shoulder straps that make them quick and easy to tighten while wearing the bag.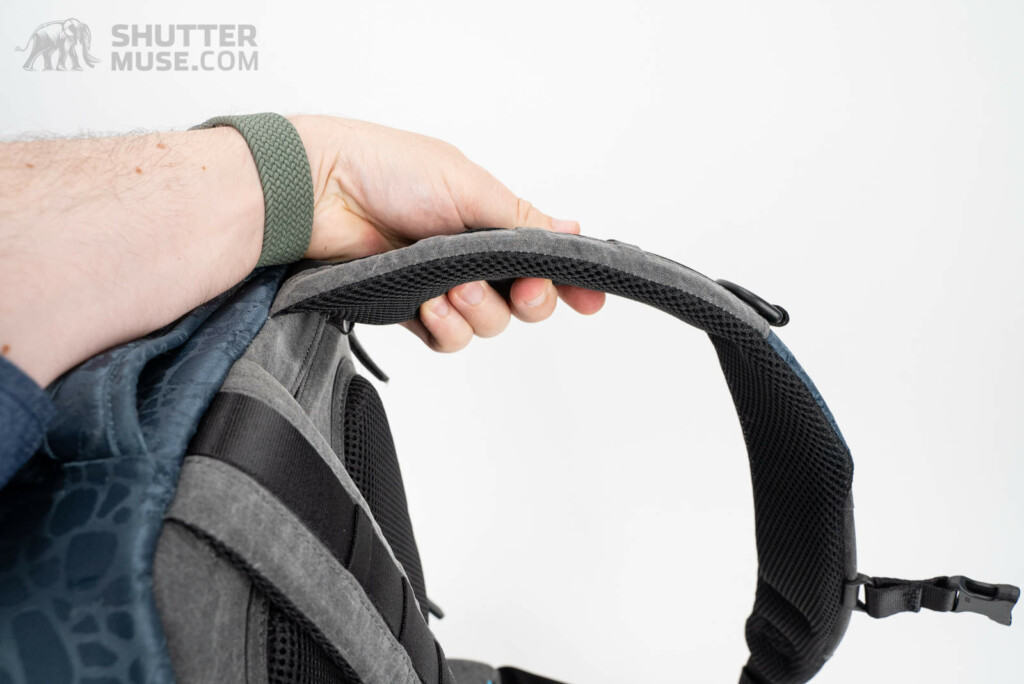 Removable Waist Strap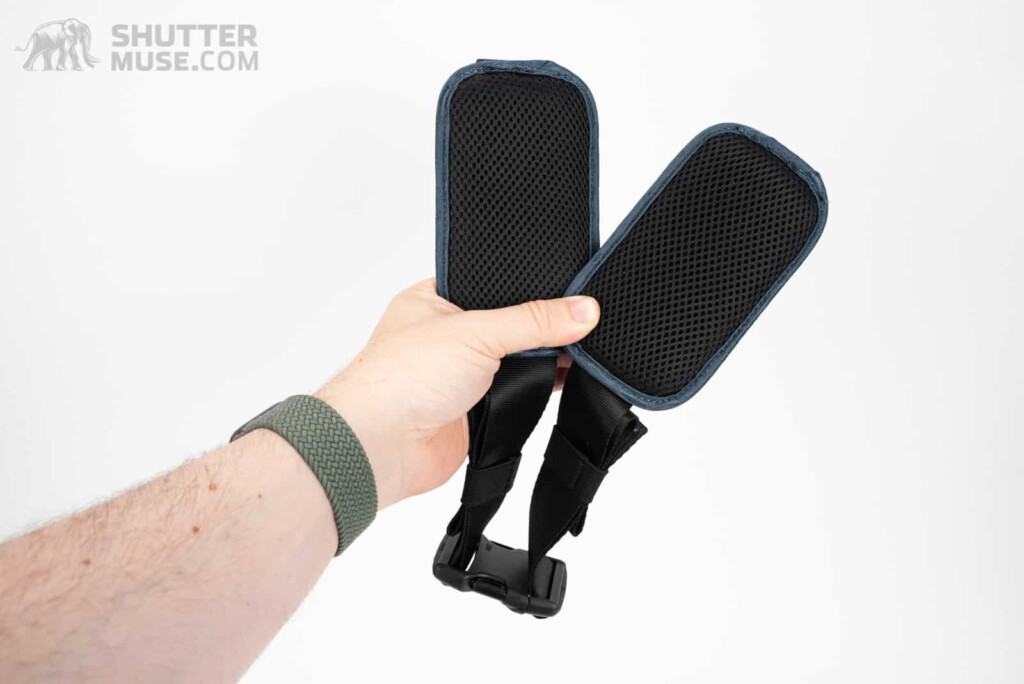 A removable padded waist strap is provided with the bag. For day-to-day urban use, it's not needed, but if you fill the pack and go for a long walk with it, you should use these to transfer some of the weight to your hips.
Front Organization Pocket
A zippered front pocket features a very basic key ring and several small sleeves for organizing pens, cards and notepads. Two additional zippered compartments provide more security for your everyday-carry electronic accessories such as cables, chargers, USB battery banks and your phone. There's also an ID slot.
I like this front section of the bag a lot. It's easy to access all of your gear when you open the front flap towards you, and I found that I could carry a surprising amount of stuff in here. The larger zippered pocket is also much deeper than you expect it to be. I was easily able to store some gloves and a hat in there.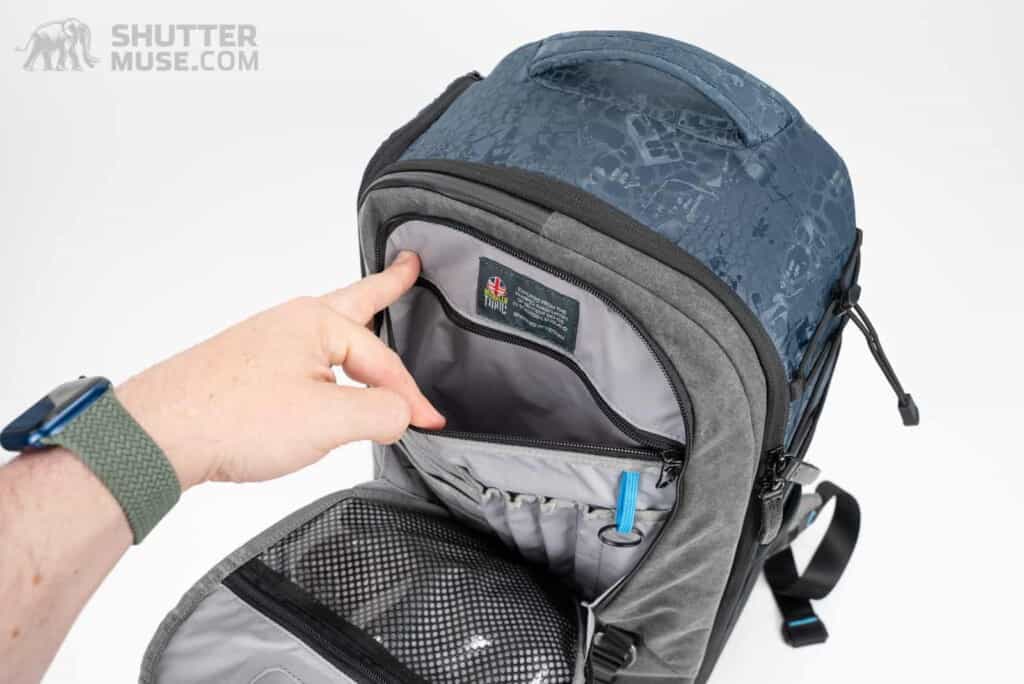 Side Pockets
These two zippered side pockets both include an internal elasticated pocket and zippered semi-opaque pocket. These are useful places to store your filters, a remote cable release or some charging cables.
Internal Organization Pockets
Opening up the main compartment of the bag reveals even more organization. In this case, we have a large mesh zippered pocket and another semi-opaque plastic pocket. On the left-hand side, you'll also notice a matching memory card wallet that attaches to the inside of the lid using hook-and-loop. The wallet has three smaller slots for SD cards or CFexpress Type-A, and four larger slots that can be used for XQD, CFexpress Type-B or Compact Flash cards. I love this feature, it's a great card wallet!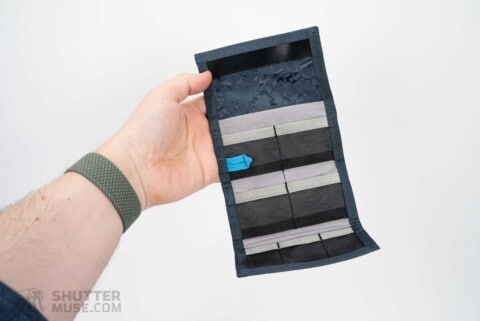 Camera Compartment
The camera compartment comfortably holds a DSLR or a mirrorless camera and 6-8 lenses depending on their size. It is not deep enough to hold a pro-sized camera or a camera with an attached battery grip.
I generally don't like it when camera bag manufacturers use black interiors. It's not the best colour for storing black objects and still maintaining a good sense of what is in there and where. In this instance, however, Toxic have just about dodged a bullet. The lid of the bag opens very wide which lets in a lot of light, and the bag isn't deep enough to prevent that light from reaching the depths of the divided sections. Additionally, the stitched blue pattern in the padding definitely helps to reveal small, dark objects. I'll give them a pass on this, just. But I still would have preferred something brighter, even if it was just a shade of grey.
The dividers in the camera compartment have pockets on the side of them. I have reviewed many bags with this feature and never bothered to use them myself. Perhaps your mileage may vary. For some reason, this feature always seems to appear in bags that already have copious amounts of organizational pockets. I count 20 pockets on this bag already, before you take into consideration these divider pockets. Thankfully, they don't really get in the way if you aren't using them.
Frog Pocket
The Frog pocket is designed to give you a small space to put wet gear. It is accessed via a zipper on the bag's back panel, but the space that it uses intrudes on the space in the main camera compartment. The pocket is quite small. At best, you will get a lightweight rain jacket and rain pants in there if they are made from a very compressible material like GoreTex Paclite. Or maybe a down-filled mid-layer. You won't get any sort of thick, winter jacket in there.
You need a certain amount of forethought to use this pocket, too. If you have lenses and other camera gear in that area, you will not be able to expand it from the Frog pocket side to fit your jacket. If you had a full pack and went out in the rain wearing your jacket, but later removed it, you might be out of luck if you wanted to use that particular feature.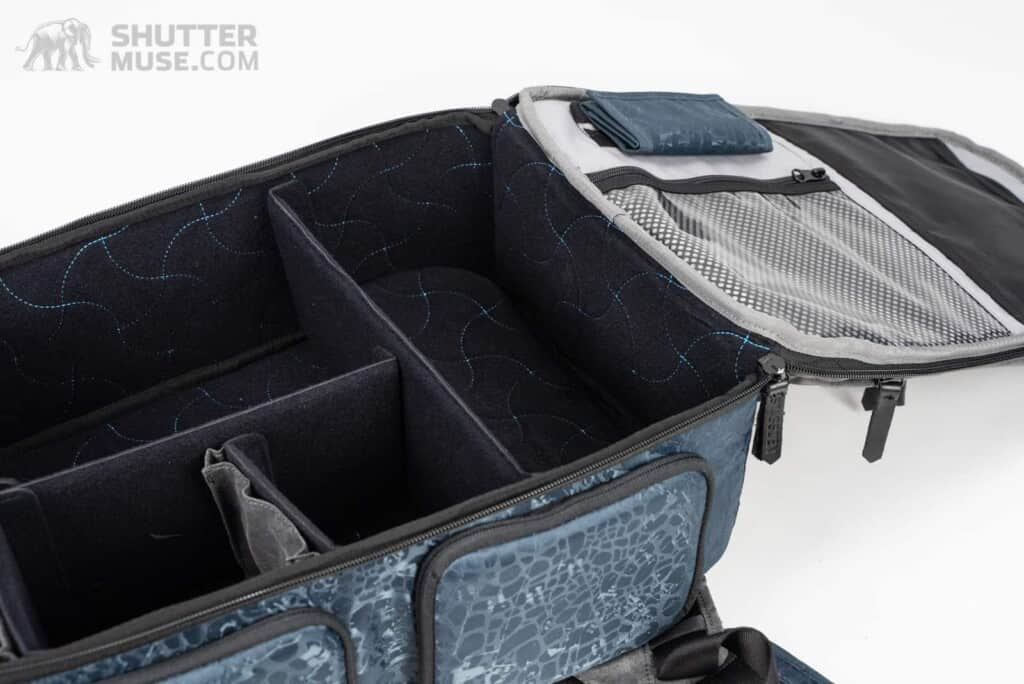 In the end, I just thought of it as a separate place to store a rain jacket or my gloves and hat, no matter whether they were wet or dry. If you use it like that, it'll always be available for storing that stuff when it is wet. My only concern about this feature is that its extreme manufacturing complexity, with its extra Aquaguard zipper and expandable sections, will have had an adverse effect on the bag's price for little added function. After all, I could have simply put a jacket and gloves in the sectioned off part inside the camera compartment, wrapped in a plastic bag.
Does It Hold a Camera?
You can put a mirrorless camera with a lens into the Frog pocket, but I wouldn't recommend it. It's harder to access it in there than it is in the main compartment, and there is no way to stop it from moving around inside. Since you lose the internal space by popping up the Frog section, it makes little sense to then half fill that same volume with a camera from the Frog pocket size.
Laptop Carry
On the front of that bag are a dedicated, thickly padded laptop and tablet pocket. The pocket uses a padded divider to separate your tablet and laptop. The Medium 20L Valkyrie can carry a 13/14 inch laptop, while the Large 25L Valkyrie can carry up to a 15/16 inch laptop.
I like the separation in this pocket, and I like the level of protection that has been given to your devices. It's just the right amount. Not too little that it's ineffective, and not too much that it makes the bag feel bulky. What I don't understand is the use of a YKK Aquaguard zipper on this pocket, when one is not used for the zipper of the main camera compartment.
I think you either need to stick to using the more expensive, much more weather-resistant Aquaguard zippers on all of the main compartments (camera and laptop), and then underline the bag's weather resistance, or don't bother using them at all and lower the price point of the bag. Using just one, when it is right alongside another zipper without that feature, doesn't make sense to me.
It is prioritizing laptop protection over camera protection, in a camera bag. And it's also doing it in a bag that has a dedicated feature – the Frog pocket – that is designed to keep wet stuff away from your camera. These two things seem at odds with each other.
Tripod Carry
A tripod can be attached to the Valkyrie backpack in two different places. My preference was to use the elasticated side pocket with the built-in bungee cord. If you are using that side pocket for a water bottle, you might prefer to use the tripod straps at the front of the bag. These straps are secure but they limit you to using smaller travel tripods that don't stick out too far on either side of the bag.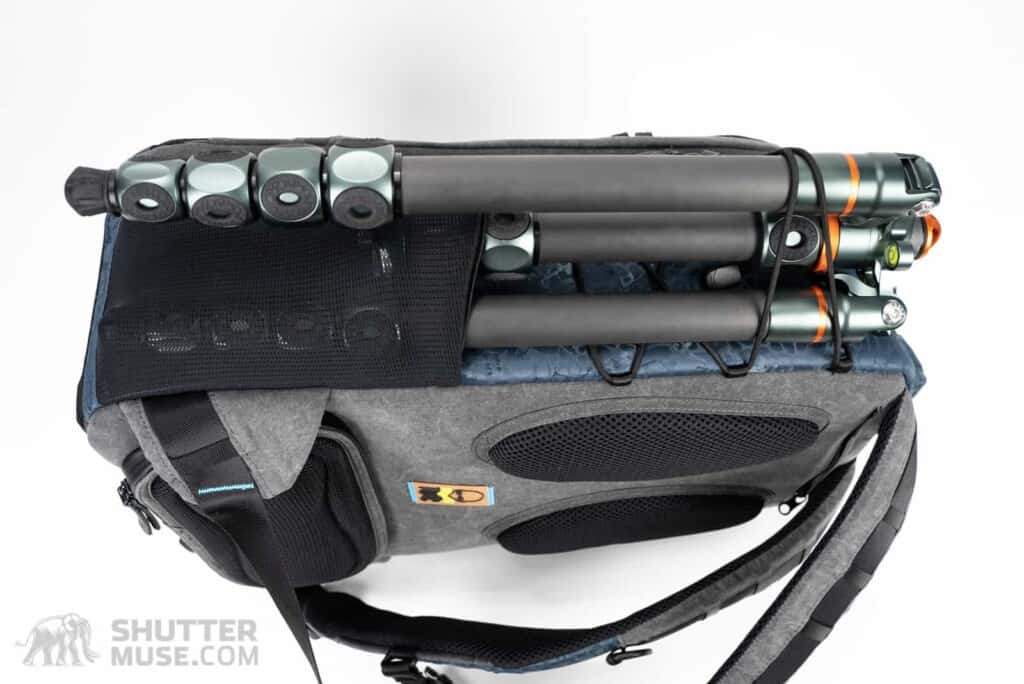 Rain Cover
A rain cover is provided and stored in a dedicated pocket on the bottom of the bag. This is great. I prefer it when you are not asked to spend an additional $20-30 on your rain cover.
They call this pocket a hidden pocket for a passport. I would call it semi-hidden. If a thief gets hold of your entire bag, the zipper is obvious. However, it is hidden from thieving fingers while you are wearing the bag, giving it some merit when walking around crowded cities and packed into public transport.
Conclusion
The Valkyrie backpack is an interesting entry into the camera bag market. Toxic Bags has not been shy in creating something different. Overall, they have succeeded in making a practical, comfortable, high-quality camera bag that works well in various everyday situations. Urban camera carry and general travel would be my primary usage recommendations.
You can use the bag for moderately short outdoor photography adventures, but the limited space in the bag for non-photographic items means day-long adventure seekers are better off looking at the established outdoor-specific photo bag brands such as Shimoda and MindShift.
Where I think some people will struggle with this bag, is the price. $299 for the Medium and $310 for the Large puts this bag squarely in the high-end market. For its size, it is one of the most expensive camera bags I have ever tested. It is much more expensive than any Think Tank or Lowepro bag of a similar size and even comes in pricier than the complex-to-manufacture MindShift Rotation 34L or the popular Everyday Backpack from Peak Design. I was surprised by that.
I suspect that a huge proportion of this cost comes from the expensive custom jacquard material that has been created. It does feel expensive, and I do think it looks cool, but you are going to need to strongly agree with me to make the decision to purchase. Those that do agree, will get themselves a great camera bag.
Where to Buy