The Problem (#1)
I have reviewed a huge number of photograph packs for outdoor/adventure photographers over the last ten years and because of this, I get a lot of questions about this genre in my inbox. Many questions go just like this:
Will I be able to use INSERT BAG NAME for a night or two of backcountry hiking and camping? Is it big enough?
The answer to this question is very rarely "yes".
Most decently sized camera packs are in the 30L to 40L volume range, and they simply aren't designed for that kind of usage. Yes, given enough external straps and attachment points you can put a tent, sleeping bag, sleeping mat etc. on the outside, but this isn't a solution I'd recommend if you plan on using it a lot. I've done it on occasion, with packs like the F-Stop Satori, but your gear is unprotected and things can get filthy if it's wet and muddy. At most, that kind of solution tops out at a single night of camping.
The other problem with this solution is it forces you into buying the biggest camera bag you can find, which might be too big for 95% of your usage. Is it really worth spending hundreds of dollars on a bag that's not quite right for 95% of your work, and not even a great solution for the other 5%? I really doubt it.
The Problem (#2)
Whilst I get less questions about this than #1, over the years I have got a number of people asking me about a backpack for round the world travel. They want a single bag that they can take backpacking across the globe, but want it to be capable of carrying camera gear safely. If you've ever done any of this kind of travel, you'll know that it usually involves trains/busses/hostels and lots of unplanned foot travel. Taking multiple large bags is out of the question if you want to move easily around various types of transportation. In an ideal world you'd have a nice big rolling suitcase and throw a camera pack on your back…but you'd soon regret that decision when you're trying to get through the streets of Cambodian village in a monsoon, or even trying to ride the Underground in London.
The options
These are the options as I see it:
1. If you only want to go camping a small handful of times a year, and you already own a very large photo pack in the 40L range, you can go the route of externally attaching your gear so long as you only plan on camping in warm/dry places in good weather conditions. (Applicable only for problem #1)
2. You use a regular photo pack for your day-today shooting, then you purchase a normal backpacking/hiking pack into which you insert a 3rd party camera block such as those available from Gura Gear. When you buy the hiking pack, pay particular attention to how you can access this camera block. A bag that only opens at the top isn't a good idea because you don't want the heavy weight of your camera gear sitting on the top of your bag where it'll unbalance your load. Look for a pack with a side zipper or a front panel zipper.
3. The Naneu k5 V2. This bag, as far as I'm aware, is the biggest photography specific pack on the market today. At 80L, its volume is right up there with large expedition packs, and it's designed for exactly the kind of usage that people have been emailing me about for so long. In this review, I'll delve into the numerous features and weight it up against the other options.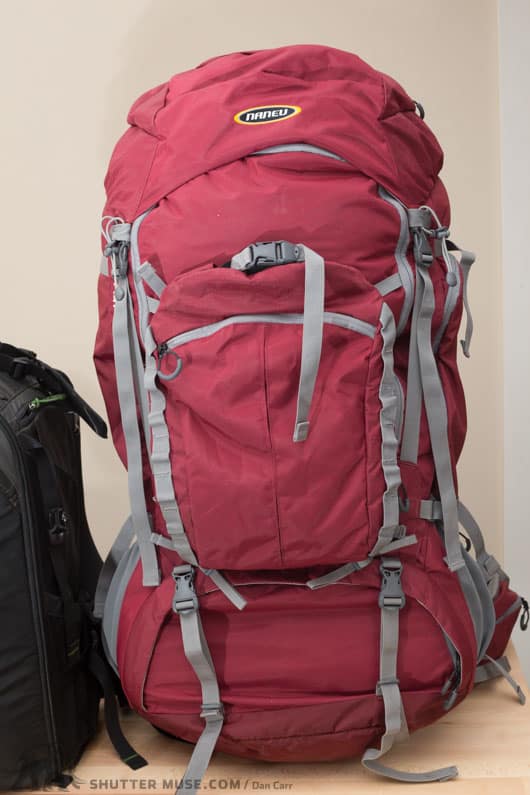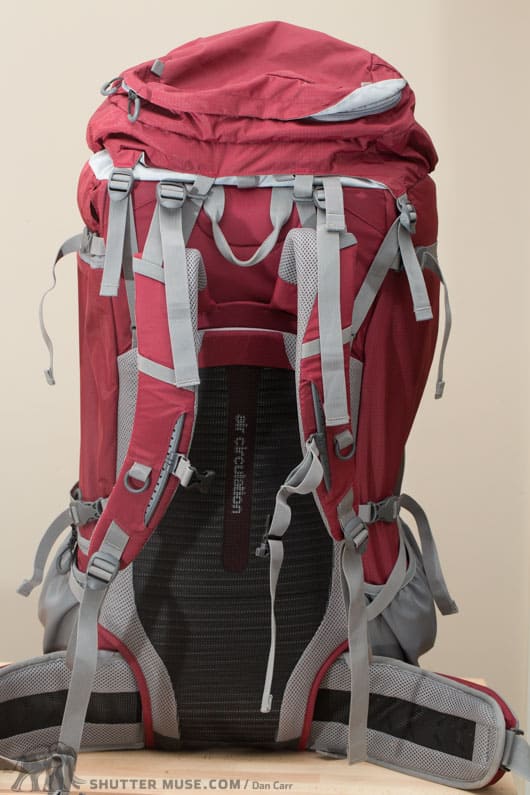 Naneu K5 V2 video review
K5 V2 features
The pack features an impressive list of features that are all shown in the accompanying video.
Rain cover included
Tripod carrying system
Adjustable torso length
Removable shoulder bag
Removable padded camera bag with shoulder straps
Internal water bladder pocket
Extremely large lid pocket with dual pockets, top and bottom
Useable with or without the camera bag compartment
Lots of external straps and attachment points
2x hip belt pocket
Removable camera block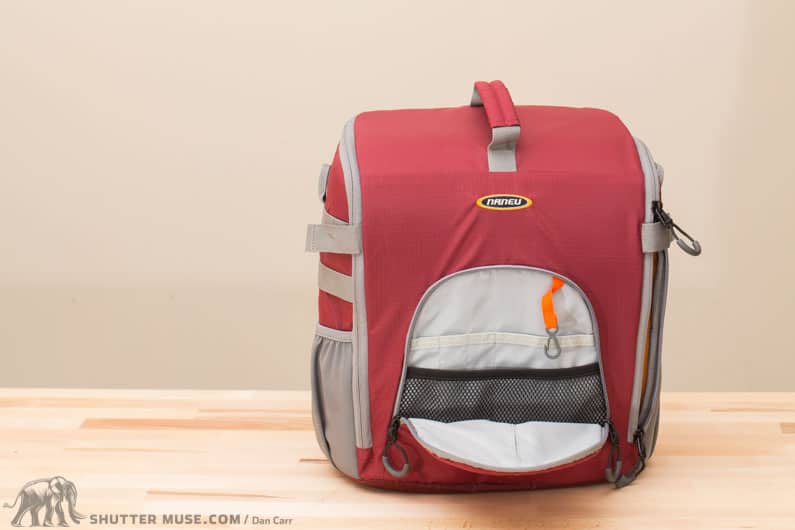 In the middle of the k5 is a removable camera section that can either be used whilst remaining in the pack, or removed and used as a photo bag on its own. This removable pack is fully featured with its own rain cover, shoulder straps, multiple external pockets, internal pockets and a front organizer pocket with a clip for your memory card holder or keys. It'll hold a camera and 4-5 lenses, with the largest lens being a 70-200 f/2.8. As well as backpack straps, it also comes with a removable shoulder strap. In many ways it has more features than some regular camera bags!
Herein lies the biggest issue that I have with the K5 V2 pack. This camera block is really the thing that turns this bag from hiking pack into camera bag. but for me, I think it has too many features and is too big and heavy. Saving weight is going to be on most people's minds when they try and carry photo gear into the backcountry and all the excess straps, handles and pockets on this camera block feel like overkill. I also think that it's a bit big and that most people don't want to hike huge distance with that kind of volume of photo gear as well as their camping necessities.
The design of the main pack also has the camera block sitting right in the middle which makes it hard to pack longer items like a tent. If the camera section was at the bottom, it would leave a much longer continuous space above it for packing longer items, and it would also keep the heaviest items at the packs base where I tend to find it more comfortable.
If your main intention for the pack was to solve problem #2, though, then the weight and positioning of the camera block is going to be much less of an issue. In fact, the features of the camera block then become a benefit as you have a full featured camera bag that you can use at your destination, whilst leaving the main backpack at your hostel or hotel. You can also slide it out to keep close to you on public transport because train and bus travel often requires you to leave your bags unattended and away from you. Being able to slide out your camera block, which could easily hold other valuables as well, would be a considerable bonus for this kind of travel, and if you're hopping on planes all the time then it gives you a good carry-on solution that can be paired with the also-included removable shoulder bag. If I was setting off around the globe with a single bag and my camera, this would be the pack I'd want to take with me.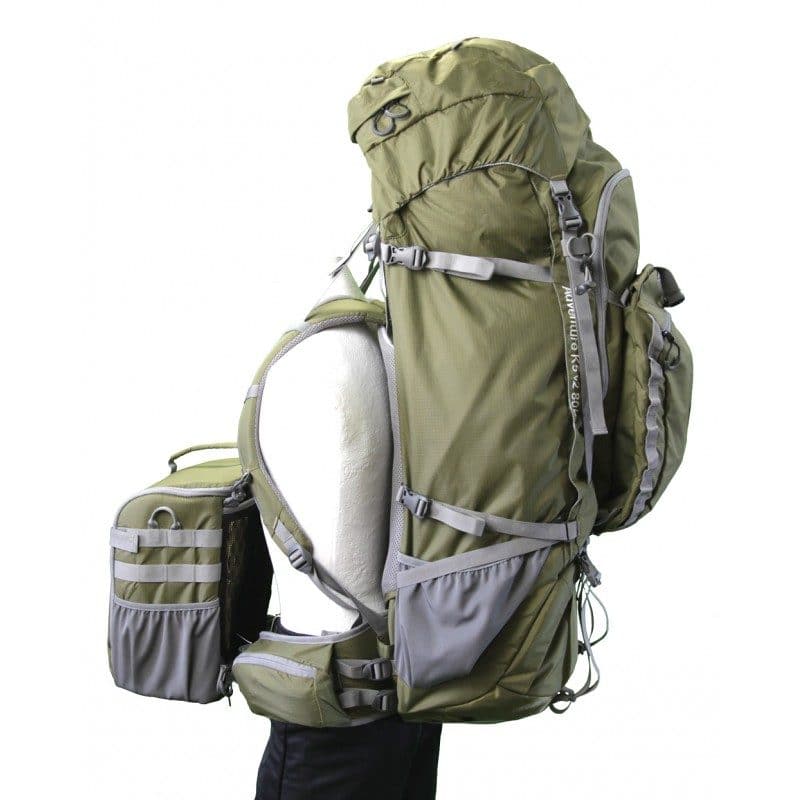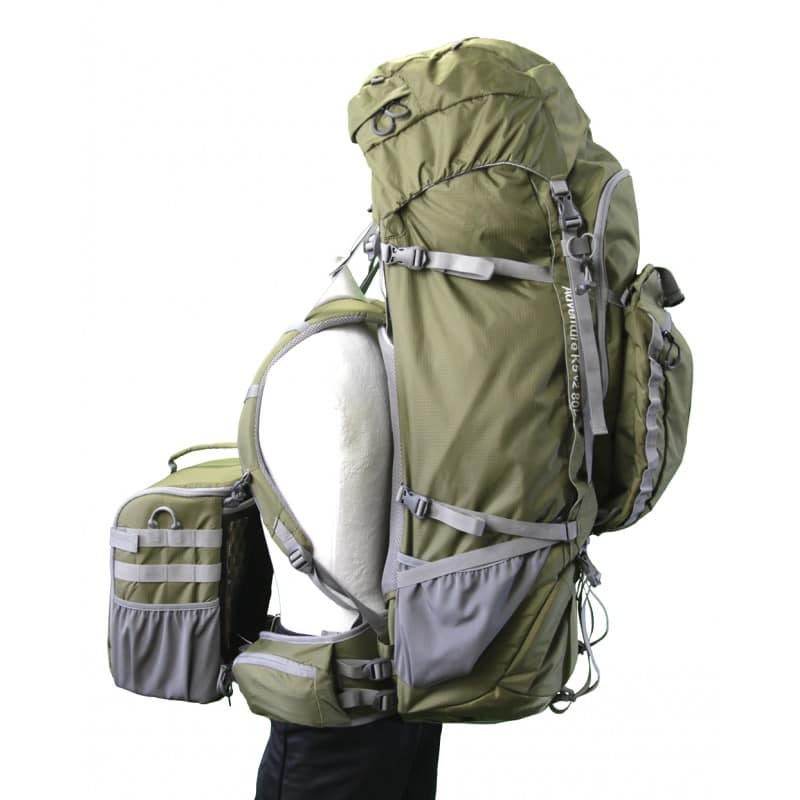 Conclusion
The Naneu K5 V2 is an extremely well made backpack with a good set of features for a great price. I've certainly no complaints about it in terms of build and durability.

Problem #1 and #2, how does it weigh up after using it?
If you already own a hiking pack in the 60-80L range, then I don't think the K5 V2 offers enough benefits over simply using a standard hiking pack and outfitting it with one of the aforementioned third party camera blocks. The reason for this is mainly the size and weight of the included camera block. I really think it's more than many people would want for backcountry camping. If you already own a large pack then, there's no reason to rush out and buy the K5 V2. If you don't already own a large pack like that then this represents a decent option, so long as you plan on carrying more than a camera body with one lens. If you don't plan on carrying more camera gear than that, there's simply no reason to weigh yourself down with the large camera insert from the K5, and you'd be better off buying a regular hiking pack (Arcteryx Atra 65 is my personal choice), and sticking a camera block into it.
For round the world backpacking, the Naneu K5 V2 makes an excellent option, and I'll certainly be recommending it to people who come calling with that question. On flights, the camera block can be removed and taken as carry-on, and the large overall volume of the pack will be useful for those kinds of trips. With camera gear and a full pack, it's a heavy load, but when you're backpacking like that, the distances travelled tend to be much less than if you set off on a 15KM/day hike with your tent. All that matters is that you have some kind of pack that you can put on your back when need it for a few km walk to a hostel, or through a train station.
Overall, I'm giving this pack a 3.5 star rating out of 5. It's a solid product if its features are just what you're looking for, although it still doesn't definitively solve the conundrum that seems to be faced by lots of outdoor loving photographers. It does make a compelling choice for a round the world backpacking trip, though.
Where to buy
You can buy the k5 V2 via Amazon, fulfilled by Naneu.