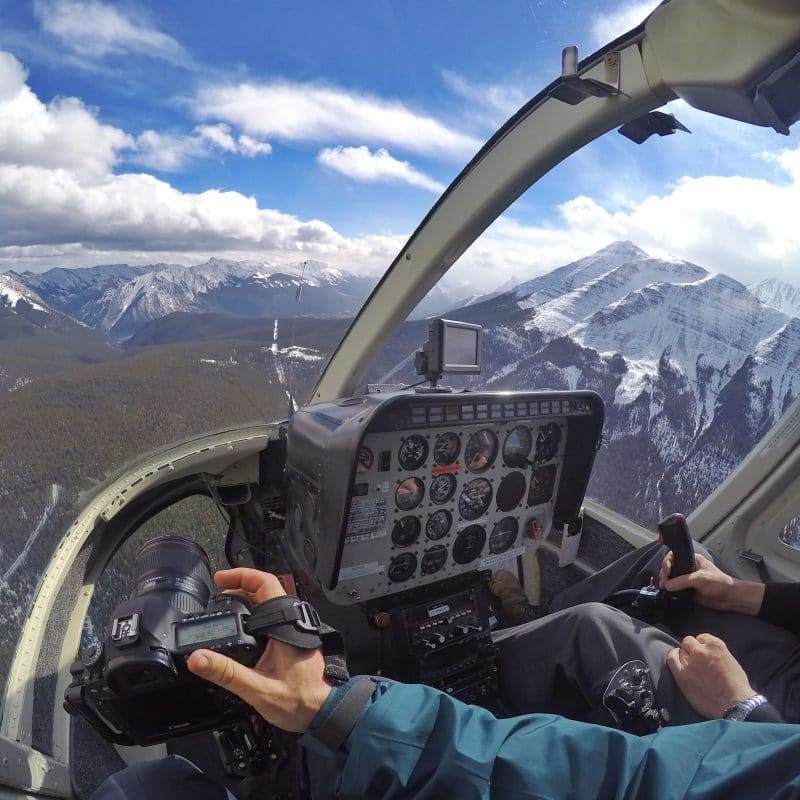 The Clutch strap works great when a more typical shoulder strap isn't practical.
Anyone that follows any of my social media accounts will often see my behind-the-scenes photos of my gear featuring a variety of Peak Designs accessories on my cameras.  I was first introduced to their products when the lightweight Leash camera strap was released, and I've had one in my bag ever since.  I don't always need a camera strap since my camera spends a lot of time on a tripod, so the Peak Design quick release system is perfect for me as it allows quick removal of any straps.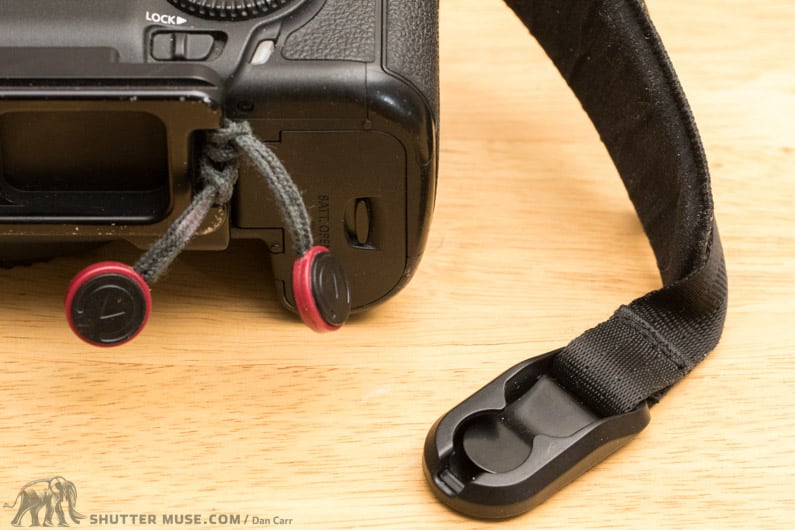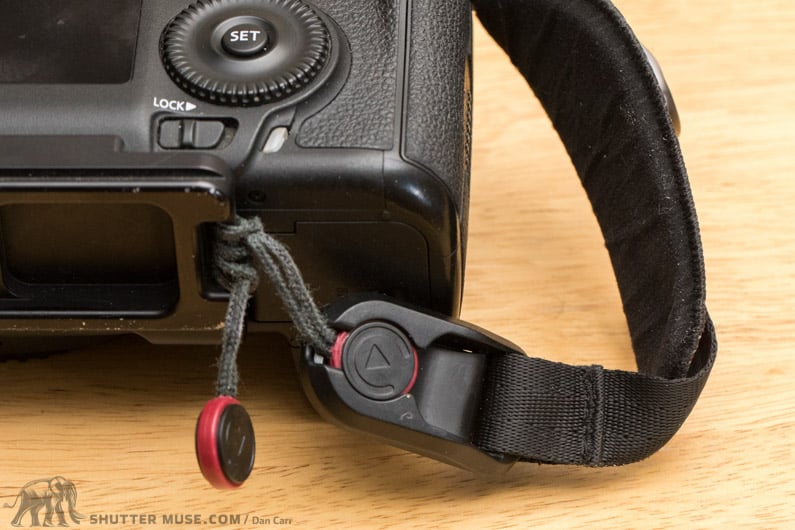 More recently they launched a hand strap called the Clutch, and I've been using one on my main camera for the last few months.  I must admit that when I first got this product, I wasn't quite sure if I needed it or not.  It hadn't really occurred to me that this would be a useful accessory.  Here's the thing though…I haven't taken it off the camera since I put it on there!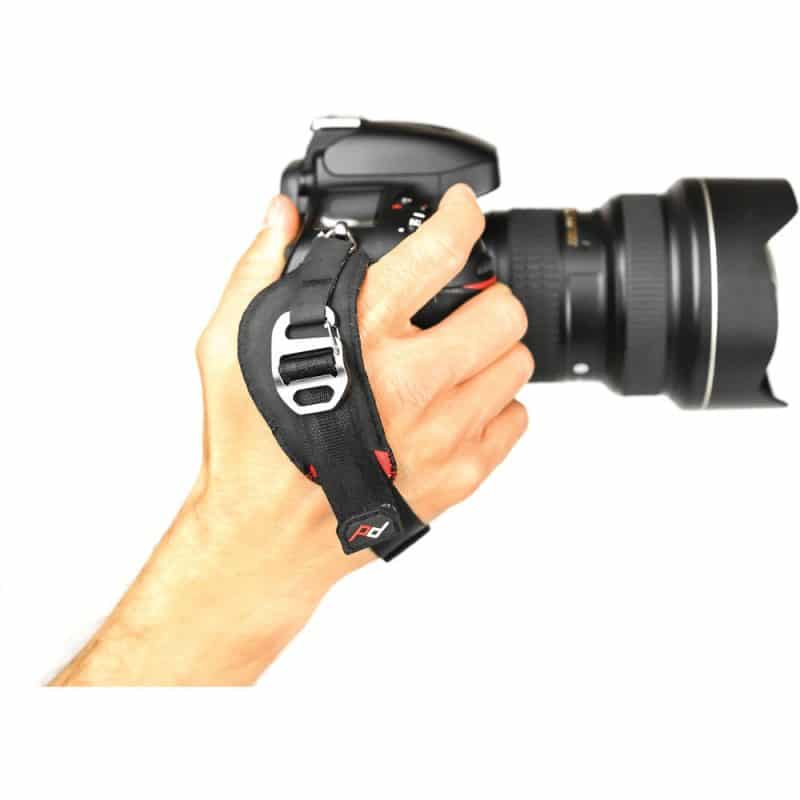 I love this thing! It's extremely well made, and very comfortable to use.  What's important to me is that it isn't bulky.  I can still fit my camera into any small space in any bag that I've always used, and it's not heavy either. Essentially, it adds the benefit of a sure grip, without any downsides at all.  Having the clutch on the camera is great if you are someone like me who doesn't always have a big shoulder strap on the camera.  It means that you've always got something to hang on to and I found it comforting to have that added connection to my camera when walking around with it in my hand.  I often walk around using it as a handle as well when carrying my camera by my side.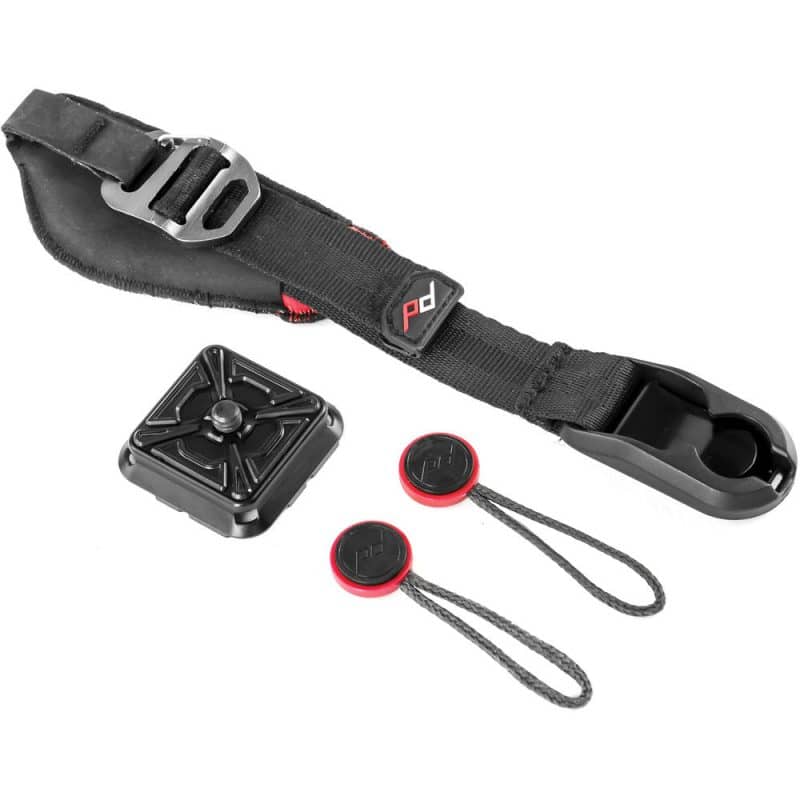 In the box – The Clutch comes with an Arca-Swiss compatible plate for the base of your camera.
As you can see in the photos of my Canon 5D Mark III, I use a Really Right Stuff L-Bracket on the bottom of my camera so I have the quick release Anchor attached to that.  If you don't already have a plate on your camera, the clutch comes with a small 4-sided plate that can be clamped into any Arca-Swiss standard clamp like Really Right Stuff, Arca, Kirk etc.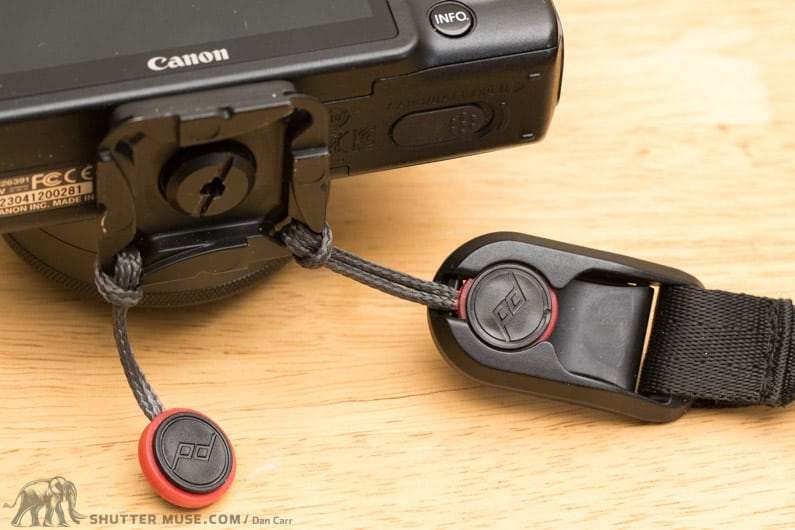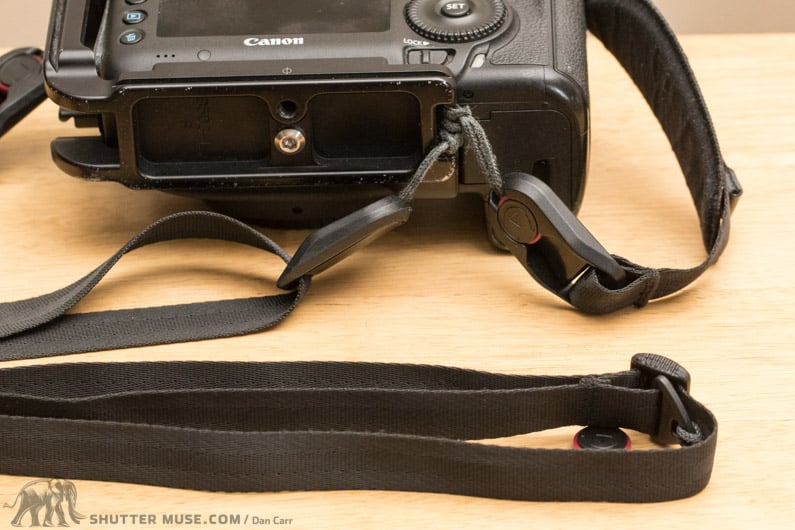 Here is my Clutch with my Leash shoulder strap attached at the same time.
One thing that's worth mentioning is that when I switch to using a shoulder strap, I'm using the anchor link on the left of the camera and then another on on my baseplate to attach it, because the Clutch takes up the attachment point on the right side of the camera.  In fact, that's how I prefer to attach a shoulder strap anyway because when it hangs on your shoulder, the lens then points downwards instead of outwards.  Much easier to walk through crowds, and it protects the front of the camera.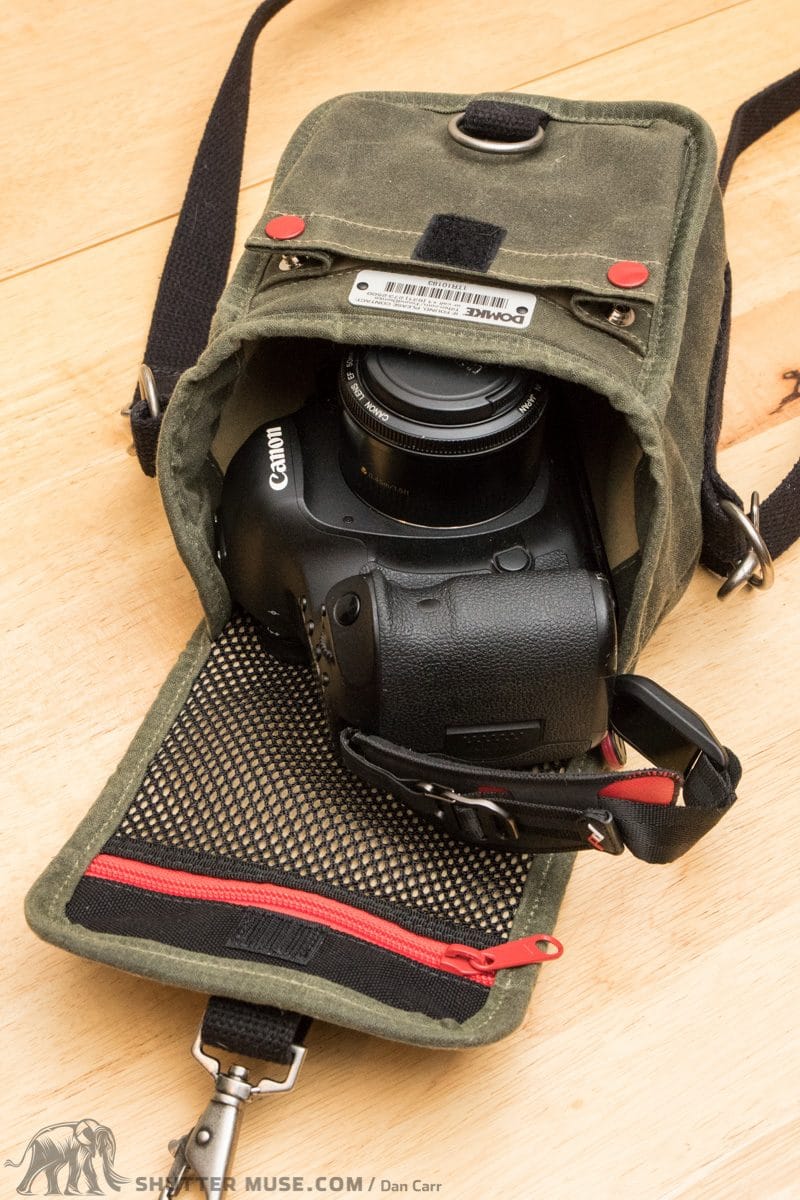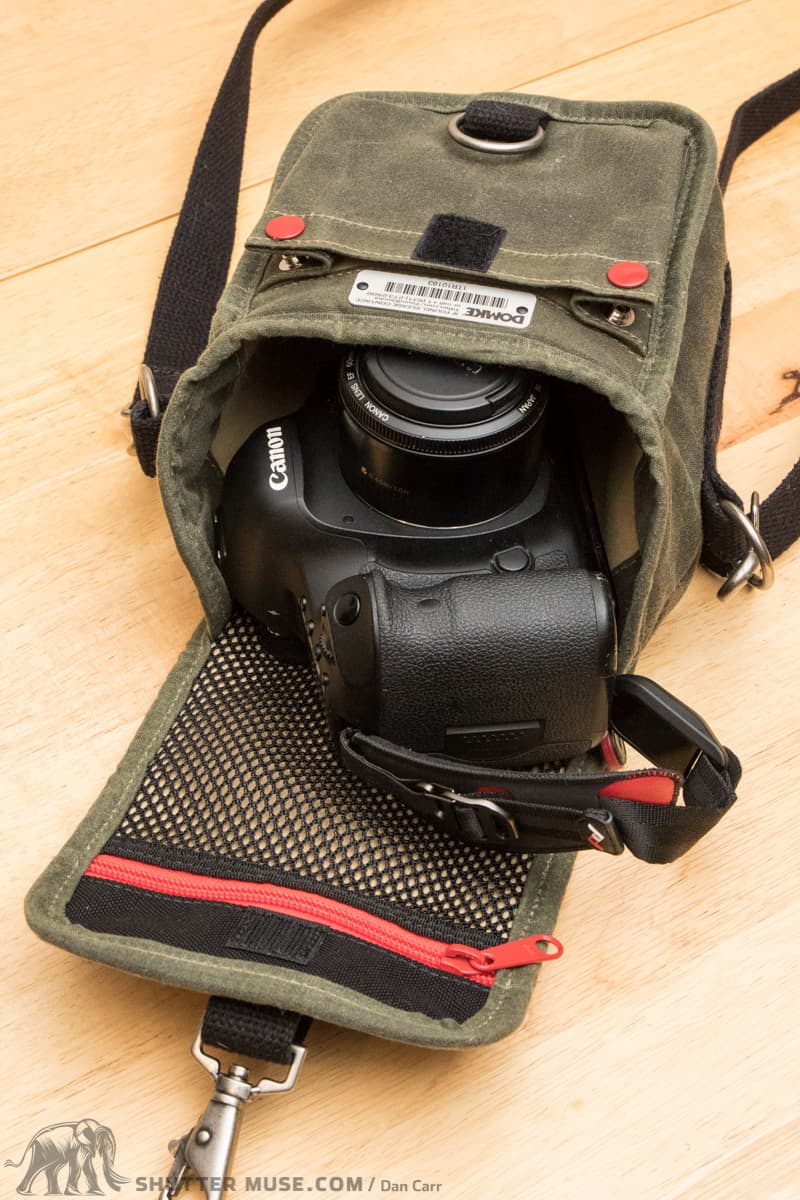 The Clutch is excellent in a setup like this where a shoulder strap on the camera is clearly unnecessary if it's to be kept in shoulder bag. Before you ask…this is a Domke Trekker bag (review).
Conclusion
The Clutch definitely gets my long-term seal of approval and I think it's a great addition to a camera if you have a quick-release shoulder strap that you often remove.  Don't have a QR strap?  Check out the Leash or the Slide, or something from BlackRapid. If you have a more permanent shoulder strap setup (for example if you are using the standard strap that came with your camera when you bought it), it probably isn't quite so useful because having the Clutch and a shoulder strap attached at the same time might be a bit cumbersome. I really can't think of any way in which this product could be improved, and that's pretty rare for me!
Where to Buy (+ get a discount)
As always, it's greatly appreciated when you shop using the links on this page. I might make a small commission when you do this, and that helps me bring you more content in the future.
If you'd like to get a discount on all Peak Design products, we are able to offer a special deal to our readers thanks to our long time relationship with Peak Design. Just click the button to reveal it.
More Peak Design Reviews
A considerable archive of Peak Design product reviews is available here on Shutter Muse.
Pin This Review