Morant's Curve is a bend in the railway that runs between Banff and Lake Louise, right through Banff National Park. The curve happens to have a spectacular mountain backdrop, and it's easy to photograph it from a pullout on the side of the Bow Valley Parkway. Highway 1A (Bow Valley Parkway section) runs parallel to Highway 1 between Banff and Lake Louise. If I'm headed in either direction, I usually take the slower and more scenic parkway because you can often see wildlife such as grizzly bears, black bears, wolves, elk and moose.
The curve is a couple of minutes drive from the North end of the parkway, and it's hard to miss because the view is quite spectacular and devoid of trees on the side of the road at that particular spot. You can park in a small parking lot which will be on your left-hand side if you're heading south from the Lake Louise end, or you can pull into a small pullout on the opposite side which will usually have a car or two in it from other passing photographers.
I have to say that if this location weren't in such an accessible location, I probably wouldn't seek it out so often, but if you're driving right past it anyway, it's fun to stop and meet a few photographers. I've met people from all over the world in this spot, and on a couple of occasions heard approaching trains in the area just by winding my window down. You might as well stop and see what you can get!
Every time I've seen a train there, it has been moving from left to right in the frame. I have seen photos of trains moving in the opposite direction, but I can only assume that this is more of a rarity, or perhaps they tend to come later in the day in that direction? Hard to say! I have met people there who were desperate to have the train coming from the other direction, but in all honesty, I don't think it makes much difference to the photo. I'm happy enough with the couple that you see on this page.
One thing that's worth remembering when setting up for this moment is that you need to decide if you want the train tack sharp or intentionally blurred to convey movement. When you stand there looking at the mountains, it's easy to get into a landscape photography mindset and set a shutter speed that's too slow to freeze the train's motion.
When that train does finally arrive, it's all over in a couple of seconds, so you won't have time to adjust settings. I'd recommend a shutter speed of at least 1/320 of a second if you want to train to be pretty sharp, and maybe 1 second if you want a lot of intentional blurring.
I've also found that a polarizing filter can work very well in this spot because if you hit it in the morning, the sun is coming from the left in the frame; that kind of angle will show the maximume effects of a polarizing filter. The filter will deepen the blues in the sky, add drama to the clouds and take the sheen of the foliage to make the greens and yellows pop even more if they aren't covered in snow.
When is the Best Time to Photograph Morant's Curve?
The exact time will be seasonally dependent, but if the sun is out, generally, I think it looks best in the morning when the sun is coming from the Banff end of the Bow Valley Parkway.
Can You Predict the Train Times?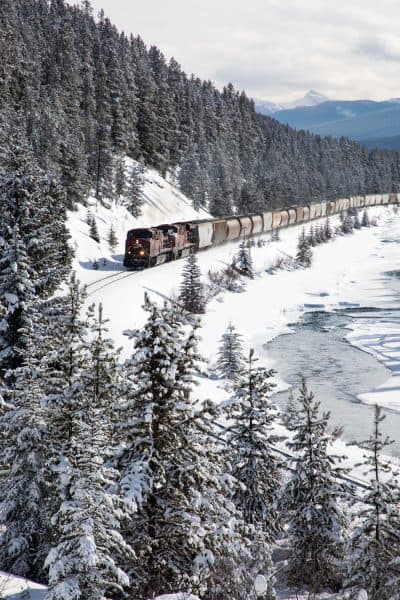 I've been asked this question a lot by other photographers whilst standing in the curve area, but the consensus is that you can't predict exact timing because the trains are freight trains and not scheduled passenger trains. If anyone knows differently, I'd love to hear in the comments! I've certainly never come across anyone standing there who has said, "Yes, there will be a train in exactly 10 minutes".
Having said that, every time I have stopped there, I've never had to wait more than 20 minutes before a train comes along, so I haven't found it necessary to try and figure this aspect out in more detail. Once or twice I've even seen them coming in the distance whilst viewing other areas of the Bow Valley Parkway and been able to casually move down to Morant's Curve and get ahead of them. Freight trains don't move very fast!
If you're in the area of Banff National Park on a photography trip, you'll undoubtedly drive the Bow Valley Parkway anyway, so I think this is a fun little stop off on the drive. Yes, it's a trophy shot, but I also like the fun aspect of bumping into other people there and hearing their stories. If you aren't from Canada, it's hard to find a more Canadian looking location than this spot!