The Really Right Stuff MC-LS is a universal L-plate with unique features that allow it to better adapt to a broader range of camera bodies than most other similarly described products. Before it launched, I tested this plate on a range of Sony, Canon, and Nikon cameras to see how it fared. In this review, we'll look at the features in detail and discuss why you might consider owning a universal L-plate/L-bracket instead of one specifically designed for your camera body. This cleverly designed product will change many people's minds on this topic.
Table of Contents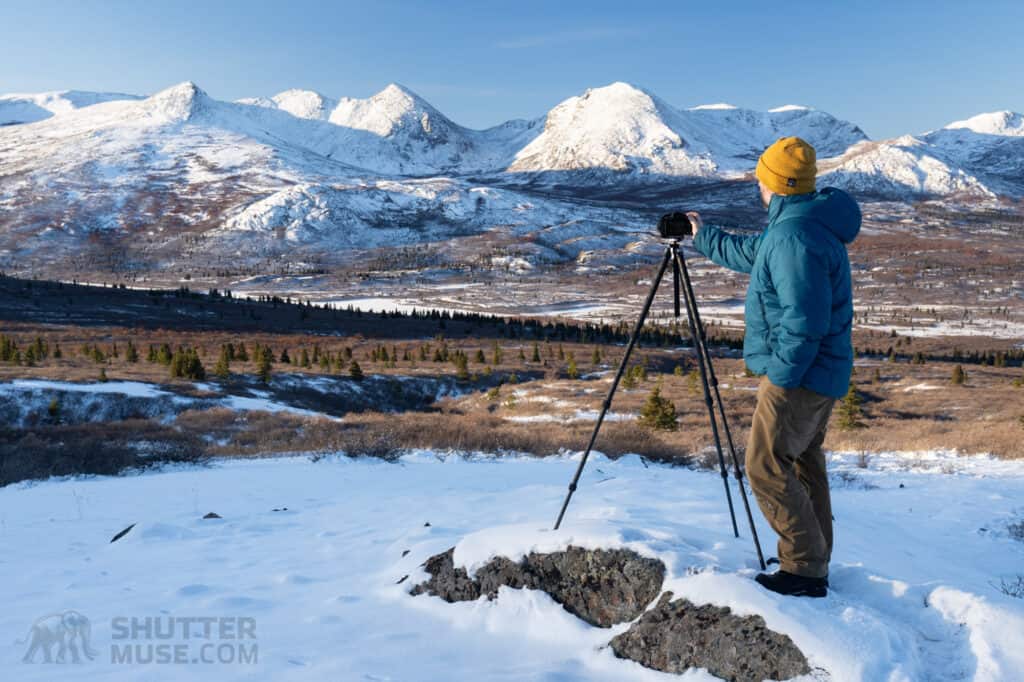 RRS MC-LS Universal L-Plate Features
Arca-compatible design based on the RRS Dovetail Standard
RRS-Lock compatible design works with the ARC-LR to lock in place
QD socket for camera straps using the QD (quick disconnect) standard
Adjusts for various camera sizes and screens
Sliding L-component adapts to body size and port configurations
Two-piece L-component slides away from the camera or can be removed entirely
Anti-twist flange plate adjusts fore-aft and can be oriented to sit against the front or back of your camera
RRS MC-LS Universal L-Plate Specifications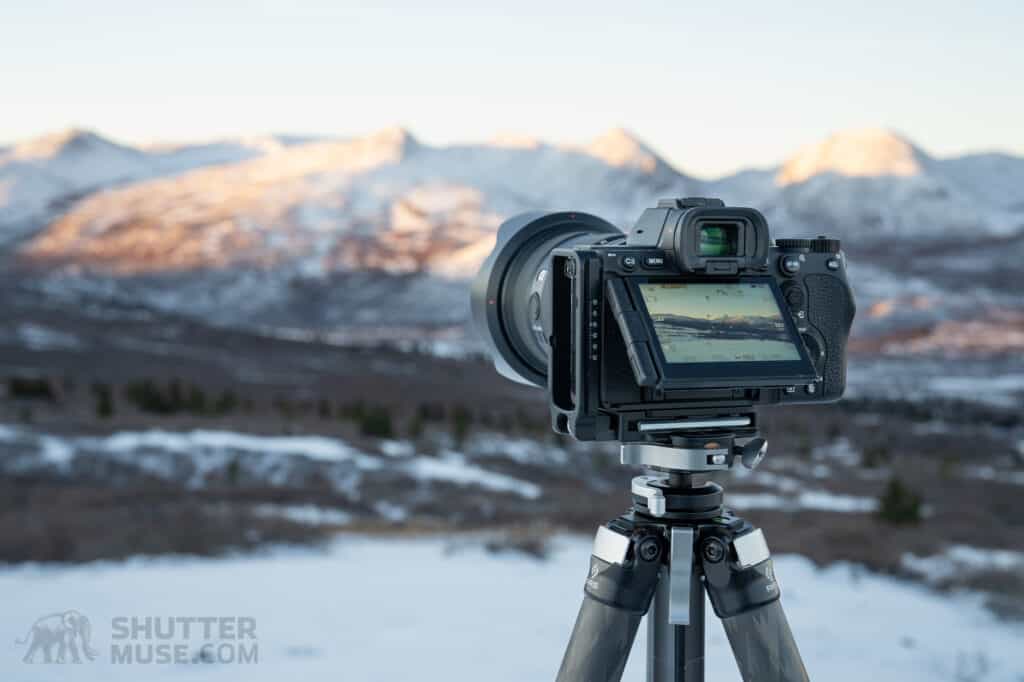 Fully Collapsed L-Set Specs:
Length: 3.4 in/87 mm
Width: 1.5in/38 mm
Height: 3.5in/88 mm
Weight: 3.8 oz/109 g
Useful Specs for Measuring MC-LS Fit
Really Right Stuff has provided some measurements that will help you determine whether the MC-LS will be a good fit with your camera.
Camera socket to anti-twist flange distance: Max 29.89mm / Min 3.95mm
Camera socket to LC: Max 76.2mm / Min 3.95mm
L-Component side port access window width: 28.1mm
L-Component forward/back slide: +/-5mm
RRS MC-LS Price
I wouldn't usually dedicate a sub-section of one of my reviews to the price discussion, but the MC-LS warrants it in this case. At launch, Really Right Stuff is aggressively pricing the MC-LS Universal L-plate at $140. Considering that many of their camera-specific L-plates cost over $210, the MC-LS looks like a great deal with all the features I'm about to outline in this review.
I have said many positive things about RRS products in reviews over the years, but this is the first time I have called one of their products a great deal. You always get what you pay for with their products, but it's no secret that many are priced high enough to be out of people's reach. When I heard the price of the MC-LS in my pre-release call with RRS, it raised an eyebrow. So much so that I had to clarify something with them: Yes, the MC-LS bracket is still made in the USA, and all ancillary components (screws, etc.) are USA-sourced.
To be clear, $140 is still more than some (not all) universal L-plates on the market. However, as we will see in the next section of the review, the MC-LS is not your average L-plate. It offers far more customization to better fit a wider range of cameras than any other universal plate solution. Considering the obvious manufacturing complexity of the design demonstrated in the following section of this review, the price point seems even more impressive.
MC-LS Universal L-Plate Design and Features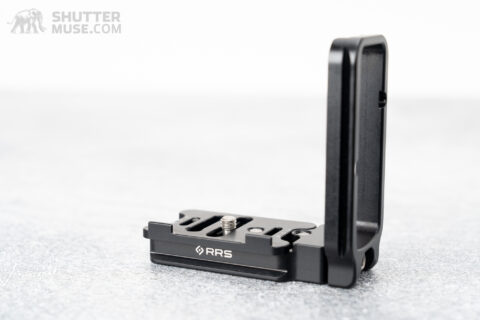 The L-component of the bracket slides parallel with the camera's base to adapt to different body sizes. This also allows you better access to the ports on the camera's left side, which can be helpful when using many of them simultaneously. If you prefer, the L-component can be removed entirely. A single screw on the L-component provides +/- 3mm of movement perpendicular to the camera's base. This is useful for lining up the port access window with a broader range of cameras or making quick in-the-field adjustments to port access or LCD movement as your shooting requirements change throughout the day. Note that the base adjustment provides a further +/- 5mm of fore/aft L-component movement.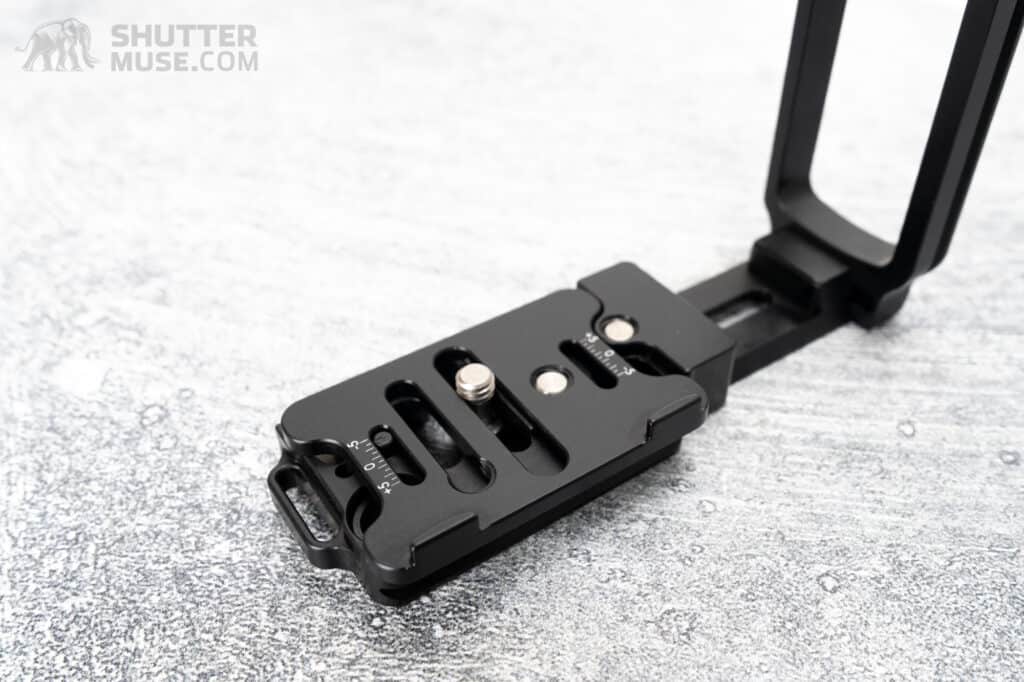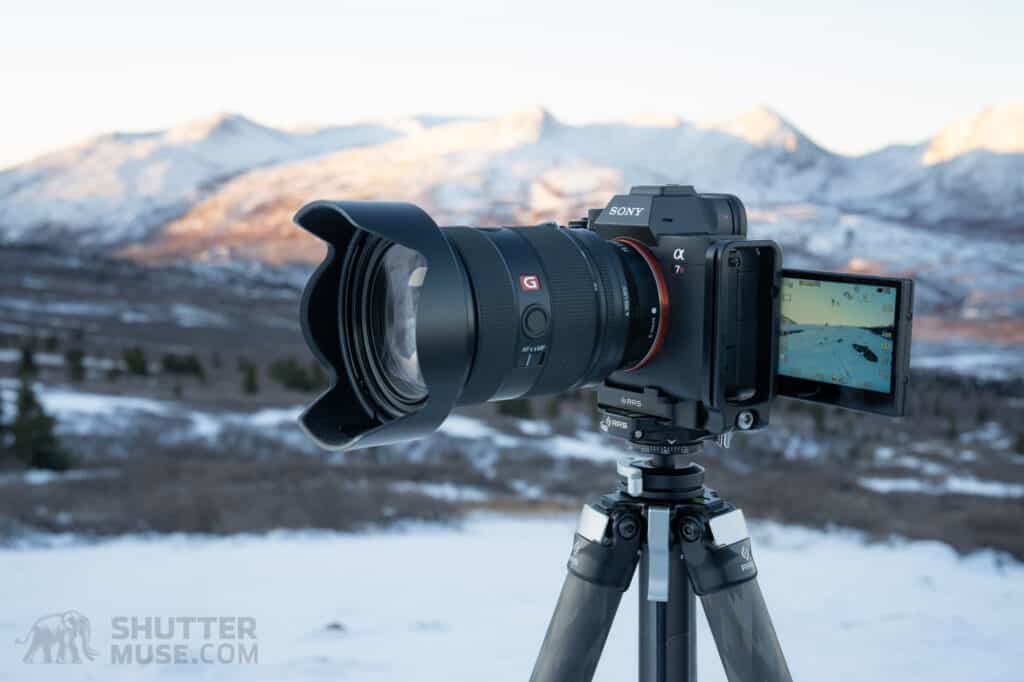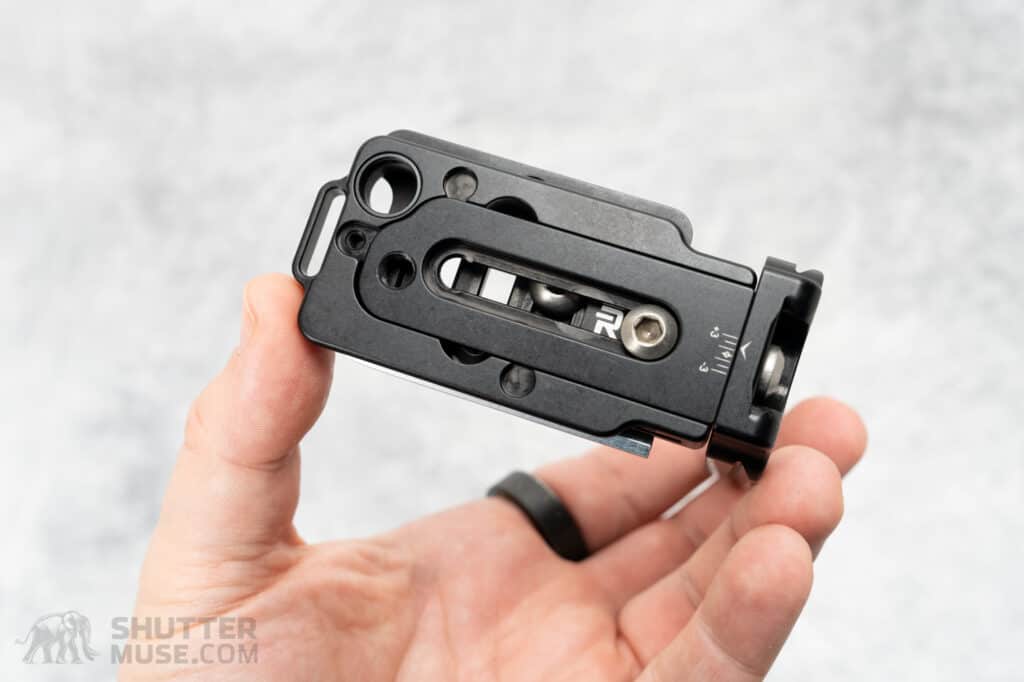 The base component features anti-twist flanges to prevent unwanted plate rotation and lens droop that causes soft images. By default, these flanges sit at the front of the plate. This works well with some cameras, mainly those with a flat front, such as most Sony mirrorless cameras. For cameras with a curved front, you will want to unscrew the inner flange plate from within the L-plate's base and rotate it by 180 degrees to place the anti-twist flanges at the back of the camera. RRS has thought about this carefully and included laser-etched markings on the anti-twist flange plate for use with the plate in both directions.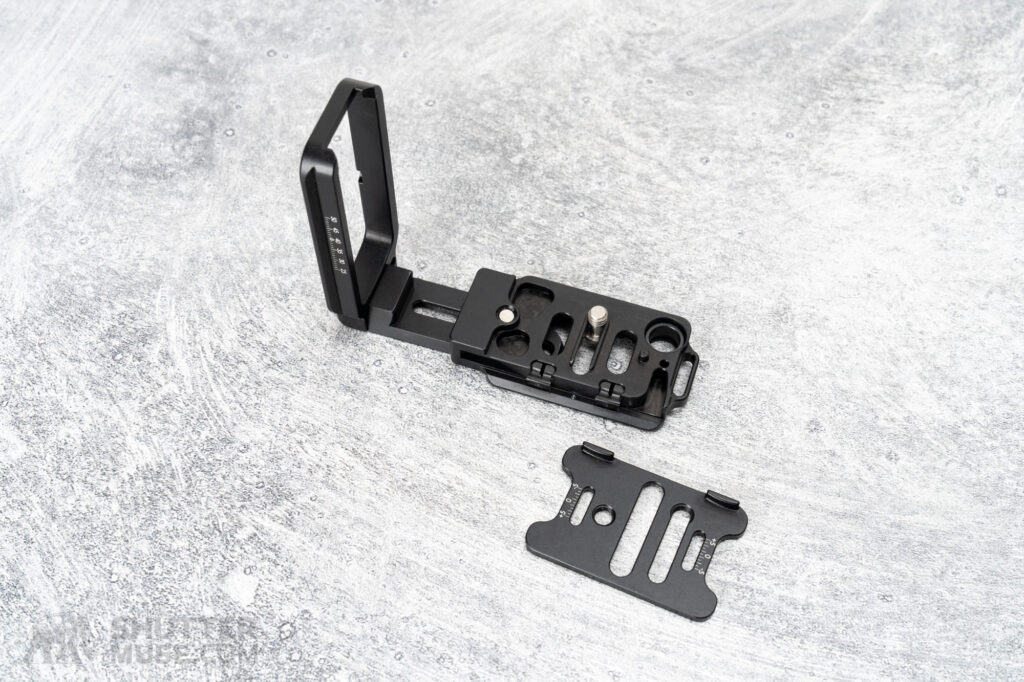 I don't want to gloss over this feature because it really sets the MC-LS apart from other universal L-plates. Other universal plates forgo anti-twist flanges because getting them to work universally is tricky. Some cameras need the flanges on the front and some on the back. The inner, reversible anti-twist plate on the MC-LS is a critical feature that, for the first time, means you can have a universal L-plate attached to your camera just as securely as a camera-specific plate. I tested this plate on seven cameras: 4 Sonys, 1 Nikon, and 2 Canons, and had no issues adapting it perfectly to any of them.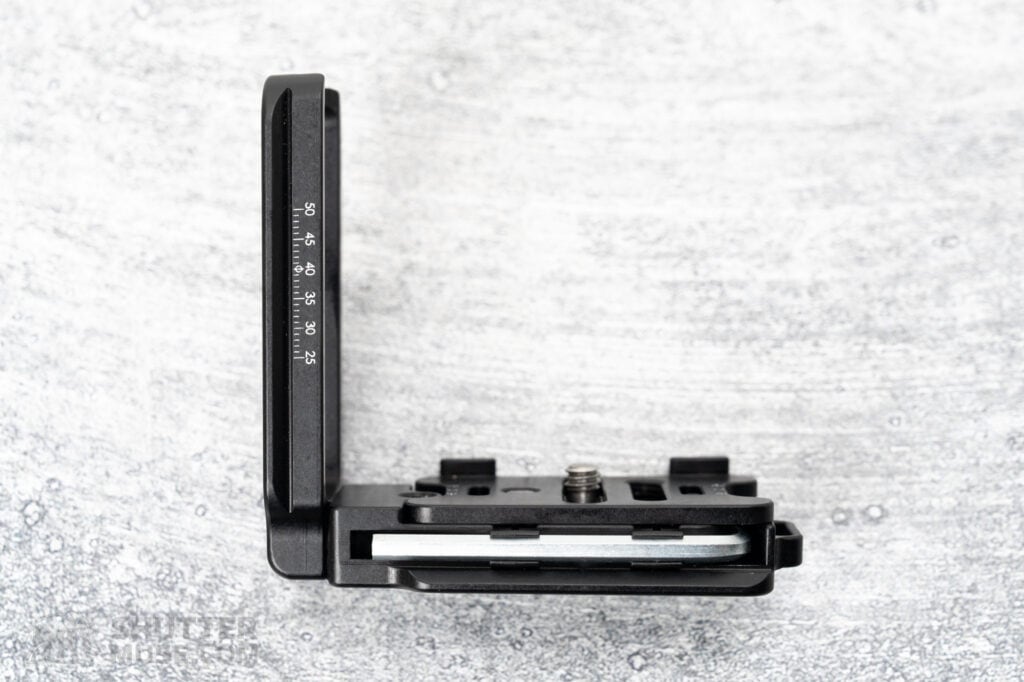 Laser-etched markings can be found all over the MC-LS L-plate. If you only use the plate on one camera body, you may not always need these, but they are helpful if you plan to move it between cameras. Once you have completed your initial plate adjustments for a perfect fit, note the adjusted positions using the etched markings or snap a few photos of the positions using your phone. This will allow you to repeat the perfect setup every time you combine the plate with that camera body in the future.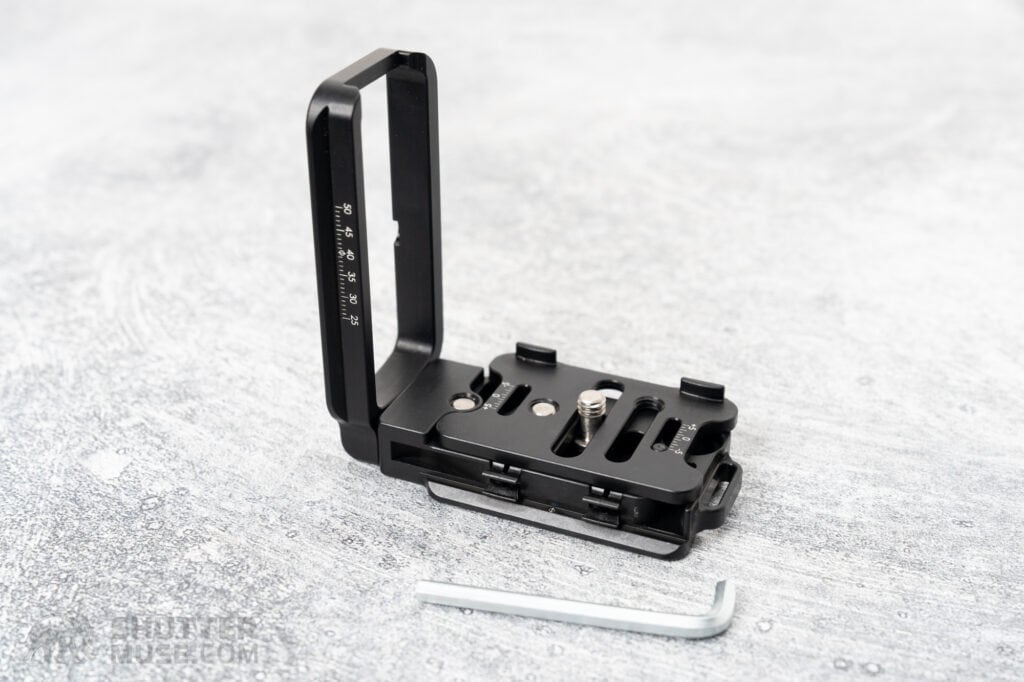 Like all RRS L-plates, the MC-LS includes a miniature 5/32″ hex tool attached to the bottom plate for plate adjustment or removal in the field. The tool is held securely within the plate using two small polymer clips. Anyone who has lost one of these tools from an L-plate in the past will appreciate the improved grip on the tool that this design offers. The tool needs a positive push to snap securely into place and a reasonable force to extract it again.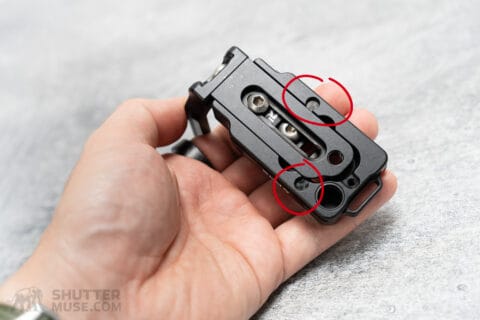 The MC-LS is compatible with the RRS-Lock system when used with a correspondingly compatible RRS quick-release clamp like the ARC-LR seen above. The red-circled holes on the base of the plate line up with the circular locking pin seen in the clamp's jaws. This spring-loaded pin centers the plate on the ball head, preventing any unwanted horizontal shift. The pin is retracted when the locking lever of the ARC-LR is opened. If you're not using an RRS clamp with the RRS-Lock feature, this is no problem. You won't even know it's there. The MP-LS bracket will fit perfectly into any other Arca-Swiss compatible ball head clamp.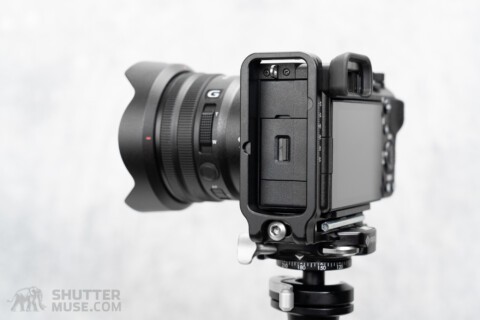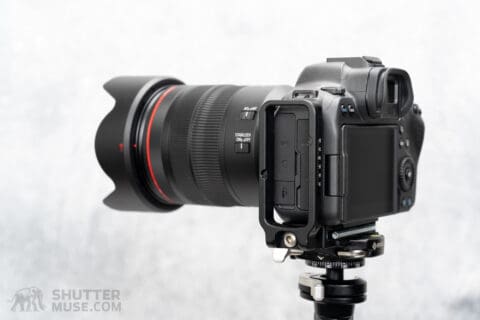 Why Use a Universal L-Plate?
I have written extensively about the benefits of using an L-plate/L-bracket on your camera. There is no need to rehash the entirety of that information in this review except to say that they help you to quickly and precisely switch between portrait and landscape orientations without compromising the stability of your ballhead+tripod setup. But why would you choose a universal L-plate instead of one designed for your camera model?
Universal L-plates are helpful for many reasons, and even if you typically buy custom camera-specific L-plates for your cameras, it may still be worth considering a universal plate like the MC-LS for your kit. Firstly, a universal plate can save you money if you have multiple cameras, assuming the cameras are different models. You'll only need to buy one plate, and if you typically take just one camera with you on a shoot, you can quickly swap the plate onto that camera. I don't usually recommend this method if you carry two cameras in the field, though. While changing the plate from one camera to another doesn't take long, I wouldn't want to swap them between shots constantly.
The next reason you might consider having a universal L-bracket in your kit is for use on newly released cameras. While there can be some benefits to customized camera-specific plates, it usually takes companies like Really Right Stuff or Kirk Photo several months to design and manufacture those plates after the camera has been launched. What do you use on your new camera in the meantime? A universal L-plate is the answer. I have several universal camera plates in my office for this exact reason. If I decide to keep a camera long-term, I may buy a camera-specific plate down the road, but every camera I get starts its life with me on a universal L-plate.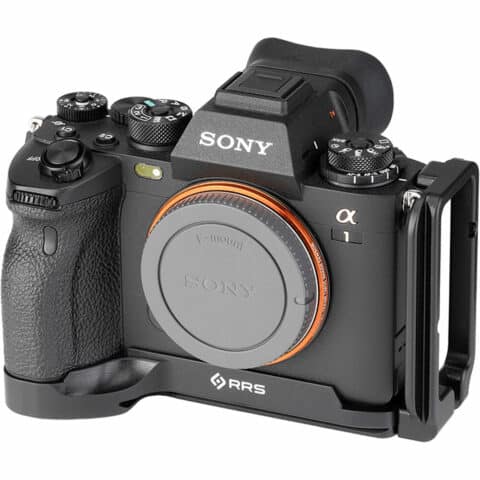 Believe it or not, weight is another consideration for choosing a universal L-plate like the RRS MC-LS. The MC-LS weighs just 109g. If I look at one of my cameras, the Sony a1, I see that the Really Right Stuff custom L-plate for the Sony a1 weighs 147g, making the universal option 25% lighter. While the custom camera plate covers more of the camera's base and provides a slightly more comfortable grip with a pinky rest, there can be times when the weight of my camera bag is a higher priority. Having a good, lightweight universal plate in my kit gives me options.
Now, we should consider the cost of the plate. In many cases, a universal plate will cost less than a camera-specific plate. The lifetime costs are even less when you consider that, with careful care, you can continue to use a universal plate when you buy your next camera. Conversely, if you use a camera-specific plate, you would lose money on that when you sell it with your old camera. Or, in the case of many of my old plates, it will simply end up in a drawer gathering dust.
Finally, universal L-plates are helpful for people who like to rent cameras. You may want to test a camera before buying it, or perhaps you own a single camera but want to rent a second body for that once-in-a-lifetime photo trip. A universal L-plate is, again, a great solution for these situations.
Conclusion
The Really Right Stuff MC-LS is the best Universal L-plate on the market. No other universal camera plate offers a comparable range of customization. Thus, the MC-LS better fits a broader range of cameras, making it a better long-term investment whether you plan to use it as your only L-plate, or whether you want it as a spare to use with rented cameras, lend to friends, or use temporarily when newly-release cameras don't yet have camera-specific plate options available.
Of particular note is the unique reversible anti-twist flange plate. Other universal L-plates lack this critical feature because manufacturing them to work universally is challenging. Some cameras require the flanges to be on the front and some on the back. The reversible flange plate that sits within the base component of the MC-LS is a clever piece of engineering that solves this long-standing problem with other universal L-plate designs. At $140, the RRS MC-LS is aggressively priced, considering the design's complexity and the machining quality. This is a great piece of kit that most photographers will find extremely useful.
Where to Buy
The Really Right Stuff MC-LS Universal L-Set is available here from B&H Photo. As always, using our links for your purchases is greatly appreciated. For international buyers, B&H Photo offers free shipping to Canada and a few other locations on orders over $100. They also allow you to pre-pay any taxes owed and display the final total in whatever currency you prefer; no nasty surprises! I use their international shipping every month, and there is no better store for it.