The Really Right Stuff MTX tool has been on the market for a few years and I have been meaning to mention it more thoroughly for some time. This is a photographer's multi-tool that features a total of 23 different tools for the most common camera and tripod parts.
10 of the tool bits can be stored in the handle of the tool along with a 3/16″ hex key. An additional 12 bits are supplied in a small holder. The idea is that you figure out which 10 bits are going to be most useful for your particular camera and tripod setup. Those are transferred into the handle and the rest can be left at home in the supplied case.
Specs
Weight (including bit holder and 10 bits): 3.4oz/ 95g
Weight of secondary bit holders: 1.3oz/ 38g
Length of driver handle: 4.9″/ 124mm
Total number of bits: 22
Number of Hex Keys: 1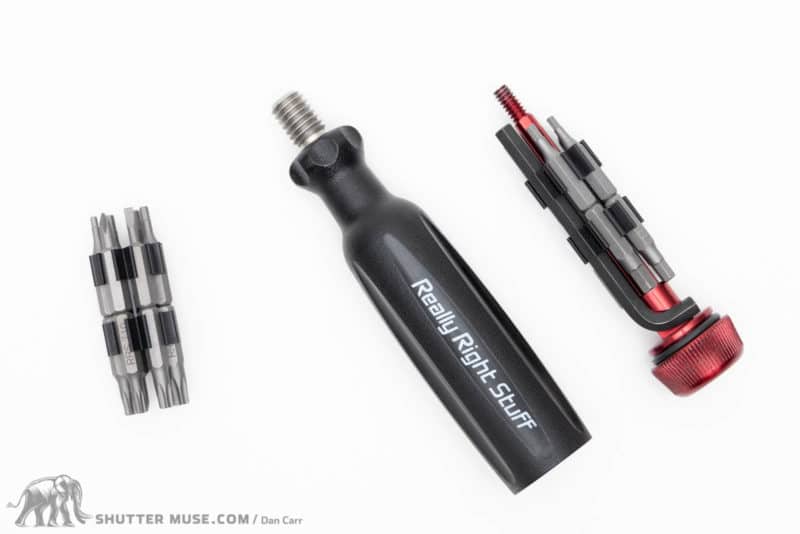 I have two of these tools. One lives in my photography EDC kit and is always in my camera bag. A second one lives in my travel duffle bag as a backup.
Unscrewing the rear cap to release the tools is straightforward. The tip of the tool is magnetized so that the bits are held tightly when in use. Probably the smartest part of this tool is the inclusion of that 3/16″ hex key in the handle as well as the bits. This means that you can tighten tripod legs that require you to hold both ends of a bolt. Simply use both the 3/16″ hex key and the 3/16″ bit on the tool. One to hold one end still, the other to tighten the bolt. This is a common requirement for tightening tripod legs in the field.
The tail cap features a 3/8″-16 thread which allows you to screw it onto standard tripod studs. I can't say I have used this feature myself, but you could use it with a tabletop tripod to add some extra height. The tool tip itself is also a 3/8″-16 thread, meaning you can insert it into a ball head to create a camera handle.
At $50 it's not a cheap tool, but it's comparable to what you might spend on a good general multi-tool from a brand like Leatherman. I know the design is vastly different here, but the purpose is the same: make sure you have a tool to tackle everything.
As an aside, it is probably one of the coolest. universally useful gifts you could ever buy a photographer friend for their birthday. It's sure to make them smile, and live in their camera bag forever.
Where to Buy
Really Right Stuff products are not sold in that many outlets. In N.America your best bet is to buy from B&H Photo where you'll get free shipping. You can buy direct, but I have always found their direct shipping costs to be high. These days I buy all my RRS gear from B&H to get that free shipping. In Europe, you can buy from Augenblicke Eingefangen in Germany. This might work out to be cheaper for European readers, even though B&H will also ship to Europe.