Unlike studio photography where every aspect of lighting can be controlled, sports photography is usually conducted outdoors at the mercy of Mother Nature. Using a flash to augment the available natural light on a sports photography shoot is a great way to take back some control of the scene, and create a set of dramatic, compelling images.
In this article, I'm going to demonstrate the possibilities and techniques of sports flash photography by sharing a set of images that I created on assignment in New Zealand. All of the images were shot in one location, using a single flash. By the time you have read the article, you will have a deeper understanding of how to use flash for sports photography, and a better sense of how to control the lighting of outdoor photoshoots in general.
Please Note: This article is currently being re-written. You might come across a few jumbled paragraphs and text that is out of place.
To Get Started, Keep Things Simple
When it comes to using flash for sports photography, people often try to overcomplicate things. They take their entire studio setup outside, softboxes and all, and then struggle to get a sharp image of a fast-moving subject while balancing ambient light with a collection of strobes.
If you're used to studio photography or portraits of static subjects, mixing ambient light with the light from a flash does require an understanding of new concepts. It's easier to get to grips with these when you simplify your setup, which is why I'm demonstrating them in this article using a single flash, paired with a simple metal reflector. As you'll see, this is more than enough to completely transform the look of your images.
Aside from the conceptual complications that are often experienced when learning to use flash outdoors with a moving subject, there can be several gear-related challenges, too. Shooting outdoors in bad weather may require you to protect your flash gear from dust, sand, rain or snow. You'll also need to take the wind into account and make sure that your flash head doesn't topple over. All of these are easier to manage when you start by learning with a simple one light setup.
Why Use a Flash for Sports Photography?
There are two overarching reasons why you might want to use a flash with your sports photography. This first is to solve a problem that is preventing your photo from being as good as it could be. When you're shooting outdoors, this is usually a total lack of contrast-creating directional light on an overcast day, overly harsh direct light caused by a high sun angle, or backlight that leaves your subject in shadow. Proper use of flash can solve all these problems and make it possible to create portfolio-worthy images in any condition.
The second reason you might consider using flash for sports photography is to create a specific look for artistic purposes. Those that master this style of photography can develop a portfolio that stands out from the crowd.
The first is to solve a problem and the second is to create a specific look for artistic reasons. But before you start, it's important to understand what that look will be and to understand the science behind creating it.
I can't tell you the number of e-mails I've gotten from people who have bought themselves a flash simply because everyone else has one, and then struggled to understand the underlying concept behind using one. They get caught up in the "why doesn't my photo look like your photo?" question and don't stop to understand the basics.
Let's start by looking at the opening image. The use of flash in this photo really makes it what it is, it simply wouldn't be the same without it. Firstly, the flash pulse has allowed me to freeze the action of the skier, whilst having a slow shutter speed of 1/320 which left the flecks of snow looking like they are streaking through the air and not frozen in time. This is achieved by having a focused beam from the flash that's only hitting the skier. As you can see, no flash is spilling down to the ground at all.
The second thing the flash allows me to do is to bring out the colours and detail on the skier. Without the flash, and aiming directly into the sun as I was, this photo would have just been a silhouette, and not a very good one at that. In fact, I wouldn't even have bothered with shooting this unless I had a flash.
The next thing that flash allows me to do is to control the ambient light exposure. The ambient light is grossly underexposed here, bringing the sky colour down to that deep blue and giving you the impression that he's almost floating in space. It gives a radically different look and it's eye-catching to the viewer because it's not how we typically see the world.
In terms of setup, it's dead simple. The flash is about 5 feet to my left on top of a 6ft light stand, and I'm crouching down with a 17-40mm lens on a Canon 1-series body. The flash is triggered by basic Pocketwizards.
Careful use of just one flash can open incredible possibilities and that's what I want to demonstrate in this article.
What Kind of Flash Do You Need?
To really take control of your lighting outdoors, you need to be able to overpower the sun with your flash. Exactly how much flash power is required to do that, is not a simple answer. For example, on an overcast day, you will need much less power than you will on a bright, sunny day.
Aside from the weather, you also need to take flash-to-subject distance into account. The light from your flash follows the inverse square law. This means that if you double the distance between your flash and your subject, the light on your subject will be one quarter what it was before, not one half, as many people assume.
From this, you can hopefully appreciate the necessity to keep your flash as close to your subject as possible. Doing so will dramatically reduce the amount of flash power that is required to overpower the sun. If you can half that flash-to-subject distance, you will get four times as much light.
Sports photography comes with its own specific challenges, though. If you were shooting a portrait outdoors, it would be easy to place a flash just outside the frame, thereby minimizing that flash-to-subject distance and making it easy to overpower the sun. For simple outdoor portraiture I'd be happy with a 600W/s flash, and confident of overpowering the sun with a camera that has an x-sync speed of 1/250 or faster.
For sports photography, there will always be more space between the flash and the subject, and this means you will need more power. In general, I would recommend having at least 1000W/s of power on tap if you don't want to be constantly fighting limitations. This could be a single 1200W/s pack like an Elinchrom ELB 1200, or it could be a pair of 500W/s heads like the Profoto B1Xs. The more power you have, the easier it becomes.
Example Sports Flash Images
Gear Used for Example Images
All of the example photos were taken at Snowpark in Wanaka, New Zealand. Sadly this ski hill has closed, but it used to be a favourite hangout for professional winter sports athletes who were training during the northern hemisphere's summer months.
All of these photos use just one single 1200W/s flash. In my case it was an Elinchrom Ranger RX with an 'A' head

, pictured

above, but it could just as easily have been a flash from another brand such as Godox or Profoto.
All of these photos were taken within a the span of a few days.
The locations used for these photos were all within 200m of each other.
The flash was triggered remotely using regular PocketWizard radio triggers.
None of these images used any form of high-speed flash sync, be it HSS, Elinchrom Hi-Sync or Pocket Wizard Hypersync.
The shutter speed was always limited to the native x-sync speed of my camera. In this case it was a Canon 1-Series camera with a max x-sync of 1/320.
The reason that I mention all the above is to show you that a little creative thinking can bring you a variety of images within a very small space. Changing your lighting setup, the weather and your lens can make dramatically different photos.
If you're just starting with flash and moving objects then it can be tough to understand how it's possible to get tack sharp photos when using a shutter speed of 1/320 as most of the images on this page do. What you have to remember is that the creation of the image on your camera's sensor is done in two stages when you're using a flash. First, when you click the shutter button the flash fires its burst of light at your subject. The burst of light takes a specific length of time which is called the flash duration. The duration of the flash pulse varies depending on the power setting of your flash. This flash burst is effectively acting as what you might think of as your shutter speed in regular photography terms. It's what freezes the motion of the subject. For sports you want a pretty fast flash duration, say at least 1/1000 of a second, but if your exposure is 1/320 then after the flash burst has finished the shutter is still open for quite a bit longer. This is the second stage. In this stage there is no longer any light coming from the flash, you only have ambient light left and this ambient light is now busy 'painting' in the rest of your image. Filling in all the areas where your flash was not pointed. The problem most people struggle with is that during the second stage of ambient light only, this is still falling on your subject as well and 'painting' in more of your subject as it continues its trajectory. This is what creates blur when done incorrectly.
The trick is to underexpose your ambient light so that the part of your subject that is painted during this second stage is less visible than the part that's already been exposed by your flash. There are many other tricks to overcoming this problem, but that's for another day. I just wanted to lay some groundwork there for those that aren't familiar with the idea because this article is really just concentrating on the creative power that you can get from a single flash.
Example 1
I have a few versions of this shot, but I picked this one for the article because it clearly demonstrates the position of the flash. You can see it in the bottom left-hand corner of the frame. If you examine the light on the snowboarder's pants and white jersey, you should be able to see that that the sun is coming from the top right of the frame. The flash is almost exactly opposite the sun.
Although the snowboarder would have been lit by the sun, without the flash the rocks would have been almost totally black. With one flash, placed a long way off my camera angle, I have created contrast and texture that accentuates the obstacle being jumped by the snowboarder. The low positioning of the flash has also added light to the underside of the snowboard to give that bright yellow a little more pop.
Example 2
The skier in this photo is Simon Dumont, a multiple X-Games halfpipe champion and world record holder in the sport. and it was close to midday when this photo was taken. You can get a sense of how high the sun was by looking at the snow on the wall of the halfpipe in the bottom right-hand corner of the frame. The high sun has filled in all the shadows from the textures in the snow, leaving a harsh, bland light that is far from ideal.
With such a high sun, and Simon travelling over the top of my low shooting position on the deck of the halfpipe, his face and body would have been in total shadow if it had not been illuminated by a flash
Since the sun was high, and Simon was going to be above me, it would put the part of him that's facing the camera, almost entirely in shadow if I had not used a flash. I positioned the flash pretty close to me for this shot and you can see its reflection in his goggles.
Every situation is going to be slightly different and you have to read it very carefully. The general rule would tell you not to put a flash on the same axis as the camera if you want it to create contrast. In this case, it was just a couple of feet off to my left-hand side but I left it low to the ground on a tripod instead of a tall light stand and that added to the contrast as I was standing up. So the axis of the flash vs. the camera doesn't just have to mean how far to your left or right you put the flash, but also how far up or down compared to your shooting position. It's for this reason that I also like to use a very tall light stand. In many cases what you want to avoid is using a support that puts the flash at the same level as your camera. I like to keep a tripod around as well as a lightstand because this gives me the option of putting the flash really low if I need to.
This image is great because it shows you the other way that we can create dramatic and interesting contrast on a subject with a remote strobe. This time I'm shooting at 200mm so I'm standing quite a long way away from the flash. Clearly, the flash is almost directly on the camera's axis and it's also about head height on that tripod. This time the contrast on the subject is created by the difference in height between the subject and the flash, and my distance from the flash. If I had walked up to the flash and stood right next to it we would have had much flatter, boring light on the skier. By walking a long way away, my camera can see parts of the skier which the flash cannot. When that happens, when the flash cannot see all that you are seeing, you get contrast. Simple as that.
So we've covered three ways to achieve that contrast and to make your subjects pop:
Get the flash off your camera's shooting axis
Get the flash above or below your camera's shooting axis
Get the flash further away from your shooting position
The real skill comes from experimenting with all of these things at the same time and understanding how variations in each one will affect the final image. It's not complicated though if you're only using one flash. You just need to visualize that flash painting light into your image. What can the flash see? What can the camera see? If you know the answers to those two questions then with practice you'll be able to construct the photo in your mind before you've even taken it.
This shot needed a flash to direct light onto the skier's face which would otherwise have been in complete shadow. The rocks on the right-hand side of the frame would also have been extremely dark had I not spilt some light onto them, and it would have left a very unbalanced image. Large black areas in an image will always draw your eye away from the subject so you use the flash to eliminate it to a degree that provides a more balanced image.
Example 6
This was a stormy day with incredibly flat light. The clouds of fog were so thick that you'd be excused for thinking this was shot in a studio with a grey background! I love situations like this because I am put in total control of the lighting and it makes life so easy! You don't have to work around the sun – your flash is the sun!
For this shot, I once again underexposed the ambient light to create even more contrast between the sky and the wooden boards. The boards also act as wonderful leading lines that take your eye right to the subject. With less ambient light to overpower on this day, I was able to place the flash head further away and out of harm's way. The flash head was on a 6ft light stand, around 60-degrees off the axis of my lens.
Without a flash, the shot would have lacked the tonal and colour contrast that ends up making this a winner. On a day when most people didn't bother to come out of the restaurant at the ski hill, I was able to work with this athlete to create an image that was eventually used in multiple magazines, and a clothing catalogue. Mastery of off-camera flash is my lemonade machine when life gives me weather lemons!
Wrap-Up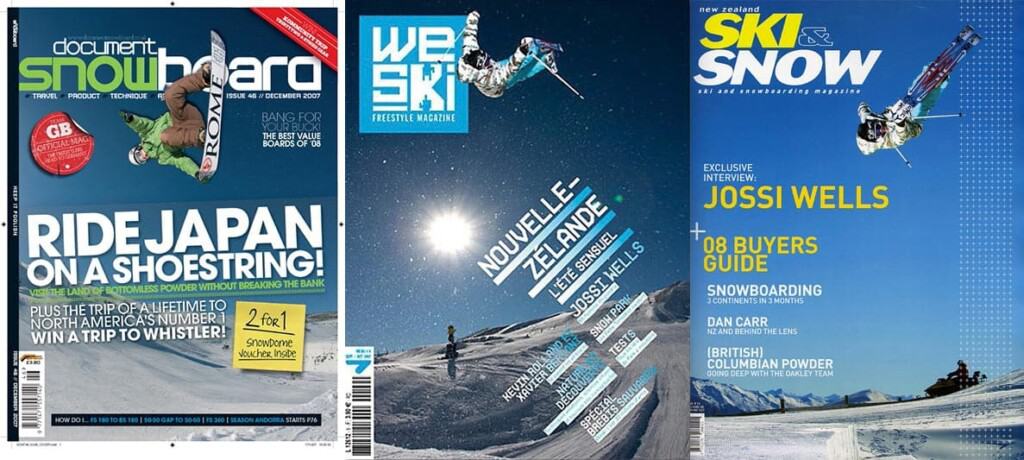 I hope this tutorial has given you some ideas for your next sports or action images. I have used skiing and snowboarding in this example because I wanted to show a cohesive set of images all taken in one location, but the concepts discussed in this article can be applied to any form of sports photography.