I've been on the hunt for the perfect camera rain cover for quite some time. In the past I've used the Think Tank Hydrophobias, but whilst they do offer incredible protection against the elements, they are cumbersome to carry around all the time and require a variety of eye pieces to be kept for my different cameras. The result is that they rarely leave my cupboard; they're just not something you can carry around "just in case". LensCoat launched a new cover quite recently and they promised an easier solution that required no dedicated eyepiece and a simple open back design. I took one on a wildlife trip in order to review it, but was left pretty disappointed (see review). Despite being simpler than the Think Tank cover, it was even more bulky due to the materials that were used.
Often all I want is a simple cover that is lightweight and compact enough to keep in my bag all the time, and preferably something that is slightly more advanced than a garbage bag before you make that suggestion!
After I posted the LensCoat review, a reader kindly messaged me to suggest I take a look at the Storm Jackets from Vortex Media. At first glance on their website, it did appear that the Storm Jacket was pretty much what I'd been looking for, waterproof nylon covering with simple elasticated openings on either end.
Sizing And Options
The Storm Jackets come in two variations, Standard and Pro, with each variation having sizes sizes from S to XXL, To figure out which size you need, measure the length of your camera and lens setup, then add a couple of inches to that length.Since the covers are lightweight and low profile, they do compress pretty well so you could definitely use a medium-sized cover with a setup that only requires a small size. That way you don't have to buy a cover for every lens combination you have.
Small — 11″
Medium — 17″
Large — 23″
X-Large — 27″
XX-Large — 31″
The only difference between the Standard and the Pro is that the Pro model has a velcro slit that runs along the bottom of the cover to allow use with a tripod or monopod.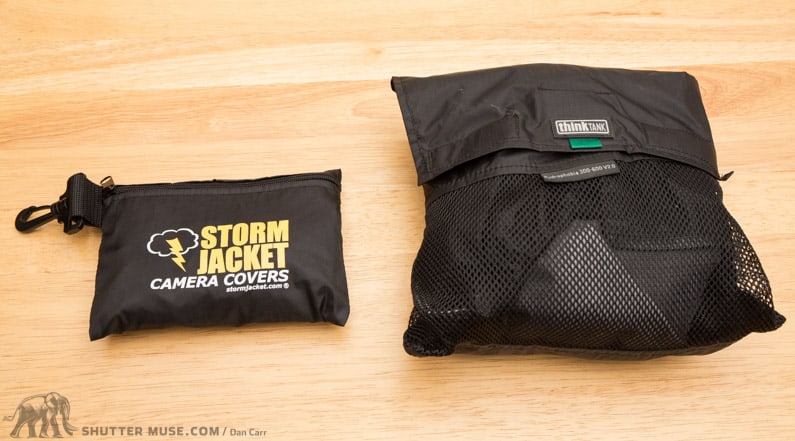 Design And Usage
For this review, I checked out the XL Pro version of the Storm Jacket and it was a perfect match for my Canon 200-400. The slit on the base of the cover meant I could mount the lens on my Really Right Stuff gimbal with no issues at all. Since I use the side-mount variation of the gimbal, this had previously proved problematic with all other covers which have arm holes because it means you have to use the cover rotated 90 degrees from where the manufacturer expects you to be using it. Since the Storm Jacket is essentially a simply nylon cylinder, it doesn't make any difference if you put it on a gimbal this way.
The next thing I was pleased to see is that there is plenty of room within the back of the cover to get your hands in and around the camera.
Perhaps calling it a cylinder in the previous paragraph is simplifying it a little too much, because it's actually a tapered design so that the back end (where the camera is) is much wider than the front. Not only does it allow you to get your hands on the camera and keep it under the cover, but it also allowed me enough room to reach in and use the zoom ring on the 200-400.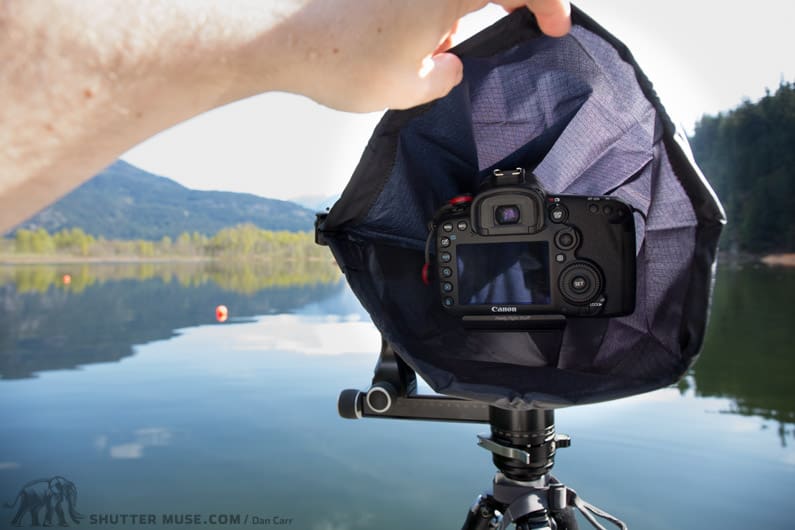 The beautifully simple design of the Storm Jackets also makes them ideal for covering up strobe heads and hotshoe flashes. I'm going to be placing an order for several more covers to suit a variety of gear! If I needed to, I could probably pack 4 or 5 Storm Jackets into a suitcase for the same weight and volume as one single Think Tank Hydrophobia or LensCoat RainCoat. Each case also comes with a carrying pouch that features a handy and decently sized plastic clip to allow attachment to a camera bag or perhaps a belt system if you are shooting an event.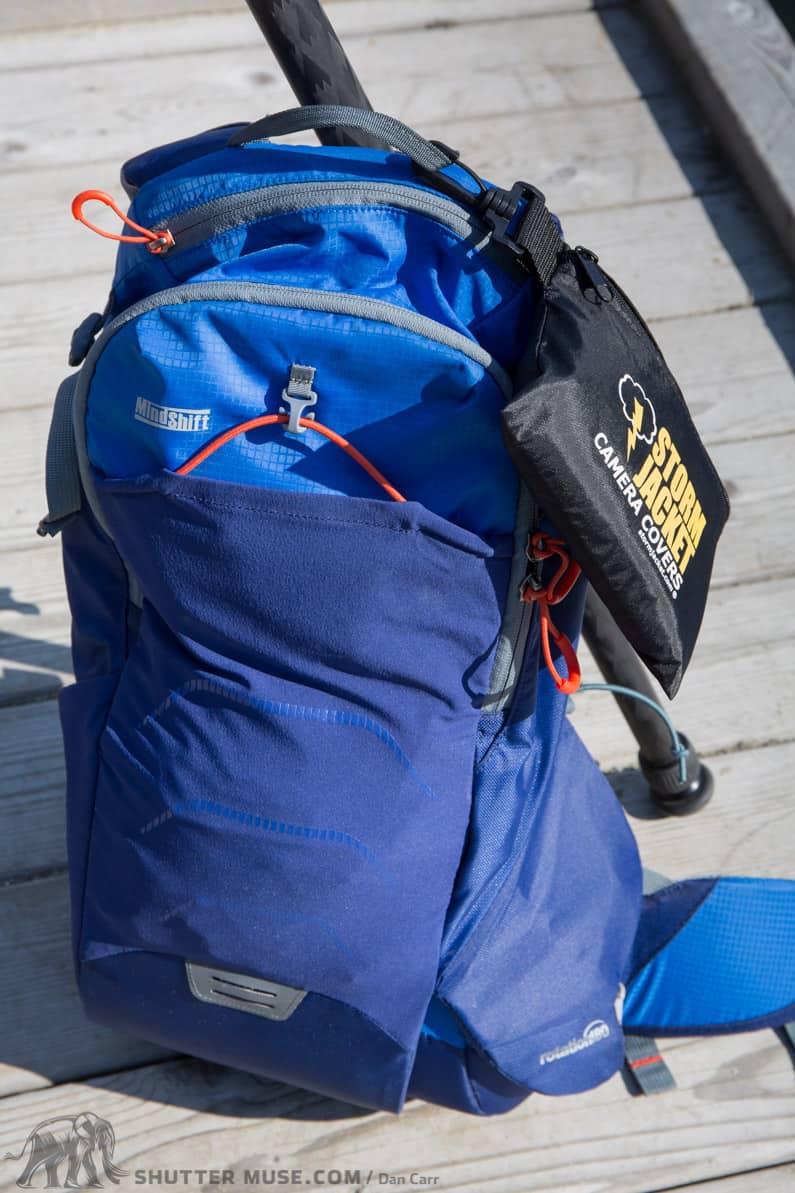 The simple design does mean that there are a few considerations when using the Storm Jackets. Firstly, you will have to keep in mind that there are no holes for the shoulder strap of your camera to come through. You can still use a shoulder strap, but given the open back design of the cover, hanging it over your shoulder would point that hole towards the falling rain and your gear will get wet. You can cinch up the elastic on the back to a large degree, but it's not possible to close it off completely.
If you're using a lens with a tripod foot (70-200 and upwards), the solution is to use your shoulder strap mounted to the tripod foot instead of the camera. The the tripod foot can be pushed through the velcro opening on the bottom of the Pro Storm Jackets. With longer lenses, this is, of course, the preferred way to carry them anyway so that you don't put too much stress on the lens mount, but I also like doing it with smaller lenses like the 100-400 or 70-200, as it hangs the camera at a more comfortable angle for carrying. My setup, as in the photo, uses a Peak Design camera strap with the quick release system attached to a Really Right Stuff clamp. That means I can slide the clamp off the tripod foot when the lens needs to be mounted onto a ball head, gimbal or monopod. If a situation arises where I find myself needing to carry a camera with a smaller lens around in a torrential downpour, I'll likely rely on a Peak Design Clutch (reviewed here) strap on camera and then insert my hand into the Storm Jacket and simply carry it by hand when absolutely necessary.
Another option is to mount your camera strap using a mount on the base of the camera, instead of the more typical mount points on the left and right of the camera body. Mounting like this means the camera doesn't sit over your shoulder with the back LCD or camera cover's opening facing directly upwards. In other words, it's possible for this to be a non-issue with a little thought. Since the simple design is really the thing that makes these covers so good, I don't see this as a fault anyway, just something to bear in mind.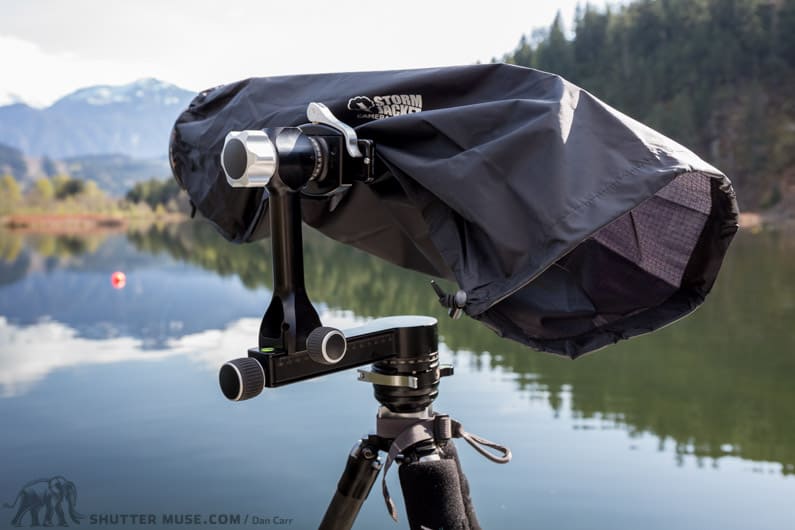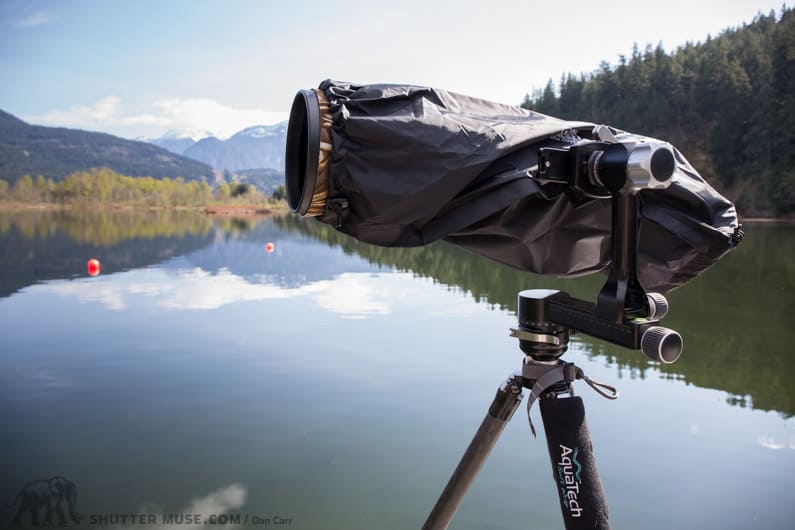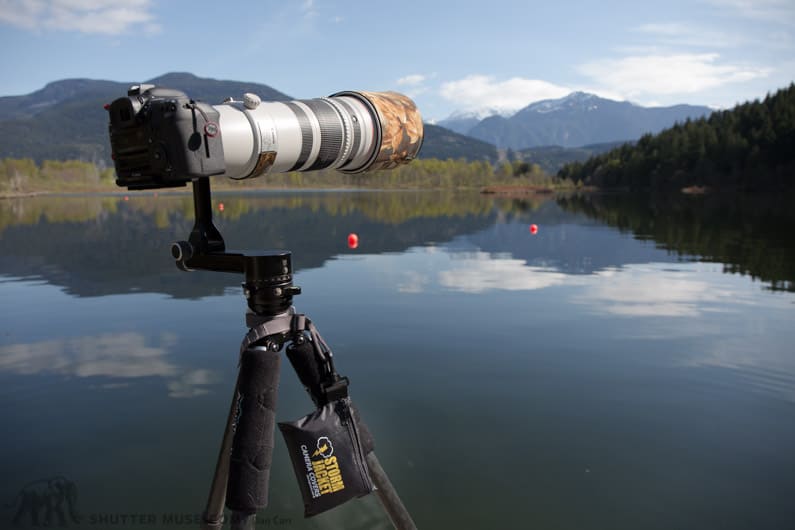 The second thing to think about is that there isn't a front cover either. Larger rain covers like those from Think Tank and LensCoat do offer covers that can be placed over the front of the lens when carrying them. In the past, the main time I've found those to be useful is when carrying a long lens over my shoulder on a monopod where the front of the lens tends to point skyward. I'd like to see Vortex Media offer something similar as an optional extra for the Storm Jackets.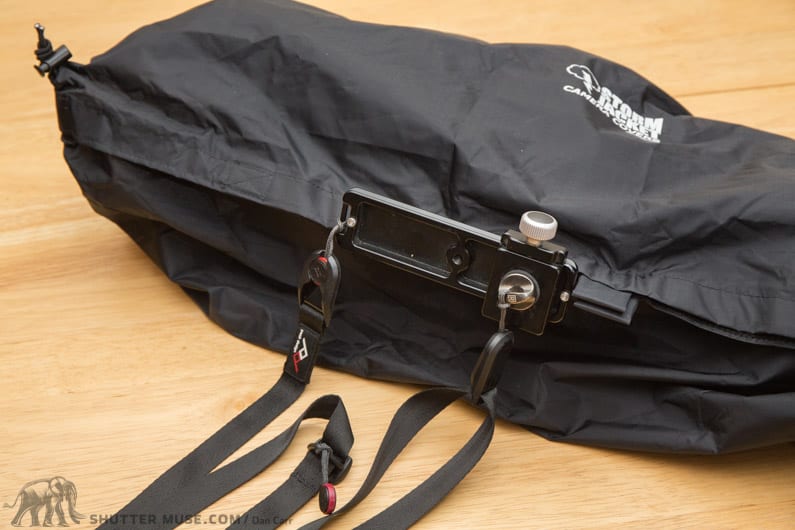 Flash Usage
Rain covers are a big consideration for people who shoot events because you've just got to get the shots whatever the weather conditions. I rarely use hot \shoe flashes, but when I do, it's for events when you have to move fast, and simply (or at least rarely) don't have an opportunity to set up remote lighting. There isn't a Storm Jacket that is designed to be used with a flash mounted in the camera's hotshoe. The suggestion from the Vortex Media website is to wrap your flash in a small Storm Jacket and then make an incision in the Jacket that is protecting your camera. Whilst this would work, and they say the hole will not run, it does leave you with a gap in the cover when you aren't using a flash, so that's not practical unless you buy a second cover. I'd love to see a version that had hotshoe flashes in mind, with some sort of velcro-closable hole in the top and a way to mate a dedicated flash cover to the camera cover.
Conclusion
As you can probably tell, I'm pretty pleased with these Storm Jacket camera covers. More complex covers like the Hydrophobia still have a place if you shoot field sports and don't need to move around with gear, but in all other scenarios, I think the simple Storm Jackets are a much better bet for most people. They are small enough to store permanently in your camera bag, or clip to a belt loop if you are working from a modular event shooting setup like the Think Tank Skin Set, which I love. The only improvement that I'd like to see Vortex Media figure out is a better way to deal with on-camera flash usage. If they could offer a dedicated Pro cover in a medium size that has a complimentary flash cover with it, then it would be the perfect lineup. These covers have easily earned a spot on my recommended gear list!
Where To Buy
Storm Jackets are available on Amazon, and B&H Photo. For readers outside of the USA, if you don't have Amazon then I'd recommend B&H Photo. They ship pretty much anywhere, and shipping is often free if you spend over $100.