Think Tank's rolling bags are a staple of the sports photography industry. Walk into any press room at a sporting event and their rollers are guaranteed to be lining the whole room, it's actually a quite remarkable domination in an industry that has such a range of manufacturers.
I've been using this Airstream roller for some time now so I think it's time to take a closer look.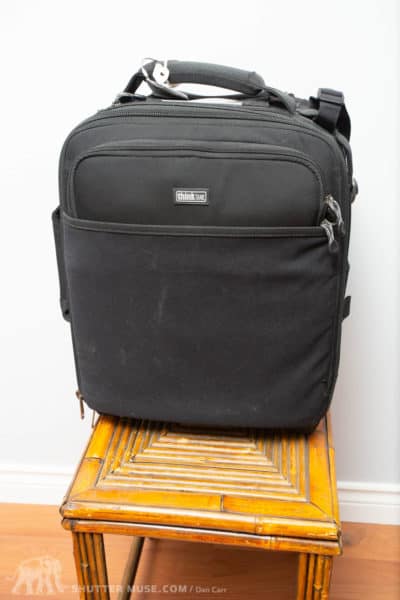 Technical Specifications:
Internal Dimensions: 13" W x 6.5-7.5" D x 15.5" H (33 x 16.5 x 39.5 cm)
External Dimensions: 14" W x 8" D x 17.5" H (36 x 20.5 x 44.5 cm)
Weight: 9 – 10.5 lbs (4.1 – 4.8 kg)
The Airstream is the smallest of Think Tank's rollers. It's very slightly smaller than the 4-Sight roller but seems to actually have a little more room inside it. It is considerably smaller than the Airport International which is their largest roller that technically meets most international carry-on standards.
I used to own the International roller myself but what I discovered is that when you roll with a bag that skirts around the limits, there is a tendency for airline staff to want to weight your bag. On more than one occasion I was denied taking the international onto the plane as carry-on due to weight infringements. Forced then to do the ridiculous lens-in-each-pocket , cameras-around-the-neck trick.
Several times I had no issues at all but I wanted to try something different. My new tactic involved spreading things out a bit more between my roller and my 'laptop' bag or "personal item". These days I use a Macbook Air for travel, so I can fit an awful lot of photo gear in this supposed laptop bag. Using a smaller roller and then placing two or three lenses in my laptop bag was the solution.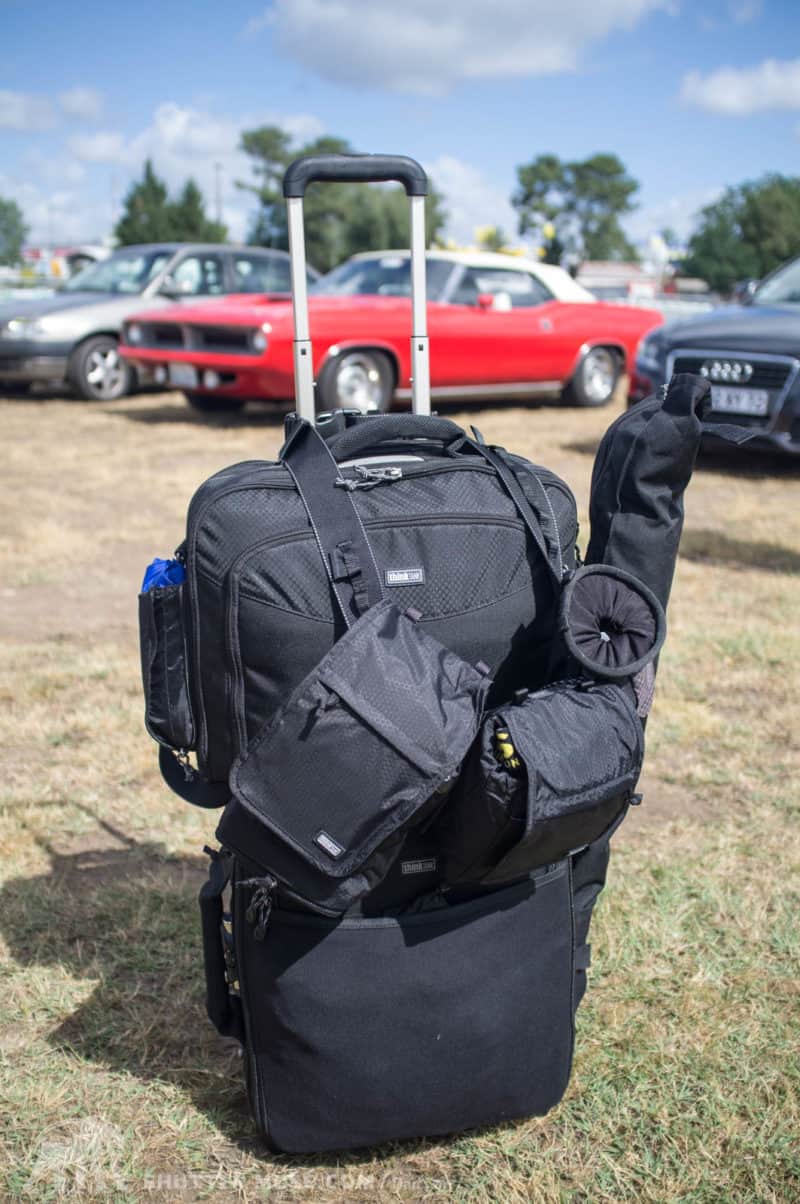 Since taking this new approach I haven't had a single issue. The Airport Airstream has now been around the world a couple of times and crossed N.America a few more times to sporting events and trade shows.
Physically the bag has gotten a little grubby around the edges but there are absolutely no faults with it. Zippers, wheels, materials, pockets and locks have held up perfectly.
It comes with several straps for the side of the bag that allow you to strap a monopod or tripod to it. The monopod strap has proven to be the most useful for me while shooting various sporting events.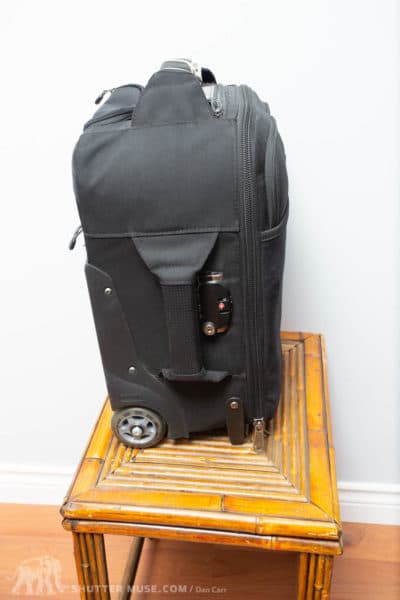 Capacity
Fitting two pro sized bodies in the end slots is a tight squeeze but it is doable. With those in there there is enough room for a 300mm f2.8, a 70-200 f2.8, a 24-70 f2.8 and one other lens. Perhaps a super wide or a specialty lens like a fisheye or macro. On top of that you'll get your memory cards and batteries in the interior lid pockets. You can also fit a flash under the 70-200.
For most travelling journalists this is going to be a great kit and it will also be adequate for common situations. I've shot several big global motorsports events with just what I could fit into this bag. Even if you wanted to travel with a longer lens than a 300 you could fit the long lens in a 'laptop' bag such as the Gura Gear Chobe which is my current shoulder bag of choice.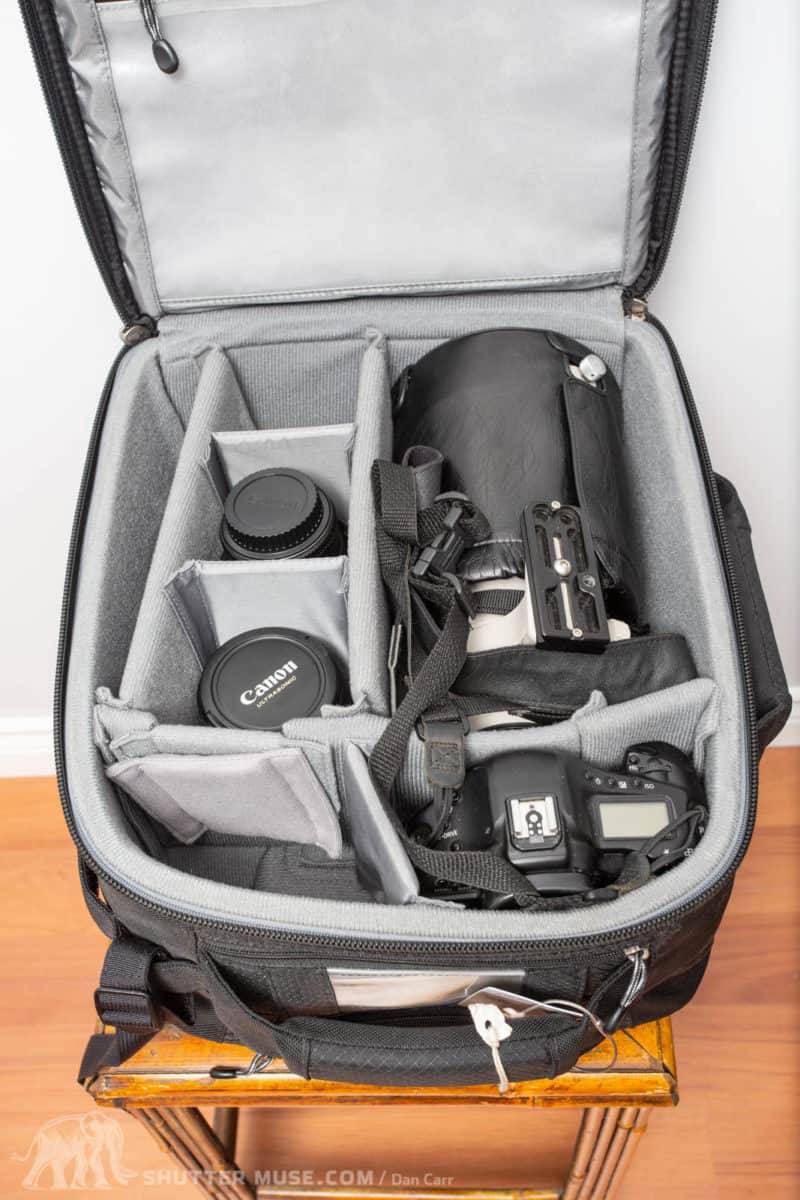 Pros & Cons
Pros
Sleek look doesn't look like a camera bag
Considerably smaller than carry-on limit keeps it inconspicuous
Handle/wheels make for solid and reliable rolling.
Locks everywhere.
Nice handles for lifting into baggage lockers
Enough storage for a good sized kit including a 300mm f2.8 and two bodies.
Cons
Even empty this bag is pretty heavy.
The front zippered pocket is far too tight to fit more than a couple of pens in it.
Tripod cup attachment is a bit fiddly
Conclusion
For me this is a near perfect roller bag and there's a good reason why Think Tank hasn't seen the need to update it in a long time. I'm sure a lot of people are going to be deciding between this and the newer 4-Sight and there's no doubt that is a tricky decision.
Judging by the interior dimensions the 4-Sight will hold slightly less in volume and its tapered top looks to encroach on the useable space quite a bit. Whether that will translate to less lenses I'm not sure, but I think it would. What I can tell you, though, is that you will not be disappointed with the Airstream. Whilst I can see some advantages to the 4-wheeled 4-sight design, I also see those wheels looking pretty vulnerable. I have no issue rolling the Airstream with its more traditional tucked away wheels.
From a design standpoint it's nearly perfect and the only thing I take issue with is the zippered pocket on the front. You can try and cram things into it, but things get easily hidden. it then creates a bulge on the front that looks like it might burst a seam. I tend to throw a couple of pens in there and that's it.
The materials used, and quality of the construction are typical Think Tank. There's no doubt that they will see this bag through many years of service. I highly recommend this roller if the capacity suits your standard gear setup.
US Customers get a free gift when they spend over $50 in the Think Tank/MindShift online store after clicking this link. For more details, or if you have any issues, see this post.