Gura Gear was co-founded by wildlife photographer Andy Biggs back in 2008. Shortly after this, they produced a shoulder bag called the Gura Gear Chobe, designed to be the perfect "personal item" for photographers to take on a plane alongside their primary photo backpack.
The Chobe was far from a one-trick pony, though. Built from lightweight but incredibly durable sailcloth, the bag was a near-perfect shoulder bag for photographers who needed a versatile bag that could go from a meeting room to the jungles of Cambodia (a place I did take mine). Ten years after buying my original Chobe, I still own it and use it regularly.
During those ten years, Gura Gear went through some changes. First, the company acquired the Tamrac brand in 2014. Gura Gear was then shut down, but their bag designs were produced and marketed under the Tamrac brand for a short time.
Unfortunately, they did not maintain the quality and premium materials for which Gura Gear had been so well known. The cheaper Tamrac-branded versions of the bags were not that popular. It looked like the Gura Gear brand would be lost for a time, and I remember thinking that I'd better make my original Chobe bag last as long as possible because it was unlikely that it would ever be made again.
Waiting for a Decade
Then, some good news. In 2018, Gura Gear came back! The brand was relaunched alongside updated versions of its original Kiboko backpack lineup. To my delight, the new versions were 100% in keeping with the original Gura Gear design principles. Built from the same rugged VX-21 sailcloth fabric again, the Kiboko 2.0 backpacks proved that Gura Gear had been restored to its former glory. In June of 2020, Gura Gear sold the Tamrac brand, leaving them back where they started and able to firmly concentrate on the kinds of products that won them their original following.
At this point, I always hoped that they would update the Chobe, and at the end of 2020, my wish came true. A decade after the launch of the original, Chobe 2.0 was launched.
In this review, we are going to take a detailed look at the Chobe 2.0 camera bag, as well as comparing it to the original Chobe bag to see what has been improved. The original bag was so close to perfect, could they have made it any better? Did they mess with a good thing? Let's find out.
Specifications
For Chobe 2.0, you now have a choice of two different sizes.
Gura Gear Chobe 2.0 16″
Standard Volume: 11.2L
Expanded Volume: 16.2L
External Dimensions: 15.7 x 6.5 x 10.6 inches (40 x 17 x 27 cm)
2.1 lb (1 kg)
Gura Gear Chobe 2.0 13″
Standard Volume: 7.7L
Ex[anded Volume: 12.7L
External dimensions: 14.2 x 6.3 x 9.4 in (36 x 16 x 24 cm)
1.8 lb (0.8 kg)
Both Bags
Zipper expansion provides 5 additional litres of capacity
20+ pockets
Rear luggage passthrough
Smooth-pulling, durable YKK zippers
2 optional camera inserts
Included seam-sealed rainfly and removable strap
Made from VX-21 and VX-42 Nylon Sailcloth
5-year warranty
The All-Important Personal Item for Air Travel
Before we dig into the features of this bag, I want to take a second to talk about the personal item allowance when flying with your camera gear. We all know that carry-on baggage allowance has been on the decline in recent years. The key to solving this problem has always been the personal item. Most airlines will tell you that your personal item can be a laptop bag, but that certainly doesn't mean you can only put a laptop in that bag.
One of the great features of the Chobe has always been its stealthy ability to carry a considerable amount of camera equipment while still maintaining the look of a simple, smart laptop bag. This camera gear capacity can be helpful when you need to spread the weight of your gear across two bags to get them below a specific weight threshold. Or it can be beneficial when you want to play chicken with the gate agents and load up both your carry-on bags with (beyond) the maximum amount of gear.
The Chobe has always been popular with wildlife photographers who want to travel with a pair of large super-telephoto lenses such as a 600mm and a 400mm, or a 600mm and a 200-400mm. The longest lens goes into your backpack, your main carry-on item, while the second lens goes into the Chobe with your laptop. The 16″ Chobe will easily hold a 300mm f/2.8, a 400mm f/2.8 or even a 200-400mm f/4.
This usage scenario is essential to remember when choosing between the Chobe 13″ and the Chobe 16″. Even if your laptop is a 13″, you might consider getting the larger size to take advantage of this additional volume when flying and using the Chobe as your personal item.
Features and Function
Expandable Volume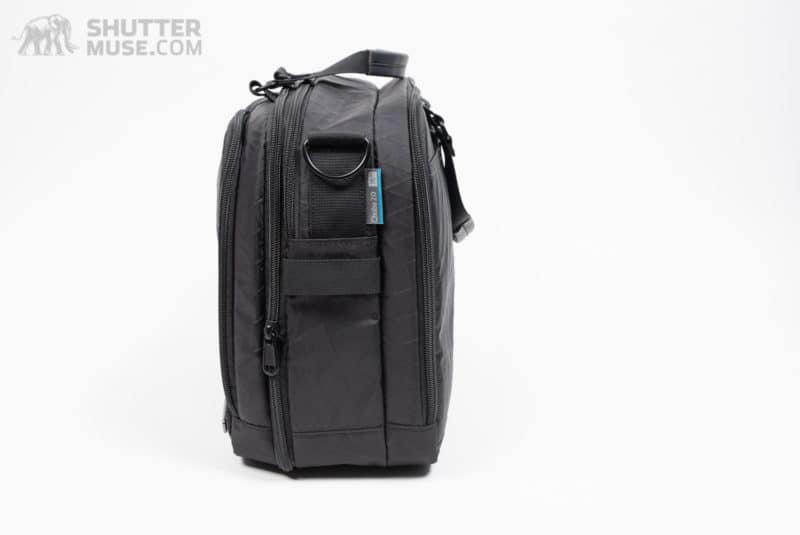 One of the Chobe's many party tricks is its expandable volume. Unzipping the expansion zipper will add approximately 5 litres of volume to the bag. Once this is done, the folding padded bottom inside the main compartment can also be expanded to ensure protection across the entire bottom of the bag.
While most people will find the bag in its regular form more than big enough to act as a briefcase or mobile photographer's office, the expansion option adds to the bag's versatility. In the expanded state, the Chobe will accommodate a pair of shoes, suddenly making it a great little bag for a weekend getaway or a trip to the gym once you're done at the office.
Shoulder Strap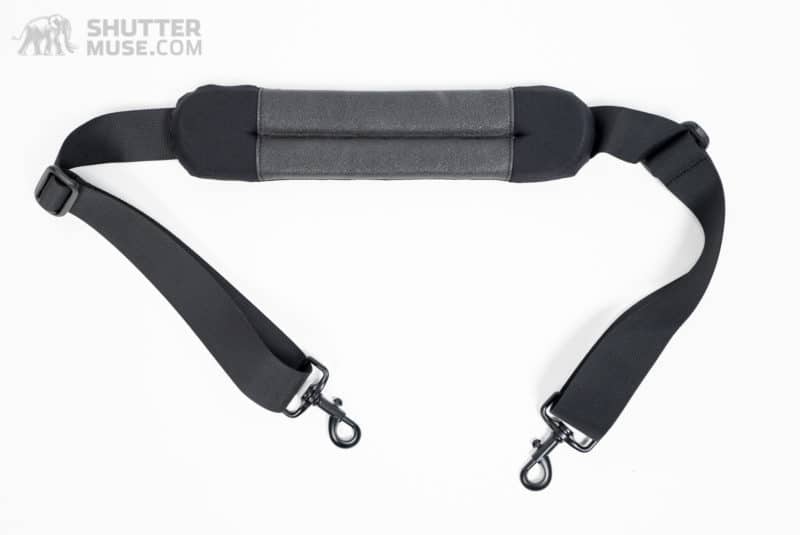 The included shoulder strap is well-padded, highly comfortable and generously coated with non-slip material on one side. Anyone who used the original version of the Chobe, or read my review, will know that the strap was a significant weakness in that bag. I'm thrilled to see that for Chobe 2.0, they made a massive leap in comfort and delivered what I think is the most thickly padded shoulder strap I have come across on this style of a camera bag.
Front Pockets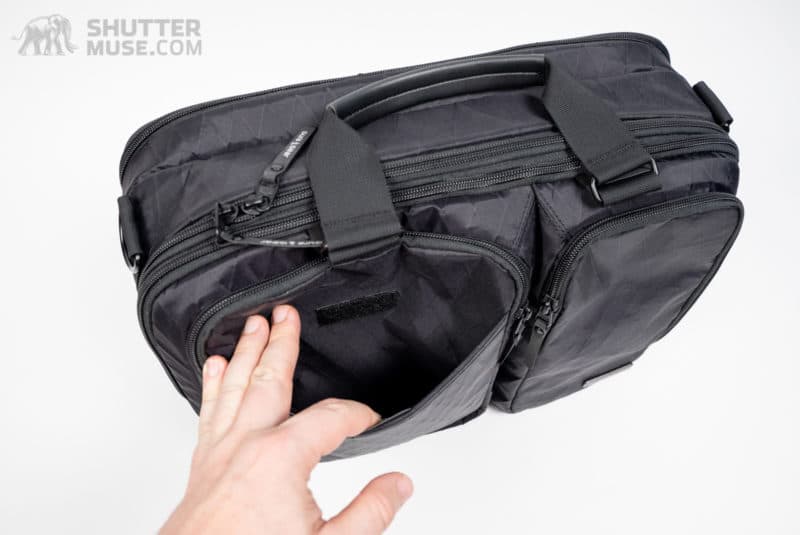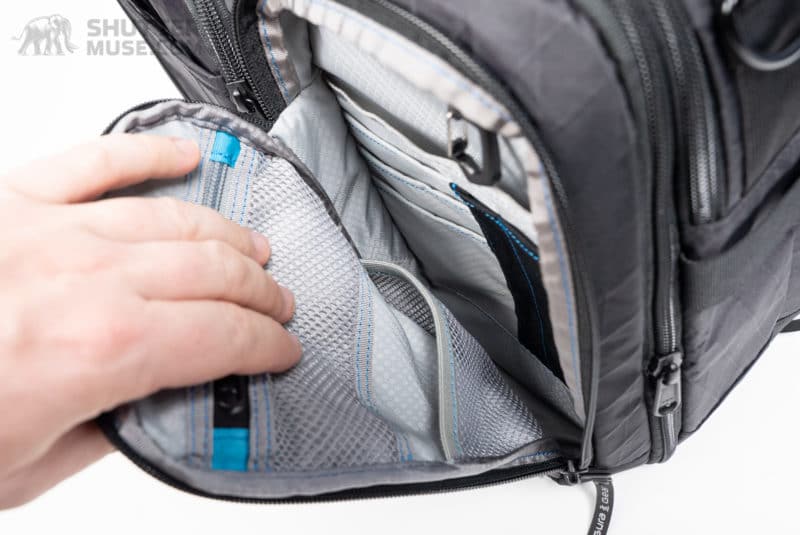 A pair of zippered front pockets will help you organize your smaller items. The smaller of the two features a key clip, pen organizer, cardholders, an elasticated mesh pocket and a small zippered pocket. The larger of the two front pockets will hold your notebooks, perhaps a paperback book for travel, your boarding passes, a Kindle and all your other small items in three more zippered pockets. There is also an external quick-access pocket on the front of this zippered pocket, which is lightly padded to protect a phone or anything inside the zippered section. If you want to stay organized, the Chobe has got you covered!
Internal Pockets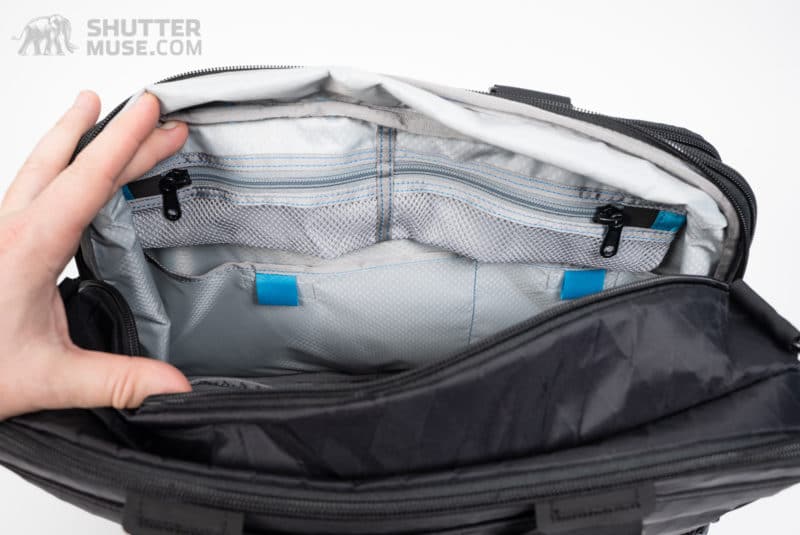 Upon unzipping the main compartment zipper, you'll find a pair of hanging zippered pockets. These are a good size for an SD card case and some batteries. Beneath those, there is a pair of flat pockets for thin items such as notebooks or travel itineraries. If you are a Field Notes user, the smaller of these two flat pockets are just perfect for you.
On the opposite side of the main compartment is a full-width flat pocket that can be used for larger papers or a few magazines to read on your next flight. If I'm travelling with my complete photo editing kit, I use this pocket for my Wacom tablet.
Now, you might think this is an awful lot of pockets. But one thing we haven't taken a look at yet is the padded camera inserts. When we get to those, further down the review, you'll see that they prevent easy access to a few of these internal pockets. Suppose you're using one of the padded camera inserts in the Chobe. In that case, it's most likely that you will only make limited use of the then-hard-to-reach internal pockets and store all your accessories in the many front pockets instead.
Side Features
One side of the bag has a skinny elasticated pocket. These days, we'll be using this pocket for a small hand sanitizer bottle, which is not useful for much else. On the other side of the bag is a small grab loop designed to be used when pulling the bag from the overhead locker on the plane. I don't think this is a feature that the bag needed, given the existence of the shoulder strap that can be used for the same purpose. I would have rather seen a water bottle pocket on the side.
Laptop and Tablet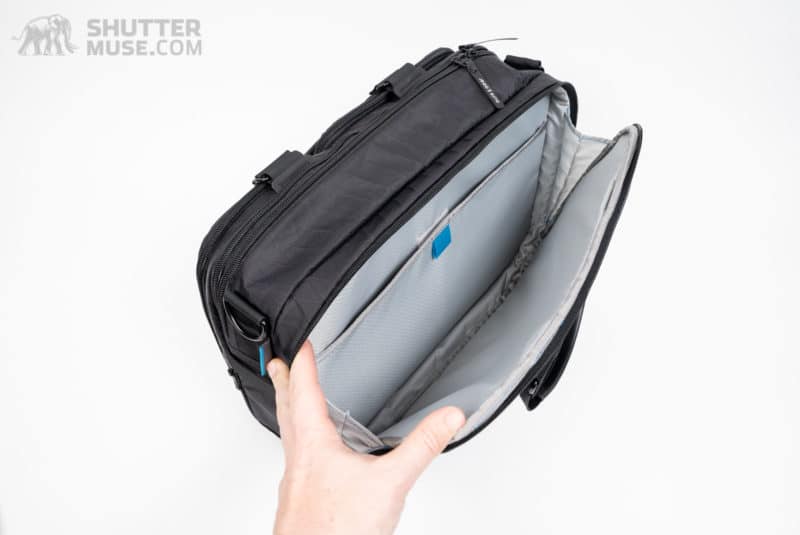 The Chobe has a zippered laptop pocket at the rear of the bag. The zippers extend a good length down the side of the bag, and the pocket opens very wide to make it easier to retrieve your laptop. New for Chobe 2.0 is the inclusion of a padded tablet sleeve within the laptop section. This tablet sleeve is the entire width of the laptop section, making it large enough for the biggest iPad Pros. Of course, having a dedicated pocket on the back of the bag makes it that much easier to pull your laptop and tablet from the bag at airport security.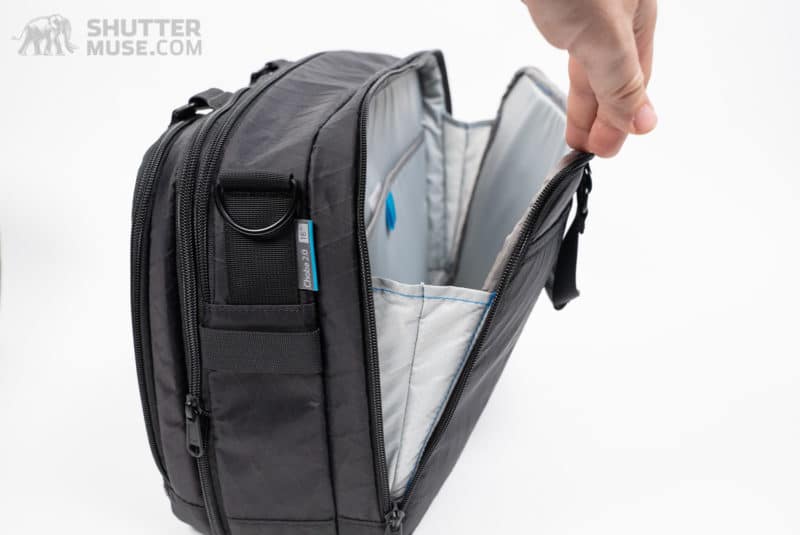 On some shoulder bags with rear laptop pockets, you'll find that inserting a laptop into the pocket will encroach on the space in the main section of the shoulder bag. Another popular laptop bag for photographers, the Peak Design Everyday Messenger, is guilty of this problem. With the Chobe, though, the laptop section is a separate volume from the central part of the bag. Even if you stuff the main area to its maximum capacity, you can easily slip your laptop in and out of its pocket.
If you have a smaller tablet such as a kindle, iPad Mini or 10″ iPad, you can also put this into the wider of the two front pockets on the bag.
Rain Cover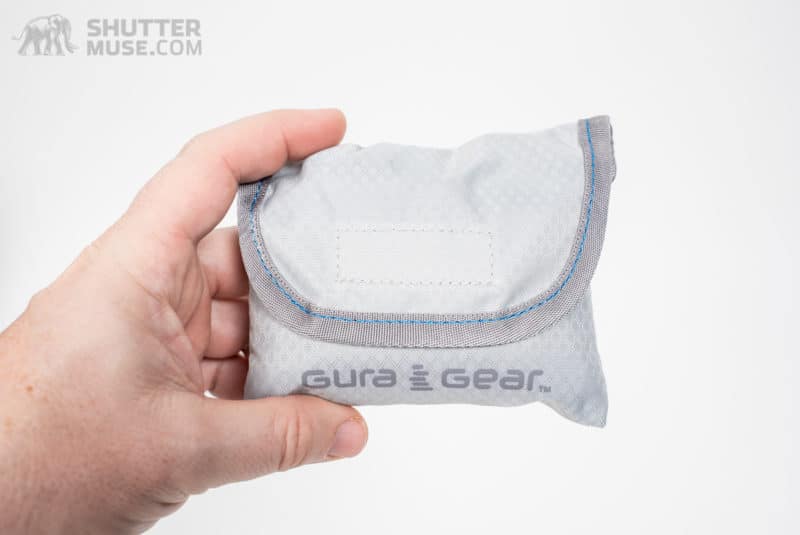 New for Chobe 2.0 is the inclusion of a seam-sealed rain cover. Even though the VX-21 material is weatherproof enough to stand up to a good rain shower, the lack of weatherproof zippers means that water would eventually get to your gear. A dedicated rain cover is therefore much appreciated and easily stowed away in one of the many internal pockets.
Chobe 1.0 Vs. 2.0
As I have the original Chobe here alongside the Chobe 2.0, I want to take some time to list the changes and discuss them. I'm sure I can't be the only one out there with a well-used Chobe 1.0; this section will help those people decide whether they should upgrade to the Chobe 2.0.
Change List
Chobe 2.0 is available in two sizes, 16″ and 13″, where the original was just the one size for 15″ laptops.
Hypalon handles have been replaced with premium-grade leather handles.
Improved shoulder strap with added adjustment and considerably thicker padding.
Laptop pocket zippers extended and gusseted to allow easier laptop removal.
Padded tablet pocket added into the laptop pocket.
New more discreet metal logo instead of stitched orange logo.
Optional inserts are now available in two sizes instead of one.
Tougher VX-42 material used in more places around the bag for increased weatherproofing and abrasion resistance.
Seam-sealed rain cover included. There was no cover for the original Chobe.
Additional zippered pocket added to the larger of the two front pockets.
YKK zippered used on Chobe 2.0. Not sure what brand they were on Chobe 1.0, but they were not YKK.
Grab loop added to the side of the bag.
Padding added to luggage passthrough for added structure.
Padding added to the interior bottom of the bag.
Improved interior stitching.
Higher-density foams used to reduce thickness and reduce weight.
Structure added to exterior large stash pocket to protect electronic devices such as phone or Kindle.
Laptops have gotten considerably thinner in the last ten years. The depth of the laptop pocket on Chobe 2.0 reflects this change.
My Thoughts on these Changes
This list of changes seems remarkably long for an already very good bag, but this shows how thorough the designers were. When I look back at my review of the original Chobe, the biggest problem I had was the poor shoulder strap. It simply didn't have enough padding for a bag of its size. With Chobe 2.0, this issue has been thoroughly addressed. The new shoulder pad is roughly 4-times thicker than the old one, and it can also be adjusted from both sides to ensure the padding remains centrally located.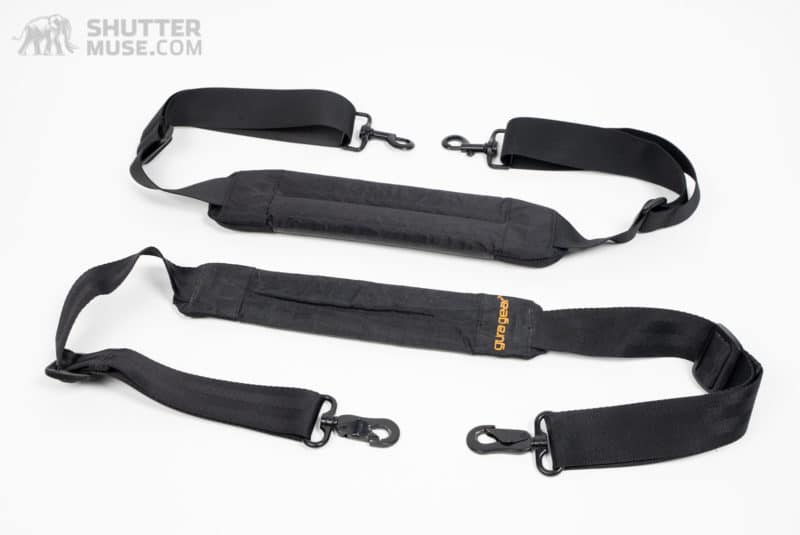 I'm also pleased to see the bag now available in two sizes. Although I will continue to use the larger size, I'm sure some people will be happy with the smaller size, both because they only use a 13″ laptop, and also because they are of shorter stature. The 13″ version will be a better fit for shorter guys and many women.
On this list of changes, there is only one item that I do not consider to be an improvement—the addition of a so-called grab loop on the side of the bag. The grab loop is billed as an improvement for pulling the bag from an overhead locker, but sadly, it comes at the expense of the water bottle pocket on the Chobe 1.0. I used that bottle pocket a lot when travelling and walking around the city, where it was home to my reusable coffee mug.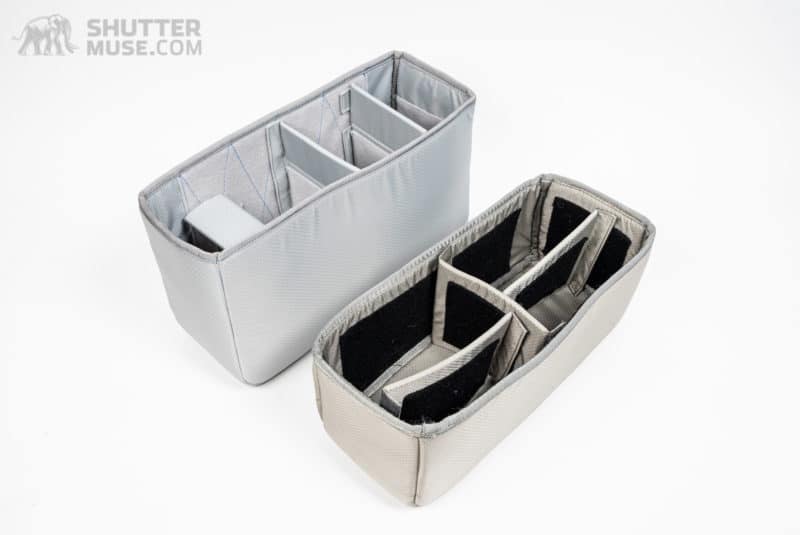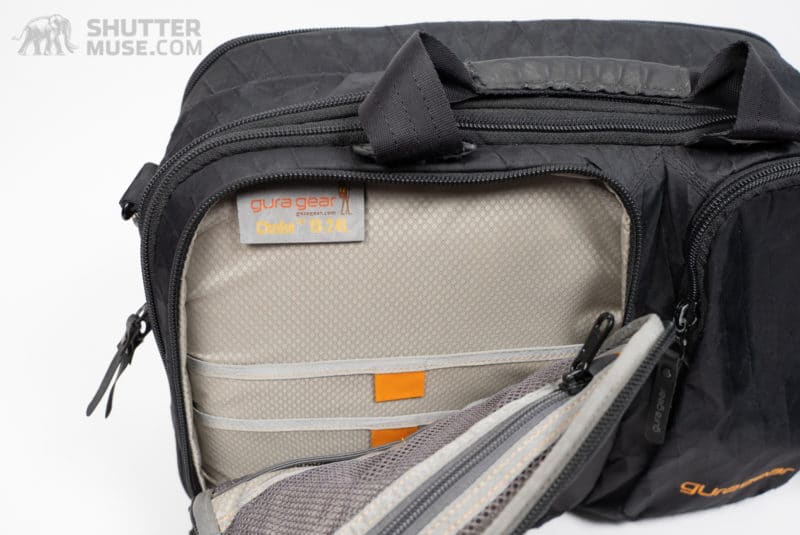 It's a shame to have lost the bottle pocket. Mainly, it has been replaced by a feature that I see as somewhat pointless. Yes, you can use the new grab loop to pull the bag from an overhead locker, but not two inches above said loop is a large metal D-ring for the shoulder strap that can already be used for that exact purpose. And that assumes the shoulder strap isn't already available to be tugged upon, which it usually is.
On top of that, this bag is far more likely to be finding its way under the seat in front of you on a plane and not placed in the overhead locker. After all, it is designed to hold all the items you are likely to want access to on a plane. My Chobe 1.0 has been on over 100 flights in its lifetime, and I doubt it has ever been in an overhead locker.
I have solved this problem on my Chobe 2.0 by using the grab loop to attach a 3rd-party water bottle holder; you could also attach any generic MOLLE bottle pocket like this one. Perhaps Gura Gear will consider creating a bottle holder accessory of their own in the future.
Although I do think losing the bottle pocket is a miss, it is a single miss in a very long list of hits. Every other change from the Chobe 1.0 to Chobe 2.0 has been carefully thought out and meticulously implemented. I would never have believed you could squeeze even more organization into this bag. Still, the designers have managed to add two additional pockets, as well as better protection for your gear throughout.
With all these interior tweaks, the very welcome inclusion of a rain cover, the new sizing option and the expanded options for the padded camera inserts, this is a worthy improvement that will excite Chobe 1.0 owners while simultaneously feeling right at home.
Optional Accessories
Tembo Memory Card Wallet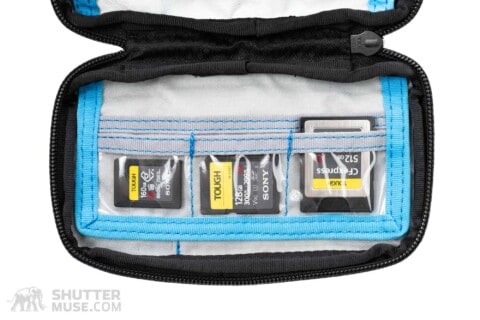 Using the same X-Pac VX21 sailcloth material as the Chobe and the same blue+grey color scheme, the Tembo 12 is designed as the perfect partner to Gura Gear's camera bags. This nifty little card wallet features a dedicated Apple AirTag pocket, a weather-resistant zipper, room for 12 memory cards, and pockets for other must-have items such as tools or spare batteries. You can read more about it in my Gura Gear Tembo Card Wallet review.
Et Cetera Organizers
Gura Gear makes a few different accessory pouches that match the interior design of the Chobe shoulder bag and Kiboko backpacks. The Et Cetera cases come in two cubic variations (1L and 2L) and three flat, zippered pouches (XS, S and M). I particularly like the 1L Et Cetera because it perfectly fits the Chobe's padded insert when standing vertically.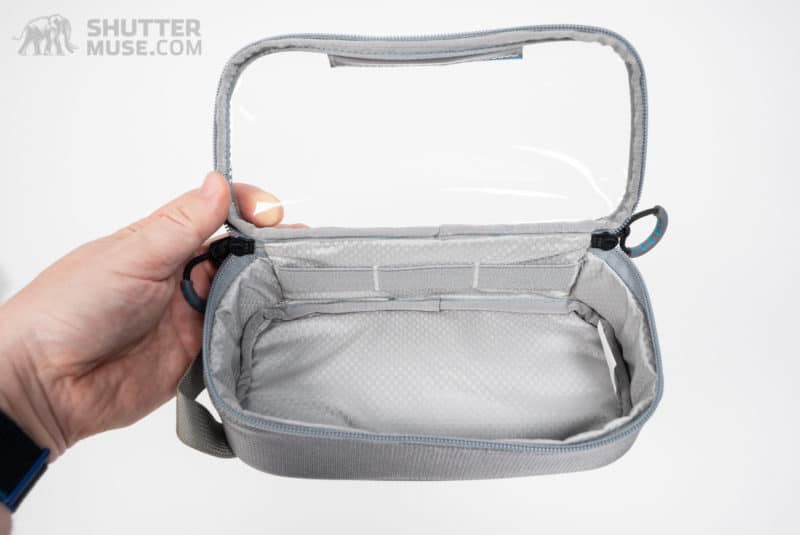 Conclusion
This isn't just an upgrade from the original Gura Gear Chobe to the new Chobe 2.0; it is also a reintroduction. This is a bag that was out of production for nearly eight years. While many people would have been happy enough to see the original version come back to the market, the Gura Gear designers have nipped, tucked and tweaked version 1.0 to add new features, options, and more protection for your gear.
At $249 and $299 for the 13″ and 16″ versions respectively, Gura Gear hasn't shied away from using expensive materials and complicated construction to create the ultimate premium-quality everyday carry, camera-compatible shoulder bag.
The only thing I have hesitated about while mulling over this conclusion is how best to categorize this bag. Gura Gear is a camera bag company, so it must be a camera bag. It indeed handles camera carrying with style and aplomb. But the leather handles and sleek black sailcloth also make it an exquisite briefcase that wouldn't look out of place in any boardroom when zippered into its more compact volume. Then again, those same leather handles and the durability provided by that sailcloth make it one heck of a travel bag that will stand up to just about any adventure you can think of.
So, while reasonably expensive, the versatility of the design will have most people using it far more often than your average camera bag. It is just as good a briefcase as a camera bag, and it is just as good a camera bag as a weekend-away duffle bag, too. If you're searching for a shoulder bag, not a backpack, the Chobe 2.0 is as close to "the one" as I think you're ever likely to find. The king is back, and I'm glad to be able to recommend this bag to people again.
Where to Buy + Save 10%
If you buy directly from Gura Gear, you can use the coupon code ShutterMuse10 to save 10%. They ship internationally.
If, for some reason, you cannot buy directly from Gura Gear, you can also find the bags at Amazon using the links below. However, you will be unable to use the 10% discount code on Amazon, and they do not appear to stock the padded camera insert.