The Freeway Longhaul duffle bag from Think Tank Photo was launched on Kickstarter and funded in just two hours. Think Tank was kind enough to send me one for review before it launched, offering me a choice of either the 50L version or the 75L.
For reasons I will go into later in the review, I chose the 50L version you'll now see in my detailed collection of photos. There are no feature differences between the two available sizes, simply a difference in volume. I'm confident that while I have only had the 50L in my hands, my review also stands for the 75L version.
What's immediately apparent about this bag is that it isn't necessarily a camera bag, which comes as a surprise from one of the biggest camera bag brands in the industry. Does this mean Think Tank Photo is branching out? Or is it simply the case that one of the designers had a bright idea and they wanted to use their considerable design and manufacturing knowledge to realize that idea? Like you, I don't know the answer to this question yet! So if it's not a camera bag, what is it?
Having now spent a few weeks with it, I call it a multi-purpose duffle bag or gear hauler. If you usually haul camera gear, then the Freeway Longhaul will be a camera bag for you. If you like to climb, it'll be a climbing gear hauler. If you want to kayak, it'll organize your paddling gear. If you are going on a car camping trip, it'll be just as good as organizing your camp gear and food supplies. If you must haul gear from your house into your car and keep it all organized, the Freeway Longhaul was designed for you.
As I often do with bags that I'm excited about, I have taken many photos of this duffle to help explain the different features. In this review, I'll walk through them all and then suggest which of the two sizes would be a good choice for your needs.
Table of Contents
Freeway Longhaul Specifications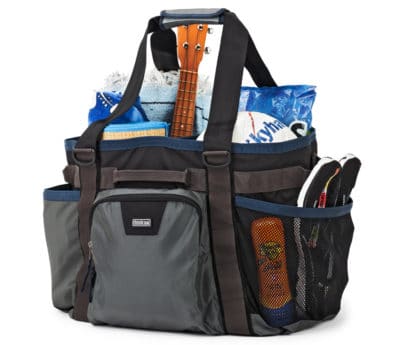 Freeway Longhaul 50L
17.1" W x 12.8" D x 13.75" H
2.3 lbs
50L volume
1 removable divider
4 exterior pockets
1 divider pocket
Freeway Longhaul 75L
24.8" W x 12.8" D x 13.75" H
3.3 lbs
75L volume
3 removable dividers
8 exterior pockets
2 divider pockets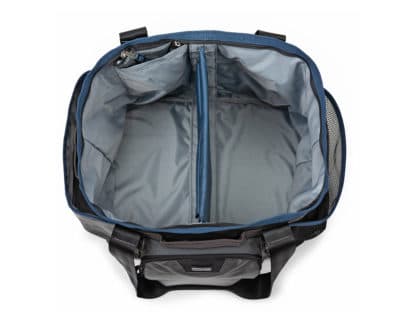 Divider Setup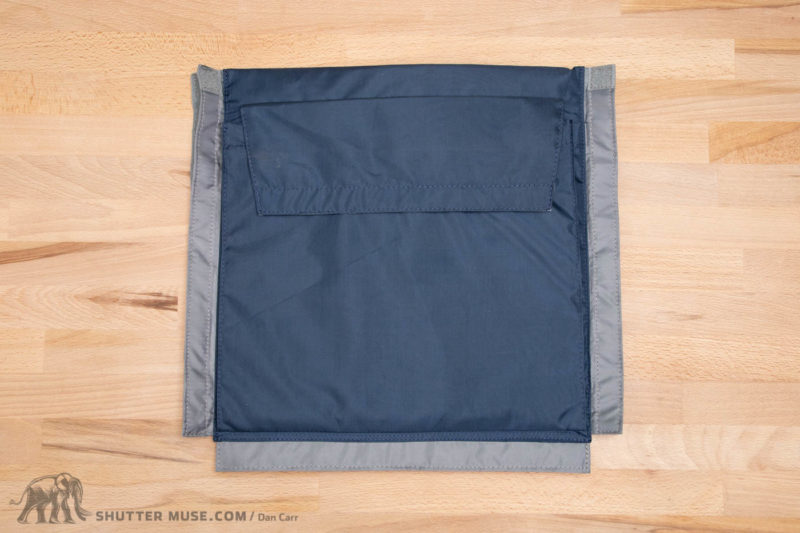 The 50L Freeway Longhaul has a single central divider, while the 75L one has two additional dividers. You'll find a flat pocket perfect for storing maps and magazines on this central divider. The pocket can be closed with hook and loop fasteners.
Another cool feature of the divider system is a security tab that folds over the top of the divider fasteners once they have been secured with the standard hook-and-loop system. These security tabs help hold the dividers in place when you overpack thecollapse it when empty. Sometimes I find that dividers in camera bags can come undone, but that's not the case with this duffle. It's something that has been thought about, and the solution is both practical and successful.
Flat Storage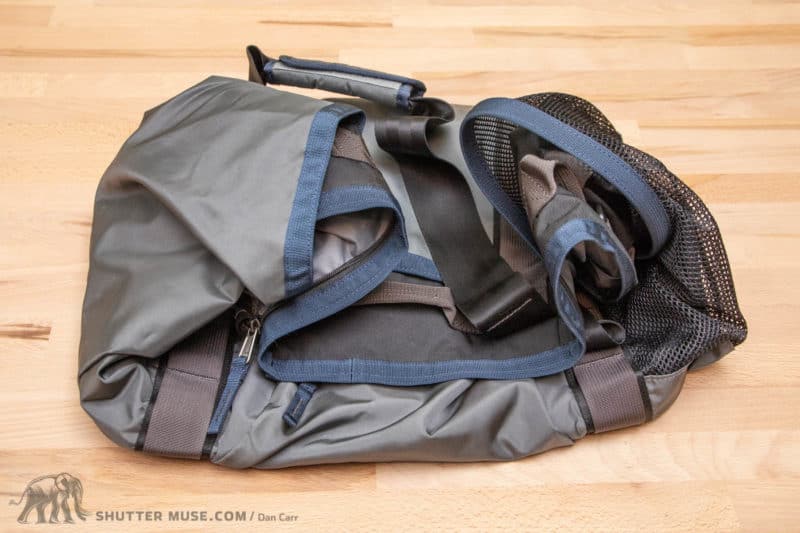 The bag is soft-sided and can be folded flat for easy storage once the divider(s) have been removed. You can also see the Cordura base on the bag in the second photo. This is exceptionally thick and rugged nylon, designed to withstand severe abuse as you slide it around in the trunk of your car or on the ground. I don't doubt this will stand up to years of heavy usage.
Zippered Lid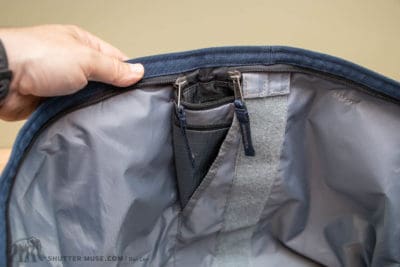 A lightweight non-padded nylon zippered lid is hidden in an interior pocket if you need to protect your load from the weather. One end is attached to the bag so it can't be lost, but it's easy to tuck away when it's not needed. As well as offering some weather protection, and peace of mind from items falling out, it also makes it easier to stack in a packed car with lots of other duffles.
Front Zippered Pocket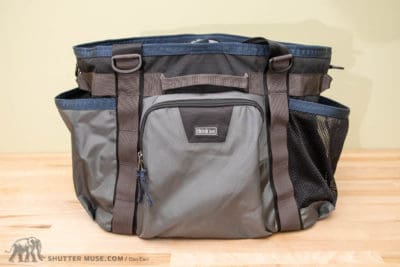 The front of the bag features a zippered pocket that's useful for organizing smaller items that you don't want to be swallowed up by the cavernous main section of the duffle. I was surprised that there was no internal organizer in this pocket. Think Tank has always included at least a minimal organizer sleeve for pens and smaller flat items in their camera bags. I do wish they had included one here, too. On more than one occasion, I wished I had a handy spot in that pocket for a pen and notebook.
End Pockets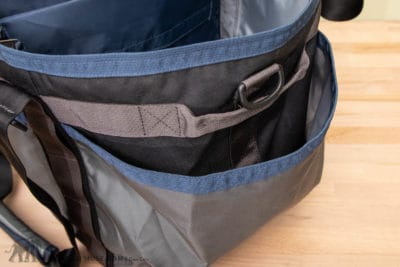 Both sizes of the Freeway Longhaul feature a mesh pocket on one end and a full nylon pocket on the other end. I found that these were useful for food and drink so that they were easily accessible, as well as bug spray, bear spray, and sunscreen.
When I first got the bag, I thought it was odd that both these pockets were not made from mesh because seeing the contents seemed like a helpful feature. After some use, though, I began to appreciate that having them be a different design was a better solution. While one is meshed and the other is not, you can quickly identify which pocket is which. As long as you develop a system for what you place in which pocket, this helps you locate your stuff. Having a mesh pocket is also handy for storing damp items after a day at the beach!
Rear Pocket + Grab Handles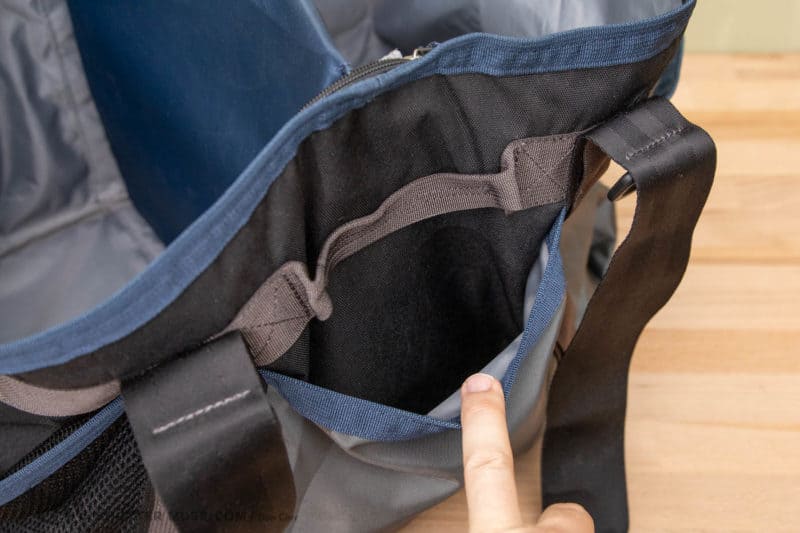 There are four sturdy grab handles located around the top edge of the bag. No matter how you load it into your vehicle, there will always be something to grab. On the back of the bag, you'll also find yet another pocket!
Shoulder Strap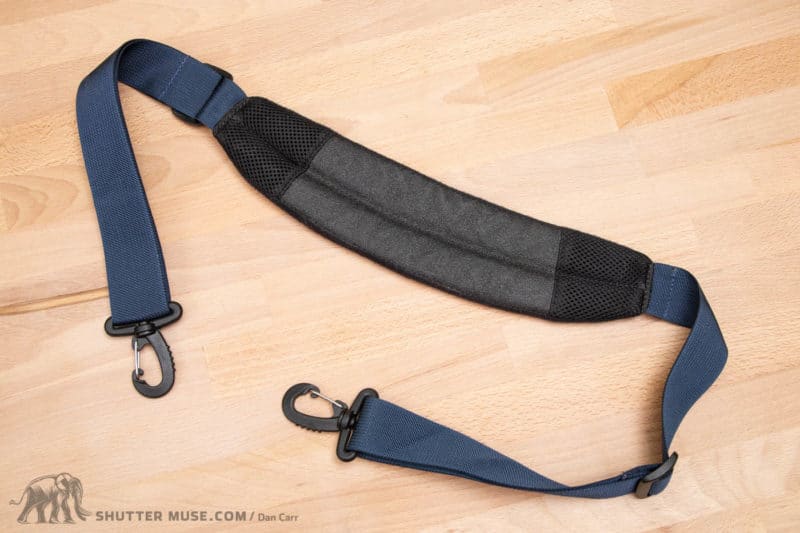 The shoulder strap for the bag can be clipped onto two of six different D-rings around the edge of the bag, allowing you to customize the carry based on the weight and shape of the items you have stuffed into it. The padding is very thick, and a rough rubber surface on the underside of the strap prevents it from sliding off your shoulder. The ergonomic curve of the strap also adds comfort when used with heavy loads. This is an excellent shoulder strap.
Tote Handles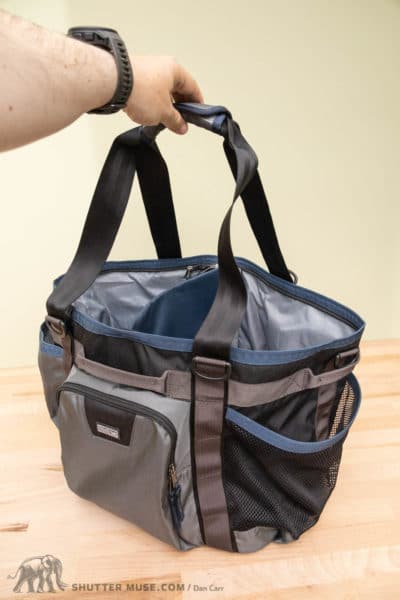 I don't know what to call these straps, but I will go with tote handles. These can be secured together into a padded handle. These handles are a bit long. Holding them by the handle with the bag by my side, I felt the bag would hang awkwardly low to the ground for a bag of this size, and then you just tripped over it.
I think these handles should have been about 3-4 inches shorter. You already have the heavily padded shoulder strap if you need to carry it with a longer strap. As a result, these mostly went unused for me. I lifted it in and out of my car using the many side handles around the edge of the bag and carried it to and from my house with the shoulder strap instead.
Freeway Longhaul Packing and Usage Options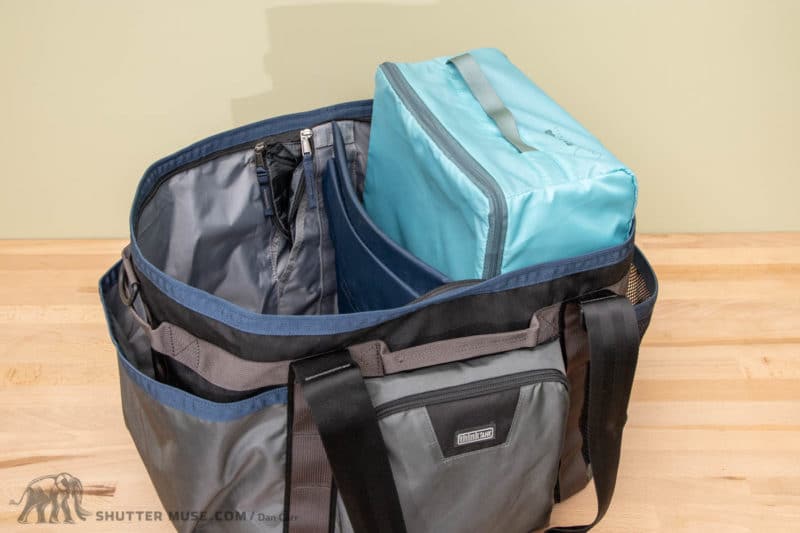 There are so many potential uses for this bag that I don't really know where to start with this section. If you want to haul it, this bag will probably do the job, and it does it with simple organization and the usual Think Tank sturdy construction. Let's see if this sounds like a familiar scenario for you…
When packing my camera gear for a day of shooting, I start by picking the camera bag for the job. Into that go my cameras, lenses, batteries, and tripod. For me, that bag is usually a backpack of some sort, but sometimes it'll be a shoulder bag or a sling if I don't need a large kit. While I'm getting ready to leave the house, I place this camera bag by the door.
After that, I run around the house, grabbing extra items I want to throw in the car. A rain jacket, maybe some hiking boots, a bottle of water, a thermos of coffee, some lunch, bug spray, bear spray, some gloves, a hat or two, binoculars, InReach, a bird ID guidebook, a road atlas, food for the dog and a few other pieces of "might use" photo gear.
Usually, this all gets piled up on the floor by the camera bag as I pluck things from various cupboards around the house. Then I'll throw the backpack on and attempt to scoop up the pile of other stuff and dump it onto the front seat of my car. Well, now I just pop open my Freeway Longhaul, AKA Dan's toy box, and pile all the gear into that. It has quickly become an essential companion whenever I leave the house on a photo mission.
6 Month Update
After six months of use, everything I mentioned still stands true. If anything, I use this bag even more in the winter up here in the Yukon because every time I go anywhere in the car, I need a collection of gloves, balaclavas, hats, down layers, and my winter safety kit. As I leave the house, I have my camera bag in one hand and my Longhaul in the other hand with all of these additional essentials. My car looks a lot less like a yard sale these days.
Conclusion
Think Tank has come out of the left field with the Freeway Longhaul bag. Most people would have expected something more photography focussed from the brand, but the success of the Kickstarter campaign clearly shows that people are excited about the concept of this bag. You can add me to that list. I rarely find so many uses for a single product when they show up for review, but in a way, that makes sense since Think Tank has not designed this for one specific purpose.
On my first week with the bag, it made the perfect companion on the set of a TV commercial, where I filled it with all my personal gear, as well as grip and sound recording equipment. After that, I loaded it up with my kayaking gear, where the large main section was perfect for bulky PFDs, and the mesh pocket was perfect for wet booties after the paddle. Then it was my wildlife photography road trip companion. Sitting on the front passenger seat next to me, it was perfect for holding my binoculars, guidebooks, and a camera with a telephoto lens attached. Oh, and snacks. It held lots of snacks!
Regarding sizing, I found the 50L version to be perfect if you want to put it on the front seat of the car next to you, on the rear seat, or in the front passenger footwell. If you opt for the 75L version, be aware that it is a huge bag and must almost certainly live in the trunk. I chose the 50L version because I knew I wanted to use it to organize gear in front of my car when making one of my frequent long road trips around Western and Northern Canada. It has easily earned a permanent place in my kit for that purpose and many more besides it.
Where to Buy
US Customers get a free gift when they spend over $50 in the Think Tank/MindShift online store after clicking this link. For more details, or if you have any issues, see this post.
I appreciate it when you use our links to make your purchases. US residents who shop on the Think Tank Photo website through one of our links will be eligible for a free gift at checkout. This is well worth it! Everyone else will probably have to use Amazon. This particular product falls within Think Tank's line of travel products and, unfortunately isn't stocked by major photographic retailers like B&H or Adorama.