Unfortunately, the R180 Trail bag that is mentioned in this post is no longer available. Amongst the always-rugged MindShift product lineup, my new favourite biking pack is the PhotoCross 13 Backpack. A side opening system makes it easy to spin the pack around to your front while you are still sitting on your bike, and grab gear from the main zippered compartment. That's not usually possible with back panel opening camera packs, so this combination of a backpack, with a sling-style side opening is a great solution. In fact they make a sling version of this bag as well, that I have reviewed extensively, see Photocross Sling 13 Review, but for biking the backpack version of the bag is more stable when biking on rough terrain. Essentially it's the same bag, but with two straps instead of one.
At some point when I have a bit more time I will remove all the content below about the now-discontinued R180 Trail and replace with a proper review of this newer backpack, but for now you'll just have to trust me and check the pack out on the MindShift website.
I've had this question a good number of times via email, so I thought I'd make a post that I can point people to for more information. This isn't designed to be a group bag test or anything like that, because I already know the answer to the question so I might as well tell you.
The best camera bag for mountain biking is the MindShift Gear Rotation 180 Trail. It's the bag I use for that very purpose, and I'm extremely happy with it. I've written about this bag before when I first got it, but at the time I didn't concentrate on the mountain biking aspect.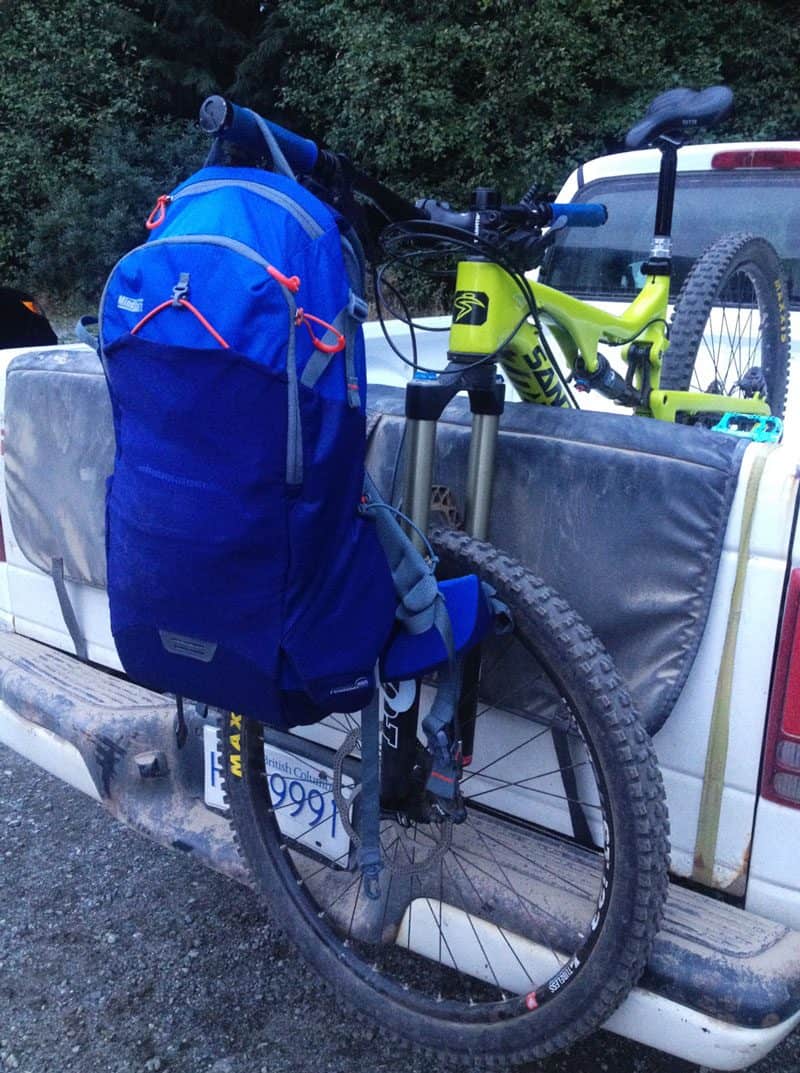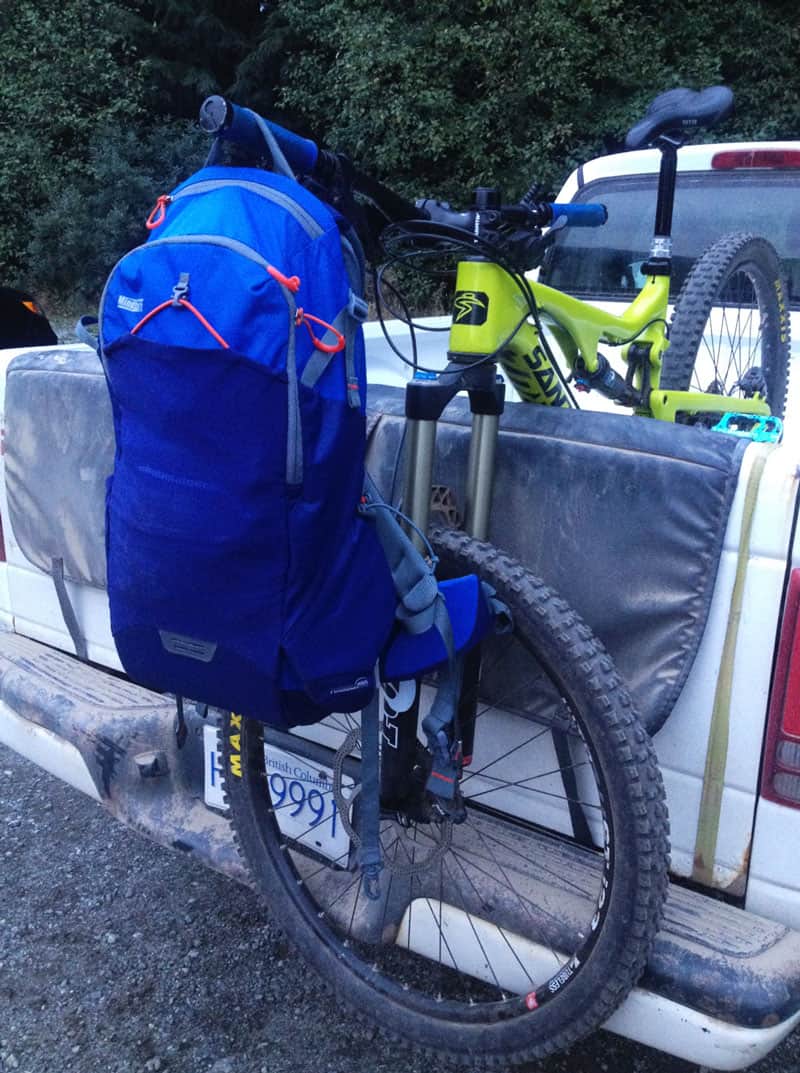 Rotation 180 System
If you're not familiar with MindShift's unique Rotation 180 system, then it's worth taking a look at the video below. Whilst I wasn't biking at the time of making that video, I think you can clearly see the advantage of the system from a mountain biking perspective. It allows you to get your camera out and take a shot, without fully dismounting your back and taking your pack off. Id you're riding in a group, as most people do, then it makes it pretty trivial to grab a quick photo and then catch up to your buddies without them evening noticing your absence. If the camera was buried deep inside a normal backpack then this process would take four times as long. For me, this is the key thing about this pack that makes it the ideal camera bag for mountain biking.
NOTE: If you just want to see the Rotation 180 system demonstrated, skip to the 3:52 mark.
Rotation 180 Trail In Use
The Rotation 180 Trail is not a bag for hauling large amounts of camera gear, this is definitely a one lens, one camera setup if you want to leave room for other bike related items. The bag wasn't designed specifically to be a mountain bike camera bag, but it was one of the considerations so it has been kept nice and streamlined. You can see in the video how the bag is not very wide, so it sits centrally on your back and keeps weight as close to your centre of gravity as possible. That's extremely important when you are moving around a lot and doing exercise; you don't feel like you are constantly fighting the bag.
Before this bag came along, I used a few different bike-specific packs from CamelBak. What had me sold on the R180 Trail is that it just felt the same as those when I put it on my back. It doesn't feel like a camera bag to me, it just feels like a hydration pack. Of course, there is a slot for your hydration bladder, and there's also an attachment on the front of the pack for clipping on a red bike LED for when you end up riding home in the dark.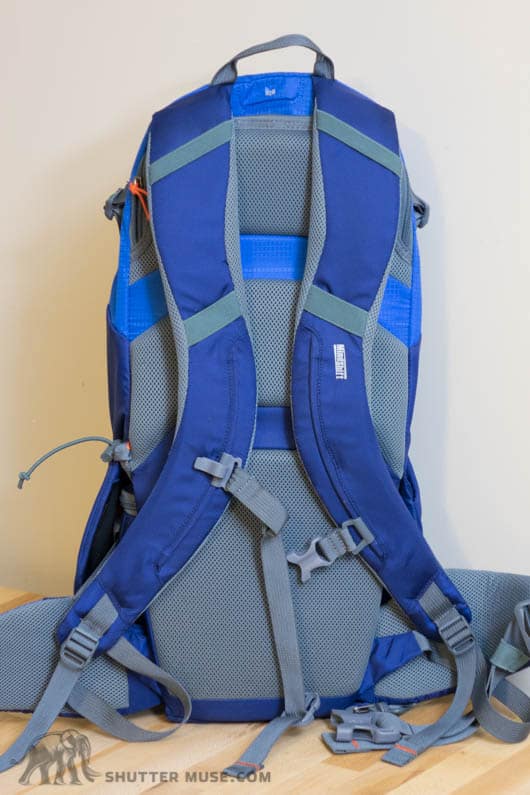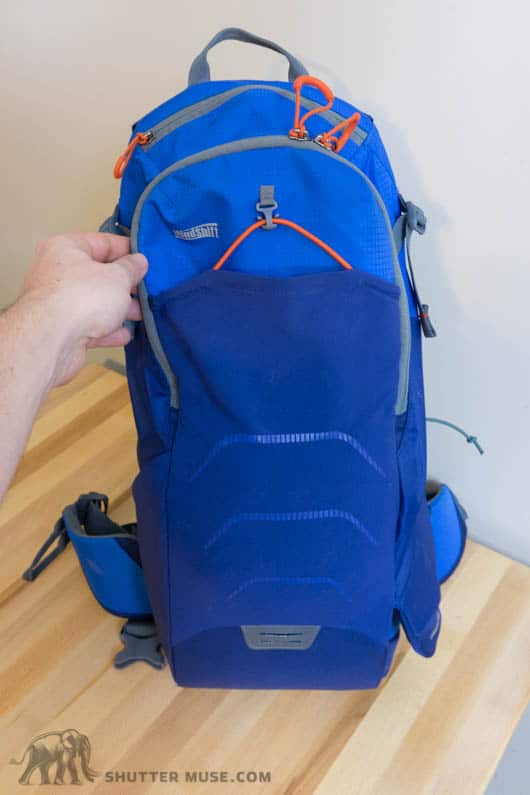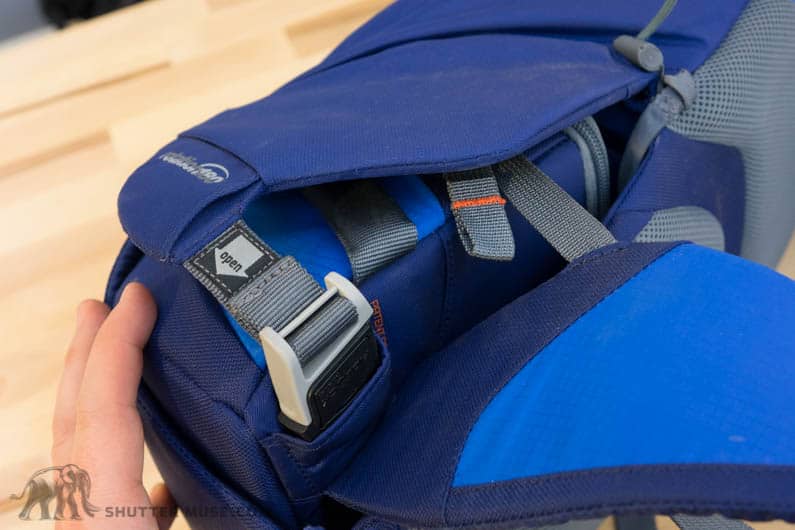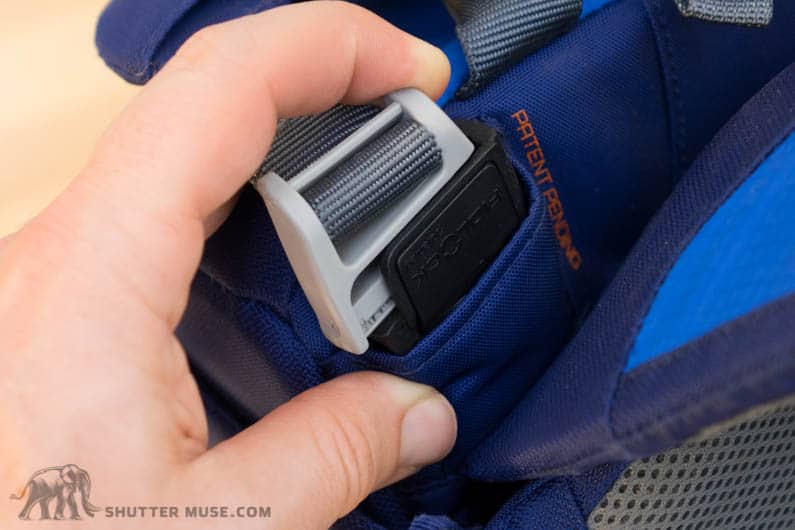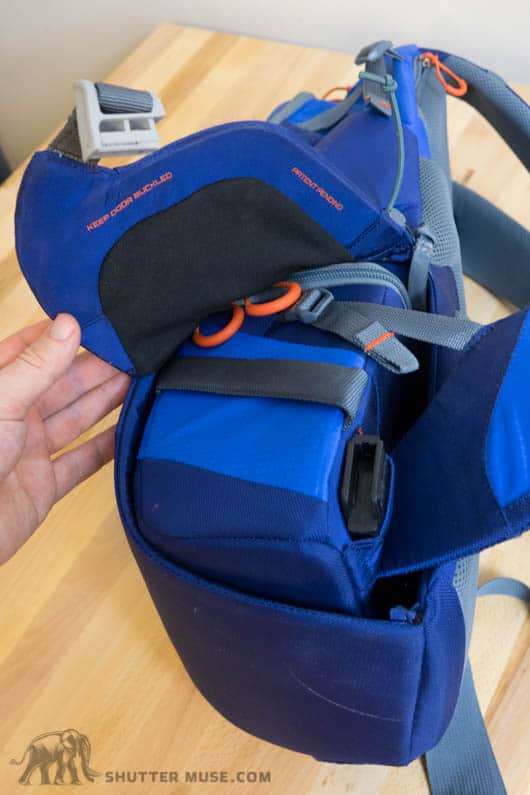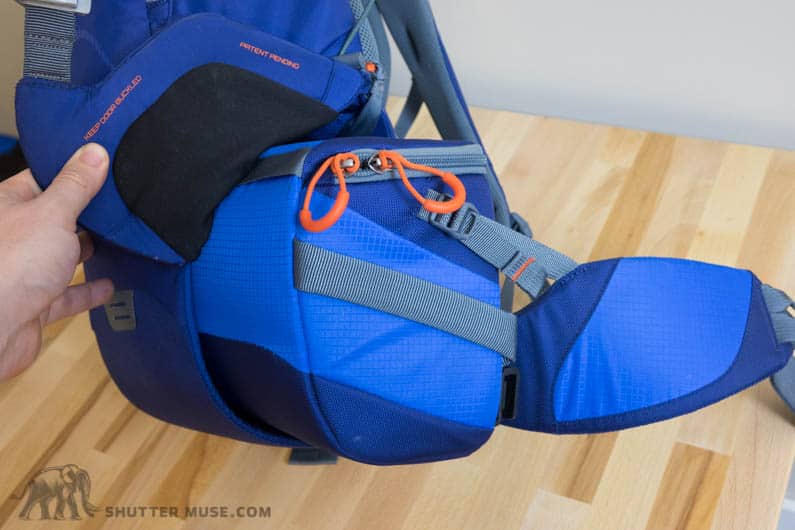 The stretchy pocket on the front of the bag is my second favourite feature after the rotation stuff. This is a pretty sizeable pocket that makes it easy to stash a rain layer, the (optional) rain cover for the camera or some knee and elbow pads if they are the lightweight trail/enduro style ones. The top half of the bag is easily big enough to fit your pump, spare tubes and toolkit with a bit of room to spare for some snacks. An internal, zippered mesh pocket is a good spot for a phone and SD card wallet and it has a key clip in there as well.
In terms of camera payload, the MindShift Gear website suggests mirrorless cameras and smaller DSLRs like the Canon Rebel series. I actually don't shoot with anything that small, but I've been carrying around a Canon 5D Mark IV with either a 16-35 f/4 L IS, or a 24-70 f/2.8 L II on it. Yeah it's a little bit of a tight squeeze, but it has personally never troubled me and I even have a large RRS L-bracket on my camera.
Be prepared to have to have to tell every other photographer about this bag when they see it in action as well. I swear I could set up shop in the car park after a bike ride and sell these things by the dozen when people see me grabbing my camera without taking my pack off!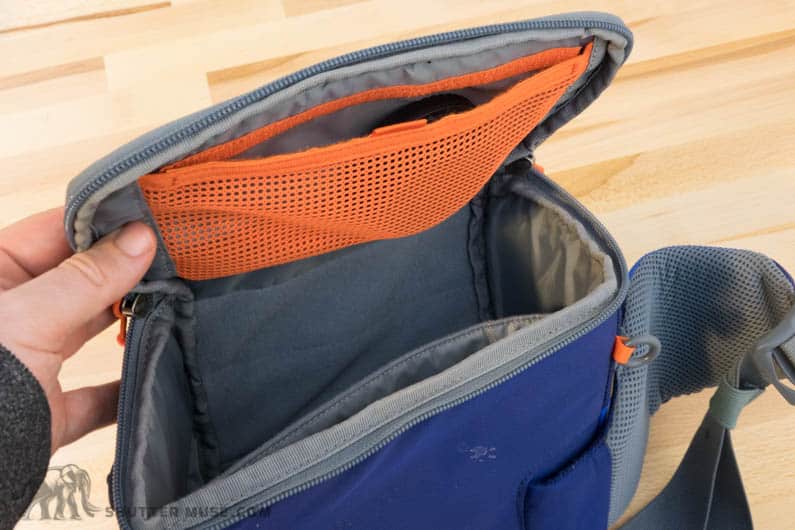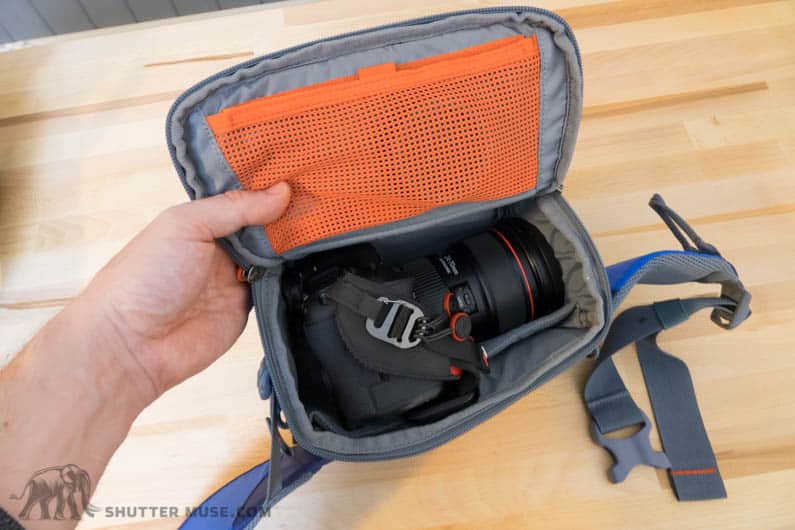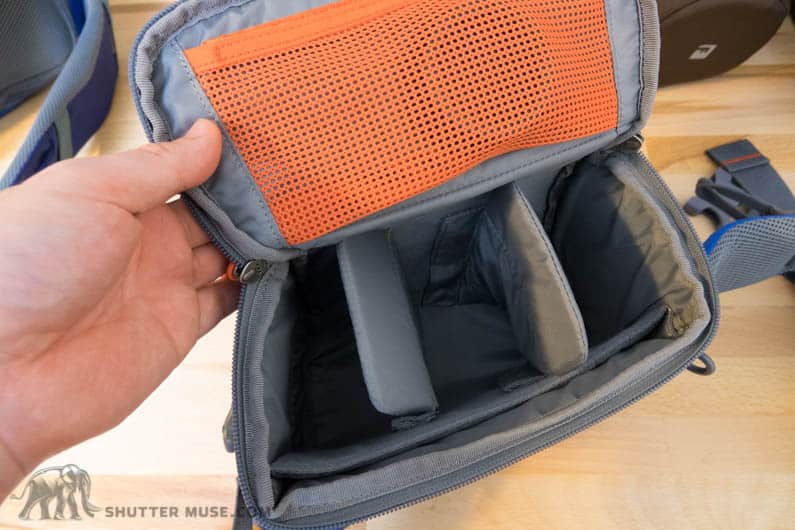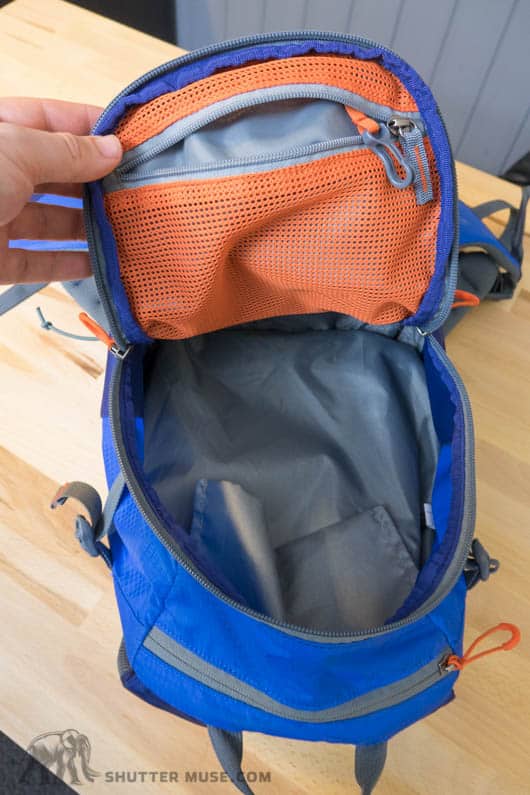 Other Options
To my knowledge, there are no camera bags out there that are specifically designed for mountain biking. This Rotation 180 Trail definitely comes the closest. Another potential option would be the MindShift UltraLight Sprint 16L or Dual 26L at a push. These bags are somewhere between the ease of access that the Rotation 180 system provides, and a traditional pack. They are side access which means you don't have to completely remove the pack from your back to get to your gear, you can just swing it around on one shoulder. As the UltraLight name suggests, these packs are designed to be as light as possible, and that's always a good idea if you are planning a longer ride. The Sprint 16L in particular is most comparable to the (also 16 litre) R180 Trail.
The Lowepro Photo Sport BP II is a very similar pack to the MindShift UltraLight Sprint 16 (same price as well). If you are considering one, it would also be prudent to consider the other. I believe the Photo Sport BP comes in 20L and 30L sizes, where the UltraLight comes in 16, 26 and 36, so you've got a lot of options there if you decide not to go with this Rotation 180 Trail for some reason.
The other option is to go with a Mountain Bike specific pack, like the excellent Osprey Zealot 15, and then protect your camera inside the bag using one of the methods that I outlined in this guide about using camera gear in regular backpacks.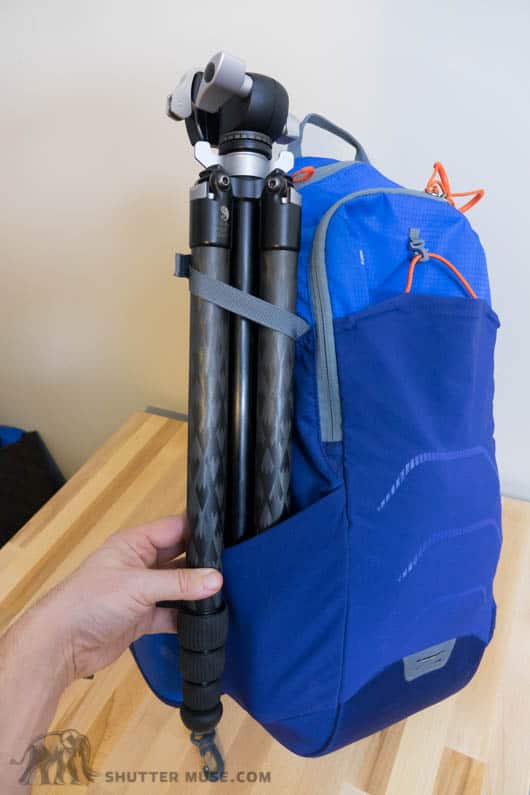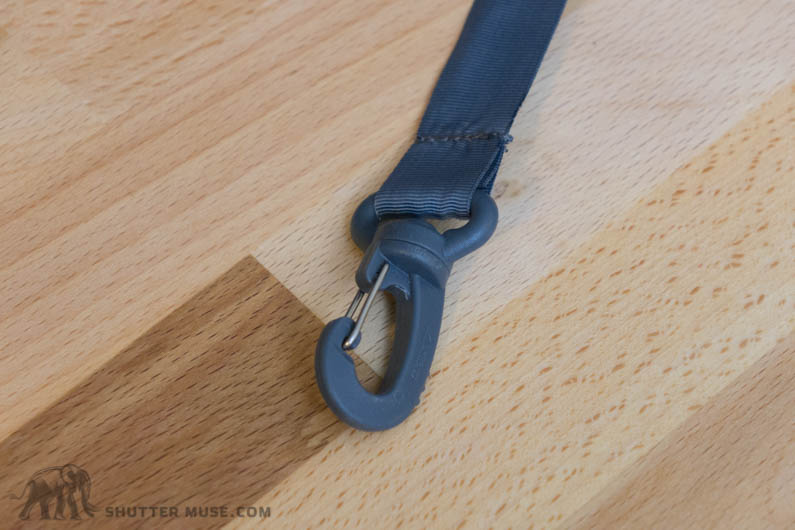 Two Colours
Whilst my photos and video just show the snazzy blue version of the pack, it's also available in a two-tone grey that's very smart.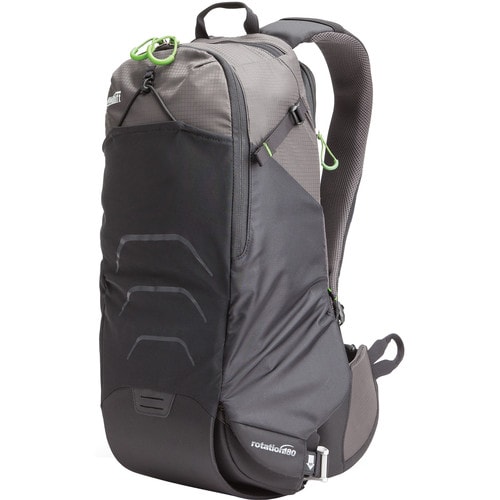 Pros & Cons
Pros
Fast access to camera
Easy access front stretch pocket is amazingly useful
Plenty of room for tools and snacks
Belt pack can be worn seperately
Cons
A very full water bladder can distort the back panel shape a bit until water level subsides
Shoulder straps are comfortable but they hold dirt/dust more than some others
Rain cover isn't included, optional extra.
Conclusion
There's lots of small camera bags out there, but just being small doesn't satisfy the requirements in this case. It's not that simple! For a good mountain bike photo bag, you also need it to be durable, lightweight, not too wide and not too deep, plus provide fast access to your gear. The Rotation 180 Trail ticks all these boxes, and it does it at a great price when you consider the complexity of the R180 system, and the fact that this also gives you a supplementary belt pack that can be used for other things like climbing.
Get a Free Gift From MindShift Gear (& free shipping)
As a friend of this site, you'll get a free gift at the checkout if you spend more than $50 through MindShift's online store, as long as you click through one of the links to their store on this page, like this one. I may make a small commission if you purchase from them after clicking one of these links, but as always, it's greatly appreciated when you use these and it doesn't cost you a penny more.
Where to Buy