I love finding cool new camera tech items, and this month a neat little USB camera charger came across my desk from a company called XTAR. The XTAR VN2 is a multifunction smart charger with a 1A output and a maximum input over USB of 5V 2.1A.
In recent years I have been trying to switch all my chargers to USB. It's just so much easier to handle things when you are on the road. One simple USB battery pack can top up all my electronics, and I can even use solar power to charge when I'm off the grid.
Camera manufacturers have gotten much better at making sure you can charge a battery inside a camera by using a USB cable, but for some reason, nobody is yet offering a USB charger in the box to charge a battery out of the camera. For this, the XTAR charger looks to be very useful.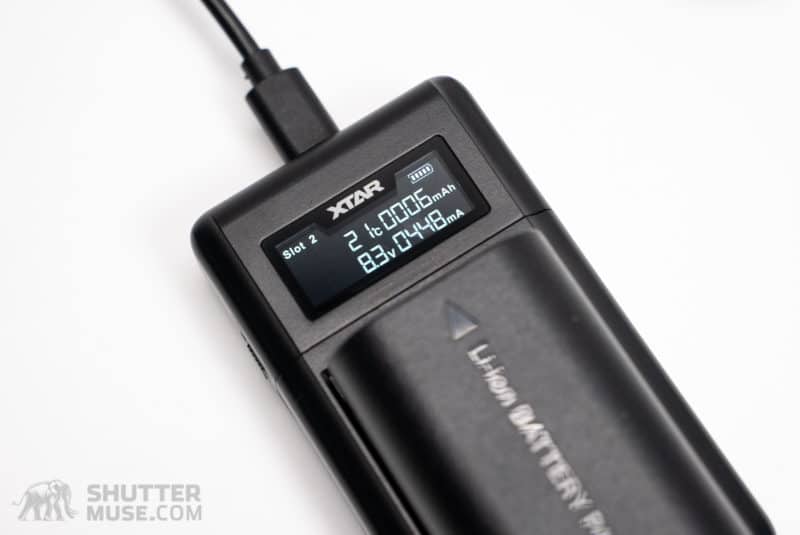 The "brains" of this compact little charger contains all sorts of clever electronics to prevent overheating and overcharging, as well as an automatic mode to revive dead, overly discharged batteries. There's also a small LCD screen that shows you the current battery temperature, mAh delivered during charging and battery capacity status, all to a claimed 1% accuracy.
To be honest, I don't need to know the temperature of my battery, nor do I really care exactly how much charge has been added to my battery, but I do appreciate an accurate gauge of the current capacity, and a clear notification when the battery is fully charged. The XTAR VN2 certainly ticks those boxes.
It's also nice to be able to charge two batteries at the same time. When using smaller batteries, they stand in the charger next to each other. With larger batteries, you attach one to the front, and one to the back of the battery plate.
If you are charging two batteries it's important to know that the 1Amp charging input is split between both batteries. The maximum input is 1A, so charging two batteries simultaneously will send 0.5A to each battery. This means that if charging speed is your priority, you should only insert a single battery into the charger and this will charge it twice as fast as when there are two batteries in the charger. If charge time is of no concern, overnight, for example, you can charge both at the same time.
Another cool trick I discovered is that the LCD screen automatically dims after about 30-60 seconds once it has been plugged into power. This gives you enough time to check that everything is working but doesn't waste power on the LCD brightness throughout the charge, or light up your entire room with a blue glow. Good thinking, XTAR.
Multifunction Battery Charger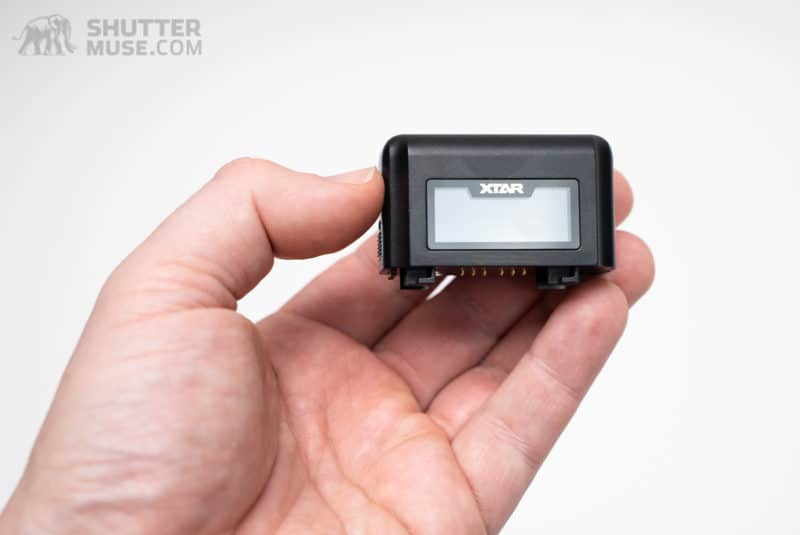 The charger features a unique multifunction design that allows you to quickly swap the "brains" for a different battery connection plate. A slide switch on the left of the charger locks or ejects the battery compartment.
Powering the Charger
The charger comes with a USB-C to USB-A cable, but no charger. You can plug the battery charger into any USB-A port on an existing charger you have at home, or you can use an external battery pack as I have depicted below. This is my personal preference as I can leave it in my camera bag and top the battery charge up throughout the day.
I use the Anker Powercore PD 10,000mAh charger. A typical camera battery will have a capacity of around 2000mAh, so you will be able to fully charge several camera batteries from that one Anker charger.
Where to Buy
This charger is currently available on AliExpress. And will soon be on Amazon here.