I have an increasing number of electronic items that can be charged via USB. In fact, I make it a priority to seek out items that can be charged this way. My Apple laptop can be charged via USB-C, my Sony cameras can be charged via USB-C, my Rode wireless microphones and shotgun microphone are USB-powered, as is my external camera monitor, my headlamp and flashlight, my wireless headphones and of course my phone.
This unification to USB power makes travelling with my camera or mobile office gear much easier, and it also makes it that much easier to charge things in the field instead of having to carry enough batteries to get you back home or back to the hotel room.
Of course, if you're going to charge things up in the field you'll need a USB battery pack to provide the juice. In the last few years, I have tested and reviewed a few different solutions. From small pocket-sized batteries made by Anker, to large power stations from Jackery, and highly specialized v-mount camera batteries from the likes of Fxlion and Anton Bauer. In this review, we're going to take a look at something that slots somewhere in between all of those and was provided for review by Crave.
Specifications
Output
Type-C Port 1 (PD):5V-3A, 9V-2A, 12V-1.5A, 15V-1.2A 18W (Mobile Phones, and more)
Type-C Port 2 (PD) 5V-3A, 9V-3A, 12V-3A, 15V-3A, 20V-3A 60W (Laptop Charging)
USB-A Port 1 and 2 QC 3.0 : 5V-3A, 9V-2A, 12V-1.5A 18W (Phones, cameras, & misc)
Total Output Limit: Max 81W
The Crave PowerPack 2 is a 50,000 mAh battery pack with 4 USB outputs. Two of the outputs are USB-C, and two are USB-A. Of the USB-C outputs, one delivers 18W with Power Delivery protocol, and the other delivers an impressive 60W with Power Delivery protocol. Both of the USB-A outputs deliver Qualcomm QC 3.0 compatibility for fast charging more Android devices.
For a USB battery pack, these are some impressive specifications. For starters, the average size of a small portable USB battery is about 10,000 mAh. Those would be the kind of thing you stick in your pocket to keep your phone charged. Although the Crave Powerpack 2 is far from pocket-sized, it's nice to have the option of something with far more capacity. I looked around for other equivalent products on the market and came up short. For example, the popular Goal Zero Sherpa 100PD power bank is 25,600 mAh. Fully half the capacity of this Crave Powerpack 2, even though it was the same price ($199 – or $179 when you use our coupon SM10)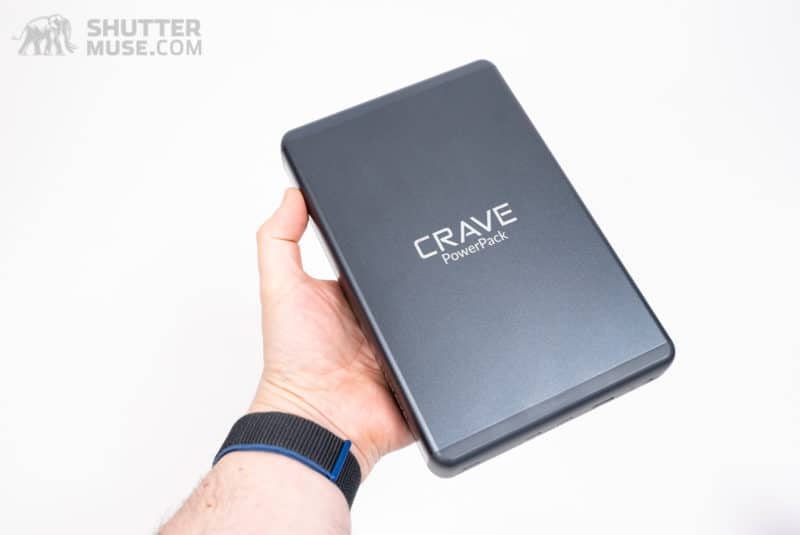 Although the industry will likely move entirely to USB-C at some point, it's not there yet. With that in mind, I appreciated the equal split between USB-C ports and USB-A. Although my cameras, laptop and phone are USB-C, I have several USB-A battery chargers and always found it easy to get a useful combination of everything all charging at once.
Another thing that's well worth highlighting is the power output of the Power Delivery USB-C ports. The 18W port is perfect for fast charging an iPhone, iPad or Apple Watch. The second 60W port is an excellent option for powering or charging a laptop. You will easily be able to power a MacBook Air or 13″ MacBook Pro with 60W.
With the huge 50,000 mAh capacity, you will get roughly 15 full charges of your phone, and several complete charges of your laptop from this battery!
Usage Scenarios
This would be an excellent battery pack for time-lapse shooters who want to power a camera for prolonged periods. In fact, you could easily power two or more cameras with this just by using a few long USB cables. If you often shoot time-lapses with a couple of different focal lengths and don't place cameras too far apart, this is definitely a possibility.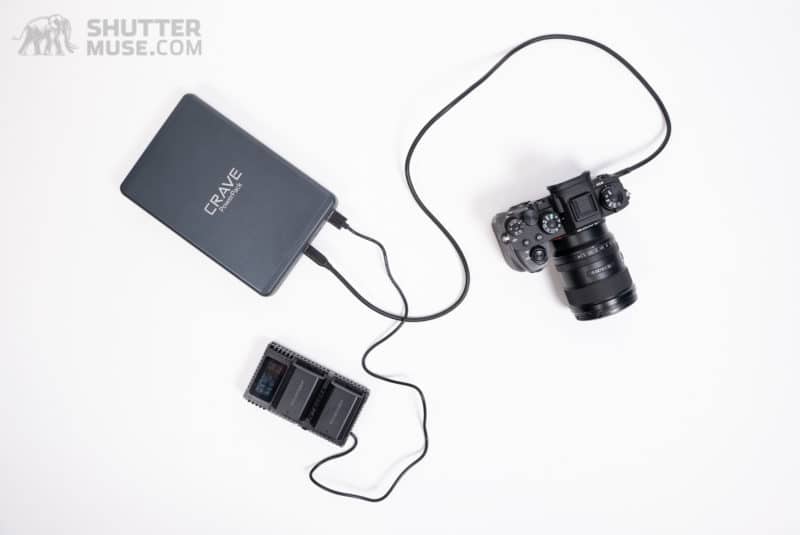 In my time testing this product, I found it to be a great way to quickly set up a charging station when on location or at a hotel. Usually, whenever I check into a hotel for work, I end up running extension cables to the one or two power outlets in the room and then setting up all my chargers on a table. We've all stayed in those motels or hotels where power sockets seem to be few and far between, and the ones that do exist are inexplicably placed under the bed! With the Powerpack 2's capacity easily able to fully charge all my camera batteries, my phone and my laptop, on quick trips I didn't even bother with power sockets. I simply placed the battery on the table and used that for everything!
For time on the road, shooting out of my car, I placed the battery pack in my Pelican case and created a mobile charging station. I have always done something similar in the past with a smaller 10,000 mAh battery to keep my cameras topped up, but with this battery, I felt confident enough in its capacity, that I also used it to keep my MacBook fully charged, as well as an assortment of other smaller devices. If you buy one, it's worth taking the time to configure a mobile charge station like this and make sure you have a tidy set of USB cables.
Also worth pointing out is the perfect pairing with Nitecore's range of USB camera battery chargers. These chargers are QC 3.0 compatible and will simultaneously charge two batteries when plugged into the Crave Powerpack 2. I used the Sony FZ100 battery version with great success during my time testing this battery. They also make versions that are compatible with other batteries from Canon, Sony, Nikon and Leica. I actually have a pair of these chargers, so I could conceivably charge 4 batteries at the same time, as well as charging my phone and laptop. Very cool.
Included Charger
The Crave Powerpack 2 comes with a 45W USB-C charger. You can plug this into either of the two USB-C ports to recharge the battery pack. While I liked the charger, I did not like the ridiculously short USB-C cable that came with it. The cable is so short that it does not even provide enough length to plug the charger into a standard wall socket, and have the battery pack resting on the floor. You can forget about using this cable to charge the pack from a power socket behind your desk or next to your bed.
To get around this problem you will either have to purchase a longer Power Delivery compatible USB-C cable or use an extension cord to bring a 120v socket closer to a desk or table on which to place the battery.
Conclusion
This is the first Crave product that I have tested, and I always find it interesting to get that first impression of a new-to-me brand. From my time with the PowerPack 2, I'm impressed. This is a real beast of a USB battery pack, and I can definitely see myself carrying this thing around in my Pelican case to charge all manner of photo and electronic gear on the go.
I really can't fault the battery build or design at all. I think they nailed the specifications of the USB ports, providing exactly the right combination of USB-C and USB-A, while also delivering PD and QC 3.0 charge protocols to keep Apple and Android users happy.
The only place for improvement in this product is the included USB-C charge cable. It's far too short to be of practical use with such a large battery. This is a big battery, and it needs to be placed on a desk or table while charging. The charging cable needs to be long enough to accommodate placement of the charger under a desk.
Overall, this is a solid product that I can happily recommend to people who need to charge multiple pieces of USB-powered gear that the same time.
Where to Buy + Save 10%
The PowerPack 2 is available directly from the Crave website. Retail price is $199, but if you use our coupon code, SM10, it will only cost you $179.
If you don't like saving money (for some reason) you can also get it on Amazon for more money.