The 3 Legged Thing Lance monopod is a carbon fiber 4-section support with 60KG (130lb) capacity and a maximum height of over 6ft 7″, placing it securely among the tallest monopods on the market. Lance is joined in 3 Legged Thing's premium Legends range of carbon fiber monopods by Alana, a shorter 5-section monopod covered in a separate review. In this review of the Lance monopod, we'll closely examine its design and features and discuss why you might choose such a tall support for your camera.
Disclaimer: 3 Legged Thing provided this monopod for testing and review. No money changed hands, and they did not see this review before it was published.
Table of Contents
3 Legged Thing Alana Monopod Specifications
Tube Material: 8 layers of carbon fiber
Tube Lock Material: Magnesium alloy
Tube Sections: 4
Max Height: 2.02m / 79.52″
Collapsed Length: 61.4cm / 24.2″
Capacity: 60 kg / 132 lb
Weight: 677 g / 1.49 lb
Max Tube Diameter: 32mm / 1.26′
Stud Size: Spring-loaded 3/8″ 16 and 1/4″ 20
Recommended reading: Monopod Vs Tripod – How to Choose.
Why Would You Need a Tall Monopod Like the Lance?
3 Legged Thing already makes a great standard-size monopod in the Legends range called the Alana (read the review), with a maximum height of 1.58m / 62.3″. If you don't need an enormously tall monopod for a specific reason, you should look at the Alana instead of the Lance. But what would constitute a good reason for buying a monopod as tall as Lance?
Before I answer that question, I want to underline again just how tall the Lance is in the world of monopods. The easiest way to do that was to browse B&H to look at the maximum height specifications of all the other monopods on the market. In total, B&H currently lists 277 models in the monopod category. When I sorted those by maximum height, I found just one other monopod taller than Lance's 79.52″ height, the ProMediaGear TR42L, which comes in at 81″.
The Lance can't claim to be the tallest monopod on the market, but it can claim a solid silver medal. If you wanted to give Lance a slightly sneaky gold medal victory, you could measure its maximum height with the optional DocZ2 monopod foot. In other words, this is a simply gigantic monopod and is by far the tallest that has ever come across my desk for review.
Now that we have established Lance's credentials as a mammoth monopod let's return to the question. Why would you need a monopod this tall? At over 6ft 7″ tall, Lance would place a camera at eye level for someone around 7ft 3″. A handful of NBA players hit that mark (I checked), but clearly, there isn't much of a market for it in the photo community. In which case, if Lance isn't intended to be used in the way most people imagine using a monopod, how would you use it?
Fresh Perspectives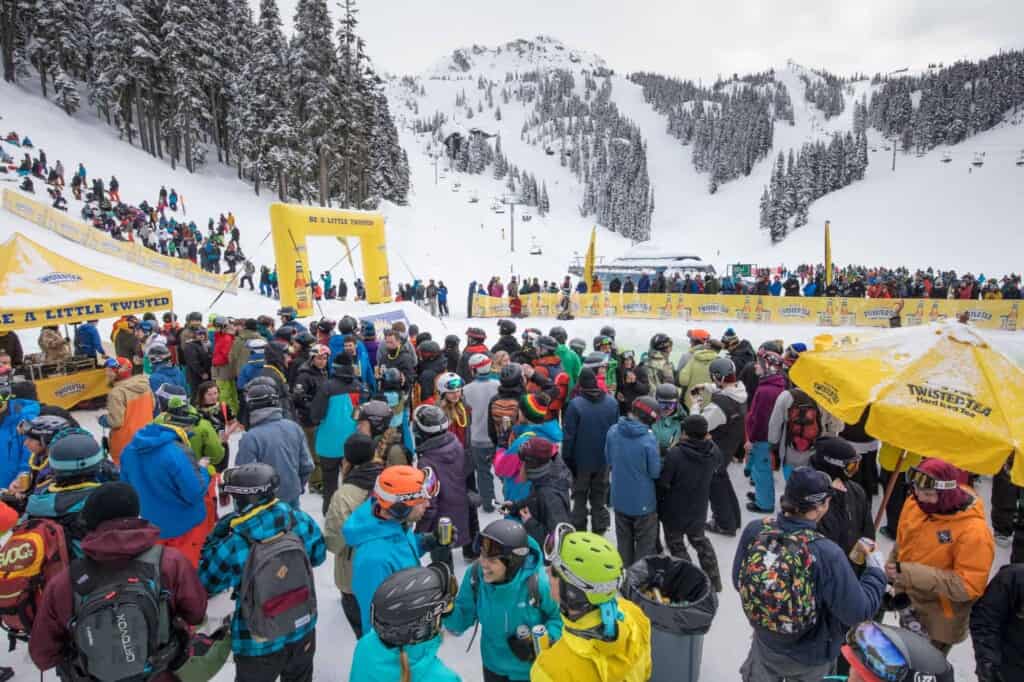 A tall monopod of this size can be handy for getting a high-angle perspective of crowded events. As a sports photographer, I routinely used a wide-angle or fisheye lens on a camera placed on a monopod and held as high as I could above my head. Elevating your camera above a crowd completely transforms the view and can give you an almost drone-like shot in a place where you wouldn't be allowed to fly a drone. Imagine my two example scenes above if I had taken the photos at eye level. Neither would have given the viewer any sense of the crowd, the location, or the event as a whole.
While these two examples were created by hoisting a fairly standard-sized monopod above my head, I'd have gladly used a taller monopod for an even more dramatic view. How do you see what you're doing? If you have a tilty/flippy screen, you can point it downwards and get enough of an idea, then trigger the shot with a basic cable release or Bluetooth remote. Alternatively, you can connect your camera to a mobile app that gives you access to your camera's live view and shutter controls on your phone.
Of course, this concept can also be applied to videos of events, and they don't just have to be sporting events. I'd use this technique to cover a crowded wedding dancefloor or a packed industry tradeshow. For shooting video, though, I'd highly recommend using the optional DocZ2 monopod foot detailed in the review's next section.
Microphone Boom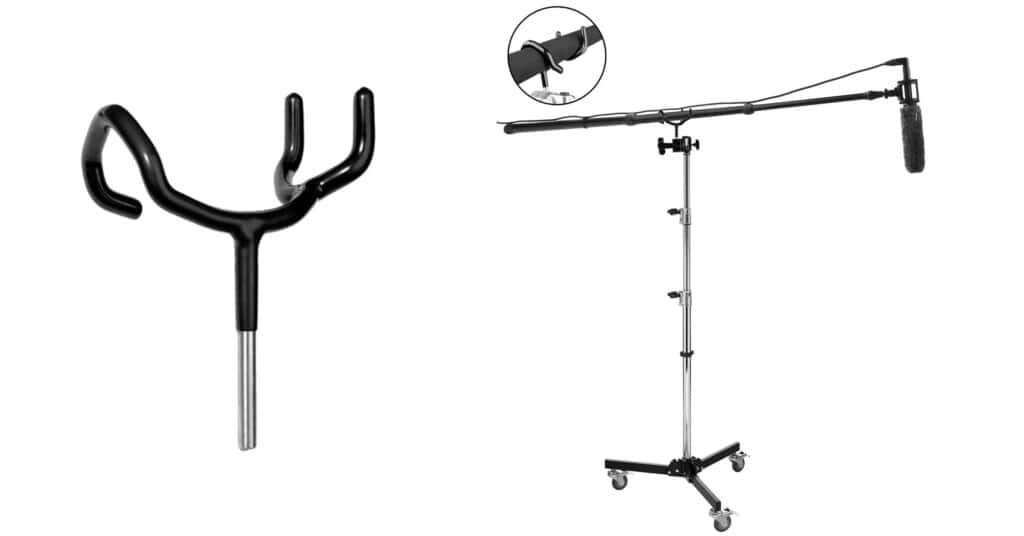 A final reason you may consider buying a taller-than-usual monopod is to put it to use as a microphone boom. Suppose your photo hobby or business has you pulling double duty as an occasional filmmaker. In that case, you'll occasionally want a boom to hold a shotgun microphone just out of frame. Carbon 7ft microphone booms usually sell for $150-250, so repurposing the Lance monopod is a great way to save money. Granted, dedicated microphone booms are much lighter, so I wouldn't want to boom a shotgun mic on this while handholding it. However, there's no reason why you can't rig it up on a simple boom pole holder for a hands-free solution during interviews and static scenes.
Lance Monopod Build and Features
The design and durability of the leg locking mechanisms often differentiate monopod quality. The 3 Legged Thing Lance monopod features chunky, glove-friendly magnesium alloy locks with extra-grippy O-shaped rubber inlays on three sides to ensure maximum grip, even in wet conditions. They feel solid, lock tightly, and unlock smoothly, running over greased metal threads. The hardware on the Lance monopod is identical to that found on the 3LT Alana monopod.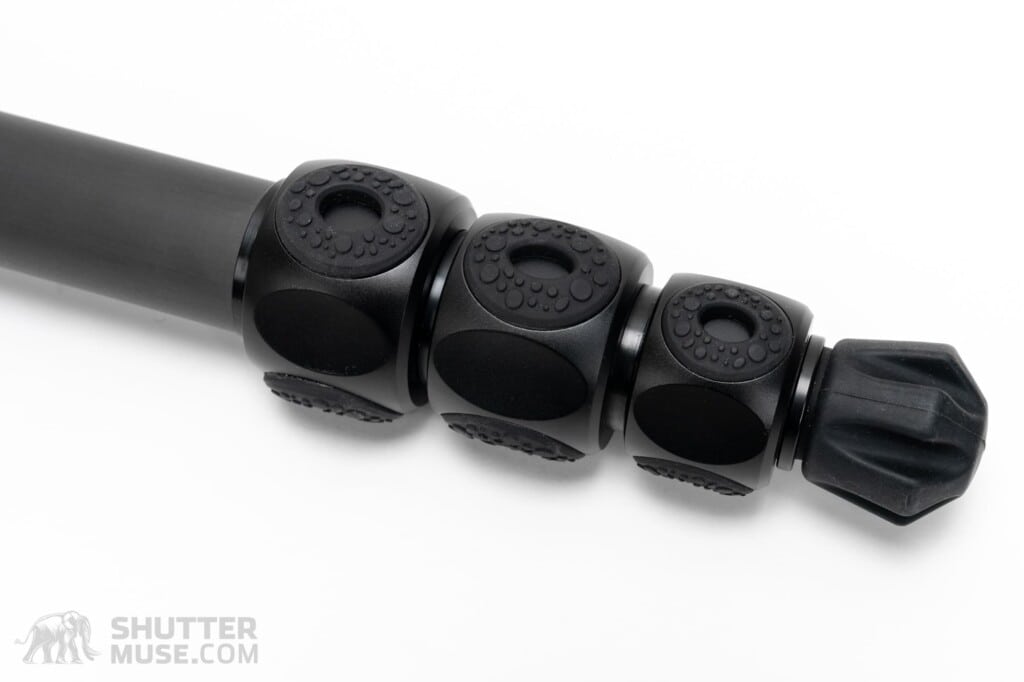 Moving to the top of the Lance monopod, you'll find a giant rubber hand grip made from the same materials embedded into the leg locks. The grip is comfortable to hold, but if you want to get picky, it's almost too sticky, resulting in dust, dirt, and hairs sticking to it. My sample was covered in small cardboard packaging particles even out of the box. The designers would probably roll their eyes at this observation, and I'd understand that. The grip does feel nice and secure to hold, and occasionally wiping it down is the price you pay for that.
Speaking of security while holding it, a nylon adjustable hand strap sits just above the hand grip. Technically, this strap is labeled as non-removable. However, anything is removable with a sharp knife if you don't want it there.
Right at the top of the monopod is a flat-topped platform with curved edges. 3 Legged Thing says this new platform shape is smoother and more comfortable to hold than their previous monopod, and I can't argue with that. In the center of the platform is a spring-loaded 3/8″ 16 stud. This larger thread size is perfect for adding a video head to your monopod. When you want to add a monopod head that typically features a 1/4″ 20 female socket, press it onto the larger 3/8′ stud, and the spring-loaded outer section will retract to reveal a 1/4″ 20 stud.
The Lance monopod comes with 3 Legged Thing's standard rubber foot. Removing the foot from the monopod reveals the monopod's 3/8″ 16 female thread, adapted for use with the standard 1/4″ 20 foot using a 3/8″ to 1/4″ bushing. Access to a 3/8″ 16 and 1/4″ 20 female thread ensures universal compatibility with any tripod or monopod foot accessory from 3 Legged Thing and 3rd party companies.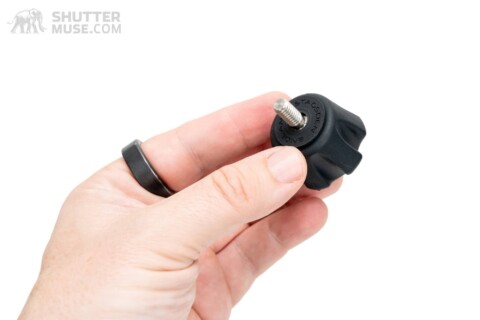 Optional DocZ2 Monopod Foot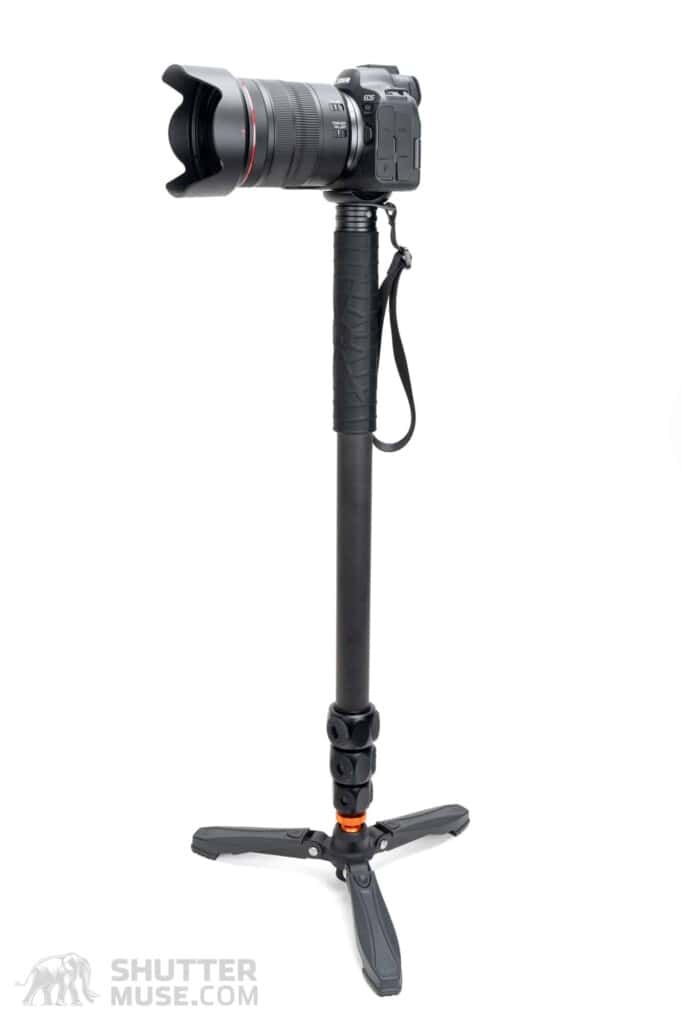 The Lance monopod is available as a monopod-only configuration or in a kit with the 3 Legged Thing DocZ2 monopod foot. The DocZ2 adds $50 to the price when you buy it as a kit, but this is a $10 saving as the DocZ2 costs $59.99 when purchased on its own. The foot also adds 1.1 lb (499 g) to the monopod's weight.
When the center ball of the foot is locked, it adds lateral stability to the monopod, improving your keeper rate while shooting with slow shutter speeds or shooting video. A more specific example would be using a telephoto lens for wildlife photography in low light at the beginning or end of the day. The DocZ2 can help you get sharper images in that scenario, provided your subject isn't moving too quickly. If you're shooting sports or fast-moving wildlife by panning the lens with the subject, the monopod foot doesn't help you. In fact, it can be a hindrance, as you'll have to unlock it to allow the monopod to pan at all.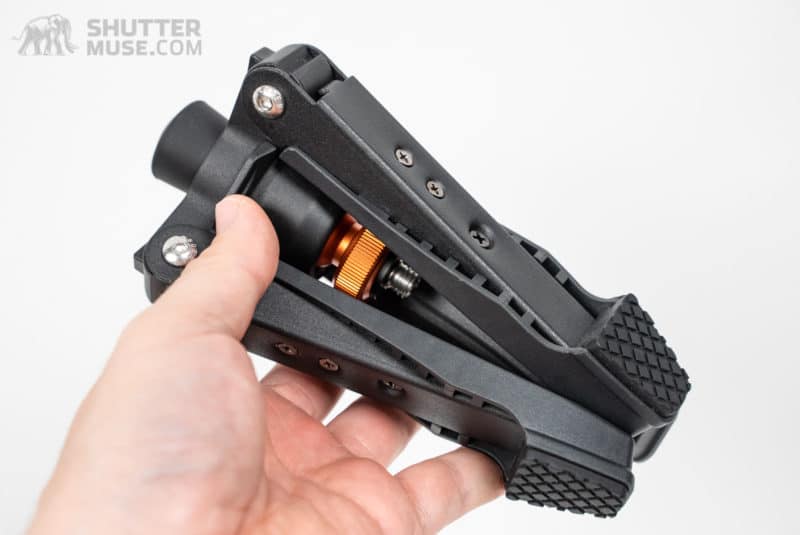 All 3 Legged Thing Monopods Compared
3 Legged Thing currently sells four monopods in an easy-to-understand lineup. The Punks monopods are the cheaper range and consist of two magnesium alloy monopods: one regular size and one much taller. The Legends monopods are the premium carbon monopods. Again, there is one regular size and one much taller.
| Specification | Taylor 2.0 | Trent 2.0 | Alana | Lance |
| --- | --- | --- | --- | --- |
| Monopod Series | Punks | Punks | Legend | Legend |
| Tube Material | Magnesium alloy | Magnesium alloy | Carbon | Carbon |
| Max Height | 1.58m / 62.2" | 2.02 m / 79.52 " | 1.58m / 62.3″ | 2.02m / 79.52″ |
| Folded Length | 44.1cm / 17.4" | 60.4 cm / 23.77 " | 44.8cm / 17.6″ | 61.4cm / 24.2″ |
| Sections | 5 | 4 | 5 | 4 |
| Capacity | 30 kg / 66 lb | 30 kg / 66 lb | 60 kg / 132 lb | 60 kg / 132 lb |
| Weight | 677g /1.49 lb | 728 g / 1.60 lb | 643 g / 1.4 lb | 677g / 1.49 lb |
| Max Tube Diameter | 29mm / 1.14" | 29 mm / 1.14″ | 32mm / 1.26′ | 32mm / 1.26′ |
| Color Options | Darkness, Metallic Blue | Blue / Metallic Slate | Metallic Slate Grey, Darkness | Darkness |
| MSRP (monopod only) | $89.99 | $89.99 | $149.99 | $149.99 |
| MSRP (with monopod foot) | $139.99 | $139.99 | $199.99 | $199.99 |
Conclusion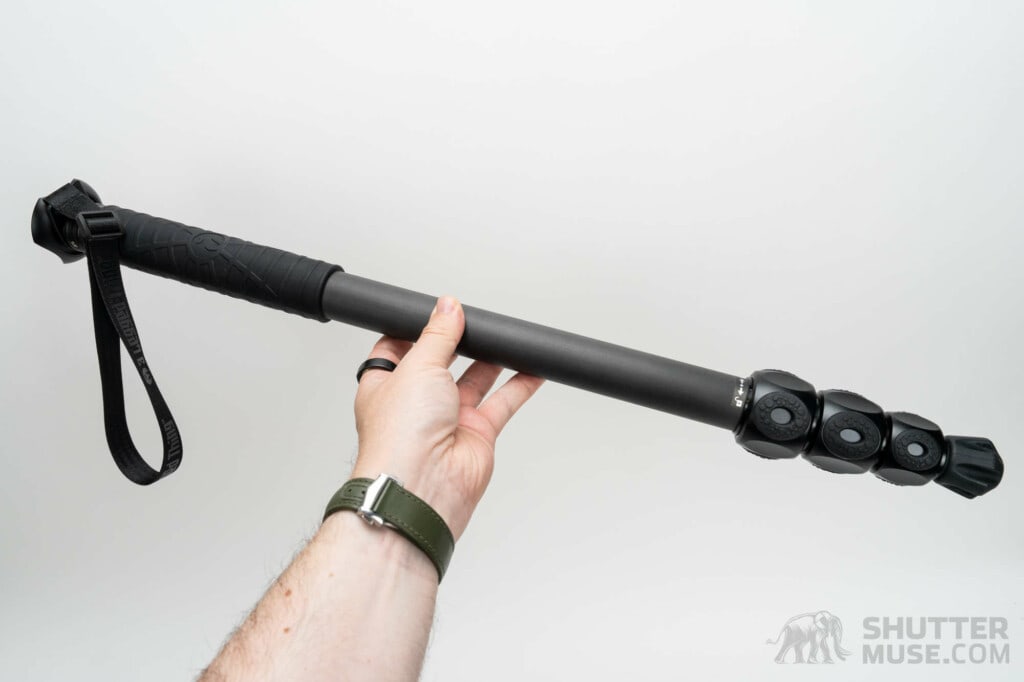 A few years ago, I reviewed the Alan 2.0 monopod that was, at the time, the only monopod in 3 Legged Thing's premium Legends range. I found it an excellent carbon monopod that was more than enough for most people, but I did rue the lack of a taller option in the range. Fast-forward a few years, and 3 Legged Thing's Legends monopods have been refreshed. Alan 2.0 has been replaced by the Alana monopod, which is now joined in the range by the much taller Lance monopod. The two monopods share the same materials, hardware, and price points but differ in their collapsed lengths and maximum size.
Lance, the subject of this review, is a very tall monopod. By my reckoning, it's the second-tallest monopod on the market, losing out to first place by just a fraction of an inch to a monopod that costs nearly three times as much. Its length would please a Knight of the Relm, but it's not the only noteworthy feature. The Lance monopod is also incredibly well-built, with big, smooth, glove-friendly leg locks and a surprisingly reasonable price point for something that looks this cool and works so darn well. If you need a tall monopod to help deliver a unique perspective, or simply because you are above average height, the Lance is well worth a look.
Where to Buy
As always, using our links to make your purchases is appreciated. The 3 Legged Thing Lance monopod is available from the following links.
If Lance is a bit too tall for you, check out the Alana monopod. It uses all the same materials and hardware but in a shorter, travel-friendly 5-section design: