The 3 Legged Thing Alana monopod is a carbon fiber 5-section support with an impressively short collapsed length and an almost absurdly high 60KG (130lb) capacity. The Alana monopod replaces the previously reviewed Alan 2.0 monopod as the standard-sized monopod in 3 Legged Thing's premium Legends range. Alana is now joined in the range by Lance, a taller 4-section monopod I have covered in a separate review. In this review, we'll closely examine the design and features of the Alana monopod to find out what's new and what, if anything, has been improved.
Disclaimer: 3 Legged Thing provided this monopod for testing and review. No money changed hands, and they did not get to see this review before it was published.
Table of Contents
3 Legged Thing Alana Monopod Specifications
As you can see from the photo, the Alana monopod's maximum height will place a camera at eye level for most people of an average size. For me, at 5ft 9, it's more than enough height. If you want something taller, look at 3 Legged Thing's Lance monopod in this review.
Tube Material: 8 layers of carbon fiber
Tube Lock Material: Magnesium alloy
Tube Sections: 5
Max Height: 1.58m / 62.3″
Collapsed Length: 44.8cm / 17.6″
Capacity: 60 kg / 132 lb
Weight: 643 g / 1.4 lb
Max Tube Diameter: 32mm / 1.26′
Stud Size: Spring-loaded 3/8″ 16 and 1/4″ 20
Recommended reading: Monopod vs. Tripod – How to Choose.
Alan 2.0 Vs Alana Monopod
For some time, the 3 Legged Thing Alan 2.0 monopod was my top pick for a budget-friendly carbon monopod. I had very little bad to say about it in my review. When 3 Legged Thing told me Alan was being replaced by Alana (see what they did there?), I was curious to see what changes had been made. To refresh our memories a little, Alan 2.0 had a collapsed length of 17.32″, a max height of 58.26″, and a weight of 1.35 lbs (615g).
Once I got the Alana monopod, I was happy to see that not much had changed. Don't mess with a good thing, as they say. When collapsed, the Alana monopod is 0.3″ longer than Alan 2.0 but usefully gains 4 inches at maximum extension. Overall weight increases slightly to 643 g / 1.4 lb. My only real complaint in the Alan 2.0 review was the lack of other monopod sizes in the Legends range. 3LT has now fixed that with the addition of the exceptionally tall Lance carbon monopod.
Overall, the new Alana monopod offers slightly increased length at the expense of slightly increased weight but otherwise remains similar to the previous model. Impressively, 3 Legged Thing has managed to keep the Alana monopod price the same as Alan 2.0, even when almost everything else in the world seems to be getting much more expensive. Kudos for that.
Alana Monopod Build Quality and Features
The design and durability of the leg locking mechanisms often differentiate monopod quality. The 3 Legged Thing Alana monopod features chunky, glove-friendly magnesium alloy locks with extra-grippy O-shaped rubber inlays on three sides to ensure maximum grip, even in wet conditions. They feel solid, lock tightly, and unlock smoothly, running over greased metal threads.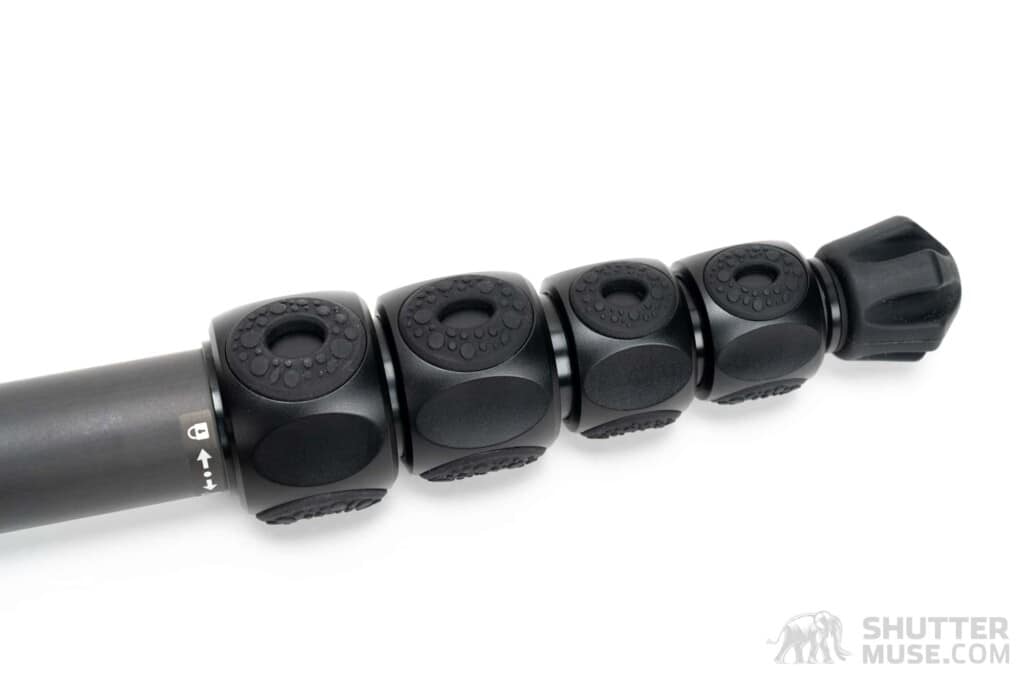 Moving to the top of the Alana monopod, you'll find a giant rubber hand grip made from the same materials embedded into the leg locks. The grip is comfortable to hold, but if you want to get picky, it's almost too sticky, resulting in dust, dirt, and hairs sticking to it. Even out of the box, my sample was covered in small cardboard packaging particles. The designers would probably roll their eyes at this observation, and I'd understand that. The grip does feel nice and secure to hold, and occasionally wiping it down might be the price you pay for that.
Speaking of security while holding it, a nylon adjustable hand strap sits just above the hand grip. Technically, this strap is labeled as non-removable. However, anything is removable with a sharp knife if you don't want it there. I can't say I need a hand strap on a monopod myself.
Right at the top of the monopod is a flat-topped platform with curved edges. 3 Legged Thing says this new platform shape is smoother and more comfortable to hold than their previous monopod, and I can't argue with that. In the center of the platform is a spring-loaded 3/8″ 16 stud. This larger thread size is perfect for adding a video head to your monopod. When you want to add a monopod head that typically features a 1/4″ 20 female socket, press it onto the larger 3/8′ stud, and the spring-loaded outer section will retract to reveal a 1/4″ 20 stud.
The Alana monopod comes with 3 Legged Thing's standard rubber foot. Removing the foot from the monopod reveals the monopod's 3/8″ 16 female thread, adapted for use with the standard 1/4″ 20 foot using a 3/8″ to 1/4″ bushing. Access to a 3/8″ 16 and 1/4″ 20 female thread ensures universal compatibility with any tripod or monopod foot accessory from 3 Legged Thing and 3rd party companies.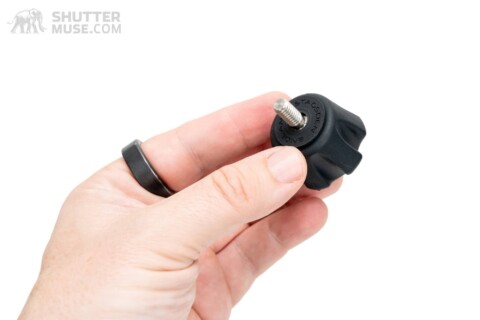 Optional DocZ2 Monopod Foot
The Alana monopod is available as a monopod-only configuration or in a kit with the 3 Legged Thing DocZ2 monopod foot. The DocZ2 adds $50 to the price when you buy it as a kit, but this is a $10 saving as the DocZ2 costs $59.99 when purchased on its own. The foot also adds 1.1 lb (499 g) to the monopod's weight.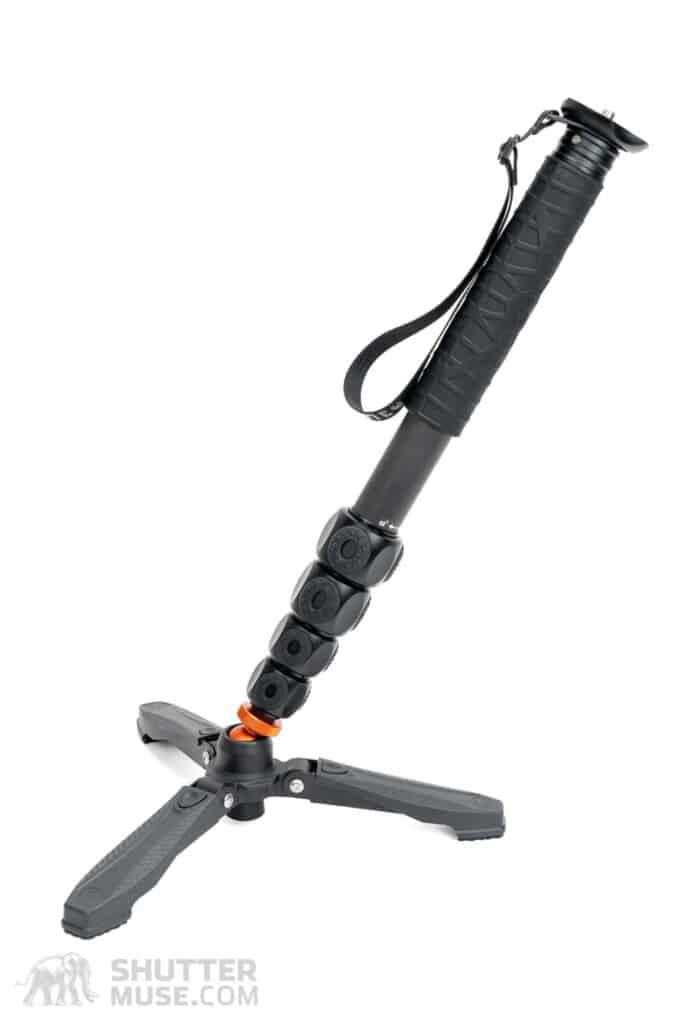 When the center ball of the foot is locked, it adds lateral stability to the monopod, improving your keeper rate while shooting with slow shutter speeds or shooting video. A more specific example would be using a telephoto lens for wildlife photography in low light at the beginning or end of the day. The DocZ2 can help you get sharper images in that scenario, provided your subject isn't moving too quickly. If you're shooting sports or fast-moving wildlife by panning the lens with the subject, the monopod foot doesn't help you. In fact, it can be a hindrance, as you'll have to unlock it to allow the monopod to pan at all.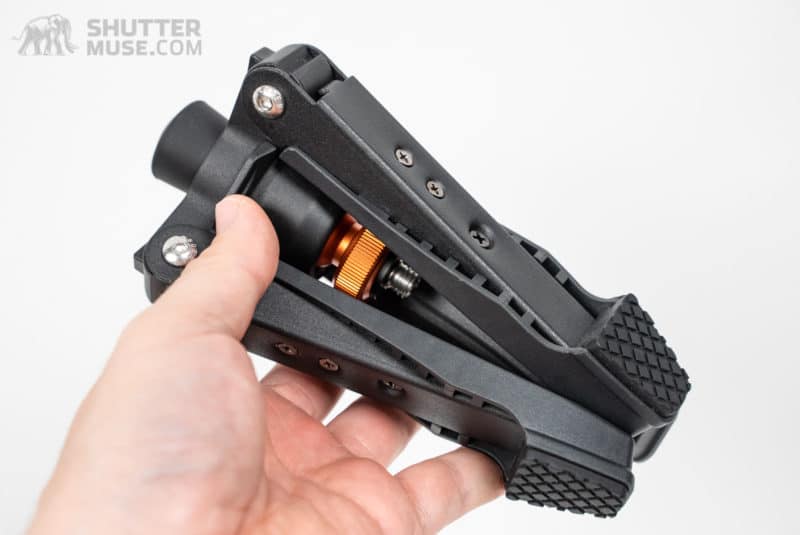 All 3 Legged Thing Monopods Compared
3 Legged Thing currently sells four monopods in an easy-to-understand lineup. The Punks monopods are the cheaper range and consist of two magnesium alloy monopods: one regular size and one much taller. The Legends monopods are the premium carbon monopods. Again, there is one regular size and one much taller. Note that the Alana monopod has now replaced the Alan 2.0 monopod.
| Specification | Taylor 2.0 | Trent 2.0 | Alana | Lance |
| --- | --- | --- | --- | --- |
| Monopod Series | Punks | Punks | Legend | Legend |
| Tube Material | Magnesium alloy | Magnesium alloy | Carbon | Carbon |
| Max Height | 1.58m / 62.2" | 2.02 m / 79.52 " | 1.58m / 62.3″ | 2.02m / 79.52″ |
| Folded Length | 44.1cm / 17.4" | 60.4 cm / 23.77 " | 44.8cm / 17.6″ | 61.4cm / 24.2″ |
| Sections | 5 | 4 | 5 | 4 |
| Capacity | 30 kg / 66 lb | 30 kg / 66 lb | 60 kg / 132 lb | 60 kg / 132 lb |
| Weight | 677g /1.49 lb | 728 g / 1.60 lb | 643 g / 1.4 lb | 677g / 1.49 lb |
| Max Tube Diameter | 29mm / 1.14" | 29 mm / 1.14″ | 32mm / 1.26′ | 32mm / 1.26′ |
| Color Options | Darkness, Metallic Blue | Blue / Metallic Slate | Metallic Slate Grey, Darkness | Darkness |
| MSRP (monopod only) | $89.99 | $89.99 | $149.99 | $149.99 |
| MSRP (with monopod foot) | $139.99 | $139.99 | $199.99 | $199.99 |
Use With a Monopod Head
I prefer using a monopod with a monopod head because it increases stability and fluidity when panning with a moving subject. My guide to the best monopod heads on the market is always worth a read. While testing the Alana monopod, I paired it with a Wimberley Monogimbal. This head is quite substantial but pairs nicely with the also-substantial Alana.
Conclusion
The 3 Legged Thing Alana monopod is a very well-made 5-section camera support for a wallet-friendly price. I said the same thing when I reviewed the previous version of this monopod, the Alan 2.0. This time, I was particularly impressed that the price of the monopod has not increased in line with almost everything else in the industry. Since I heaped praise on its value for money last time, I will have to pile that even higher for this newly updated model.
While 3 Legged Thing is known for producing tripods and monopods in funky bright colors, I'm a massive fan of the sleek Darkness color scheme showcased in this review. It is easy for me to recommend this new model to those looking for a standard-sized, robust monopod for use with any camera weight. Although Alana is not lightweight, the 5-section design and 17.6″ collapsed length still ensure this monopod is reasonably easy to travel with.
Where to Buy
As always, using our links to make your purchases is appreciated. The 3 Legged Thing Alana monopod is available from the following links.
If Alana isn't tall enough for you, check out the Lance monopod. It uses all the same materials and hardware but in a much taller 4-section design that extends to over 79″.