One of our readers commented on a previous 3 Legged Thing review to ask whether I had any opinions on their accessory monopod foot, the Docz2. At the time, I was not familiar with the product, but I sent a quick email, and 3 Legged Thing kindly sent one over for me to review.
DOCZ2 Design and Build
The Docz2 monopod foot is a ruggedly built set of collapsible feet that can be attached to almost any monopod from any brand. Out of the box, it comes with a 3/8″ 16 stud, but you can quickly remove this to reveal a 1/4″ 20 stud beneath it for monopods that use the smaller stud size for their feet.
When I say that this is ruggedly built, I mean it. In the hand, this feels like a big chunk of metal, and with a weight of 1.1lbs (496g), it weighs as much as some smaller monopods do in their entirety. I wouldn't say that this is a bad thing, but it is worth taking into account when you are considering how you might use this product.
This monopod foot is something you can screw onto the bottom of your monopod to add additional lateral stability. It is built to spend its life down in the dirt, and you can safely put your foot on any of the feet to firmly plant it further into the ground without fear of damaging it. When used in this way, it does add a lot of stability to a monopod setup. We're not talking tripod levels of stability here, but it's certainly a noticeable improvement over a monopod on its own.
Using The Integrated Ball Head
Once you have your monopod attached to the feet, you have the option to unlock the integrated ball head. When the orange metal collar is screwed down, the monopod is locked into the vertical position. If you rotate the collar clockwise, it will lift up to reveal and unlock a small ball head. The tension of this ball head, when unlocked, is controlled by a small rubber-covered locking knob on the underside of the feet.
Whether or not you unlock the ball head will depend on the type of head you are using on your monopod. If you have a dedicated monopod head that only has fore and aft tilt control, you will need to unlock the ball every time you use your monopod on ground that is not perfectly flat. Without that, you will end up with a wonky horizon. Using a ball head on top of your monopod will allow you to correct your horizons there, and you won't necessarily need to unlock the ball on the Docz2 foot.
If you need to unlock the ball head on uneven ground, I recommend that you tighten the ball tension knob to ensure you are still getting enough lateral support.
Side Note: I don't generally recommend using a ball head on top of a monopod. It's much easier to use a dedicated monopod head. You can read my guide to the best monopod heads for more details.
Who Is This For?
Lateral stability in a monopod isn't strictly necessary when shooting with a relatively fast shutter speed. For this reason, I don't think it's useful for sports photographers. While that is a sub-section of photographers who often use monopods during shooting, it primarily takes the weight of heavy telephoto lenses for long periods.
Lateral stability is essential to wildlife and nature photographers while shooting in low light at the beginning and end of the day. I often recommend using a monopod in those situations, and the Docz2 foot improves your keeper rate of tack sharp shots when working at the very limits of available light.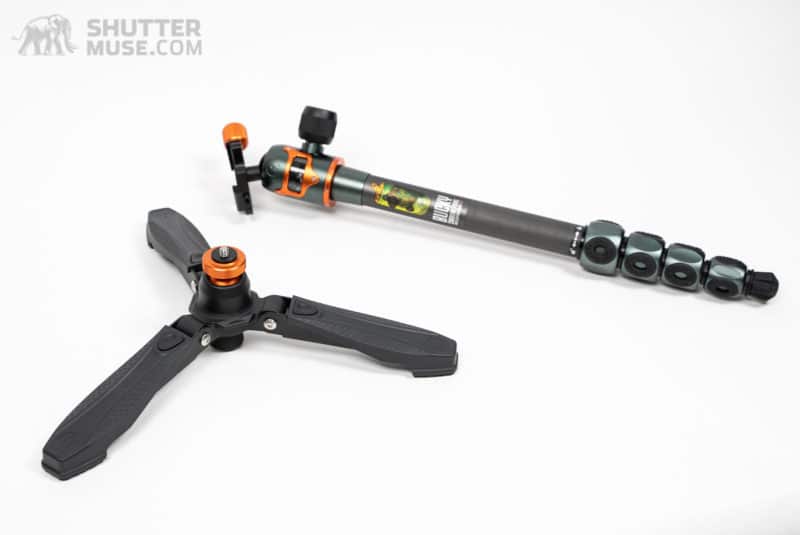 Another excellent use for the Docz2 foot is shooting video. Many filmmakers who shoot in a run and gun style use a monopod to quickly add vertical stability when they stop to grab a shot. Using a monopod foot will add lateral stability to your video shots, making a noticeable difference.
In fact, with careful usage on hard, flat ground, you can even combine this setup with a fluid video head to get some pan and tilt motion into your shots. As I said, this will not give you tripod levels of stability, but it is a significant improvement over a regular monopod. In fact, there are some video-centric support brands such as iFootage that only make monopods with feet on the bottom of them.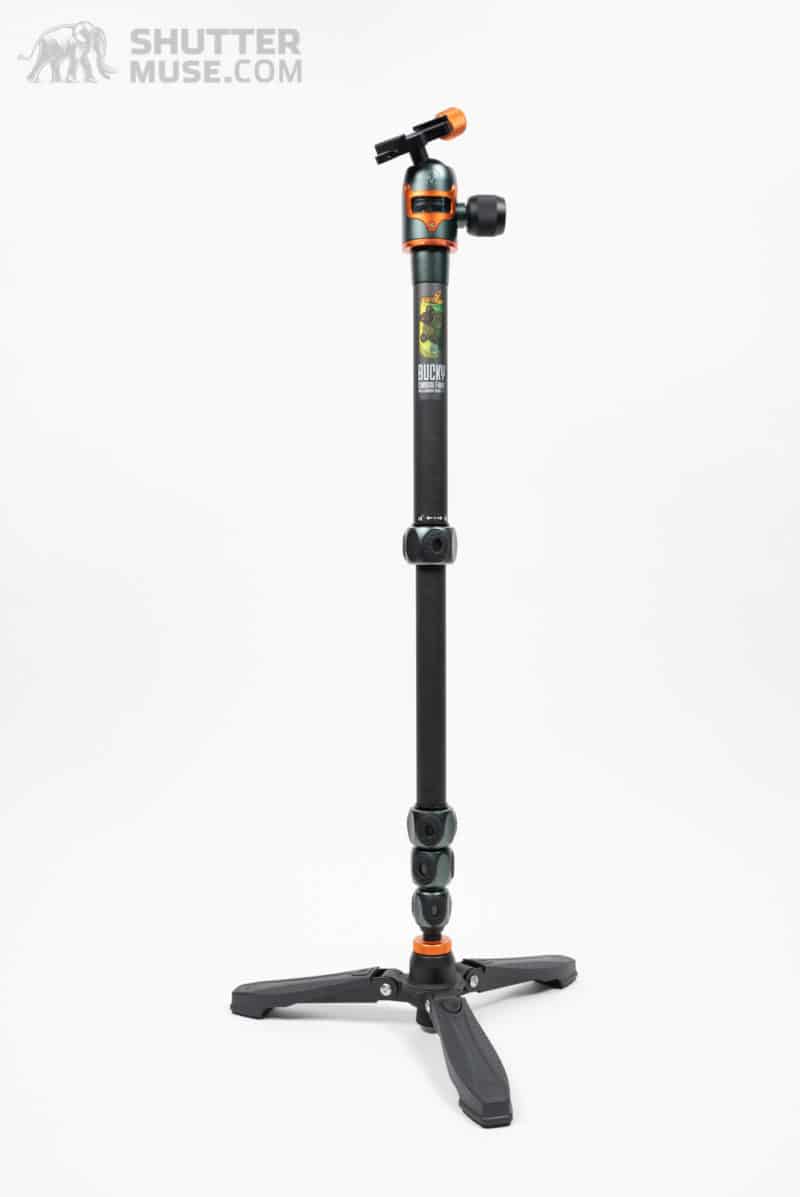 A third potential usage for this foot is shooting in places that have specifically said "no tripods". This might be somewhere like a tourist attraction where you want to do some travel photography, or it might be a trade show floor where you're providing news coverage or creating a corporate video. Based on a previous email correspondence I had with a filmmaker from the US, I believe that there are some entire cities, such as New York City, where tripods are technically illegal outside in public spaces. However, this filmmaker told me that using a monopod with a set of feet on it was no problem.
Tabletop Tripod Usage
Another potential use for the Docz2 is as a tabletop tripod. For me, this is a secondary usage, with the primary being its use as a monopod foot. Clearly, this was not designed with use as a tabletop tripod in mind. There is only one position for the legs, meaning your camera can only have one height on the table. The weight and bulk of this product also stand out compared to other tabletop tripods on the market. Using the ball tension knob, positioned underneath the feet, is also very fiddly when critically framing a shot because it requires you to lift the tripod to perform the tensioning action.
So yes, you could use the Docz2 as a tabletop tripod if you suddenly found yourself needing one. And if you can line up the shot you need at that exact height, you're certainly giving your camera a sturdy platform from which to shoot. In that way, it's a nice bonus to be able to use Docz2 in this way. That said, I would not recommend this product if you are primarily looking to buy it as a tabletop tripod and never use it on a monopod. If you need an excellent tabletop tripod and don't need to use it as a monopod foot, buy the Feisol TT-15 instead.
Monopod Compatibility
I had three different monopods in my office when I tested this product, and it fitted on all of them. However, shortly after publishing the review, I received a couple of comments from Gitzo monopod owners stating they had trouble with it.
3 Legged Thing states that the Docz2 fits "most monopods", which seems accurate, but this does mean that some might not be an ideal pairing. The issue appears to be with monopods that have a recessed thread on the bottom. When the thread is recessed, the stud on the top of the Docz2 is not long enough to reach into the recessed thread.
Before purchasing this, I would advise that you take a look at the bottom of your monopod. If the thread is flush with the bottom, you won't have an issue. If your thread is recessed, it won't work without some fiddling around and purchasing of adapters. In the future, it would be nice if 3 Legged Thing included longer adapters in the box so that the foot will work with a broader variety of monopods.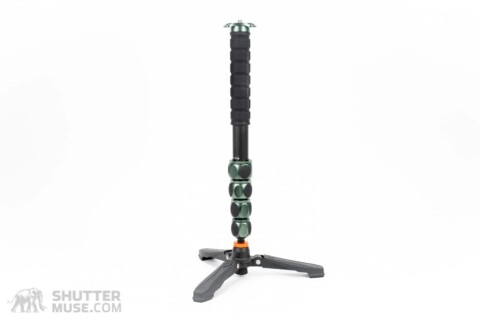 An excellent pairing is DocZ2 mounted to 3 Legged Thing's Alan 2.0 monopod. You can even buy this pairing as a package and save $10 from the total price. I highly recommend the Alan 2.0 monopod. This is an excellent package if you're looking at the DocZ2 and are not entirely satisfied with your existing monopod. Check my Alan 2.0 monopod review for more details.
Conclusion
The Docz2 monopod foot is a great way to add some lateral stability to a monopod. It's built like a tank and gives me confidence that it will last a long time, even though its primary position would be on the ground under my foot! With all of 3 Legged Thing's tripods having removable legs that turn into monopods, this is a product that should interest fans of the British brand and users of other monopod brands.
What's important to consider is weight. Often, people choose to use a monopod instead of a tripod when they want to save some weight. Adding the Docz2, or any other monopod foot for that matter, will add back some of that weight you have saved. In most cases, this will create a support platform that delivers stability that falls somewhere between a monopod and a tripod. If you don't mind that added weight, you will get noticeably increased stability that could easily make the difference between getting a sharp shot and not.
As with all camera support decisions, you have to weigh up the pros and cons of your situation on the day. Without a doubt, I can see myself using this on the monopod that I keep in my car, ready for any roadside wildlife that I come across on my travels through Northern Canada. There's no downside to using it in that situation because its weight is not a factor. I can also see myself using it for run and gun video work, and I'd take it to places where I know I would not be allowed to use a tripod.
Where to Buy