The 3 Legged Thing Alan 2.0 is a carbon fibre monopod with a huge 60kg (130lb) capacity. Sporting a thick rubber grip, adaptable camera platform and anodized aluminium hardware, it certainly looks the part of a professional support solution. But just how good is it? When 3 Legged Thing offered to send one over for testing, I jumped at the chance to get it out in the field.
Recommended reading: Monopod Vs Tripod – How to Choose.
3 Legged Thing Alan 2.0 Monopod Specifications
Collapsed Length: 440mm / 17.32″
Maximum Height: 1.48m / 58.26″
Capacity: 60 kg / 132.2 lbs
Weight: 615g / 1.35 lbs
Sections: 5
Max Leg Tube Diameter: 32mm / 1.26″
Dual spring-loaded 1/4″ and 3/8″ threads
Alan 2.0 Build Quality and Features
One thing that often differentiates premium and cheap monopods (or tripods) is the durability of the leg locking mechanisms. On a piece of equipment such as a monopod, the leg locks are the main feature, so they need to be good. Thankfully, the Alan 2.0 monopod excels in this regard.
The large anodized leg locks use an interesting dual locking mechanism that I haven't seen on a monopod before. Firstly, the locks thread onto the the bottom of each leg section, just as with any other monopod that uses twist-locks. Secondly, a threaded locking collar screws down onto the top of the leg lock. You can see this 2-piece design clearly in the photo above. The locking collar prevents the leg lock from accidentally being undone so far that the leg sections come apart. It's a clever solution.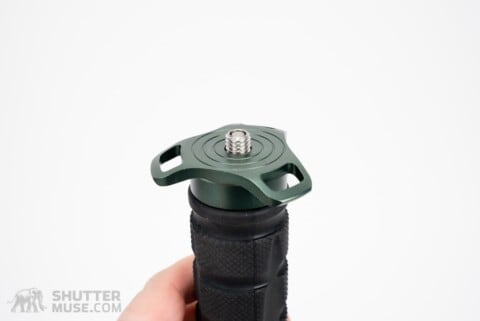 Alan's Foot
The Alan 2.0 monopod comes with 3 Legged Thing's standard rubber foot. The foot has a 1/4″ 20 stud, but removing it reveals that the monopod has a 3/8″ 16 female thread. An included busing is used to convert that 3/8″ 16 thread to 1/4″ 20. 3 Legged Thing's monopod accessory feet all use that 3/8″ 16 thread, as do most third-party tripod or monopod accessory feet.
Optional Spiked Foot?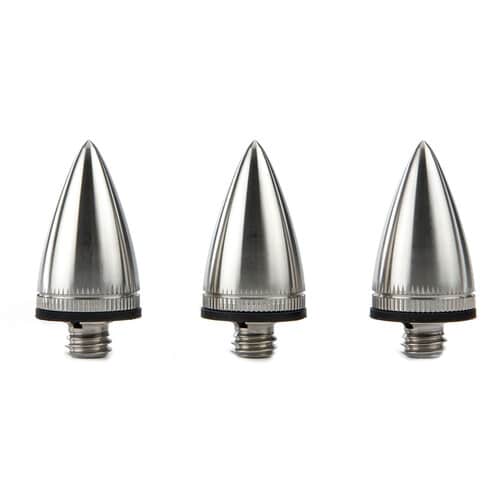 Some photographers like to use a spiked foot on a monopod for added grip instead of a rubber one. 3 Legged Thing make several different types of feet, but unfortunately, they are all sold in three packs. If you have a tripod that will also benefit from the occasional use of spiked feet, no problem, buy the 3-pack. However, if you just need a single foot, you'll have to look elsewhere.
Use With the DocZ2 Monopod Foot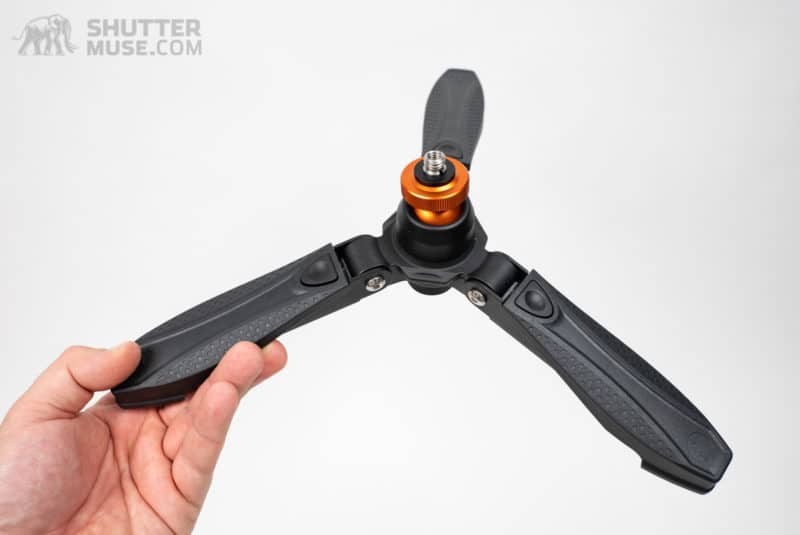 A monopod will never provide as much stability as a tripod, but a dedicated monopod foot can make a noticeable improvement. 3 Legged Thing's monopod foot is called the DocZ2, and it can be purchased as a package with the Alan 2.0 monopod. When you buy the package – Alan 2.0 + DocZ2 – you save yourself $10.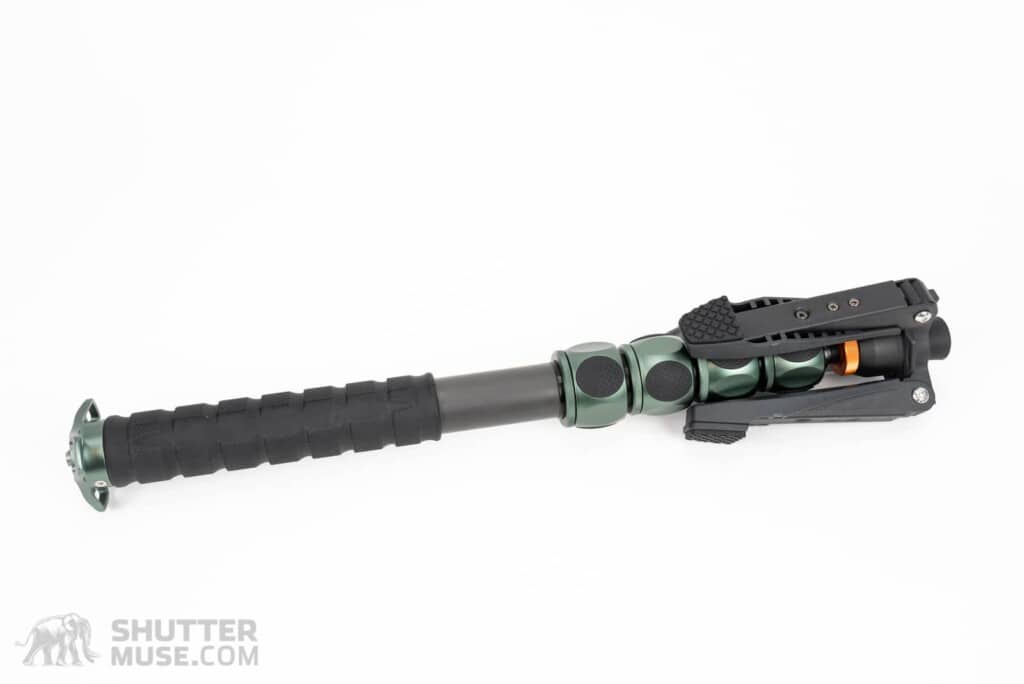 In my earlier review of the DocZ2 monopod foot, I found it a well-built and worthwhile solution in some situations, notably for run-and-gun videography. If you're on the fence about needing this optional extra, I recommend reading the previous review for some insights.
Use With a Monopod Head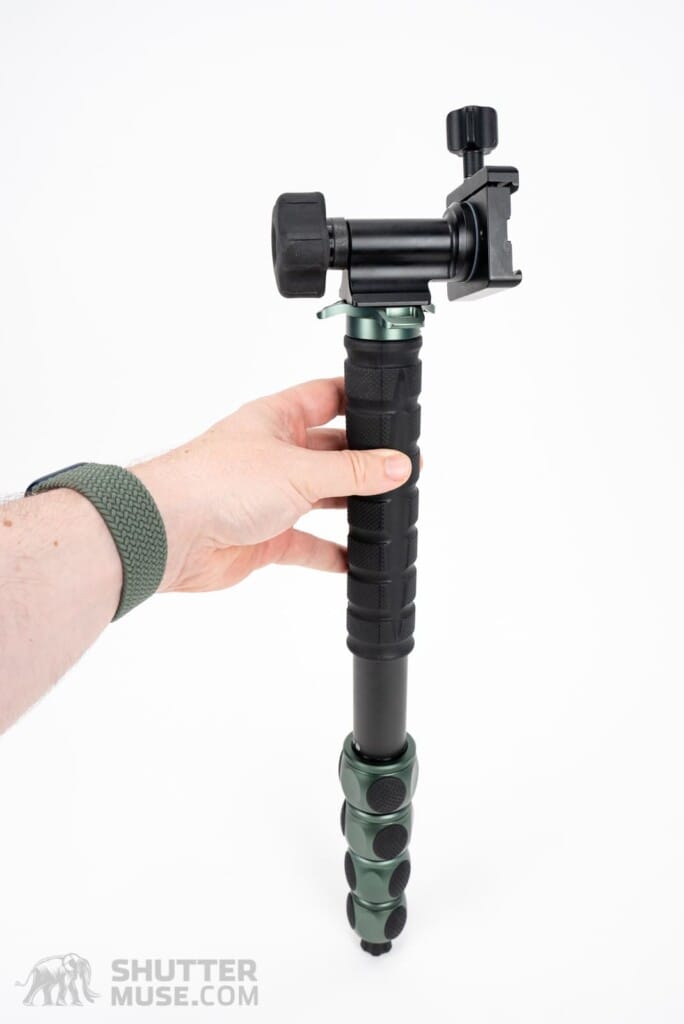 I prefer to use a monopod with a monopod head because it increases stability and fluidity when panning with a moving subject. For reasons I have explained before, I do not recommend using a ball head on a monopod. My guide to the best monopod heads on the market is always worth a read. While testing the Alan 2.0 monopod, I paired it with a Wimberley Monogimbal. This head is quite substantial, but it makes a nice pairing with the also-substantial Alan 2.0 monopod.
Conclusion
The 3 Legged Thing Alan 2.0 is a well-built and remarkably well-priced carbon fibre monopod. At just under $150, you'd be hard pushed to find another monopod on the market that offers the same value. I found this interesting because while 3 Legged Thing often produces great support gear, I don't think of them as a value brand. You get what you pay for, and usually, the price seems about right. Nothing wrong with that.
With the Alan 2.0 monopod, you're getting a great deal. Plain and simple. Everything from the adaptable stud size on the camera platform to the large rubber grip and chunky, robust leg locks has been incredibly well thought out. I'd happily use this impressive monopod with any size of camera setup for any of my professional work.
The only real negative I can think of is the singular sizing. While the maximum height of 1.48m (58.26″) will work for many people, like me, there will inevitably be people that wish it was a little taller or shorter. Other monopod brands often offer at least a couple of different heights, as 3 Legged Thing does with their tripods. If the size is right for you, though, this is an excellent monopod.
Where to Buy
The 3 Legged Thing Alan 2.0 monopod can be purchased at the following locations.