British tripod company 3 Legged Thing recently launched the QR11-LC universal L bracket. The bright orange colour immediately caught my eye, as well as the staggeringly low price of just $49.
In recent years I have always equipped my cameras with L brackets from Really Right Stuff, but these can cost anywhere from $150 to $250, and they are camera-specific which isn't ideal for the long term. Much as I like the RRS brackets, lately, they have made them heavier, bulkier, more complex and even more expensive. The timing was just right, so I contacted 3 Legged Thing and they kindly sent one of the QR1-LC brackets over for review.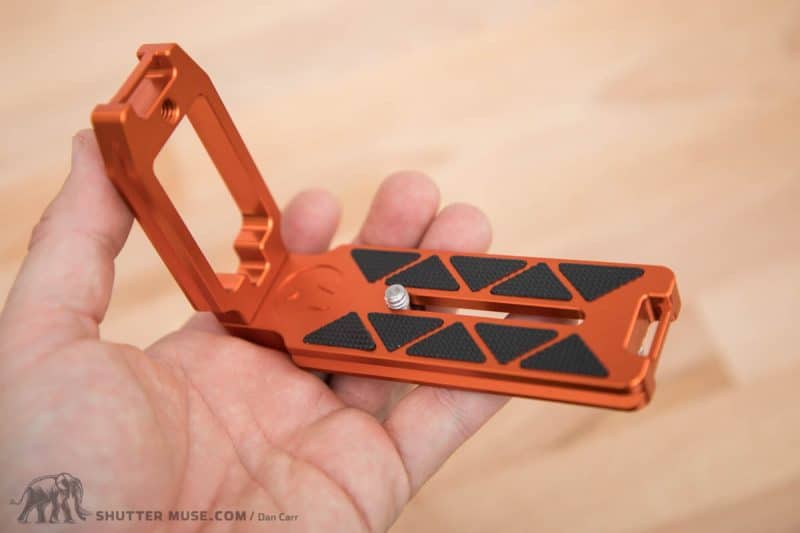 Why Use An L Bracket?
Before we dig into the main review, I want to talk about why these things are so useful.
With an Arca-Swiss compatible quick-release clamp on your ball head, this bracket will allow you to quickly clamp a camera onto your tripod in either a vertical or horizontal orientation. This is preferable to simply spinning a camera on and off 1/4″ 20 threaded studs all the time because it removes the possibility of cross-threading and damaging the camera. Of course it also dramatically speeds up the setup process. If the light is changing quickly, that's important.
When working from a tripod you often want to take photos in both orientations, but if you just have a standard tripod baseplate on the camera you have to flip it over in the ball head drop notch. This lowers the height of the camera and shifts it to one side, consequently changing compositional considerations, and simultaneously making it more uncomfortable to work with the camera since you'll be bending over to get down to that newly lowered viewfinder.
If you use an L bracket, though, you simply flip the quick release open and move the camera to clamp the other part of the bracket. Viewfinder position is moved only marginally, and you'll have more freedom in how you position the ball head as you won't be forced into using the drop notch.
When using an L bracket, the process of switching from vertical to horizontal is so quick and painless that I constantly find myself doing it as I experiment with different framing options. If you don't have that bracket, it impedes that whole process so much that I simply end up taking fewer photos, or at least trying less compositional variations before settling on "the one".
Another often overlooked reason for using a bracket like this is protection for the bottom of your camera. L brackets prevent scuffs and scratches on the base of your camera, and this maintains a higher value when the time comes to sell it. I have sold multiple cameras that have had years of usage, and been able to confidently market them as "excellent condition". My L brackets have taken the brunt of the daily wear from constantly putting them on the ground or other surfaces.
In fact, if you don't beat your gear up, I'd bet you can recoup the cost of the L bracket simply with a higher resale value when its time to upgrade your camera. A camera that's in great condition is easily worth $50 more than one that is covered in dings and scratches on the bottom.
Incidentally, if you don't have a compatible quick-release clamp on your ball head, 3 Legged Thing have a great lever clamp that you can buy individually here. It features a locking lever system that's super safe because you have to hold the locking switch in order to open the lever.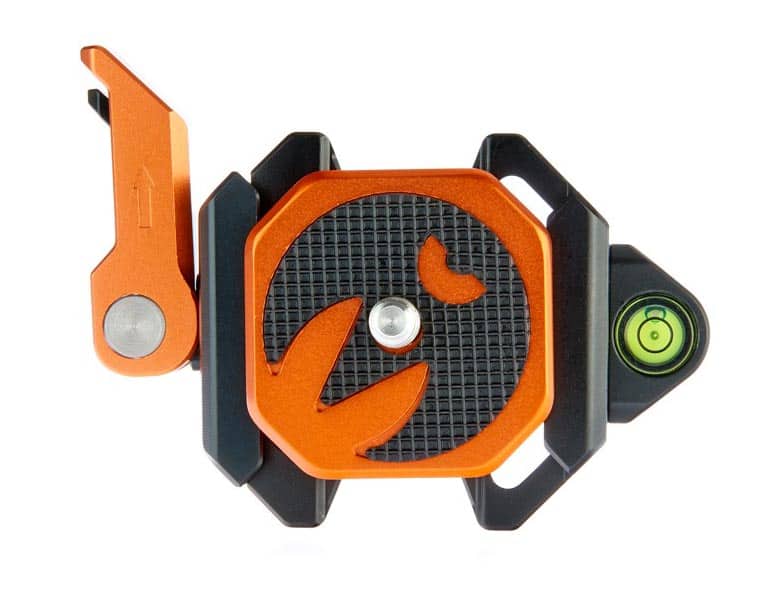 QR11-LC Features and Opinions
3 Legged Thing claim that this is the most universal L bracket on the market. There's a long list of compatible cameras on their website. Having said that, anyone considering this bracket should also take note of a newer (although not direct replacement) model of L bracket called the Ellie. Ellie has a slightly different design that might make it more suitable for smaller mirrorless cameras. I have also reviewed the Ellie bracket:
Recommended Reading: 3 Legged Thing Ellie L Bracket Review
For anyone that has used camera-specific brackets like those from RRS, it's important to define what I (and 3LT) mean by "compatible". Camera specific plates are manufactured in such a way that you can still have full access to things like battery doors and cable ports. They are carefully machined to avoid any blockages. For a universal bracket design, that's a much harder task.
Many cameras will find that some adjustment is needed with the QR11 to access the battery door. A tool with a built-in clip is provided in the package, and for some cameras, you're going to need to carry that with you so that you can loosen the bracket to swap batteries. If you think that will bug you, you can probably getter a better fit with their Ellie bracket, but it's $20 more expensive.
While frequent adjustment is a bit of an annoyance, it's hard to hold it against the product because it's a necessity as a really universal product. The 3 Legged Thing Ellie bracket is a little less universal because it's available in two different sizes.
The QR11-LC is beautifully machined as you can see in the photos, and it's much lighter than I was expecting. The vertical part of the bracket is removable if you want to shed even more weight. At only $49 it's still a good price for a nice big bottom plate even if you never want to use it in an L configuration.
One of the features that I love is the inclusion of a 1/4 20 threaded socket on the side of the bracket. This can be used for attaching accessories such as microphones, or variable friction monitor arms for those that want to shoot video. Oddly, this is a feature that's not often seen even on the much more expensive brackets on the market.
Another important feature of the design is the strap mounting hole on the base portion of the bracket. I love attaching a strap to the base of my camera because it hangs much better that way, and its something I have done for years with my other brackets. It also makes it easy to add a hand strap like the Peak Design Clutch.
I tested the QR11-LC in several RRS Arca-Swiss quick release brackets and the machining tolerances seemed spot-on. It clamped securely into all of them. In the past, I have experienced some issues with cheaper Arca compatible products, but I'm happy to report that none were present with this particular bracket.
Conclusion
This L bracket is a near-perfect product and I'm sure I'll be recommending it for many years to come. I absolutely love using an L bracket, but many of the other options are simply way too expensive for the average photographer.
The QR11-LC brings a ton of features to the table at a price point that everyone should be able to afford. If you're using an Arca-Swiss style quick-release clamp on your ball head, and don't mind potentially having to loosen the bracket to access some camera ports and doors, then this is your solution. For those that have never tried an L bracket before, now is the time!
Where to Buy
The Universal L Bracket is available from both Amazon and B&H Photo.