You want to increase your photography or other creative business' website traffic right? Of course you do! We have websites so that clients can find samples of our work and the more visitors we have to the site, the more potential clients we are putting our photos in front of. Whether your business model is selling fine-art prints or attracting commercial and editorial clients, I guarantee you there's room for improvement right away. I've complied this extensive list of instantly actionable tips that will give your site an immediate traffic boost. There's no one magic bullet though and you'll have to work at it, but these tips are easily achievable and many of them just take a couple of minutes to carry out so there's really no excuse. You don't want to give your competitors the upper hand do you?
It's worth noting that whilst some of these tips are specific to photographers, many of them work well for any website and especially sites for other creative businesses like videographers and graphic designers.
1. Start A Blog
There's many reasons why creating a blog is the first thing you should do to start driving more traffic to your website. The first is that it gives you considerable benefits when it comes to search engine optimization (SEO). Given Google's dominance in the search engine market when we talk about SEO we're usually taking about Google! Google's business is serving up links to people who answer their search query. The better the link, the happier the 'customer' and the more they will come to rely on Google. What Google doesn't want to do is send people to stagnant websites with out of date information. They crawl all the websites on the internet looking for changes in sites and they index any new content. Sites that haven't been updated in a long time are less likely to appear in search results because Google begins to see them as stagnant. This presents a problem to photographers because we don't want to be continually updating our portfolio, that could get tiresome pretty quickly. Having a blog as part of your site gives you an easy way to add new content and therefore keep Google's search bots coming back to check up on your site.
The second major reason for a blog is to build a following that keeps coming back to your site directly. This could be photography fans or it could be past or potential clients looking to keep an eye on what sort of work you're putting out at the moment. If you don't have continually updating content then there's little to no incentive for anyone to return to your site and they might miss important updates to your portfolio as a result. Sometimes all it takes to land that new client is to be the first person they think of. If they've just been to your website and seen your latest blog post then you'll be fresh in their mind.
Some people don't like the name 'Blog'. It's worth noting that you don't have to call it this at all, you could call it 'News' , 'Latest Updates' or any number of other possibilities.
WordPress would be my recommendation for a blog platform and my earlier article Wordpress For Photographers – Beginners Guide will get you started there.
2. Create A Newsletter
I'll share with you my biggest mistake, I took too long to start a newsletter! I wish that I had started one right from the beginning but instead I left it years and years. When I finally realized how easy it was to start one, and how effective they can be, I kicked myself. Why didn't I do it earlier!
Since posts on social networks are only seen by a small minority of those that follow or 'like' you, it can be hard to reach your followers and previous clients. E-Mail newsletters are a guaranteed way to get your work and latest updates right in front of their eyes. It's a much more personal way to receive an update and you get total control over the environment for the content. No ads next to your post or competing links from other people above and below. A simple newsletter that shows some recent work, then directs people to your website to see the rest, can be your biggest weapon in driving repeat business from past clients.
I've dedicated one chapter of my latest free photography eBook to explaining MailChimp, my preferred mailing list platform. If you aren't sure where to start then I suggest grabbing this free eBook and taking a look.
3. Have A
Simple

Website

Your website needs to be simple and easy to navigate. Several things need to be clear when a visitor reaches your front page:
Portfolio
Contact page
About/Bio
Blog (if you have one)
Almost everything else is optional and potentially unnecessary. Your portfolio can be split into sections but each section should contain no more than 15 images and preferably no more than 10. Keep it simple and uncluttered. Edit your collections meticulously because one bad photo among 9 great ones can bring down the level of the whole collection. You don't ever want to leave anyone wondering "why did he include that one?" Equally you don't want to leave anyone wondering what type of photographer you are, try to home in on a specific niche and not be a Jack of all trades.
If you give the viewer a good experience they are more likely to share your site and more likely to return. If your site is too complex or takes too long to load then you'll lose traffic. And for goodness sake don't put music on your site. EVER. Please.
4. Get Social
Many of you are probably already using social networks but for those who are not, you're missing out on a vital piece for the puzzle. There's good reason several of the remaining tips on this page relate directly to specific social platforms! Facebook, Twitter and Google+ are the main one to think about joining but if you aren't on all of these platforms, don't worry, it's not necessary to use them all. In fact it could be harmful. It's far better to concentrate on one social network and take the time to build it up, than to try juggling and learning three or more simultaneously. Test them, and use the ones you are most comfortable with. At the moment Facebook is consistently driving more traffic for most people than the other options so I'd start there. Once you're up and running, share updates about your work and link back to your website when there is new content. Social media strategy for creative professionals is a huge topic on its own but get yourself set up and then look out for more in-depth content on this site in the future.
5. Make A Fanfare About Your New Site
Don't just quietly turn on a new website and hope that people will find it, start blowing that horn! Spread the word on your social networks and send out a note to your newsletter subscribers. Ask some of your colleagues to tweet and post about it as well as offering a special "launch deal" on your prints for a limited time. If you know you're going to be launching a new site soon then it's also a good idea to save some new work that you haven't shown people yet. Save it for the grand unveiling and then blow people away with your new images and a new look for your site. When you launch, be sure to tell people that you'll have regular updates on the site so that they know to keep coming back for more.
6. Share Recent Work
Your portfolio is the place to show your best work but your blog should be used to show your latest. Now you've got your blog up and running and you need content for it. Show your readers and potential clients that you are continually creating amazing work and they'll keep coming back for more. When I see a photographer who creates incredible images every time they take their camera out, it's far more impressive to me than a portfolio of curated images that might have taken a decade to put together.
7. Optimize Your Website For Mobile Traffic
Roughly one-third of internet traffic these days is coming from mobile devices like phones and tablets and this percentage is increasing rapidly. If mobile visitors to your site are being shown the same site that your regular computer using visitors are seeing then you're going to lose traffic. Navigating normal sites on a phone is difficult at best and most people won't read more than the page that they came to. They're also unlikely to try to go back to your site again whilst browsing at other times on a mobile device. You're site needs to be responsive! What this means is that the sites layout adjusts dynamically to the width of the browser. You can try it on our very own site if you like. Drag the browser window to a smaller size and you'll see the layout change once it reaches typical widths for mobile devices. Many new WordPress themes are responsive and sites from people like SmugMug, Photoshelter and Squarespace are also responsive these days. For WordPress site owners who don't have a responsive theme you can also use the plugin WPTouch which creates an entirely different and simplified website for people who reach your site on a mobile platform. Give your readers and viewers a better experience and they are far more likely to return and to share your site with others.
8. Use Buffer To Schedule Multiple Tweets
When you send out a tweet with a link to your website it only gets seen by a tiny handful of your Twitter followers because most people don't scroll back very far in their feed when they log in. If you tweeted at 9AM and they log in at 1PM there's next to no chance that they'll see your post. Using a free service called Buffer you can queue up multiple tweets to the same content and have them posted at specific times throughout your day or week. This guarantees that more of your followers will see your tweet and as long as you don't go too crazy with it then it won't bother anyone that happens to see more than one of them. Make sure the tweets aren't identical and the second time around you might just captivate someone who you didn't catch with your first one as well.
9. Post At Regular Intervals
Get into a routine with your site updates and people will get into a routine with reading them. Don't set overly lofty goals like a two or three posts a week, start out with one a month and then one every couple of weeks and build from there until you find your natural routine. You don't want to get blog burnout! It's also important to find a schedule that allows for really great content, don't fall into the trap of trying to keep up your schedule by posting anything you can think of just to tick the box. For most photographers I think an update every couple of weeks should be just fine, and if you really get into it then once a week is relatively easy to manage as long as you are doing regular shoots to turn out new images.
10. Link From YouTube Videos
When someone watches a YouTube video on the YouTube website, the first 3 lines of the video description are visible without the viewer having to press the 'view more' tab. This is your opportunity to capture the viewer's attention and get them to click through to your website as links in the form of http://……… are allowed as hyperlinks (clickable links) in this area. Don't just paste your website there, give the viewer a call to action of some sort "Click Here:" or "Read the accompanying post now:" You can see in my example below that I also include a symbol at the beginning of the line to further draw people's attention to the links. YouTube is the second biggest search engine in the world behind Google so don't miss out on this chance to capture more viewers. Post more videos about your work and link them back to your site!
11. Create A Gear Guide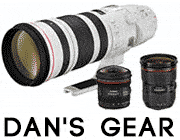 Whether or not you think the gear makes any difference to your images, people LOVE to know what kind of equipment you are using. My own in-depth Gear Guide is one of the most popular sections on my website. Don't just put a simple list of all your gear, give some sample images and tell people why you like to use it. Break it up into sections so people can easily find what they are looking for. Most people seem to be drawn to cameras, lenses and lighting equipment from my experience.
12. Create Long, In-Depth Posts
Longer, more in-depth posts get shared more often than shorter ones. They also give a significant boost in SEO because Google likes to send people to quality content and the longer it is, the more information it should contain. Just posting one photo with a caption saying "This week I shot Jane and Michael's wedding" isn't going to cut it. Post multiple photos, share a story or two and write at least 300 words for each post.
13. Post Amazing Content
As well as long posts you need to make your posts amazing. You need to get your readers thinking "Wow! I can't believe he's sharing all of this." or "These photos are incredible, I've got to try that out myself." Only then will you start to get real traction and see people start to share your page or post with others. There's nearly 200 million blogs in the world, and whilst they aren't all from photographers there are a lot of creative professionals posting interesting content online. If you don't want to waste your time, you need to quickly realize that you're competing against them for people's attention. Make your content awesome!!
14. Review Your Gear
If you're looking for content to put on your blog to keep people coming back then you should consider reviewing some of the gear that you use for your business. As with the gear guide above, include examples of how you've used the equipment and what results it has produced. Many people prefer to read a review by a working photographer with real world examples, than some test charts and pixel peeping images taken for some of the big review specific websites. It's better to review your gear than to post general photography news because news articles are not relevant for very long, whereas the lifespan of something like a Canon lens review might be 5-8 years so people will be looking for that information for a very long time. Even after the lens has been superseded people will still be buying it second-hand. This is called 'long-tail' traffic. Camera reviews have a slightly shorter lifespan than lenses.
15. Don't Use Flash!!
From time to time I still come across people who are using websites that contain galleries and pages powered by Adobe Flash. If this is you, you're going to need to change that right now! Even if it means switching from a paid service to something free like Wordpress. As we've already discussed, about 30% of internet traffic these days comes from mobile devices and they just can't deal with Flash. So you can instantly increase your traffic by eliminating Flash from your site. If you use Photoshelter and you've ever embedded their Flash galleries into your site then you'll want to take them out as well. For some reason Photoshelter is still (at time of writing) allowing people to generate and embed Flash galleries; don't do it!! Even if someone visits your site using a computer browser, Flash is slow to load, buggy and mostly over-complicated for basic portfolio sites. If I see a "Loading" screen for a flash site I've typically gotten bored and clicked away before it's even loaded the front page. A Flash website also screams "I never update my website".
16. Have A Good Understanding Of SEO
Since SEO has come up a couple of times already in this post you're probably getting the idea that it's pretty important. Whilst there are 50 ways to increase your site's traffic in this article, I could easily tell you another 50 SEO tricks that would also increase your traffic AND your business' profits, but that's for another day. Suffice to say though that SEO is hugely important and powerful as a marketing tool for all photographers. It's a tool that most people shy away from but even being aware of some basic best practices can have a dramatic effect on the number of people who you can expose to your photography. Again, this is a topic I intend to cover in great detail in future posts so please be sure to follow the site in some way, whether it's RSS, Social or newsletter.
17. Encourage People To Pin To Pinterest

Like it or not, Pinterest is playing a big role in internet traffic these days. With 70 million users they are now responsible for more referral traffic than LinkedIn, Twitter and Reddit COMBINED !! Quite simply if you aren't encouraging people to share your content on Pinterest then you're missing out on a free traffic boost. I'll be honest with you guys, Pinterest isn't a platform I enjoy using, but apart from it being a real way to drive traffic, it also opens your work up to a whole new demographic since more than 70% of its users are women.
So how do you tap into this source?
There's a couple of things you can do to get started and the first one is to install a Pin It button on your website. If you're using Wordpress then a plugin like this one will do you just fine. The second thing you can do is to create a specific image that you want people to Pin to their board on Pinterest. The best images for pinning are ones that are much taller than they are wide. For photographers it presents a problem because our images, even in portrait orientation, aren't great for pinning. It means that if you really want to get people to pin something you're going to need to create a specific image to pin that is cropped into a taller image. Typically images in this format get re-pinned more often when they are on Pinterest as well. Here's an example image that I created.
If you're a photography business and decide to set up your own Pinterest account the make sure you set yourself up as a business and not a personal account as it affords you a few more options when linking back to your site. Whilst you don't need an account to get other people to pin your photos, if you pin some of your own photos then you'll at least get the ball rolling.
18. Forum Signatures
Most internet users are members of one forum or another and almost all of these will allow you to create a signature that includes a link beneath all of your posts. Don't miss out on this easy way to publicize your site! If you post insightful and valuable information to a forum then people will go to your site looking for more of the same. Of course don't do this if you just go to forums to troll and stir up fights!
19. Interact With Reader Comments
Now that you've got a blog up and running and you're posting your latest work, make sure you respond to reader comments in a timely fashion. Just a few seconds of your time to answer the question or acknowledge their comment will likely make them a repeat visitor and that's the best way to build your fan base.
20. Refresh Your Portfolio
The stagnant portfolio is an easy trap to fall into and I'm guilty of it myself. Having chosen your ten image portfolio you then leave those images the same for the next three years! Sometimes this can make your site look stagnant if the portfolio is front and center on your page. Even if your blog is updated weekly, or you are busy adding archive galleries, if the front page looks the same when someone visits they might just click away. Now I'm not saying you need to do this weekly, or even monthly, but every six months or so switch some images out and make a fanfare about it on your blog and social channels.
21. Create A How-To Blog Post
Photographers love to learn new techniques and polish up their old ones. How-to posts are some of the most popular post types on the internet and if they are done correctly they will drive massive traffic to your site as well as setting you apart as an authority figure on a specific subject. The key to a successful post of this type is to go really in-depth. Leave no stone unturned, no secrets! Show people examples of the technique and tell them when and why they should use it, not just how.
22. Use IFTTT To Automate Social Posting


IFTTT.com is an incredible free service for automating your social network postings. It stands for If This Then That. You can create 'recipes' for your networks by linking them all to IFTTT and then setting specific triggers that activate certain posts. For example you can say:
IF I post a photo to Instagram with the hashtag #FB THEN post that same photo to my Facebook page into the album called Instagram.
or maybe:
IF I add a blog post to my website THEN post a link to the blog post to Twitter.
In total there are more than 50 services that you can connect to IFTTT so it goes far beyond these two simple examples. You can even connect your house to it and flash lights when you get an e-mail! That's a bit extreme, but this is a real timesaver when it comes to sharing your latest content with fans and followers. Let's face it, if you had to do all these things manually then some of them wouldn't get done. Automation leads to higher website traffic, simple as that. Chances are quite high that some of you who are reading this right now only discovered this post due to a social post that unbeknown to you was automated entirely by an IFTTT recipe.
23. E-Mail Signature
This one's dead simple, always have a link to your website in your e-mail signature. I can almost guarantee you that it will be clicked if you are communicating with a potential client. I also include a link to sign up to my newsletter and you know if that works then you really have an interested potential customer!
24. Run Facebook Ads
Facebook advertising is one of the most powerful ways to target new business leads. Their ad system has incredibly detailed targeting which allows you to very specifically target people who might be your perfect customer. Are you a wedding photographer? You could target ads to appear in front of all the women from your local town who have already 'Liked' the Facebook page of all your local wedding planners! Yes you can get THAT specific, and you could even limit the age range to make sure you aren't showing ads to the bride's mother. Lifting the veil (pun slightly intended) on Facebook marketing is something I'll be covering on the site but there's nothing to stop you investigating it on your own. It's a greatly underused tool and I can almost guarantee you that at the moment, your competitors are not using it! You can target people to get them to 'Like' your business page, or you can send them directly to the portfolio page on your website.
A word of warning: Promoted posts on Facebook are a very expensive way to expand your reach and I do not recommend using it very often, if at all. You pay much more for that than you do with regular Facebook ads.
25. Share Old Posts
Every week why not take a few seconds to share an old blog post that contains timeless information? When you first create a new post it's very hard to tell everyone about it. Your tweets are only visible to most people for a few minutes and Facebook may not show them your content even if they 'Like' your https://shuttermuse.com/wp-admin/post.php?post=2804&action=editpage. Chances are that when you share an old post, it's going to be shown to some people who didn't see it the first time around. Maybe they missed it last time or maybe they are a new follower or client that's joined since you posted it. For Wordpress users there is even a plugin called Tweet Old Posts that will do everything for you! I've had posts in the past that have driven more traffic and engagement the second time around than the first!
HOLD UP!
Since you're half way through this post now you must be finding it useful. Click the button below to help me out and share this on Twitter. The more people that view these posts, the more I can write for you so please click now or share this on Facebook.
26. List Posts Are Powerful
Lists posts like the one you are reading now are another powerful way to drive traffic. People like the simple format of a numbered list when it comes to reading longer content. You shouldn't use them exclusively but they are often shared more than other types of blog posts. Consider posts like "My Top Ten Images From 2013" or "20 Top Landscape Locations In California".
27. Include A Search Box
Give people an easy way to find the content on your site. Blogs are notorious for being hard to navigate and people will never bother to simply scroll back though your posts on the main blog page. Add a search box to your sidebar or footer.
28. Help People Share The Love
[mashshare]
These are active buttons, you can put them wherever you like to encourage more sharing. Go on…. click one!
Give people an easy way to share your site's pages. This usually means activating or installing some sort of plugin that will add popular sharing buttons to a location on your page. On my pages I use Mashshare, but you could also consider many others. The key is to place them in an easily visible place so the reader feels compelled to click them once they have read your page. I like to have them at the bottom of a page to catch those that have just finished, but I also place them at the top to give people some indication of the popularity of an article. Be careful of doing that though if your posts tend not to get much interaction as it will be harmful if people just keep seeing posts with 0 Likes, 0 Tweets and 0 Plus 1s.
Ultimately we want to get people and potential clients to see your work though so it's not enough to just have these buttons on your blog posts, make sure that they are also on your gallery pages and portfolio as well, sometimes this can get overlooked!
29. Learn Google Analytics
You can't improve what you can't measure. If you don't track your website statistics then you'll struggle to make meaningful changes to increase them. Google Analytics is a free service which Google offers to track just about anything you can imagine about your website. You can tell how people arrive at your site, how long they stay, what they read and what they click. It's easy to get scared off by the complex look of Analytics but setting up simple reports like most popular posts and pages is actually quite easy. Take the time to follow some tutorials and set an automated report to be e-mailed to you every month with your latest statistics. Even just ten minutes a month examining this report will give you valuable insight to take forwards.
To get started with Analytics you'll need to log in and create an account. They'll then give you a specific tracking code which gets added to your site to help them grab all the statistics. All major website services will have a simple box to paste this code into, for Wordpress users you should use the free plugin called Google Analytics For Wordpress by Yoast.
This is going to be a topic that I cover in much more detail in future postings so please subscribe to the feed, follow one of the social sites or even better, sign up for the newsletter for updates on this topic. I know it's a topic that's rarely, if ever, been covered for photographers.
30. Share Your Favorite Photographers
Share a list of your favorite photographers with your readers and be sure to tell the photographer that they are on the list. Chances are pretty good that at least some of them will then share that list with their own followers and you'll get lots of new eyes on your work and website. Please don't just share a list of the most famous photographers though…. if the list is entirely made up of people who everyone's already heard of then nobody is likely to share it. Make it inspirational! Dig deep into your memory and internet browser history and put together a list of amazing people who haven't yet hit the limelight!
31. Create An Archive
Use Photoshelter to set up your own stock photo archive with hundreds, if not thousands of images from your catalog. It's a bit consuming to begin with but eventually you'll have an amazing resource that photographers and magazine editors can explore. Once you've got it all set up, it's relatively easy to update with new content and then you can push out updates to people to encourage them to explore your latest galleries. Photoshelter allows you to automate stock photo licensing as well as print sales. When I find a good Photoshelter stock library like Art Wolfe's I often get lost for hours!
32. Share Some 'Behind The Scenes" Information
Photographers love to see how other people work so a 'behind the scenes' look at a recent shoot is a great way to get some more traffic. Don't be shy though, share all the nuts and bolts. How did you set up your lighting? What lights did you use? You can even include diagrams. If you have an assistant with you, you could also get them to shoot some video and post that along with your blog post. These types of posts are very popular with people as long as you share genuinely important information about your shoot. Again, detailed posts are what people want, not a throwaway post with a photo and an extended caption. If you really want to increase your traffic you have to put the work in deliver that value.
33. Ask To Write A Guest Post On Another Site
Contributing an article to another site can drive a whole new set of eyes to your own site. When you approach someone about writing a guest post on their site make sure you have a solid idea for the content and link them to some of your past work. Make it clear to them that at the end of your post you would like to include a link to your own website. Remember that this post is like an advert for your work to those new readers so don't skimp on the information and quality just because it's not your site otherwise the exercise is pointless! Captivate people, amaze people and have them actively looking for that link to more of your work.
34. Share Your Work To LinkedIn
Very few people use LinkedIn to share posts like they do on Facebook or Twitter. The fact is though that this can be an even more valuable place to share it if you are looking for new clients (and who isn't?). While other social networks can be full of fans, LinkedIn is a great way to stay in touch with previous clients and prospect for new ones. Using IFTTT that we mentioned earlier, you can even automate the posting of your blog posts to LinkedIn entirely.
35. Link In Twitter Bio
Twitter allows you one website link in the website section of your profile but you can also put a second one in your bio as long as you include it in the full form of http://www.mysite.com. It will show up in your bio as a clickable link simply as mysite.com. This is perfect if you want to have one link to your portfolio and a second link to show people your blog or perhaps a "latest work" gallery.
36. What's In The Bag?
This is a popular post type that's very specific to photographers. I've seen it time and time again where a post like this gets shared and commented on more than many others. All you have to do is unpack the contents of your camera bag, take a photo of it and list everything that was in it. Naturally your gear changes over time so this gives you a license to do this once a year! Take the time to set up all your gear in a way that people can easily see everything, don't just pile it up on your kitchen table. When you list your gear, add some comments about why you use specific pieces of it or what situation might call for it. It's important to remember that this is NOT just a license to more site views! You still need to provide people with real valuable content or they aren't going to share it with other people.
37. Use 500PX
I'm a big fan of the photo sharing website 500PX. Flickr used to be the darling of the photo world but it's dropping rapidly into insignificance despite Yahoo's best efforts. Most people are probably at least familiar with 500PX even if they don't have an account yet. It's free to sign up, so why not? What I've found is that occasional posting of some awesome photos can bring traffic back to my website. It seems like 500PX fans are very engaged and often go looking for more information about a photographers. I've even received several e-mails from magazines and newspapers wanting to buy images that they have found on 500PX. That's the ultimate goal of more traffic right? More sales! I can't say it's ever happened to me on any other platform or network, but on 500PX it's happened multiple times resulting in several very successful sales from companies that saw my image then looked up my website and sent me a message via my contact page. I don't post there often, just once a month maybe. A link to your website is clearly displayed at the top of your 500PX profile page.
38. Free Content
Several photographers I know give away high-resolution desktop wallpapers every month on their site which is a great idea. You could also format a collection of images to the screen size of an iPhone. Give them away on your site, or even better give them away as an incentive for people to sign up to your newsletter. You might want to take it even further and offer a free eBook!
39. Most Popular
Once you have a decent sized collection of posts and articles on your site, create a simple section that lists your most popular ones. Blogs can be confusing to navigate sometimes and if presented with a simple button to "View Most Popular" many people will take that as the starting point to exploring your content. There's a plethora of plugins available to add blog sidebar widgets for this sort of thing.
40. Related Content
This is a way to show people content on your site that is related to what they are currently reading. Again, there's many options out there but I like nRelate for Wordpress blogs right now. Their algorithm takes into consideration the article tags, categories and content and suggests other posts with similar content to the reader to encourage them to click onwards once they reach the bottom of the page. Since they bounce the traffic off their server you can read in your analytics which page views come from them. Looking at my stats its clear to me that this is having a positive effect on the number of page views I get per month.
40. Hold An Annual Print Sale
If you sell prints using an online portal such as SmugMug (20% discount here) or Photoshelter then consider an annual holiday sale in November/December where you offer a discount on all your print options. This time of year, around Black Friday, is typically when people spend the most money so entice them to your site to have a look around with 10% or 20% discount for a limited time. Combine this with some of the other things we've talked about earlier, like Facebook advertising and newsletter marketing and I guarantee you'll see a surge in your website visits and sales.
41. Run A Giveaway
Run a sweepstake or giveaway on your website where people have to visit and leave a comment on a post for a chance to win some awesome swag. Partner with your local camera store to get something cool as your prize.
42. Promote Your New Content At The Right Times
User engagement on social platforms such as Twitter and Facebook varies enormously throughout the day. There's no point sending out a tweet at midnight, the second you finish writing your new post, unless you want to hear the sweet sound of chirping crickets. Schedule a tweet for somewhere between 1PM and 3PM when Twitter usage is highest. There's also a spike in the morning when people are traveling to work. You can get even more specific and use a service called Tweroid which will analyze your followers specifically and suggest the best times for you to post. Note that all platforms differ slightly in what is the perfect time to post, and you'll have to consider time zones as well, but one thing is clear; never post between 9PM and 7am and avoid weekends like the plague.
43. Interview Other Photographers
Building relationships is key to expanding your influence within your photography niche. Start communications with other photographers and ask to interview some of them for your site. Include links back to their site and their social media pages and they'll almost certainly link to it for their fans and followers to read.
44. Add Photos To LinkedIn
I almost feel like this one is a secret because so few people do it! Did you know that you can add a gallery of images to your LinkedIn profile?! Add some of your portfolio images to your profile and it immediately makes it stand out when someone visits it. Of course the link to your website is right there alongside the photos. Combine this with posting your blog posts to LinkedIn as we discussed earlier and you'll see more people visiting your profile and in turn, more people checking out your work. The downside is that LinkedIn doesn't offer great ways to change the positioning of the thumbnail it creates for each photo, so you'll have to do a little experimentation to get it looking great.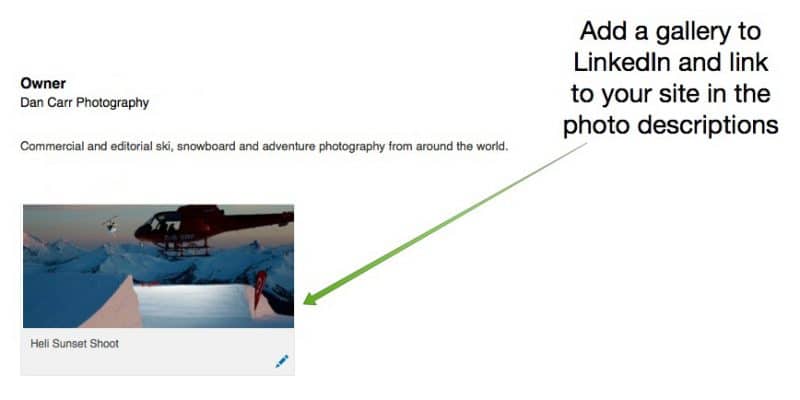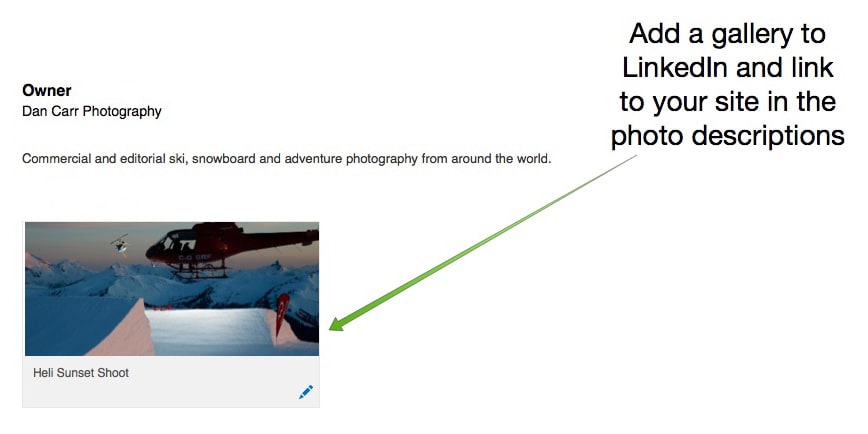 45. Use Your Website In Your Watermark
A lot of people simply watermark their images with © Joe Bloggs 2013 but they're missing out on a simple trick. Whether we like it or not, our images get shared all over the internet these days. As soon as they are online, whether it's on your blog or on Facebook, they're going to get shared, re-blogged and re-posted. A lot of time you won't even know about it and sadly the user of the photo will almost never link back to you or your website. Use Googles reverse image lookup tool one day and I think you'll be surprised how far some of your photos have spread. There's not much you can do to stop the spread but you can use this as your watermark © Joe Bloggs 2013 – www.JoeBloggsPhotography.com It won't be a clickable link but occasionally it will bring some traffic and I can verify at least one time in my career where a company has come to me after finding an image on someone else's website and tracking me down to buy a license for it from the URL on the watermark.
46. Harness The Power Of Google Image Search
There's no denying that getting your website to the top of Google rankings can be tough and take a long time, but did you know that Google Image Search is MUCH easier? I often find myself using the image search button and I think that rings true for a lot of photographers, we're very visual people. I'm talking about the button on Google that says Image, and then shows you search results which are all photos. It's actually relatively easy to get your images high up this search page if you use keywords in your image's name like jamaica_beach_sunset-dancarr,jpg instead of 12871287_8732.jpg. You'll also want to use keywords in you ALT tags for that image when you upload it. So few people bother to do this that I'm always coming across my photos in Google Image Search even when I think I'm not searching for anything remotely related to them. Adding those ALT tags gives you bonus Google juice for your overall site SEO as well so it's a win win situation.
47. Constantly Link To Your Other Posts
A lot of people get into the mentality that a blog is this stream of information relating to the time that it was written. In many ways that IS how blogging began, almost like a digital diary. Things have changed though and if you've followed the other tips in this list then your blog posts will be In-Depth & Awesome,not just a quick three-line post telling people what you ate on Tuesday. If that's the case, then what makes that information from two months ago any less useful now than it was the day you wrote it? Ideally nothing, so don't be afraid to link back to old posts and even edit old posts to link to some of your newer ones. Create your own internal network of links that walks people through all the awesome information you have on your site, or the awesome sets of photos. Say you shoot the Super Bowl every year and write a post about it afterwards, once it's posted you can go back to the previous years' posts and add a link to the new one as well. Don't treat your posts like these diary entries that are set in stone, if an edit makes sense and adds value to that old post then do it!
48. Don't Use The Date In Your Permalinks
A permalink is the structure of the URL to an individual page or post on your website. It used to be a common recommendation to have in a a form like this: yourdomain.com/month/day/your-page-title This was back in the day when blogging was more like writing a digital diary as we discussed in #47. The problem with doing this now is that this makes the content look old and people treat old content as worse content. We're all guilty of it….. when was the last time you watched a black and white movie? Setting your website up to display content in a simpler form, like yourdomain.com/your-post-title will keep your content looking fresher and newer in people's eyes. Sometimes if you use the date, it even gets displayed in the Google search results and that can be a real turn-off. You'll have to investigate how to do this for your specific blogging platform but be aware, it can be very dangerous to change this AFTER you have started a blog as it could make all of you incoming links dead! Use this with caution, investigate, research it and double-check it before you press any buttons.
49. Set Up A Google Business Account
You know when you search for a product or service in Google sometimes it comes up with a map pointing to various business locations? You can set that up for free by starting heading here. If you're running a local business, such a portrait photography, weddings, senior photos and that kind of thing, when someone searches for that service in your area you will eventually show up on the map. What's more, Google give you the opportunity to give a website link so that you can show potential customers the value of your business right away.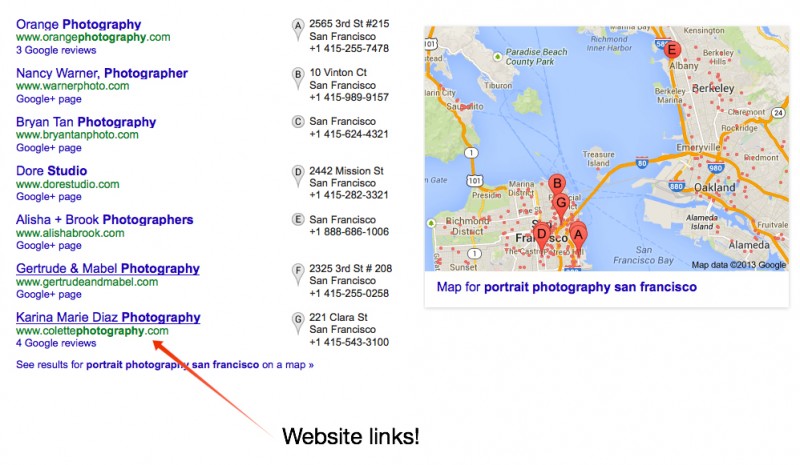 50. Website Link In The 'About' Section On Facebook
For the last tip I have a sneaky Facebook trick. When you fill out all of your information to start a Facebook business page it gives you a specific section to put your website. I want you to IGNORE that, or at least don't put your main website link there, you could put a direct link to your blog there if you like. What we're going to do is put the website URL in its entirety (ie. Including the http:// part) in the 'About' section. By doing this, your website URL will be instantly visible to everyone that visits your Facebook page! You see Facebook doesn't show the normal website box unless someone clicks to show more details about your business. But they DO show the 'About' section by default, right beneath your logo. Check out my personal page below!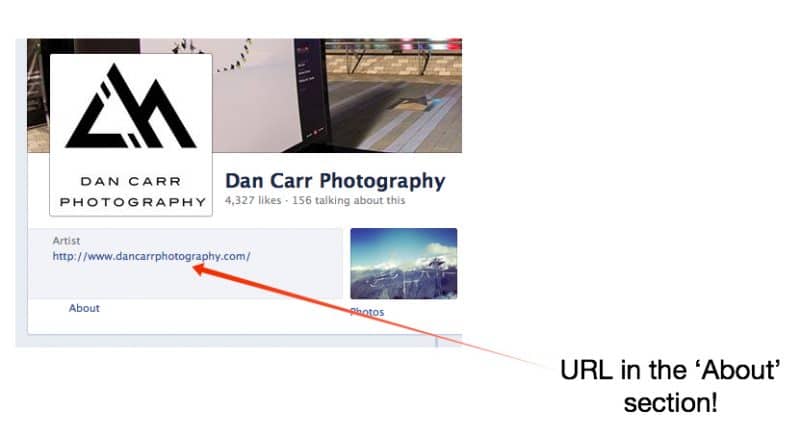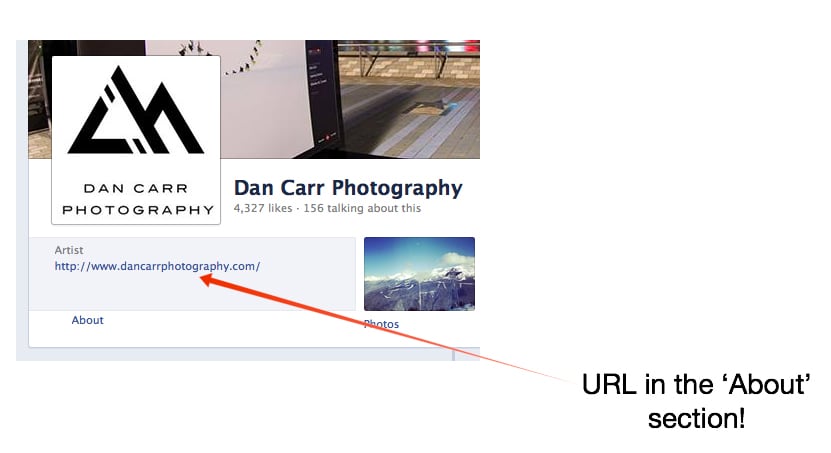 There's no magic bullet to massive photography website traffic but any one of these 50 tips can start to help you on the way. Many of the topics in this list will be covered in more detail on the site in the future so stay tuned for much more. The most important thing is that you act NOW. Pick at least 5 things on this list and put them into action right away.