Many people associate Wordpress with blogging but whilst that was the platform's original intention, it's since transformed into something far more useful. With over 60 million websites powered by Wordpress to date, the platform has matured greatly in recent years to become a fully fledged (but still free) content management system and website platform. Gone are the days where people would simply tack a Wordpress blog onto the side of their regular website, now Wordpress can do it all. For photographers this gives us a cheap and easy way to get a professional looking portfolio website online, along with a blog, for less money than an average meal at a half decent restaurant. Many popular web hosting services have even implemented one-click Wordpress installs so you can literally be up and running in a few minutes. With 60 million potential customers there's also an abundance of potential site templates sold by an array of vendors to suit creative professionals.
For those that are less familiar with websites and Wordpress, let's first start with the basics.
There's three basic elements to having a website:
1. You must register a domain name (eg. www.dancarrphotography.com) and this registration is payable every year, or you can pay for multiple years up-front. Domain names can be registered through licensed domain registrars like Hover, my personal favorite. Prices tend to start at about $10-15/year.
2. The second piece of the puzzle is that you need someone to host your website. Websites are composed of a collection of files and a someone needs to host these files on a computer somewhere so that they are always accessible online. There are many potential hosts out there but my pick would be Bluehost. Bluehost are also a licensed domain registrar as well so they can also help you out with part 1. For hosting you will either pay a monthly fee, or pay for a year or two in advance which usually gives you some savings. On all web hosting services you'll see a range of prices relating to different monthly services. For the most part, larger, more popular websites require more expensive monthly plans and we don't really need to go into the reasons for that here. For almost everyone reading this book, the cheapest plan will suffice.
3. The last part is that you need to decide what platform you are going to run your site on. You can think of this something like choosing what language that it's going to speak to you. Wordpress is one such platform and it is by far the most popular these days but not so long ago most sites were built with html which you can think of as raw code, a much more complicated language. It may be that you have an old html website that was designed for you some time ago, and now you want to upgrade to a more modern Wordpress solution. The beauty of Wordpress is that it's easily editable by mere mortals, whereas editing plain html sites essentially requires you to climb into the matrix and start speaking in tongues! Ease of use has been the key ingredient in the rapid rise of the Wordpress platform.
Two types of Wordpress
Wordpress.com
This is an entirely free service that can be set up in a couple of minutes but it lacks the flexibility of Wordpress.org and on the free plan your website address will be in the form of myphotographysite.wordpress.com which doesn't look very professional at all. This also prevents you from having a good e-mail address like yourname@myphotogrpahysite.com. You can upgrade to use your own custom domain name (like myphotographysite.com) but it isn't very good value and I would not recommend that you use Wordpress.com at all for your site. It's far better to take a few extra minutes to learn to use Wordpress.org instead. In the long run it will be far more beneficial and it will save you money.
Wordpress.org
Wordpress is an open source platform which means that it is free to use, though as we discussed in the previous section, you'll need to pay for a domain name and a host. Once you have those two things you can go to Wordpress.org and follow the instructions on how to install Wordpress onto your website. Now, installing Wordpress in this way does require you to have a little bit of knowledge about things like FTP servers and databases. If you know a friend who's done this before, they'll be able to help you get it up and running in 5 minutes without a problem. The second option is to use a web host like Bluehost that has a 1-click Wordpress install. Essentially this means that they install Wordpress for you at the click of a button so it's a really easy option. This will give you a great looking website address and also the nice, clear, professional looking e-mail address to go along with it. You should never try and do business with people using a free Hotmail or Yahoo e-mail address, nobody will take you seriously these days.
Useful Links: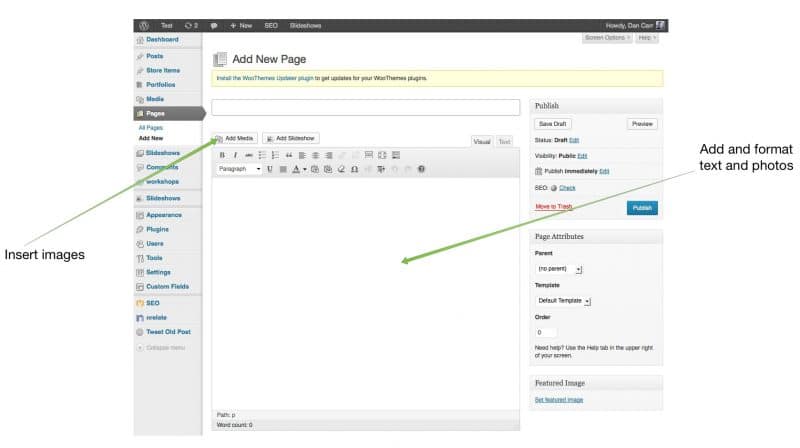 Wordpress Themes
The beauty of Wordpress is the speed and ease with which you can change the look of your site by using themes. Themes are installed through the button on the admin menu bar and once installed, you can switch quickly between your themes until you settle on the one you like. Wordpress comes pre-installed with a basic theme, but this won't be useful to you as a photographer, you're going to need something a little more specific. Thankfully there is an incredible amount of choice out there and even some companies that only make themes for photographers and creative professionals.
These are some of my favorite companies to take a look at when looking for a theme for your photo site:
Most themes are available for a one off purchase price and all the companies also offer subscriptions which means you can have access to any new themes that they release, as well as ongoing access to their support channels. If you're just starting out, it might be useful to get that ongoing support.
Tip!
If you don't want to pay for a theme while you get started then there are some free themes out there that can work well with a little googling. In fact, Graph Paper Press even has free themes specifically for photographers. To find them simply click here and then go to the Themes section. When you click on each theme you'll notice that some of them say "Buy" but some of them just say "Download" and those are the free ones! They can be a great place to start!
Wordpress Plugins
Another incredibly powerful feature of Wordpress is the tens of thousands of plugins that are available for free. Plugins add extra features to your site, like social sharing buttons, Instagram feeds, lightbox galleries or shopping carts for selling prints. There is a mind-boggling array of plugins out there and 99% of them are free. If you can think of something you would like your website to do, chances are there is a plugin that can add that functionality. It's hard to underline enough just how important and powerful this feature is and it amazes me all the time how much effort goes into making these things for free. You can search for available plugins on the Wordpress site here or you can add them to your site directly from the admin panel of your own site. There's also a continually updating list of the most popular plugins for Wordpress here. This 'most popular' list will quickly give you some ideas about the kind of extended functionality you can add to your site.
Currently there are 27,000+ plugins on the Wordpress site and more than 500 million downloads. More plugins are available on other sites such as CodeCanyon as well.
To Blog Or Not To Blog……
You can't talk about Wordpress without talking about blogging since this was the platform's original intention. I definitely do recommend regular blog posts on your website for a few reasons. First and foremost it greatly benefits the search engine optimization of your site (SEO). By this I mean how likely it is that Google will choose your site to show up in a particular search result. Google has things called 'bots' that scour the internet on a continuous basis and they will come to your website to check up on things. Don't worry, it sound kind of creepy but it is in fact a huge benefit. These bots check for all sorts of stuff, but one of the things they look for is new content. How often is your website being changed? Google are in the business of distributing knowledge in the form of useful links to content that people are searching for. Their goal is to give the user the best experience possible by giving them the best search results for their subject. In Google's eyes, out of date information is a bad thing, so stagnant websites where nothing has changed in months or even years will most likely be ignored. By having a blog that you post to on a weekly or monthly basis, Google will have to keep sending it's bots back to your site to index your new content and find out what it's all about. The more often they do this, the more likely it is that you will show up in some search results.
The second great reason for blogging is to have content that is shareable on social media. Social sites like Facebook and Twitter have become incredibly powerful promotional tools in the last few years but without fresh content to share you'd be left continuously sharing your portfolio pages and that gets dull for people immediately. Writing a weekly post about what sort of images you have shot will give you fresh content to share, but also underline that you are always creating amazing content, not just someone who has ten great shots on their portfolio site. The more often you share something, the more likely it is that you will be on the tip of a potential clients tongue when it's time to hire someone for a job.
The third reason I like to blog is that it gives people a longer time to connect to you and your work when they visit your site. If you just have a small portfolio then realistically when someone comes to your site they can be done browsing in a minute or less. Is that really enough time for them to start to feel a connection to your work and a desire to follow you more closely in the future? By giving them a blog full of amazing images and engaging stories about your current projects you get more time with them to showcase your skills, and more time for them to learn a bit more about your personality. Always inject some of your personality into your blogging! I guarantee that you'll get more people subscribing to your site, and more people clicking through to follow your social sites as well.
Tip!
If you are going to start blogging then the best results come when you have some sort of consistency with your posts. Don't overstretch yourself and try to do too much, set achievable goals. Once a week works well for most people. Consistency is better in the long-term than coming fast out of the gates with four posts a week but then losing steam after a month.
Integration With Other Services
So that we're clear on this, using Wordpress for your site and blog does not mean that you can't integrate print and stock gateways such as Photoshelter or SmugMug. In fact my very own personal portfolio site is a Wordpress site, with a Wordpress blog with Photoshelter added on to deal with client galleries and print sales. You can customize everything so that it all has the same colour schemes and fonts and just blends in with your main site. Why not just use a site like SmugMug to create your whole site you might ask? Whilst you could do this, and it would be fairly easy to implement, you lose a huge amount of flexibility and none of the services like that which I have investigated currently offer a good way to include a standalone blog. So you'd be back to starting a Wordpress blog alongside the site again anyway. The other reason is that these services have a severely limited number of templates and already I'm getting déjà vu when visiting photographer's sites who are using the newly launched (mid 2013) SmugMug pro platform. Everyone's site suddenly seems to be exactly the same. Using Wordpress as your site front, you have infinite customization available and as such there is a much greater diversity out there.