Acratech's range of made-in-the-USA ball heads have been around for many years, but recently they really caught my attention with the launch of the Acratech GXP ball head. The headline feature? A 50lb load rating in a ball head that weighs just 1lb (450g), and a design that can easily withstand severe environments. In fact, their YouTube channel demonstrates a head supporting a 5000lb truck, being buried in sand and then frozen into a block of ice with no apparent issues. Having tested the Acratech GXP head for some months now I've no reason to doubt the claims made in those videos, so let's dig deep into the design and features of this new ball head in this in-depth review.
The Skeletonized design of the Acratech heads might be polarizing in terms of people's tastes, it's very different to most ball heads. In fact, I'll put my hand up and say that initially, from the few photos I had seen before getting my hands on one, I wasn't the biggest fan. But once I got the head in my hands all of that changed. I could suddenly appreciate the cleverness behind the open design, and also feel the beautiful machining work that is done in the US factory. You can see that the head has exactly what it needs to get the job done, and nothing more. There's something very satisfying about that. You're not carrying around extraneous weight wherever you go.
Holding the head, you can also appreciate the smoothness of the GXP's action and the deliberate design of the control system. The head has three controls: Ball lock, panning lock and ball tension. Each rubber knob provides good tactility, even with gloves, and each has its own size and feel which makes it easy to use with your eye to your camera's viewfinder.
The GXP is available with both a screw-lock clamp and a newly re-designed locking lever-release clamp. Some previous Acratech clamps hid the bubble level beneath the camera once it was seated in the clamp, but the new lever clamp design moves it to an outboard position that makes it easily visible at all times. The locking mechanism on the lever clamp is also a nice touch, and something I have not seen on any of my existing ball head clamps.
The operation is simple, just depress the silver part of the lever (see photos below), and at this point, the lever can be opened normally and your camera can be released. Without depressing the silver switch, the lever stays locked, preventing accidental release of the camera by something like clothing or a camera strap getting snagged on the lever.
In the photos, you'll also notice a small screw-knob on the opposite side of the lever. This small knob adjusts the distance between the clamp jaws when they are in the locked position, making the lever clamp universally useable with any size of a dovetail plate. In theory, Arca-Swiss plates should be built to a standard, but it's not always the case. If you have a plate this seems too tight or too loose when fastened into the clamp, you can adjust the width, hence clamp force, to solve that problem. Very nice indeed.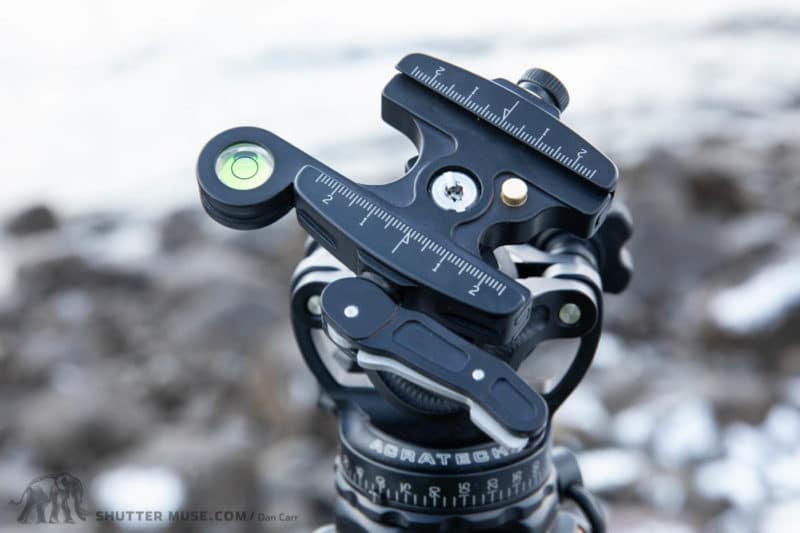 Ready for a rough life
Upon first unpacking the Acratech GXP, what I found particularly interesting was how smoothly the ball moves in its cup. It doesn't rely on any sort of lubrication aside from the coating to the ball and the cup in which it sits. This means that cleaning sand and grit from the head is just a matter of running it under a tap. It couldn't be simpler!
For many years I have used ball heads from Really Right Stuff. These have a much more traditional design, with the lower half of the ball completely encased. Using these, I have always fought to keep sand and dirt away from my precious balls. Once grit gets into the mechanism it can get jammed up and cause the coating to get damaged.
Disassembly and cleaning of these ball heads either require you to send them back to the manufacturer (which is what the manufacturer usually recommends), or it means several hours of fiddly tool use and careful reconstruction. All the while wishing you had a hermetically sealed room to work in. With the Acratech GXP, you just stick it under the tap. I love that!
With this ability to simply shake off whatever environmental elements you throw at it, the GXP feels like the most robust ball head I have ever used. It feels like a head that was designed for a lifetime of outdoor adventures, and what's more, the performance of the head doesn't suffer from this design. In a comparison between the GXP and my RRS BH-55 which is also rated to 50lbs, I honestly could not pick a winner in terms of stability.
The crazy thing is that the BH-55, one of the best selling professional ball heads on the market, is twice the weight of the GXP. I'm sure the BH-55 will continue to sell well, and there's a place in the market for heads of that style in more static environments, but when I'm packing a backpack to hike around for a day of landscape photography, you can bet it's the Acratech GXP that I'll stick on my tripod from now on.
And speaking of packing, with ever-decreasing airline luggage allowances, I'm also interested in saving weight wherever I can. Choosing the GXP over my BH-55 does just that, and it does it without making me feel like I'm making a compromise. In fact, in most cases, it's quite the opposite. I don't feel like I have to baby the Acratech GXP in any way. I don't feel like I need to put a cover over it while it's on a tripod strapped to my bag and I don't feel like I need to worry about blowing sands on the beach or muddy Arctic tundra that surrounds my home in the Yukon.
For comparison: the full Acratech lineup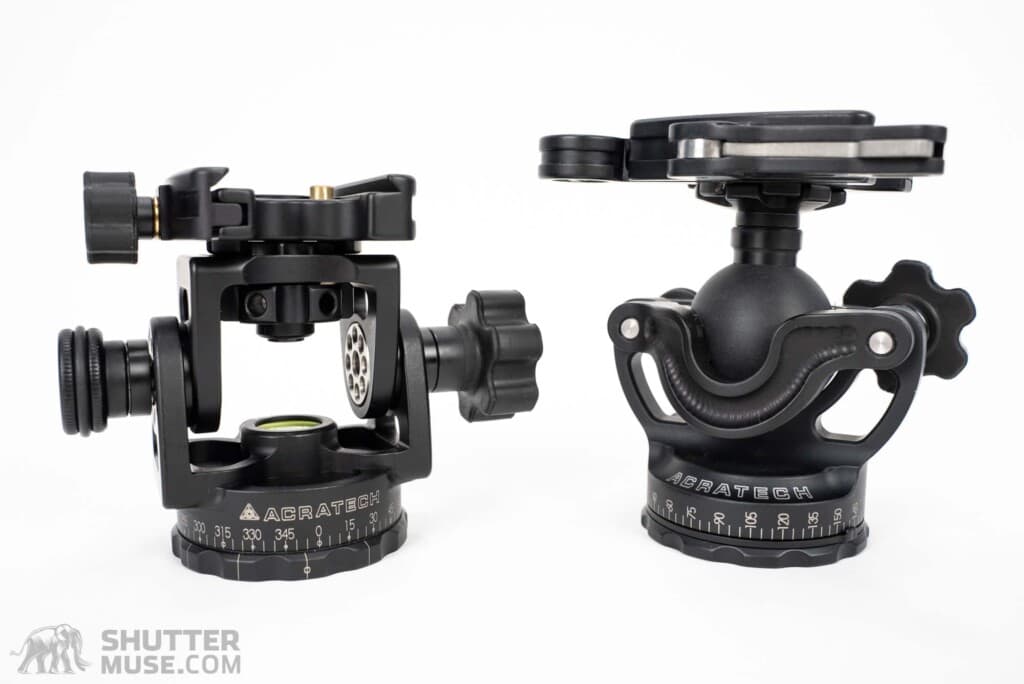 I've previously written a complete guide to all of the heads that are made by Acratech, and that includes things like monopod heads, pano heads and long lens heads as well as their ball heads. If you aren't familiar with the brand then I'd encourage you to take a look at this guide as well. For those that want a quicker overview, the entire range of Acratech products is listed in the table below.
Acratech's 3-In-1 Head Design
As well as the regular Ball Head Mode, the Acratech GXP can be used in two additional ways: Pano Mode and Gimbal Mode. Here's how…
GXP Gimbal Mode
To use the GXP in Gimbal Mode you'll need a lens that has a rotating tripod collar, and then you simply loosen both the panning base and ball lock knob while dropping the head into the 90-degree drop notch. While you may be thinking that you could do the same thing with many ball heads, you'd only be partially right. Most ball heads do have a 90-degree drop notch, but the Acratech GXP has a couple of features that are specifically designed to make Gimbal Mode a workable long lens solution.
Firstly, there's a small pin on the base of the ball that locates itself into a notch on the ball head frame when the head is at 90 degrees. This pin effectively transfers some of the load of the camera to the opposite side of the ball head's frame so the entire weight isn't resting solely in the u-shaped section of the drop-notch. Simple, yet effective improvement of the friction within the u-shaped notch.
The second improvement is a groove in the bottom of the drop-notch that mates with a step in the neck that protrudes from the ball. The step in the neck fits into the groove and helps with stability, as well as providing a smoother ride for the neck as you tilt the lens up or down. The result is that the tilting action of the GXP in Gimbal Mode is significantly smoother and more stable than what you would get from any other ball head if you tried to operate it in this way.
Acratech says that this feature is good for up to a 400mm lens, but they have been giving that answer for years on previous generations of their heads that also include this feature. These days, the 600mm f/4 lenses from Sony and Canon weigh the same, and in some cases less, than the 400mm lenses from a few years ago. I see no reason why you couldn't use one of the more recent, much lighter 600mm lenses with this head.
For people that own these kinds of super-telephoto lenses, this shouldn't be an either/or decision. A dedicated gimbal head will always give you a more balanced, slightly smoother solution. Instead, think of it as an option for when you need to travel light and you need one tripod head to do it all. In that case, the GXP does an admirable job, and I've used Gimbal Mode several times myself when hiking and not wanting to carry my larger gimbal head.
Panoramic Head Mode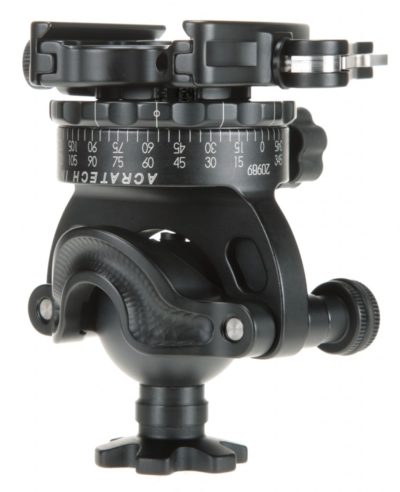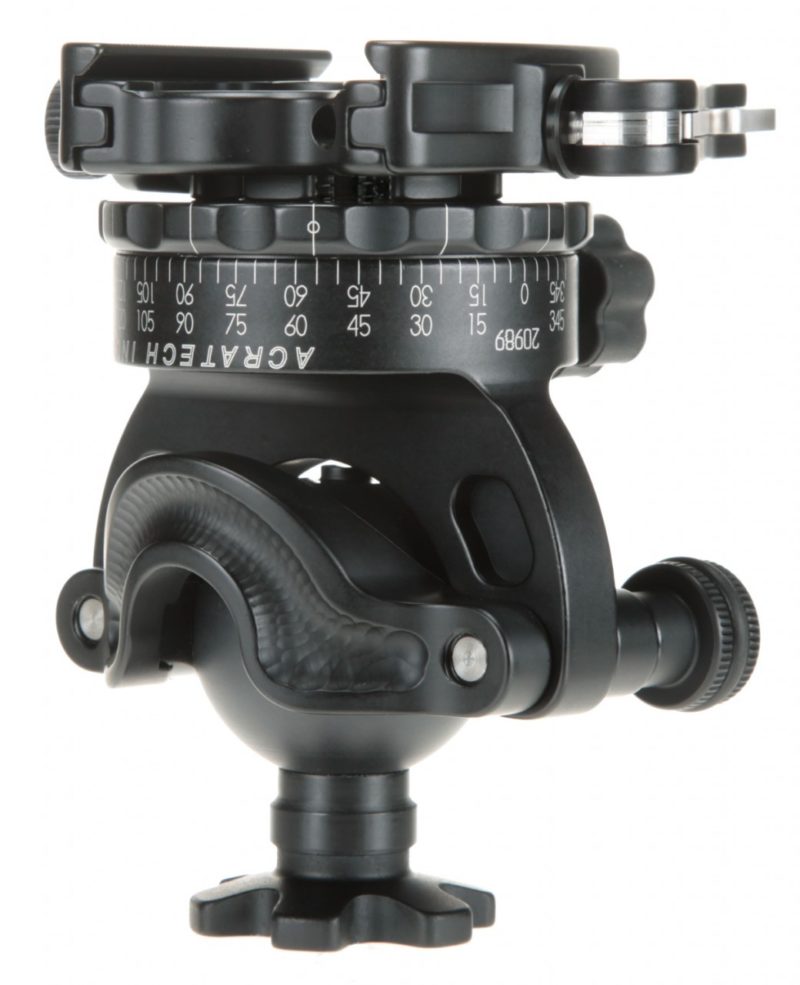 I personally don't think I'll get round to using Pano Mode on the GXP, but if you are a panoramic photo fiend this feature might please you a lot. By removing the quick-release clamp from the standard position and installing it on the base, the whole head can be flipped upside down to place the panning base above the ball.
The above-the-ball placement is crucial for panoramic photography because it ensures the horizon stays level in all frames of your pano. If you don't do this, you would need to go through the time-consuming process of perfectly leveling your tripod base, and that's actually tricky to get perfect when you are adjusting the length of three tripod legs.
In Pano Mode, your tripod can be at whatever angle you need it to be, and then what becomes your panning clamp, is simply levelled by loosening the ball head. In theory, I think this is a neat feature to put into the head, but in practice, I don't see a lot of people busting out their tools in the field to make the switch. Perhaps those that love their panos will simply set their GXP up this way from the get-go and leave it like that.
Whatever mode you use your GXP in, you're going to find that the locking mechanism is absolutely rock solid, even without having to really crank hard on the ball locking knob. I tested it for creep with a 400mm lens at the absolute worst angles and saw nothing whatsoever.
Adding a Dovetail to the Acratech GXP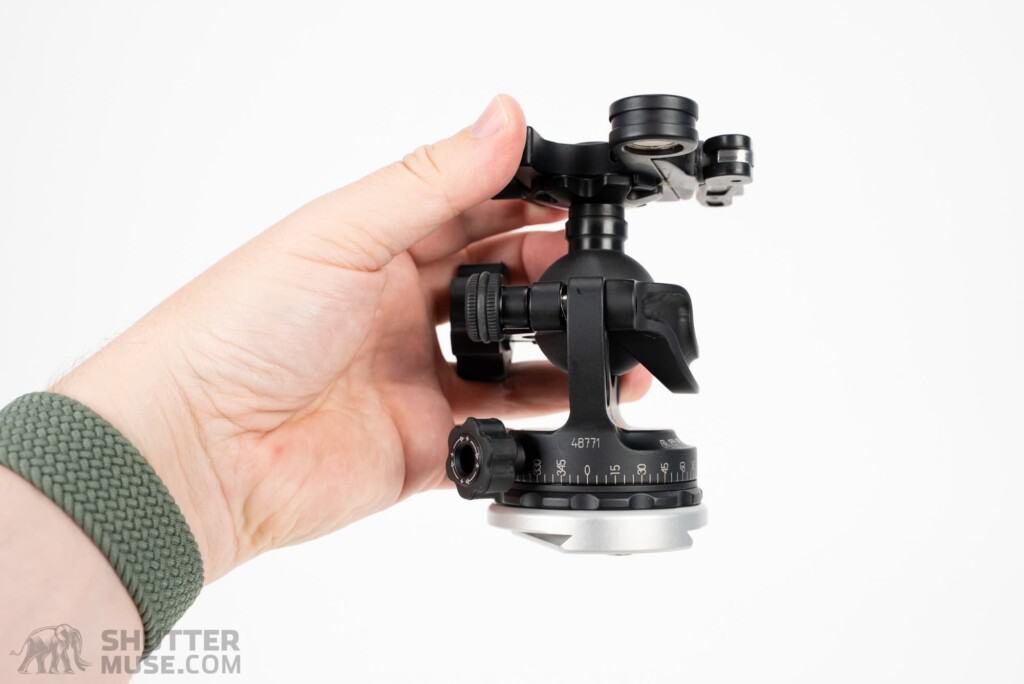 If you have an Arca-style clamp on your tripod for quickly switching between different heads (gimbal to ball head is the most common swap), you'll want an Arca-compatible plate for the base of the Acratech GXP. Kirk Photo makes circular ball head dovetail plates for just this reason. To pair with the Acratech GXP, I would recommend the Kirk TQR-MPL. It's ever so slightly larger in diameter than the base of the GXP ball head, but it works perfectly.
Conclusion
I got my hands on my first Acratech product at an interesting time. They have been making ball heads for many years, but the GXP feels like a perfect evolutionary step that borrows a little from several of their other products, as well as some lessons learnt from customer feedback. The result is a near-perfect tripod head that I really find hard to fault.
While I would still encourage you to have a read through my complete guide to all the Acratech tripod heads because they make some great heads that are not ball heads, I don't think it will come as much of a surprise that my pick of the ball head bunch is this new Acratech GXP. In fact, I think it makes one or two of the other ball heads in the lineup a little redundant, such as the older Acratech GP which has half the capacity and is only a few dollars cheaper.
At $450 the GXP is not cheap, but it's in the right ball (head) park to compete with other high-end tripod heads and it's certainly not going to give you buyer's remorse once you get it in your hands and put it to use. I love the high 50lb load rating in a design that is this light, and I also love how robust it feels and how easy to clean it is compared to every other ball head I have ever owned. It feels like a ball head that was designed with a lifetime of wild adventures in mind, and that's certainly what I have planned for mine.
Where To Buy + Get Free Shipping
After reaching out to Scott at Acratech, he was kind enough to offer free shipping in the US to Shutter Muse readers. Just use the coupon code "ShutterMuseShipping" in their online store to get free USA shipping up to $15.
Although it's nice to buy direct and support the small folks whenever you can (please do!!), you also have the option of buying from B&H Photo, Adorama or Amazon. In particular, international customers should probably use B&H because they make it very easy to pre-pay taxes and even offer free shipping to Canada.