You should use a quick-release plate on the bottom of your tripod head if you own multiple types of heads and regularly switch between them. Not only can it be a pain to constantly screw them on and off the 3/8″-16 thread of your tripod, but also you run the risk of cross-threading it, ruining your expensive ball head.
Table of Contents
Why Would You Need a Ball Head Arca Plate?
While it's nice to own a tremendous all-in-one tripod head that works for many types of photographic situations, the best heads in that category can make compromises. For that reason, there are some common scenarios for owning multiple tripod heads: People who swap between a ball head for landscapes and a gimbal for wildlife photography, changing a gimbal for a monopod head, or using a lighter ball head when hiking or traveling long distances.
You might also want to remove your tripod head to protect it. You can easily scratch a ball head when hiking through the bush with a tripod strapped to the outside of your bag. Likewise, when putting your bag down on the ground. Finally, you might want to remove it to shorten your tripod setup when packing it into a duffle bag or suitcase for travel.
The best way to create a quick-release ball head is to use the tried and tested Acra-Swiss standard. Thankfully the patent ran out on Arca's standard, and now you can buy quick-release clamps and plates from many different manufacturers. It has become the de facto standard for the photo industry in the last decade.
First You Need a Clamp
First, you must put an Arca-compatible clamp onto the top of your tripod. You can choose between a lever-release clamp or a screw-knob clamp. These clamps are available at all price points, but my favorite is the 60mm clamp from Really Right Stuff. The brass bushings make it smooth as butter, and the built-in level is handy too.
In most cases, you will be looking to screw the clamp onto the 3/8″-16 stud on the top of your tripod, so make sure you buy a clamp with a threaded 3/8″-16 hole in the middle. In some cases, you will find that tripods have a removable 3/8′ stud, in which case you can either choose the screw the clamp onto the stud or remove the stud and use a 3/8″ screw from above, down through the clamp and into the tripod. This is the preferred method for Really Right Stuff tripod users with the TFC model tripods. (see next photo of my own TFC-24L II). I also recommend applying a small amount of blue Loctite to ensure it doesn't come off.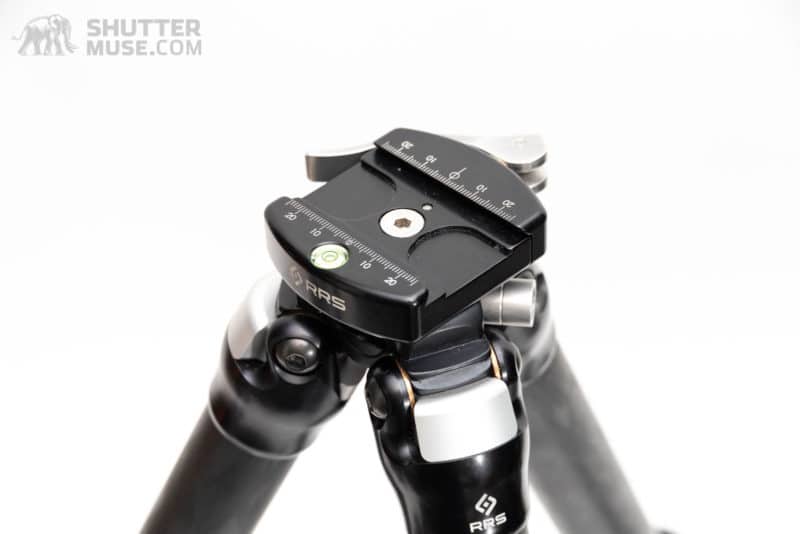 Kirk Photo Ball Head Arca Plates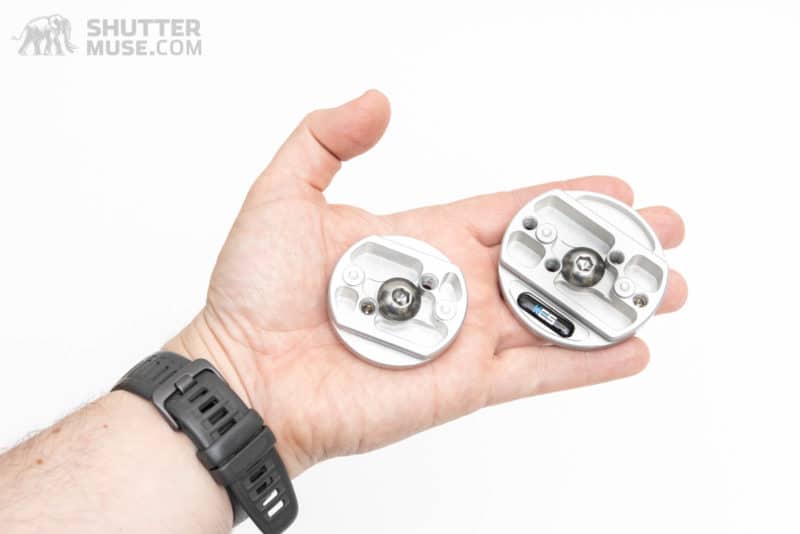 Kirk Photo provides the second piece of the puzzle. They make a pair of circular Arca-Swiss dovetail plates designed for ball heads.
Small plate: Diameter of 1.980″ , recommended for heads with a base diameter under 2.225″
Large plate: Diameter of 2.480″ , recommended for heads with a base diameter over 2.225″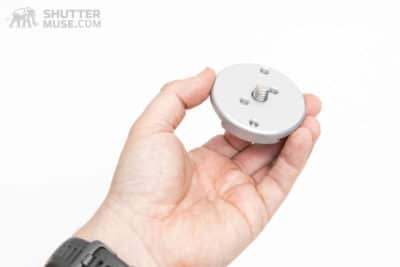 These plates are incredibly light at 43g and 53g, respectively. They are beautifully machined, have a good 3/8″-16 screw and a hex tool, and have a very reasonable price point (small, large). They also come with small screws that can be used to ensure the plate does not come loose from the head.
These things are incredibly useful, and I have many because I'm constantly switching tripod heads while I work on reviews for this site. Even if you only have a couple of heads, I think this is a worthwhile update to your tripod setup, and if you use a quality clamp, it won't affect the stability of your tripod in any way.
Please Note: These Kirk plates do not work with the Arca clamp on the Peak Design Travel Tripod unless you're willing to use a little elbow grease. The Peak Design clamp is flat and doesn't have the usual Arca clamp groves to prevent Arca plates from sliding horizontally out of the clamp. To get these Kirk plates to work on the Peak Design tripod, you must file down the short circular nubs on the bottom of the Kirk plates. It's doable, but it will take a file and 5-10 mins of labor.
Really Right Stuff Users
If you use a Really Right Stuff BH-55 or BH-40 ball head, consider the bespoke RRS Arca-Swiss plates for those heads. Expect to pay a little more than you would for the Kirk plates, but you get a plate that is custom sized to your ball head. The TH-DVTL-40 is for the BH-40, while the TH-DVTL-55 is for the BH-55.
Where to Buy
These Kirk Photo plates are available from the links below. As always, it's appreciated when you use the links in our articles to make your purchases.