The Gitzo GH3382QD tripod head sits at the very top of Gitzo's current ball head lineup. In recent years Gitzo has been tidying up their head lineup by moving things forward to a more pleasing aesthetic that is now carried throughout much of the lineup. Not too long ago I reviewed the new Gitzo 2-Way Fluid Head, and we've recently seen news of a new 3-Way Gitzo head that will be on shelves any day now. There are certainly a lot of options out there for Gitzo fans these days!
The GH3382QD is referred to as their Series 3 ball head, which simply means that it is beefy enough to be used along with their Series 3 tripods, and has a similar maximum load capacity at 39lbs.
Confusingly there is no Gitzo Series 2 ball head, although there are two Series 1 ball heads that are different sizes and have different capacities. I really have no clue why they did not call the larger of the two, the Series 2 ball head. But then these are the people that thought GH3382WD would also be a nice catchy product name so…
To summarize the Gitzo ball head lineup quickly, we have:
Apart from the odd naming conventions, that's a nice tidy lineup that should have something for everyone who's seeking a ball head design as their tripod head of choice.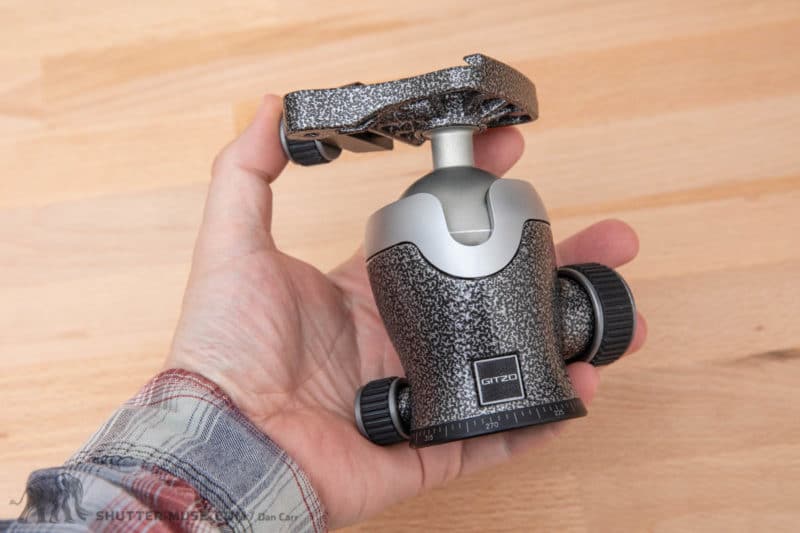 Gitzo GH3382QD Specifications
| Specification | Imperial | Metric |
| --- | --- | --- |
| Weight | 1.7 lbs | 0.77 KG |
| Payload Weight | 39.68 lbs | 18 KG |
| Base Type | 1.97 inches | 50mm |
| Base Diameter | 2.36 inches | 60mm |
| Tilt Angle (Front & Lateral) | -90° / +40° | N/A |
| Attachment size | 1/4″ 20 | N/A |
| Bubble Level | Yes | |
| Panoramic 360 Rotation | Yes | |
| Independent Tilt Lock | Yes | |
| Independent Pan Lock | Yes | |
| Friction Control | Yes | |
| Minimum Working Temperature | -22 Fahrenheit | -30 Celsius |
| Working Height | 4.96 inches | 12.6cm |
Features and Usage
The GH3382QD has three controls: A dedicated pan knob, a ball locking knob and a friction control knob. Both the pan and locking knobs are relatively small, but the rubber grip on them makes them easy to operate, even in cold weather or with gloves on.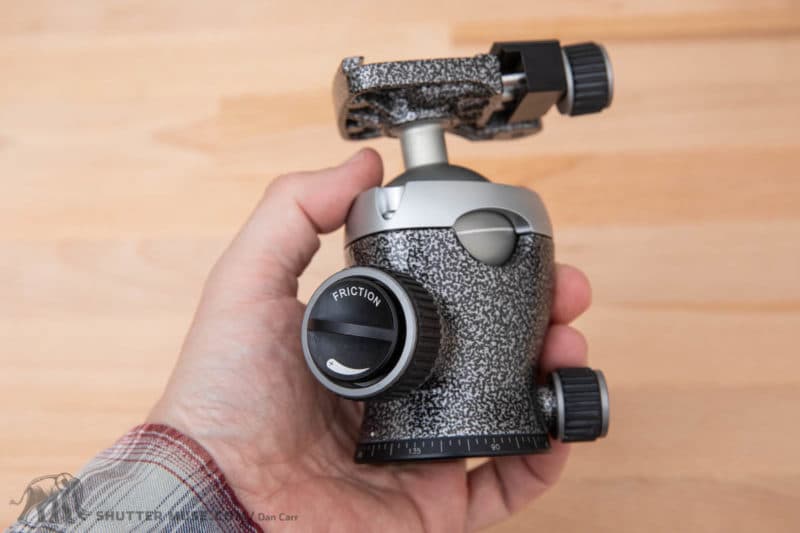 Unfortunately the same can't be said for the friction knob which is embedded within the locking knob. The knob does not protrude all that far and with thick gloves on it is tough to grasp and have any kind of precise control over it. The use of plastic for this control also feels cheap for a near-$500 ball head. Look and feel aside, it works well to control the friction of the ball and that's important because the main locking knob as a very "on/off" feel to it. Nothing wrong with that at all, in fact it really inspires confidence that you have things locked down tightly, but you might find yourself fiddling with the friction knob when you need to make more minor adjustments.
As for the function of pan locking knob, it does the job without too much fuss, although once loosened there is some wobble to the knob which seems like it could have been improved. Such a thing has no practical effect on usage, but it all adds to the feeling, and there are certainly other brands in this segment of the market, like Really Right Stuff and Arca Swiss, who pay very close attention to feel and feeling.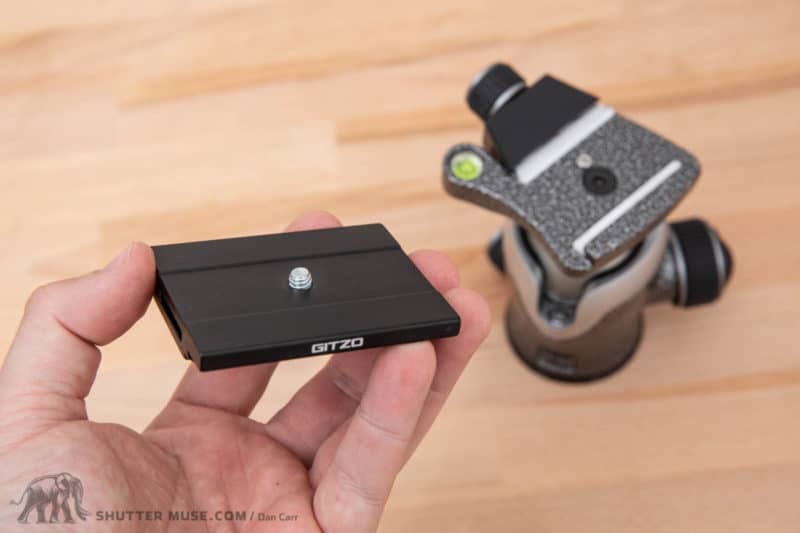 Above the ball sits a screw-lock Arca-Swiss compatible clamp, and the head includes a quick-release plate. The problem with the plate is that Gitzo failed to incorporate any kind of anti-twist feature into it, which is almost criminal in a top-of-the-line product. By not adding simple strips of rubber to its surface, or perhaps an anti-twist tab along one edge, this plate is rendered completely useless. What's more, it encourages people to really crank hard on the 14″ 20 screw on the bottom, potentially damaging their cameras in an attempt to stop the plate rotating.
Of course when you are shooting in landscape orientation, everything is fine. But if you use this plate and flip the camera into the drop-notch for a portrait oriented shot, beware of severe droop with a heavy camera and a long exposure.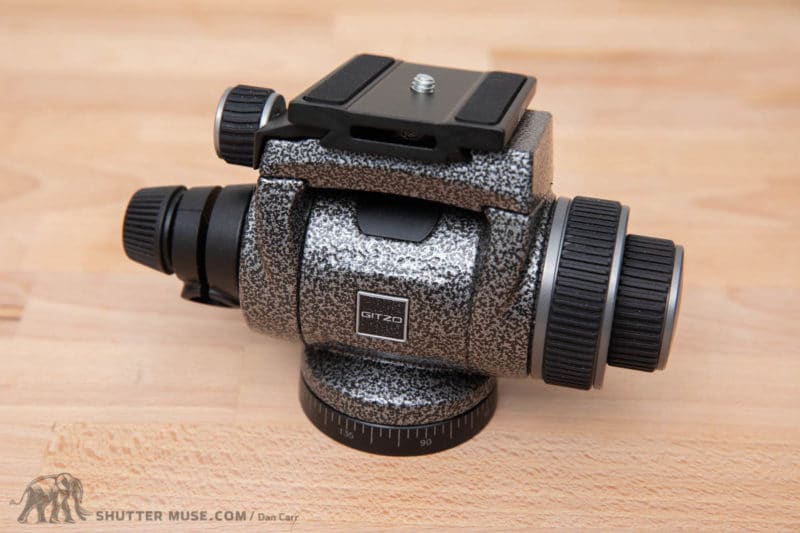 Interestingly, when I reviewed the newer 2-Way head a few weeks ago, the plate that came with this head did have rubberized strips on it to stop camera rotation. So I suspect that Gitzo saw the error of their ways, but unfortunately have not gone back and updated the plate that comes with the slightly older Series 3 ball head.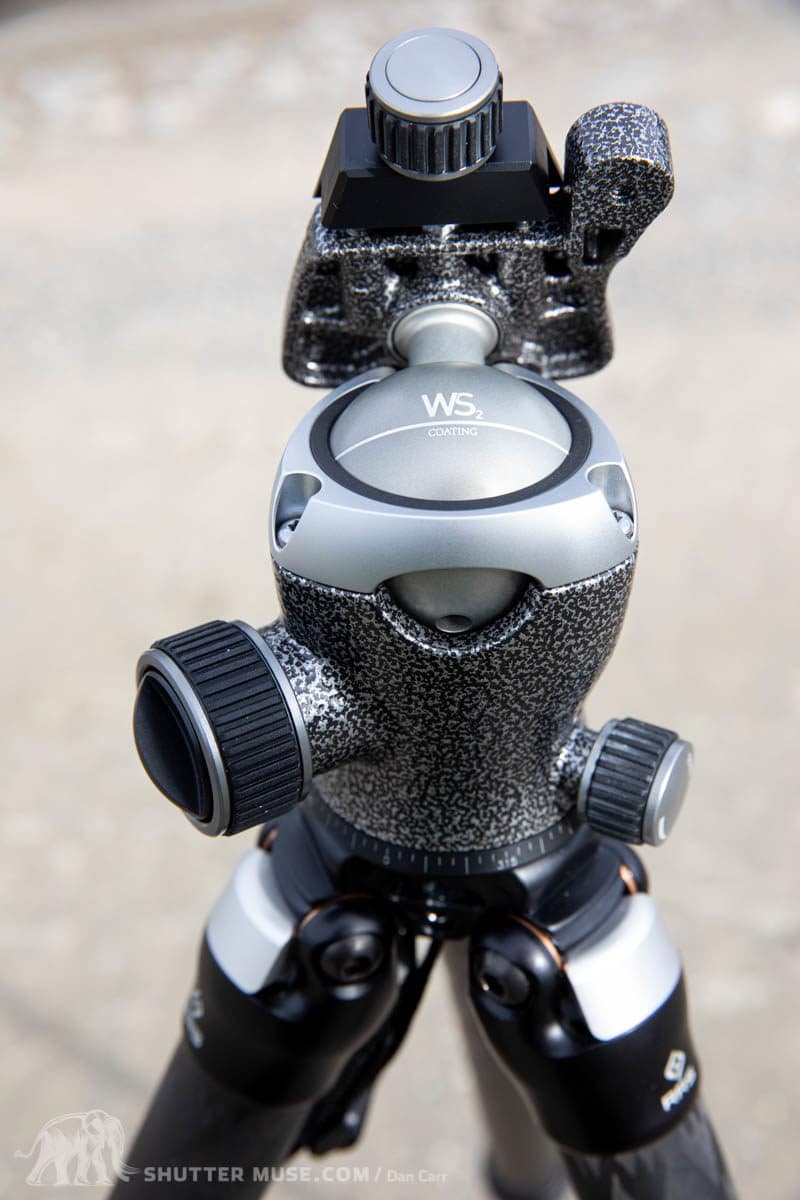 The ball of the head features a WS2 coating, which simply means it's coated with tungsten disulphide. This coating has one of the lowest friction coefficients in the world, and it is clearly evident when using the head. It moves around incredibly smoothly.
The most important thing for me, though, when testing a new ball head, is to closely watch the movement through my viewfinder when I lock the head. Of course you want to have a strong clamping force so that your careful composition doesn't shift over time or during the exposure. But even more important for me is that I want my composition to stay absolutely still as the locking knob is clamping down that ball.
With cheaper heads, careful inspection through the viewfinder will often reveal a very small shift in camera position as the head is locked off. On a more expensive head, I expect there to be absolutely no movement at all when I lock the head, thereby preserving my very specific and intentional compositions.
Here the Gitzo GH3382QD performs perfectly, and I think it again benefits from that previously mentioned "on/off" feeling in the locking knob compared to some other heads. I found that relatively little rotation of the lock knob was required to introduce a considerable amount of locking force on the ball. What's more, after loading this thing up with a big 400mm lens and tugging in all directions, I'm confident this is as strong a ball head as you can get on the market. It really is absolutely rock solid!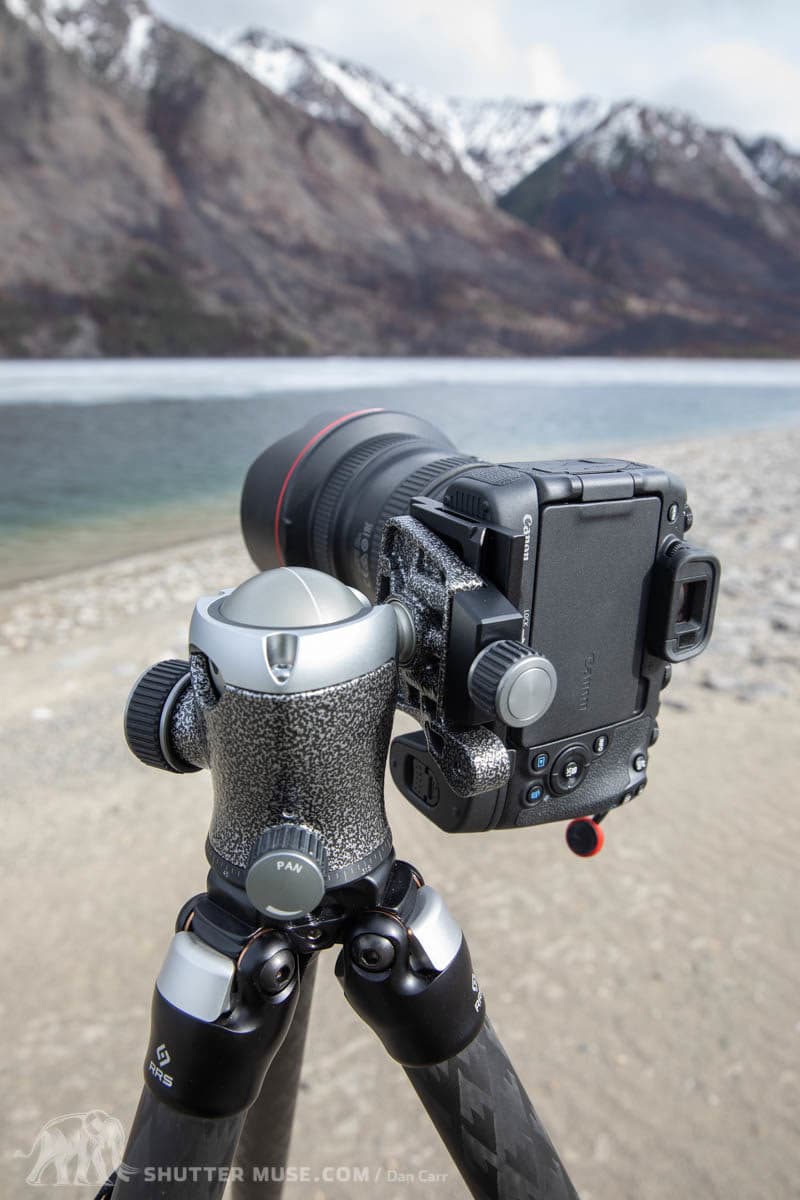 Other Comparable Options
If you're looking for a high capacity high-end ball head then list of options is probably going to include the venerable Really Right Stuff BH-55, and during my time with the Gitzo GH3382QD I was able to do some side-by-side testing of the two.
From this, my conclusion is that both heads offer nearly identical amounts of stability and clamping force. Yes, technically the BH-55 is rated for a slightly more capacity (50lbs vs. 38lbs) but in reality no camera setup comes close to either of those weights, and both heads are simply rock solid.
Functionally, I found there to be a slight difference in the way I used these heads. The large clamp knob of the BH-55 provides better feel and better attenuation of the clamping force, with the Gitzo head feeling a little bit more "on/off" when clamping that ball. Practically, this means that I rarely use the friction control on the RRS head because I'm able to set it and forget it at a median position and then adjust clamp force with the lovely large knob. On the Gitzo head, perhaps by design, I found myself playing more with the friction control and the clamp knob in tandem. With the friction control located within the clamp knob it it easy enough to do and I wouldn't say it's a negative, simply a different way of working.
In a similar spec with a screw-knob clamp, the BH-55 is almost identical in price ($5 cheaper), but it's also available with a lever-release clamp or a panning clamp for $40 and $195 more respectively. RRS lever-release clamps are very popular, and I've seen more than a few people buy them individually to fit onto Gitzo ball head. And while you might think the inclusion of an Arca plate with the Gitzo head is a plus point over the RRS head, as I have pointed out in this review, the included Gitzo plate is frankly embarrassingly cheap and useless so you'd still need to buy another one anyway.
Given the similar stability and pricing, the choice between these two heads might come down to something a bit more personal, such as feel and aesthetics. In my hands the RRS head feels like a more polished, premium product. Everything is just that little bit smarter and smoother and as I mentioned earlier, the plastic friction control on the Gitzo head really irks me on a $450 ball head.
That said, these sorts of things are relatively minor in the grand scheme of things, and when it comes to the job of clamping your camera gear, the Gitzo certainly gets it done just as well as the RRS head. I could certainly see the traditional dappled aesthetic of the Gitzo head swaying people's opinion in that direction if they already have a matching Gitzo tripod.
Conclusion
This head definitely deserves to be on anyone's list of considerations when looking at high-end ball heads. Stable tripod and head combinations are becoming more and more important now that cameras like the 60+MP Sony A7R IV are around, not to mention 100MP cameras like the Fuji GF100X. The more megapixels you have, the easier it is to see vibration and motion blur when you closely inspect files from these kinds of cameras.
The Gitzo GH3382QD locks down as solidly as any head I have ever tested, and the relatively svelte design with the hollow ball brings it in at a lighter weight than its close competitors in this segment. Something which would surely be appreciated by landscape photographers who like to put a lot of miles under their feet.
I really loved the smooth, precise locking mechanism of the main ball lock knob, and whilst there is room for improvement in the feel of the pan locking knob, the overall impression is still that of a very high quality product that could potentially last a lifetime with careful use.
If you do plan to purchase one, just make sure you also plan on replacing the lacklustre quick release plate that is included. Most people would certainly benefit from using a L plate instead.
Where to Buy
The Gitzo GH3382QD Series 3 Center Ball Head can be purchased using the following links. As always, it's greatly appreciated when you click my links as I may make a small commission if you choose to purchase. This helps me greatly to bring more content like this in the future!