We choose to go to the moon. We choose to go to the moon in this decade and do the other things, not because they are easy, but because they are hard, because that goal will serve to organize and measure the best of our energies and skills, because that challenge is one that we are willing to accept, one we are unwilling to postpone, and one which we intend to win

John F Kennedy
I've always loved this quote and it came to mind again while I was looking through some recent photos from a trip to Europe. I was in England for a few days to speak at the Telegraph Outdoor show in London and to visit my family. I had a few days spare at the end of my trip where I was hoping to do some photography, though the weather was looking dicey at best. I didn't have a particular plan to start with but I knew I wanted to challenge myself. After some deliberation I settled on driving a few hundred miles to the east coast to try and get a photo of a barn owl.
I don't even really like birds…..
Followers of this site might remember a few recent images of eagles taken here in British Columbia as well and you'd be forgiven for thinking that I have a soft spot for birds, but the truth is I don't at all. What I do enjoy though is the challenge of learning about a new type of photography and for me birds definitely fall into that category. Broadly speaking it's 'wildlife photography' but each bird brings its own challenges. I'd read a few things about barn owls, decided they would make a reasonably interesting subject but more importantly present a different challenge to the recently photographed eagles. I had also read several accounts that suggested this definitely would NOT be a walk in the park. As soon as I read that I knew I'd have to give it a try. I would have less than a day to familiarize myself with the area, track down a likely feeding spot based on my research and then actually find one of these things. Oh and then there's the small issue of trying to get a good photo in whatever weather mother nature was going to throw at me. (hint:rain)
I think there's many reasons people are drawn to photography but one of the things that captivates me is the vast range of subjects and techniques, and the challenges that comes with all of them. I know I can't master it all but I'm definitely having fun trying.
Needless to say my day trip wasn't a runaway success. I stayed in a B&B roughly in the right area so that I could be up at sunrise to try and catch the owls feeding. Recent flooding across the UK meant a morning of wading through mud and no sight of my elusive subject. After a few hours quietly waiting in what seemed like a good spot (always take a couple of good audio books with you if you're on your own!), I packed up and got in the car to scout a new spot for the afternoon when barn owls can also be quite active. For the next 3 or 4 hours I drove around looking for a potential hunting ground, armed only with knowledge I'd picked up on the internet in a couple of hours of casual research a few days earlier.
Suddenly, across a field I saw a speck of white on top of a brown gate post. I reached for my camera with my 200-400 on it to snap a shot and confirm what I'd seen. Sure enough, when I zoomed in to 100% on the screen it was a barn owl. I pulled the car over and slowly started to walk towards the bird. Unfortunately there was really no way to get closer other than crossing an open field. I was pretty sure he'd spook and fly away before I got a shot. I was right.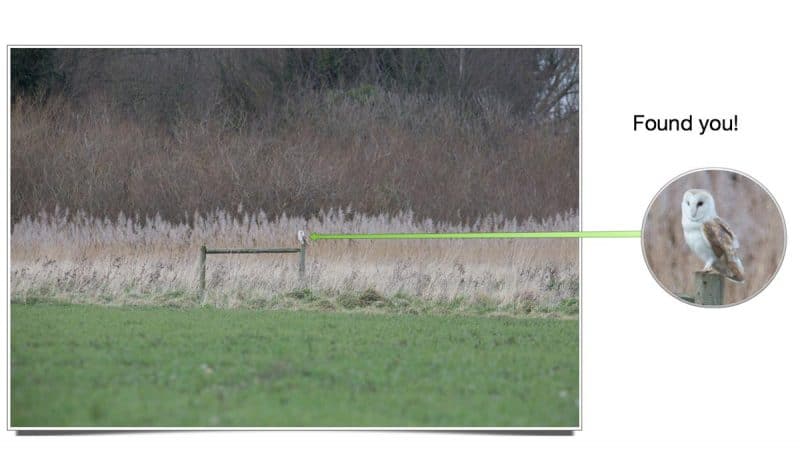 I knew I was in the right area now though and that was part of the battle so just to catch a glimpse of one of these birds was a definite win at this point. I studied it closely as it flew off and watched it dive into the surrounding long grass several times as it hunted for mice on its way out of the field. This was the first time I'd seen one fly and even in this fleeting glimpse I was surprised to see a strange mixture of fast erratic flight and slow hovering over the long grass. It's important to anticipate how a bird will fly because once you are locked on with your lens you need to ensure it doesn't leave your frame or you'll struggle to find it again without bringing the camera away from your eye. I made a mental note: erratic flight.
For the next few hours I scoured the surrounding fields wherever winding lanes would take me. As the sun came down towards the horizon it covered the countryside in some of the most beautiful light I've ever seen. If I found an owl now it could potentially be an epic photo but alas, hours passed and no more sightings were to be had. The sun had set. In a last-ditch attempt to get something I raced back to the place where I'd spotted the first owl. He was back, and this time he was facing away from me which might just allow me to sneak up behind him and get a little closer. I put my camera and lens on my gimbal and tripod and slowly crept towards him, setting the tripod down every few feet just in case he should take off. Suddenly his head turned around to face me and a split second later he was off. I put the tripod down and grabbed the camera just in time to lock focus and get 5 or 6 shots off before he was gone.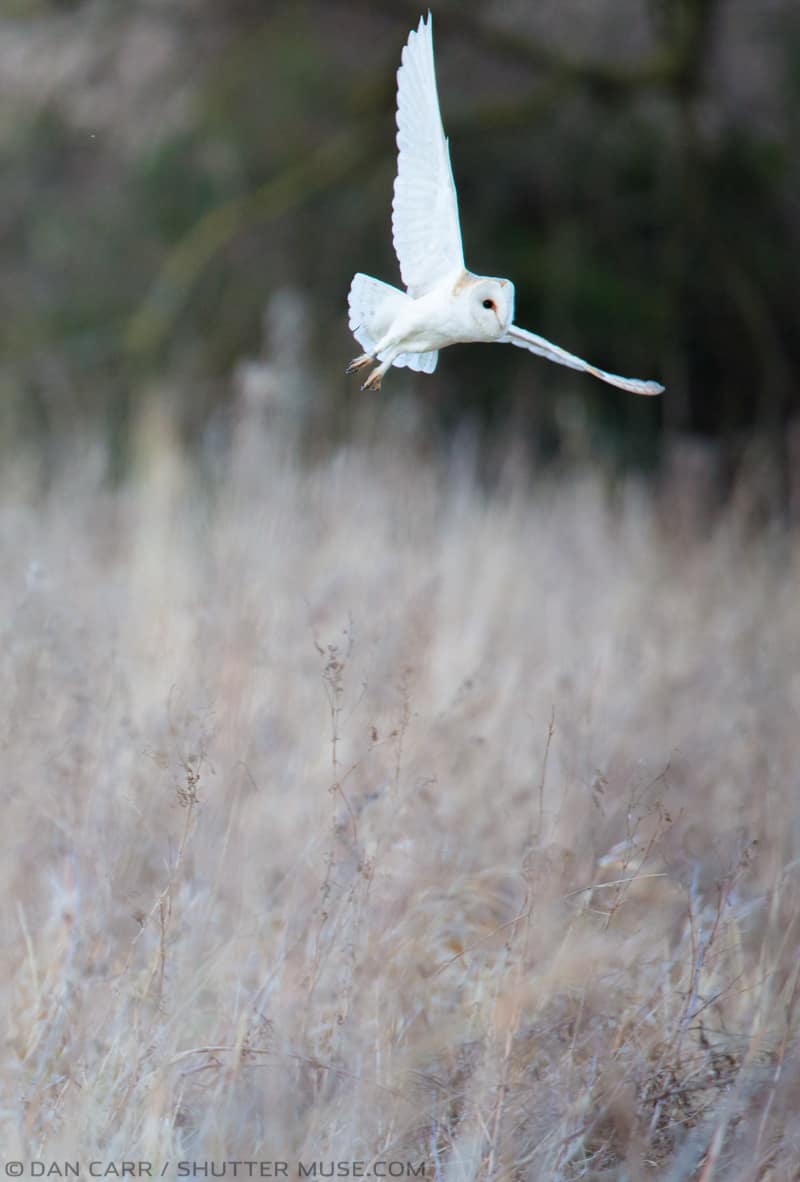 Whilst I'm not totally happy with the resulting photo I know that I have added to both my knowledge of these birds and more importantly to my knowledge of this type of photography. Knowledge that I can share with you guys and for now that's more important. I can go back another time and make some better images, armed now with a greater understanding of how they fly and where they hunt. I wish I'd managed to capture something in the dramatic golden light and not the flat light of blue hour. I do however like the fact that the image shows the barn owl in a typical environment. Long grass like this is exactly where they spend their time hunting.
There's many things I could have photographed in England that day and some people might think that it's a wasted opportunity to try to get what you know will be a hard shot. Why not head to London and photograph some of the architecture that you know will be there? Why drive 250 miles each way to try to get a photo of something that you're not sure you'll even find? Because it is hard.
Never stop learning.