The Katana Junior is a gimbal manufactured in-house by Chicago-based ProMediaGear (sometimes I might call them PMG for brevity). The 50lb load rating makes it more than capable of handling a 600mm or 800mm lens mounted to a pro DSLR body, and remarkably, the skeletonized aluminum design manages to keep the weight down to a mere 2.4lbs (1088g) as tested with the lens cradle seen in the photos.
In the box, the Katana Junior comes with a simple cloth bag to protect it from scratches, and also a 6-inch long Arca plate that can be used as a lens foot. The lens plate is actually the PX6 plate that ProMediaGear sells in their store for $40. This plate is highly adjustable and should work with any telephoto lens if you don't already have some sort of lens-specific plate in place.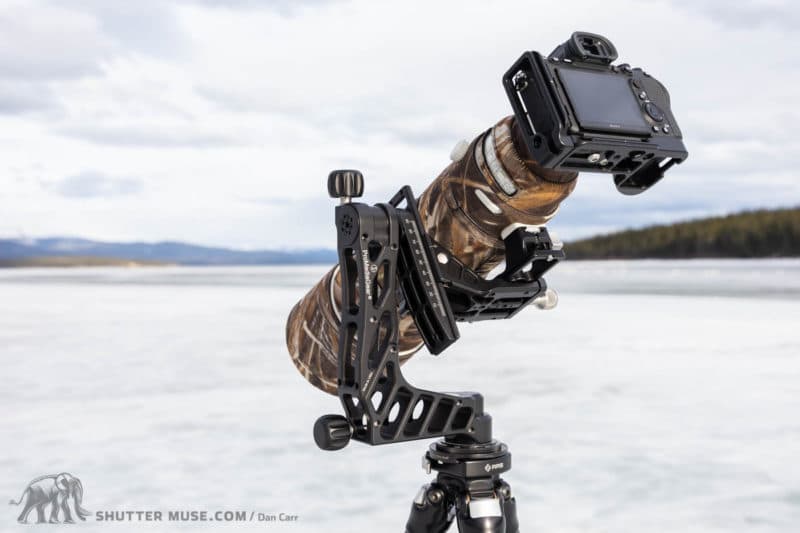 At $549, the Katana Junior sits right in the middle of the market in terms of price, where it finds itself in good company surrounded by gimbals such as the ubiquitous Wimberley WH-200 and the Gitzo Fluid Gimbal. Only Really Right Stuff's gimbals, Kirk's G1 gimbal and PMG's own Katana gimbal occupy a higher-priced tier in the market. This middle sector of the market is a competitive place to be when you are going head to head with names like Wimberley and Gitzo. So how does the Katana Junior stack up?
In three words: Very well indeed.
As soon as I unpacked the gimbal and installed it on my tripod I was impressed with the fine finishing of the product. I think it looks awesome, and although that doesn't mean it actually is awesome, it certainly doesn't hurt if you've just spent over $500 on something. I don't think the same can be said for the drab looking Wimberley head, for example.
The next thing that got me excited was the simple inclusion of a bubble level right in the middle of the gimbal. It has always perplexed me that this isn't a feature included on the Wimberley and Gitzo gimbals (it is on RRS gimbals) because your tripod head needs to be level if you are going to track fast-moving animals such as birds in flight. Without a level tripod, your panning movement will cause the view in your viewfinder to diverge from the horizon at an angle while you rotate the head, and if you don't want to get a wonky horizon you'll be forced to correct it by rolling the camera in the tripod collar while continuing the pan. Yes, some tripods do have a level on them, but not all tripods. And the lack of a level on a tripod isn't limited to the cheaper brands. My own RRS tripod doesn't even have one, so the bubble on the gimbal was very welcome.
The pan and tilt locking knobs operate very smoothly and provide a lot of control over the friction of these axes during movement of the camera. With some other gimbals, I find that these knobs operate more like an on/off switch, but the Katana Junior allows easy adjustment of friction. Particularly in the case of the tilt axis, this can be very useful, as a little friction on that axis of movement gives you a bit more leeway when balancing the lens quickly on the gimbal.
It also adds some leeway to the balance when using a lens that extends during zooming. If you have a gimbal that is so finely balanced and free from friction that zooming a lens causes the balance to get out of whack, you'll be constantly faffing with it trying to re-balance it.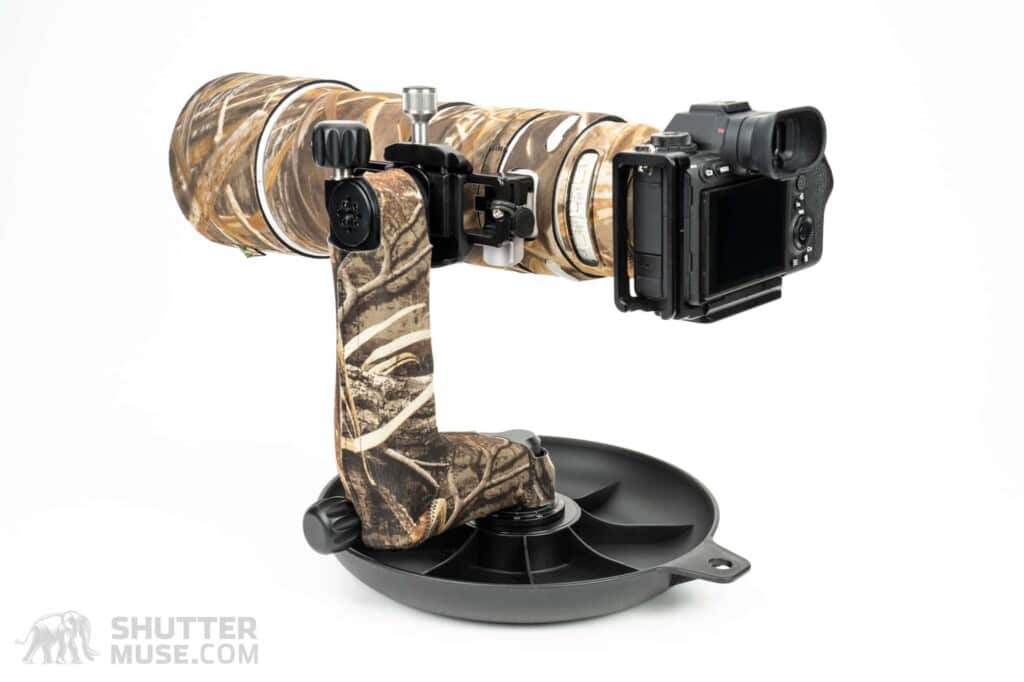 Do not mistake friction for smoothness, though! Just because you introduce friction, does not mean that movements are not smooth. It simply means that more force is required to move the camera. Even with a little added friction, dialled into your tastes, you'll find the Katana Junior moves very smoothly around the entirety of the bearing's movement. There are no sticky spots that cause the camera motion to jump unexpectedly – something which can happen on cheaper gimbals. I was thrilled with the smooth feeling of this gimbal during my testing, and it gave me a ton of confidence while trying to capture some tricky bird-in-flight moments.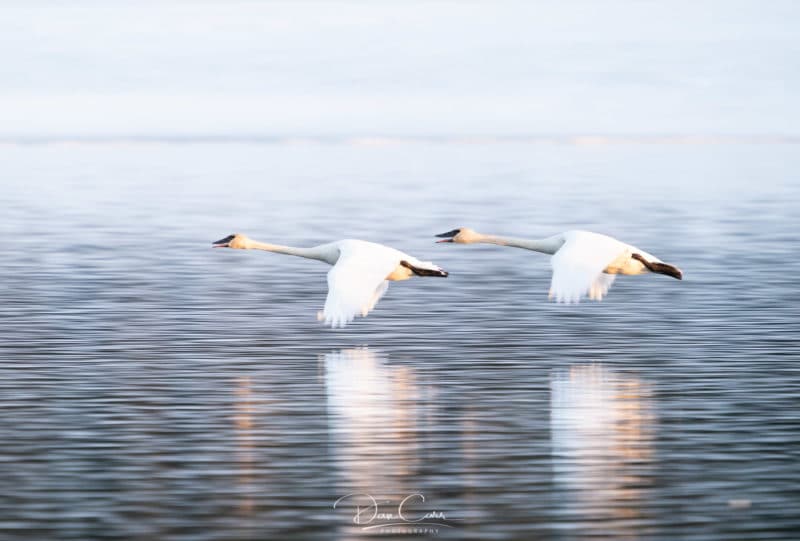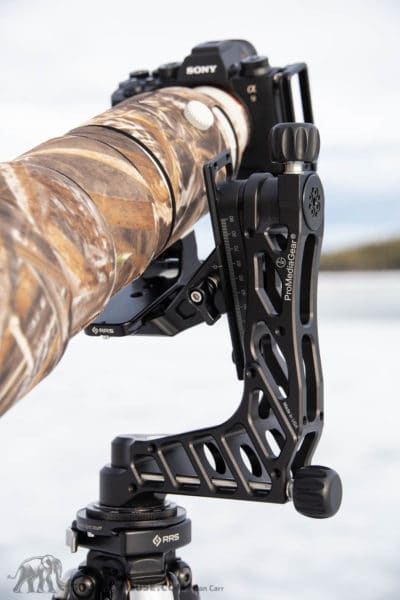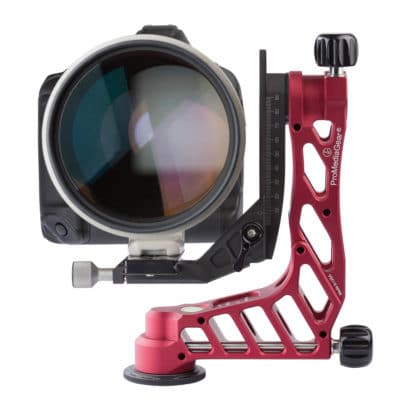 Cradle or Side Mount?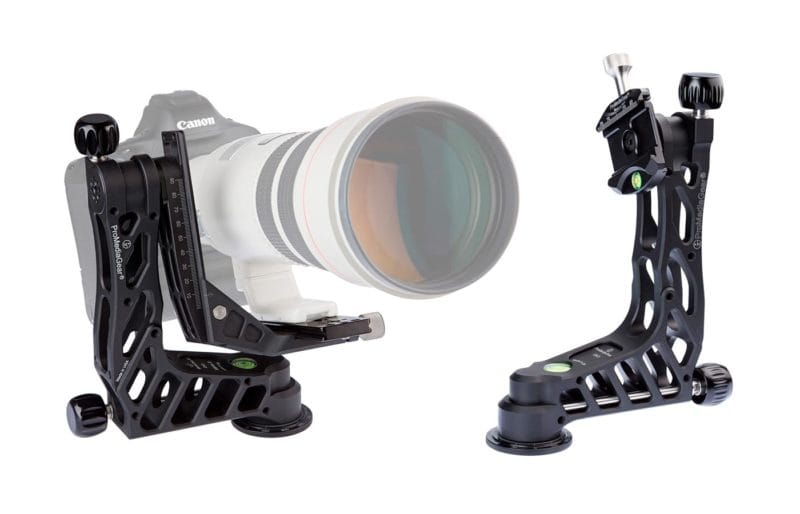 The Katana Junior is available in both cradle and side mount variations. While the regular cradle version is already a lightweight at just 2.4lbs (1088g), the side mount takes that right down to a mere 1.8lbs (816g)!
In terms of capacity, there is no difference between the two styles, and I've long said that people's preference for the cradle design is born from a misguided opinion that the side mount style of the gimbal is not as safe. It may look weird to have a lens protruding sideways from a side mount gimbal, but there is absolutely nothing unsafe about it. I have used a side-mount gimbal for my entire career, and as well as never having any issues of my own, I've also never heard of any issues from anyone else.
In use, there is very little functional difference between the two styles. It is perhaps very slightly easier to balance a cradle gimbal so that the lens stays still at any angle when you remove your hands from the camera. But as long as you have some control over tilt friction, which you do with the Katana Jr., it's also possible to set up side mount version in a perfectly balanced state.
Clamp Style Does Make a Difference
One thing I will say is that I much prefer using a side mount gimbal when it is fitted with a lever-release Arca clamp. It feels a little more awkward to mount your lens on a side mount gimbal than a cradle mount, as you have to support the entire weight of the camera and lens in one hand while you close the clamp jaws with the other. An action itself that I concede might not be possible for people of some ages who are also using very heavy lenses. With a lever-release clamp, locking the clamp jaws is much faster and easier than closing the jaws of a screw-lock clamp, and it also doesn't require the same amount of dexterity and finger strength. Again, something that might be a consideration for people who suffer from arthritis in their hands. Unfortunately (and much to my surprise) ProMediaGear do not make a lever-release clamp, so you can't spec the side mount version with one.
I did investigate the possibility of adding a lever clamp from a different brand to the Katana Junior but was not able to find one that matched the necessary screw hole patterns. Adding a different clamp using a single central screw is no problem, you can use pretty much any clamp you like. But the issue is that you really need some anti-rotation tabs when using it with large lenses, or you're always going to find that the torque of the lens eventually loosens the clamp. You'll find holes on the Katana Junior next to the central clamp mounting hole that are designed for anti-rotation tabs or screws, but I have not yet found a lever-release clamp from another brand that uses the same hole pattern.
Using the Really Right Stuff Cradle Clamp with Lever Clamp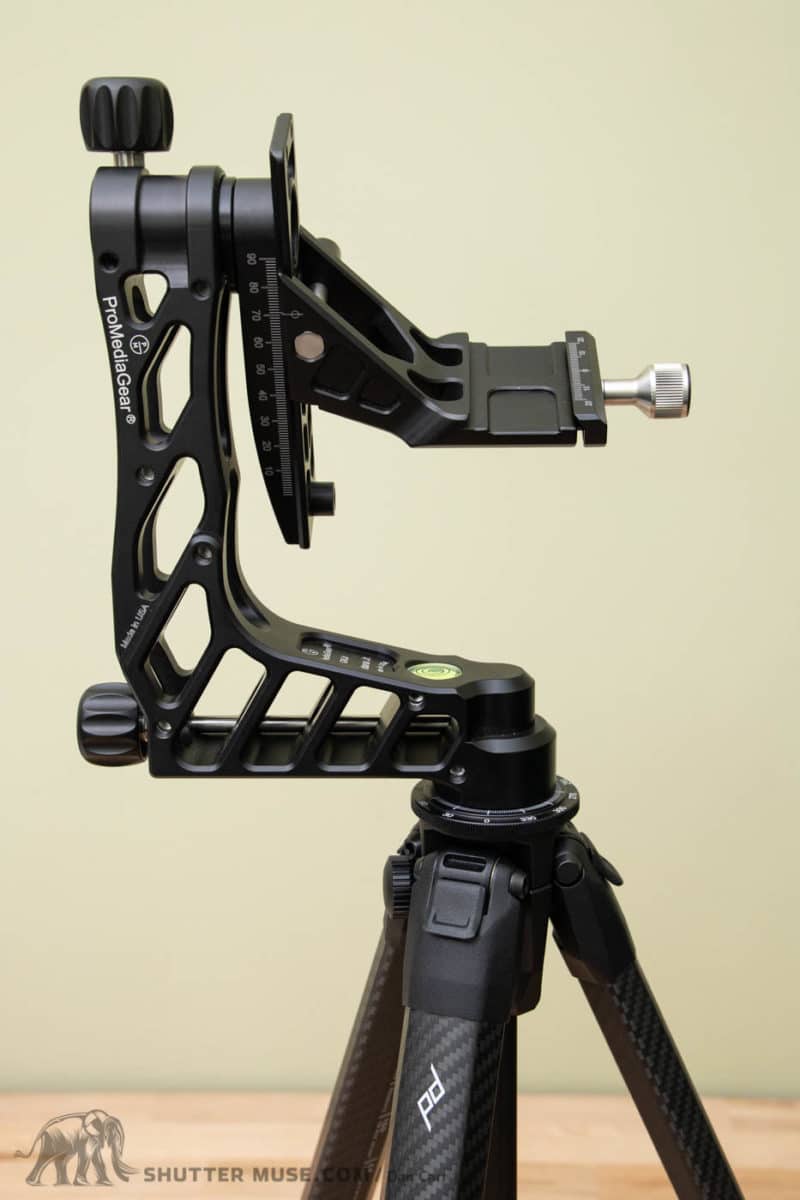 Although I struck out when searching for a lever-release clamp for the side mount version of the gimbal, I did find an option for the cradle mount: The Really Right Stuff Cradle with lever clamp (PG-CC). This RRS clamp can be swapped with the cradle from the Katana Junior because both use standard Arca width rails for the gimbal's vertical arm. This upgrade will set you back $190 so it's not going to be for everyone, but I purchased one myself to test it out and I'm really happy with the resulting setup. This upgrade to the RRS Cradle Clamp is also popular among users of the Wimberley WH-200 gimbal.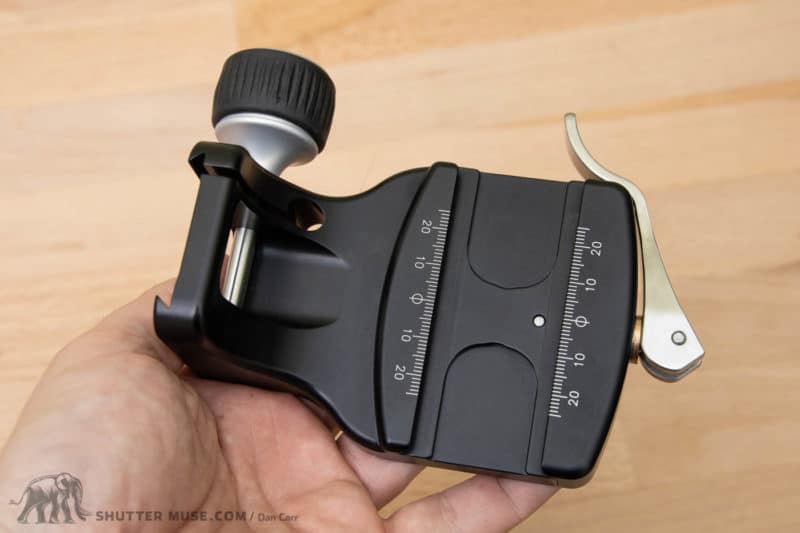 Making a Choice
The lack of a lever clamp option leaves the decision between cradle and side mount versions a little less clear to me. Generally in the past, I have been a huge advocate for the side mount gimbal because it represents a good weight saving. That said, even the full cradle version of the Katana Jr. is still 5oz (150g) lighter than the side mount version of, for example, the popular RRS PG-02 gimbal. In this instance, I would concede that the already lightweight of the Katana Jr. does even things out a little more, and I found myself very content with the cradle version for most of my testing.
If you are the kind of person who is going to trek for 5-10 miles per day for your wildlife photography then the 6oz (300g) weight saving of the side mount version might start to become a factor in your decision process. Equally, with ever-shrinking baggage allowances, it might be a factor if you fly a lot.
Converting From One Gimbal Style to the Other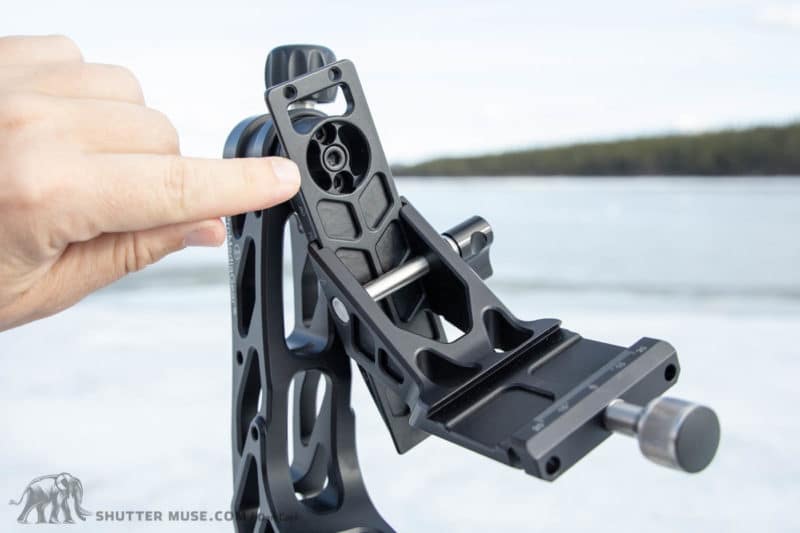 The other thing you should keep in mind is that it's very easy to convert the Katana Jr. from one style to the other. If you buy the standard cradle version, you need only purchase the C60 clamp, the A14 Anti Rotation Pins and a 3/4″ long 1/4″ 20 screw in order to convert it to the side mount version. PMG will throw in the screw when you buy the clamp, as long as you shoot them a message first and tell them you are buying the clamp to do this conversion. Conversion can be done with two hex wrenches in about one minute.
If you want to go the other way and convert from side mount to cradle version, you can buy the cradle on its own, here, although you'll have to message PMG directly to order the vertical arm that goes with it. From a financial standpoint, it appears as though it's cheaper to buy the full cradle version and then the C60 clamp if you want to swap back and forth between the two styles.
Katana Vs. Katana Jr.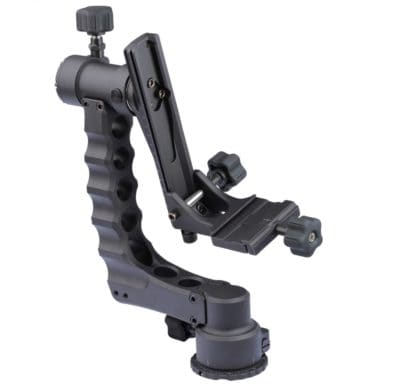 As the "junior" name of the gimbal suggests, there is also a standard "senior" version of the gimbal, simply referred to as the Katana. The Katana is a much larger gimbal. In fact, it's easily one of the heaviest gimbals on the market, weighing in at a whopping 5.4lbs, more than twice as much as the Katana Jr. and three times as much as the Katana Jr. Side Mount.
With the Katana Jr. able to handle the weight of a 600mm lens and a pro camera body, I don't see a lot of people opting to carry the extra weight, and spending the extra $200 on the Katana. It offers exceptional smoothness with extremely heavy weights, up to a staggering 150lbs, but in my mind, it's a gimbal that should only be considered for people that are shooting within a short walk of their car or setting it up semi-permanently in a blind.
Conclusion
I always love it when I'm introduced to a brand that I haven't used before, and then find that they are creating exceptional (Made in the USA) photography accessories. That's certainly the case with the Katana Junior gimbal from ProMediaGear, so much so that I actually put it straight into my gimbal buyers guide at the #1 spot, bumping the Gitzo Fluid Gimbal from the top.
The key reason for this is that I have yet to use another gimbal that matches the capacity to weight ratio of the Katana Junior. The bearings in the pan and tilt mechanism are incredibly smooth with even the heaviest of camera setups, yet the whole package weighs a mere 2.4lbs (1088g) for the standard version with the cradle, and 1.8lbs (816g) for the side mount version. This makes either version of this gimbal even lighter than carbon fibre versions of gimbals I have tried in the past.
At $549, the price is right in-between the Wimberley WH-200 and the Gitzo Fluid Gimbal, two other options that I would suspect are going to be on most people's shortlist. The Katana Jr. is lighter than both of them, as smooth as either of them and also physically more compact. The inclusion of a large Arca plate to put on your lens foot also goes a long way with this gimbal's value proposition.
I have yet to use another gimbal that matches the capacity to weight ratio of the Katana Junior.
If I had to be really nit-picky about this gimbal, I would say that the plastic knobs for adjusting the tilt and pan could be a bit nicer. The shiny plastic knobs have a bit of a cheap look to them that to me, stands out from the rest of the gimbal. Could we not have some nice rubber-coated knobs like the ones found on the larger Katana? I'd also love to see PMG develop a locking lever clamp that could then be used as an option for the side mount version of the Katana Junior.
Other than that, this is a fantastic piece of equipment that I'm going to be recommending to a lot of wildlife photographers in the future. I'm also looking forward to testing some more PMG gear in the future now that they are on my radar. Send me your recommendations if you have some.
Where to Buy
The Katana Junior is available from PMG with free shipping in the US, and very reasonable shipping rates to anywhere else in the world. For best service, I would always recommend buying direct if you can (also nice to support the little guys), but if you can't for some reason, I have also provided links to Amazon, B&H and Adorama. I know a lot of people from the UK and Canada also read this site, and for them, I would definitely recommend the direct purchase.
–>>Direct from ProMediaGear (Preferred Option)
---
Amazon
B&H Photo
Adorama