Several years ago, I discovered the world of portable power stations. These battery-powered boxes feature an array of power outputs and multiple charging inputs to create an on-the-go solution for powering or recharging electronic equipment. As a photographer that's often on the move, I'm constantly looking for ways to charge drones, cameras, laptops, flashes and other tech items, either in my car or on location.
The first power stations I owned were big and used heavy lead-acid batteries, similar to what you found in your car. These days, technology has advanced, and portable power stations use much lighter lithium-ion batteries. In particular, I'm a fan of the Jackery brand of portable batteries.
Having recently tested the highly portable Jackery Explorer 300, and the much less portable Jackery Explorer 1500, the folks at Jackery thought it would be a good idea to try a model that sits right in between these two: Enter the Jackery Explorer 1000. A product that has a frankly incredible 4.7/5 star rating on Amazon after 4900+ reviews!
Disclaimer: The Jackery Explorer 1000 was provided for this review by Jackery. No money changed hands, and they did not get to see the review before it was published.
Specifications
Capacity: 1002Wh (21.6V, 46.4Ah)
Cell Chemistry: Li-ion NMC
Lifecycle: 500 cycles to 80%+ capacity
Management System: BMS, Over Voltage Protection, Short Circuit Protection
AC Output: 110VAC, 60Hz, 1000W (2000W Surge)
USB-A Output: 5V, 2.4A
Quick Charge 3.0 Output: 5-6.5V, 3A / 6.5-9V, 3A / 9-12V, 1.5A
USB-C Output: 5V, 9V, 12V up to 3A
Car Output: 12V, 10A
DC Input: 12V-30V (163W Max)
AC Adapter Recharge: 7 Hours
12V Car Adaptor Recharge: 14 Hours
Two SolarSaga 100W Solar Panels Recharge: 8 Hours
Solar Charging: Built-in MPPT charge controller
Weight: 22.04 lbs (10 kg)
Dimensions (LxWxD): 13.1 x 9.2 x 11.1 in (33.3 x 23.3 x 28.3 cm)
Operating Usage Temperature: 14-104F (-10-40℃)
Certification: CEC, DOE, FCC, QC3.0, ROHS, CA Prop 65
Warranty: 24 Months
Design and Features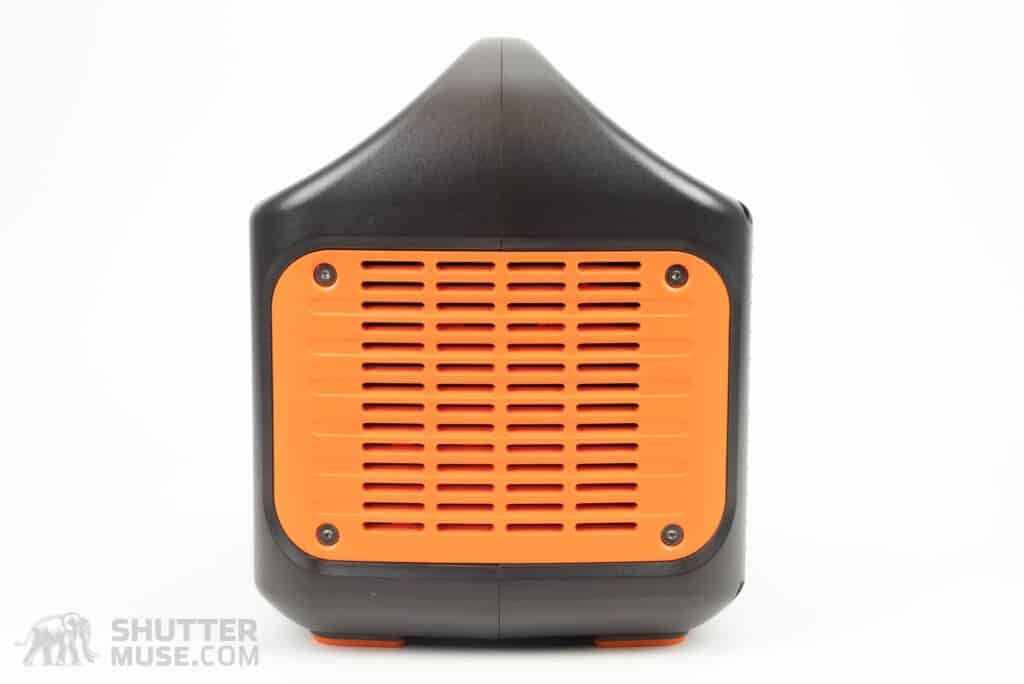 For those familiar with Jackery batteries, there are no surprises with the Explorer 1000. Unsurprisingly, it looks like a more extensive Explorer 500 or a slightly smaller Explorer 1500. It features the same LCD screen; the same emergency LED light on the handle, and a familiar set of inputs and outputs.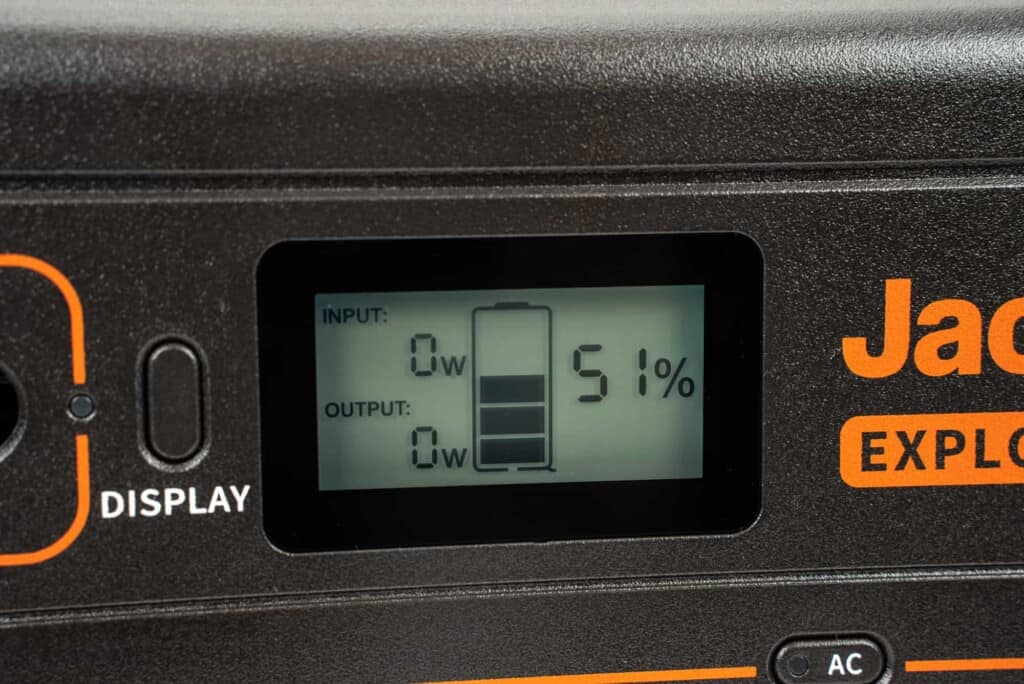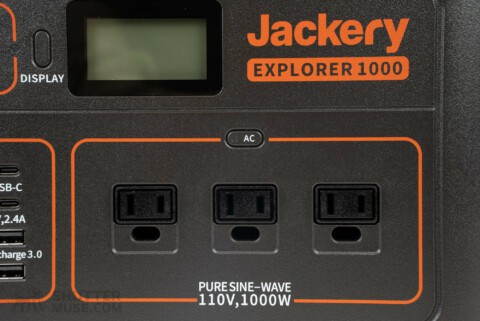 In the Box
The Jackery Explorer 1000 comes with an AC charger, a 12V DC charger to use in your car and a Y-cable that allows two solar panels to be connected to the single Powerpole input. A neoprene storage case is also provided to store these items. Some products from other manufacturers in this market do not include the 12V car charger, and I have always appreciated that Jackery does. On road trips, I love to run a 12V fridge in the trunk of my car while simultaneously charging the Jackery from the 12V car output. This gives me maximum battery power once I reach my destination.
SolarSaga Solar Panels
The Jackery Explorer 1000 can be purchased on its own for $1099, or you can purchase the Solar Generator 1000 package, which costs $1649 and includes two Jackery SolarSaga 100W solar panels. Typically the SolarSaga 100W panels cost $299, so the Solar Generator package option represents a $48 saving. Purchasing the bundle also ensures that the parallel Y-cable adapter is included in the box, allowing both solar panels to feed the single Powerpole input simultaneously. This Y-cable usually costs $32, taking the total bundle savings to a very reasonable $70.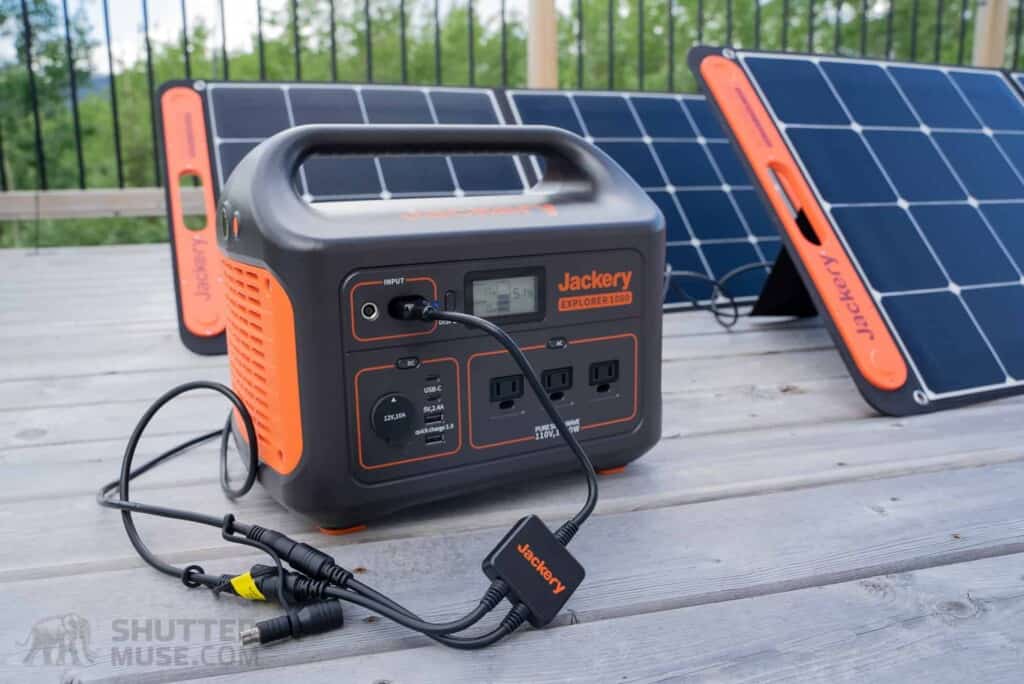 If you plan on charging the Explorer 1000 using solar power, the SolarSaga 100W folding panels are an excellent choice. The barrel connector and Powerpole input on the Explorer 1000 are universally useable with 3rd party solar panels. Still, the bundle price savings and the quality of the SolarSaga panels are so good that I can't see many reasons why you might look elsewhere. With one exception, some people building vans will need to look elsewhere for rigid, roof-mountable options.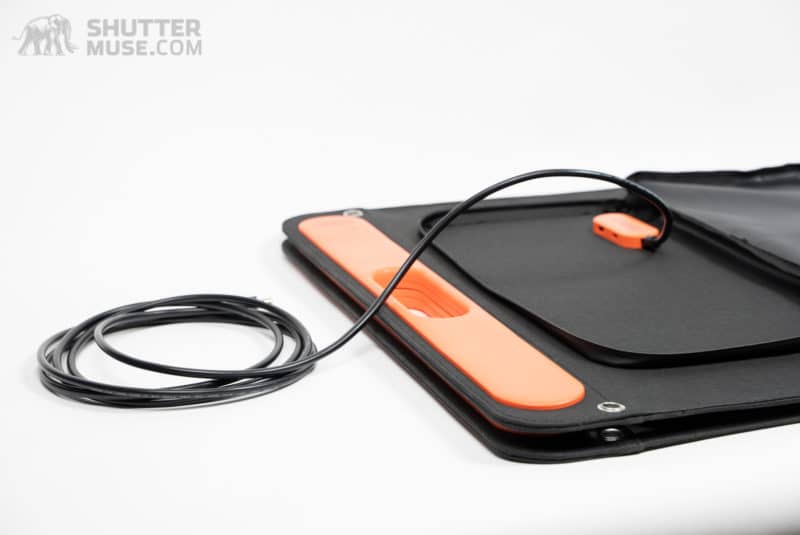 The SolarSaga 100W solar panels fold in the middle and snap together with magnets. Once unfolded for charging, two kickstands support the panel at an optimal energy-collection angle. A zippered pocket on the back of the panel stores a roughly-10ft-long cable and also features a USB-A and USB-C connection that can charge small devices like a phone directly. The overall build quality of the SolarSaga panels is excellent. They are shockproof, dustproof and weather-resistant, so you don't need to worry about leaving them out in the rain.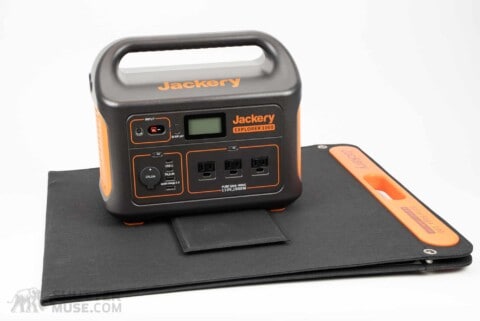 Solar charging time for the Jackery Explorer 1000 varies significantly based on factors such as atmospheric conditions, sun angle, and sun declination, which is altered by time of year and time of day. Given optimal conditions with two SolarSaga 100W panels in bright sunshine, they will recharge the Explorer 1000 in 8 hours. While charging, the LCD screen displays the power input and output. Since you can still use the Explorer 1000 while it is being charged, seeing both input and output power will tell you if you are in a power deficit. Unlike the larger Explorer 1500 and Explorer 2000 models, the LCD screen does not give you an estimate of charge time until complete.
Alternative Jackery Options
| Model | Capacity | Weight | Dimensions | AC Outlets |
| --- | --- | --- | --- | --- |
| Explorer 160 | 167Wh | 3.97 lbs (1.8 kg) | 7.4 x 4.5 x 6.7 in (18.8 x 11.4 x 17 cm) | 1 |
| Explorer 240 | 240Wh | 6.6 lbs (3 kg) | 9.05 x 5.24 x 7.87 inches (23 x 13.32 x 20 cm) | 1 |
| Explorer 300 | 293Wh | 7.1 lbs (3.2 kg) | 9.1 x 5.2 x 7.8 in (23 x 13.3 x 19.9 cm) | 2 |
| Explorer 500 | 518Wh | 13.32 lbs (6.04 kg) | 11.8 x 7.6 x 9.2 in (30.1 x 19.3 x 24.2 cm) | 1 |
| Explorer 1000 | 1002Wh | 22.04 lbs (10 kg) | 13.1 x 9.2 x 11.1 in (33.3 x 23.3 x 28.3 cm) | 3 |
| Explorer 1500 | 1534Wh | 35.2 lbs (15.5 kg) | 14 x 10.4 x 12.7 in (35.6 x 26.4 x 32.3 cm) | 3 |
| Explorer 2000 | 2160Wh | 43 lbs (19.5 kg) | 15.1 x 10.5 x 12.1 in (38.4×26.90×30.75cm) | 3 |
The Explorer series of portable power stations are available in various sizes and capacities. The features are largely similar between them, with the main variations being battery capacity, weight, physical size, number of AC outlets and number/type of USB outlets. Having tested many of these options, I believe the sweet sports in the lineup are currently the 300, 1000, 1500 and 2000Wh models.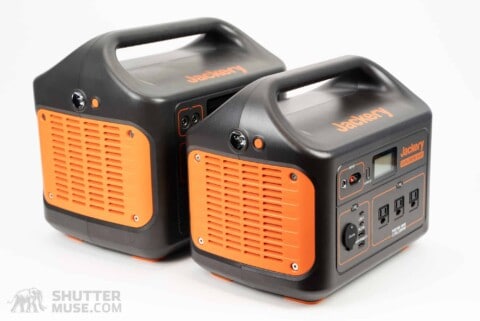 Choosing the right size for your needs will depend on what you want to power. With an infinite number of variables, it's hard for me to comment on this, but I will make a few general statements. The Explorer 1000 will power my 12V fridge for a weekend of car camping. This is a popular scenario for portable power stations. It will also recharge my laptop several times over, meaning I can easily work off the grid for several days.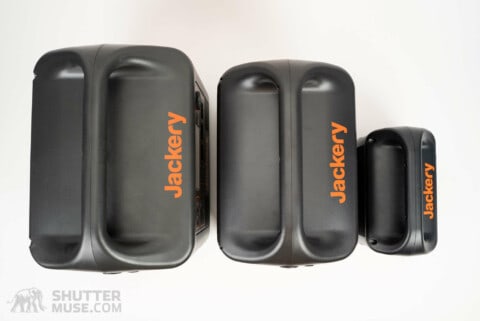 If you only need to charge small hand-held devices, run a CPAP or power some LED lights, I recommend using the smaller Jackery Explorer 300. It will be more than enough power for a few days of camping and road-tripping. If you want to power a small-to-medium-sized 12v fridge for a weekend of camping, the Explorer 1000 will do the job but don't expect to have a whole lot of extra overheard left over for other large electronic devices such as a laptop. If you want that extra power, the Jackery Explorer 1500 is the way to go.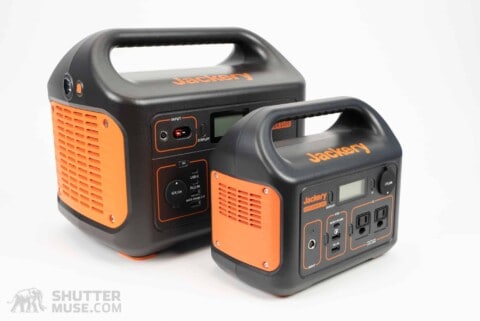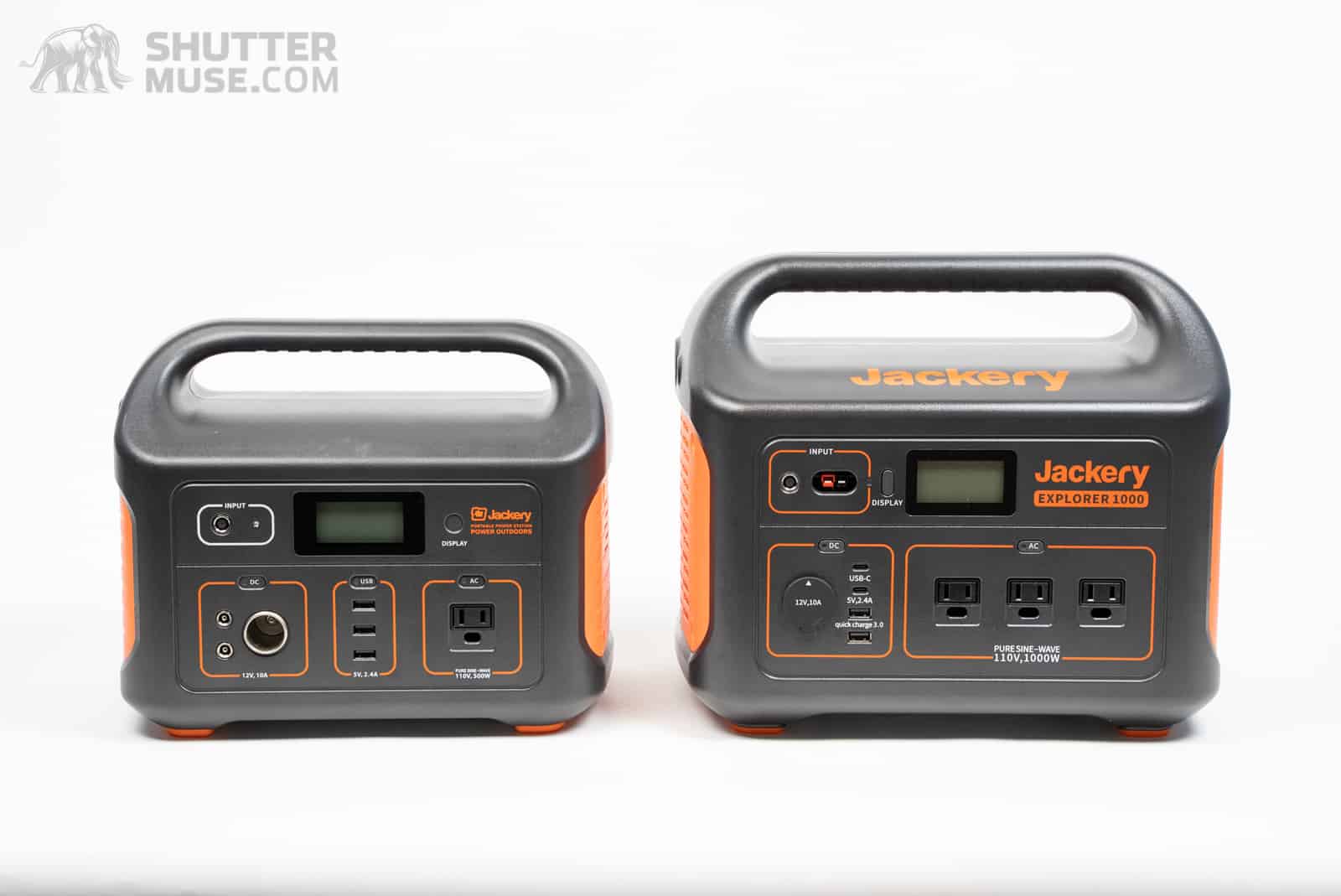 Conclusion
I have tested several Jackery power stations and solar panel combinations in the past few years. I will keep this short for fear of sounding like a stuck record in the conclusion. The fact is, those 4900+ people that left such good reviews on Amazon are not wrong. The Explorer 1000 is a fantastic product, like the other Explorer models I have tested. All you need to do is decide which capacity and size suit your needs. For many people, the middle-of-the-lineup Explorer 1000 will be perfect.
Where to Buy
Jackery products can be purchased directly from Jackery (recommended) or from Amazon using the following links.