I always relish the opportunity to embark upon a big road trip and often choose to camp instead of staying in hotels. Although I say choose, in reality, hotels are few and far between when you live in the Yukon! Last year my longest road trip was along the fabled Dempster Highway to the Arctic Ocean, and on that trip, I camped for two weeks.
As a professional photographer, how do you manage all of your electronics if you're on the road for that long?
The answer is lithium battery packs like the Jackery Explorer 500. A somewhat similar (but larger) battery pack that I own from Goal Zero has had a few mentions on this site in the past, but when Jackery contacted me and asked if I'd like to check out the Explorer 500, I jumped at the chance. My other pack has a larger capacity, but it's twice the size and three times the weight of the Explorer 500. I've often thought that a more portable option would be nice to try, and easier to move around from car to campsite.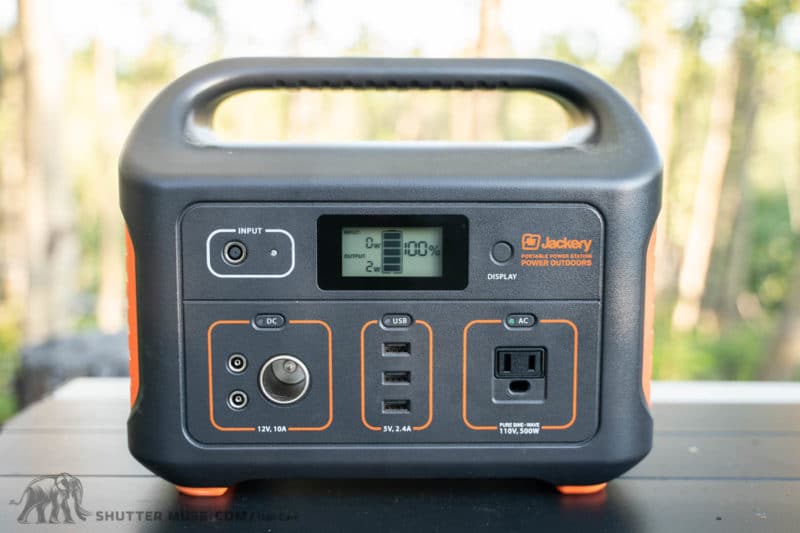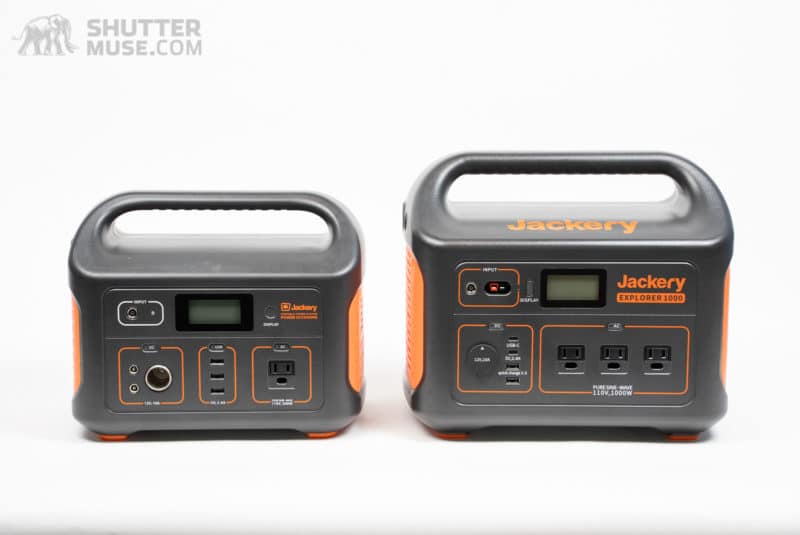 Jackery Explorer 500 Specifications
Capacity: 518Wh/144,400mAh
Dimensions: 11.84 x 7.59 x 9.2 inches
500W Rated Power and 1000W Surge Power from the pure-sine wave AC port.
Weight: 13.32 lbs
12v Output
3xUSB Type A outputs
Built-in flash light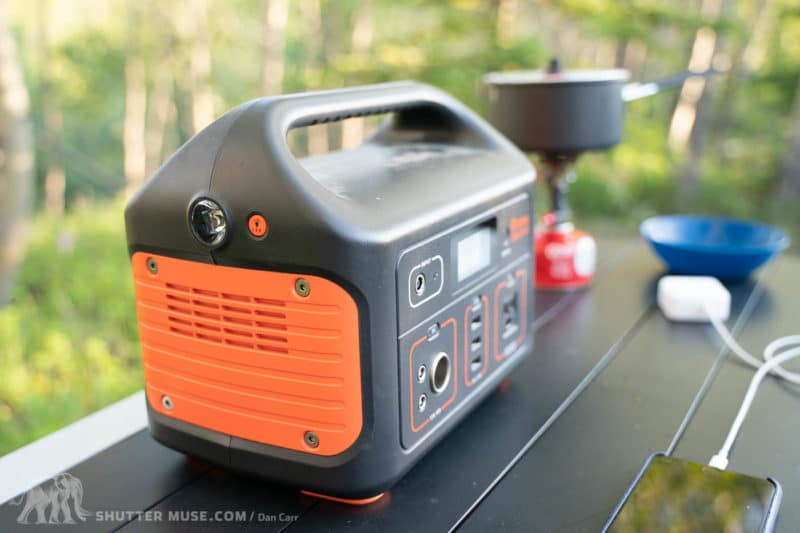 The Explorer 500 has three types of outputs: USB, 12V and 120V. The inverter inside the pack is a pure sine wave design, which means it's fine to use this with sensitive electronics such as your laptop. For me, this is important because one of the primary uses for it on a long road trip is powering my laptop so that I can download and backup my photos. Although it only has a single 120V output, you can simply plug in a power bar if you need more ports.
On the USB side of things, there are 3 standard USB-A ports. While this is ok, I would have like to have seen at least one of these ports be a USB-C port with Power Delivery. During my time testing the Explorer 500, this was probably the biggest weakness that I discovered on the unit. One of my cameras will only charge over USB from a port with the Power Delivery Protocol, so this meant I had to use a USB PD adapter in the 120v socket to achieve that. It seemed rather silly to be doing that when there were three USB ports right next to it.
Another of my chargers only works with the Qualcomm Quick Charge standard and that is also missing from the USB ports. Interestingly, both USB-C and QuickCharge are featured on the larger Explorer 1000 pack. I guess they were left out of the 500 to save some money, but I did miss those options.
On the 12v side of things the Explorer 500 looks much better. The 12V output is regulated which means you get a true 12v from it, something that is actually surprisingly uncommon. Appliances like a 12v fridge require a regulated 12v output and on my Goal Zero Yeti 1400, this requires me to use an additional accessory plugged inline between the pack and my fridge. No such need on the Jackery pack. Very nice.
Charging the Jackery Explorer 500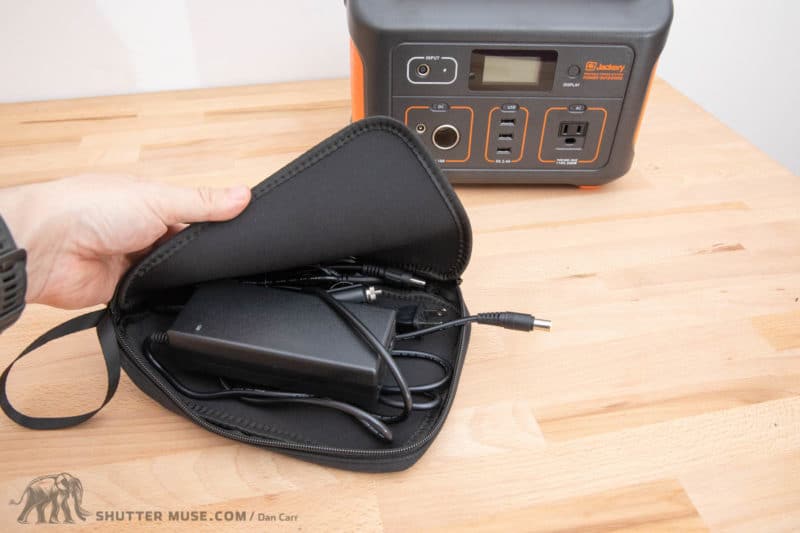 The Explorer 500 can be charged in different ways: AC, DC or solar power. Of course, an AC power adapter is included in the box, but it was also a nice surprise to find the 12v DC adapter in there as well. My previous experience with similar Goal Zero products is that you have to buy the 12v adapter separately, so this definitely adds to the good value.
The third charging method is to use solar power. The solar input is an industry-standard barrel connection which means you can use panels from a wide variety of brands such as Zamp, Goal Zero or, of course, Jackery's own panels which come in two sizes. The Jackery SolarSaga 60W panel is probably a little small for a battery of this capacity. I would take roughly 14 hours to charge in full sun. The Jackery SolarSaga 100W panel would be a much better option.
Having tested the SolarSaga 100W panel alongside the Goal Zero's Boulder 50W and Boulder 100W panel, I can tell you that there is absolutely no contest as to which one I would buy. The Jackery panels win that fight hands down. They are well-built, have a pair of USB connections for direct phone charging and fold in half for flat, easy storage. If you want to know more about these solar panels, check out my Jackery SolarSaga 100W solar panel review.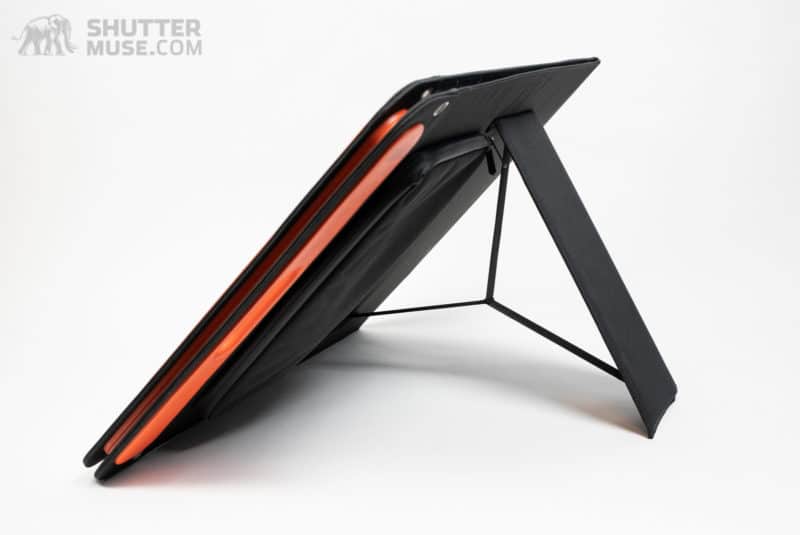 The solar charging circuitry in the pack features an MPPT charge controller and not the cheaper and less efficient PWM controller. This is good news! If you aren't familiar with these terms, don't worry too much about it. All you need to know is that an MPPT controller does a more efficient job of turning solar power into battery charge. In many cases, it's 30% more efficient, which means the Explorer 500 charges 30% faster than similar products with PWM controllers.
Conclusion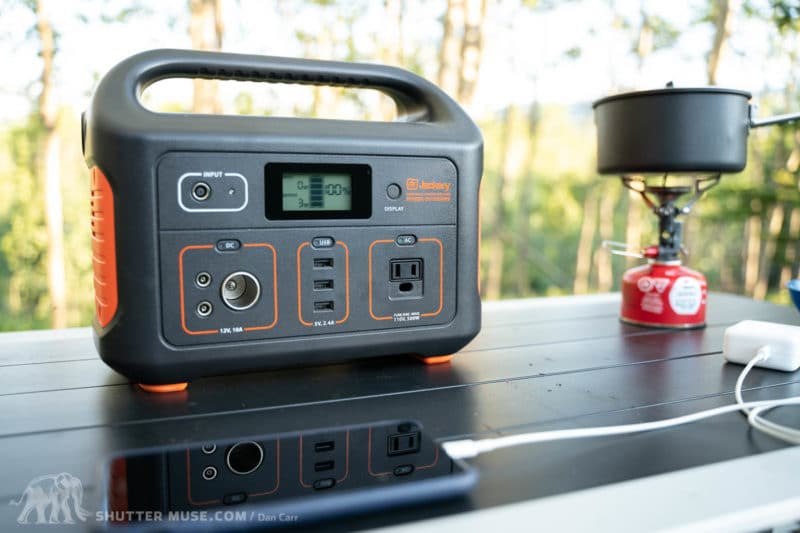 The Explorer 500 is an excellent portable power station that's at least $100 cheaper than the equivalent product from Goal Zero, the Yeti 500x. I've even seen the Jackery pack on sale for $499 which makes it $200 cheaper if you can grab it for that price. Although this is not small change by any means, it is good value and appears to be built well enough to last you many years of road trips.
I do wish it had a USB-C port and an MPPT charge controller, but otherwise, I have been happy with the features that are provided. After using it for a long time to keep my cameras and laptop charged on the road, I have come to really appreciate the portability of it compared to heavy packs with a larger capacity. I generally don't need more capacity because the charge can be topped off using the 12v charger while I'm driving, and I suspect that will be the case for most people. A 500Wh pack is a real sweet spot for day-to-day electronic usage when you want something that can easily be stashed in your car and easily extracted at camp.
Where to Buy
Jackery products are available directly from their website, and I would always recommend buying direct from the manufacturer if you can. Should you ever have any troubles, it will be far easier to sort out.
Alternatively, you can also find them on Amazon: