I seem to be amassing USB chargeable products on a monthly basis these days, so it makes sense to carry a battery pack that can top up my devices when I'm away from a power supply. I used to use the Mophie Juice Pack, but this only offers about enough power to charge my iPhone once, and I wanted something with a bit more capacity.
A little research quickly leads me to the Venture 30 USB battery pack from Goal Zero. These guys are best know for their solar power gear, discussed in a previous article on the site by Camilla. While the Venture 30 can come in a kit with the Nomad 7 solar panel, you can also buy it for $99 on its own, which is what I did.
Video review
The Venture 30 offers 7800mAh of power, which Goal Zero claims is enough to charge a GoPro 5 times, a headlamp 10 time and a smartphone 2-3 times. You can charge the Venture 30 itself, using the built-in USB cable, and it takes about 5 hours to charge up to full power. I find that to be a little on the slow side, but still manageable. Not only does the built-in cable charge the Venture 30 itself, but it also has a micro USB plug on the other side for charging some of your gear. Many products use micro USB, so in a lot of cases you won't even need to take another cable with you. The pack has 2x USB outlets which provide 4.8amps to your devices.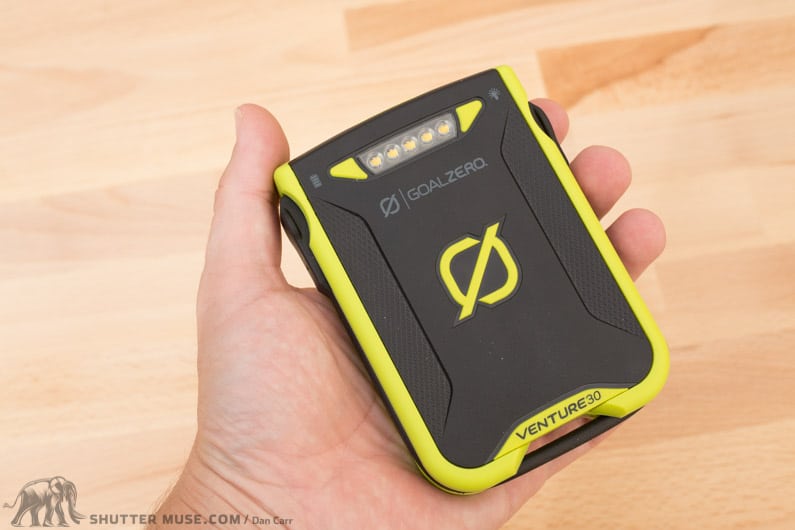 The Venture 30 is IPX6 rated which means that it's not waterproof, but you can still get it pretty wet.
IPX6 – Heavy splashing and rain – This test sends water at all angles through a 12.5mm nozzle at a rate of 100 litres/min at a pressure of 100kN/m2 for 3 minutes from a distance of 3 meters. Must not fail or show water seepage.
It also has a rubberized design which definitely feels rugged enough to get accidentally dropped a few times. I've got no problems throwing this thing in a suitcase or the bottom of a camera bag, I'm confident that it's going to stand up to a pretty good beating!
In terms of functions, the Venture 30 has a "smart charging" mode which will analyze the device that's plugged into the port, and deliver power in just the right way for the fastest charge. It then memorizes those settings for that port, so if you continue to plug the same device into the same port, you'll always get the fastest charge without having to activate the smart charge setup again. Neat feature! On top of that, there's also a built-in 65 lumen LED flashlight in the front of the pack. This seems like it might be good in an emergency, but it's no substitute for a good headlamp or a dedicated LED flashlight or lantern. The on/off button for the light is hard to find in the dark because it's flush with the case, and provides almost zero tactile feedback when you push it. This also makes it fiddly to cycle through the 5 flashlight modes, which requires pushing both the buttons and holding one of them down, even though there's no feedback to the process. This is definitely the packs weakest design point, but thankfully it's in the second feature and most people will be buying this for the battery pack, not the flashlight which feels a bit like an added gimmick.
Another thing of note is that both the included USB ports provide pass-through charging, so you can charge two devices from it whilst it's charging itself from a single USB plug. This can be handy as a kind of USB splitter, allowing you to charge two devices from just a single USB plug. For example, many cars have a USB plug these days, but with this, you could charge two devices in the car, and the battery pack at the same time from that single plug.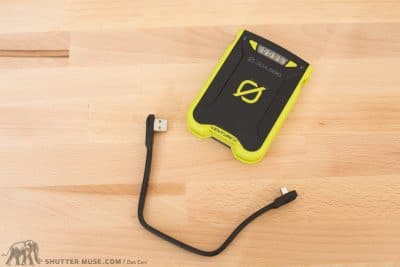 What have I been charging?
I usually carry a GoPro around with me these days, but I'm also carrying the new Sony RX100 IV and this can also be charged via micro USB. I consider my Petzl Tikka R+ headlamp to be an absolutely essential piece of gear, and this also charges via micro USB. Of course, there's my iPhone as well, and I can charge the spare RX100 IV batter outside of the camera using the cool little Sony travel charger for it. You can even get USB chargers for Canon camera batteries, so in an emergency, it could be used for topping up an LP-E6N for a Canon 5D Mark III or similar camera. I'm sure there are equivalent products for other camera brands as well.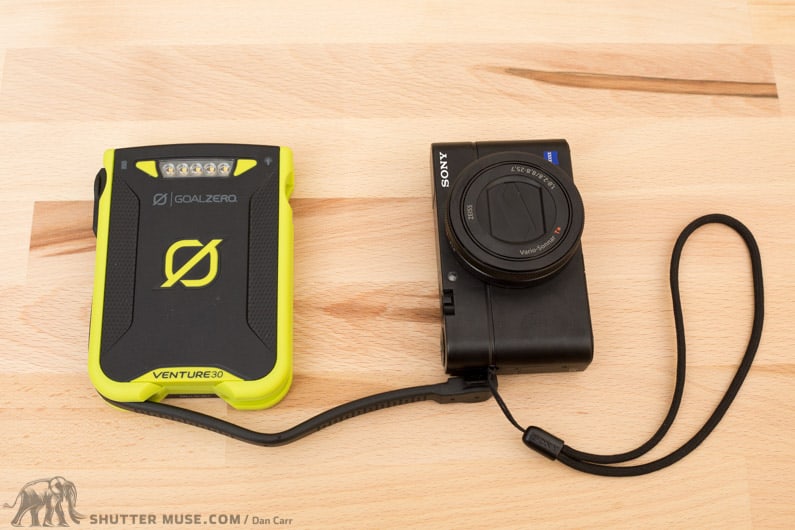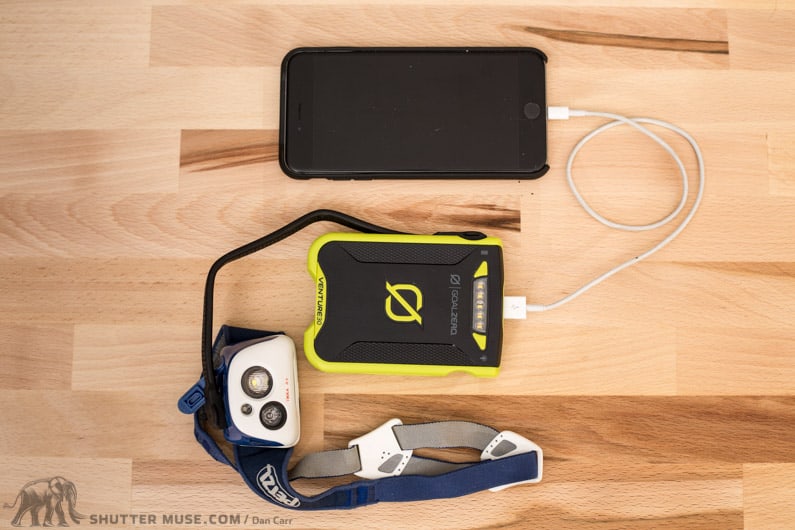 Conclusion
This is the best portable battery pack I've seen for folks that like to get outside. USB battery packs are everywhere these days, and if you want something to slip in your pocket all day while you're working a city desk job, this isn't the one for you, the packs from Anker would suit your purposes far better. The rugged design ads a little bulk, but the pack is still much smaller than I had anticipated so it falls easily within the "pocketable" realm, and it's something I won't hesitate to take with me every day in my camera bag.
As the pros and cons lists shows, it's not without its niggles, but they are relatively minor if you're looking for a battery pack rather than a flashlight. I hope Goal Zero adds more to this Venture lineup as I'd love to see one that's capable of charging a laptop! Edit: They did add more models!
Where to Buy