As a roving photographer, I spend a lot of time on the road. Even when I'm not working, I often spend weekends away at various campsites around my home in the Yukon. Towns are few and far between here in the North, but we are blessed with many fantastic places to camp.
Over the years, this semi-nomadic lifestyle has caused me to investigate various portable power solutions that can keep my camera gear charged on the road. Packing for a road trip, I usually have a laptop, a headlamp, a phone, a GPS messaging device, a drone, three mirrorless cameras and a GoPro. Sometimes I'll even have a 12v fridge and one or two LEDs for lighting videos. Keeping all of this stuff charged used to be a challenge, but these days some excellent lithium battery solutions can make light work of this problem.
A few months ago, Jackery reached out to me and asked me whether I would like to test the Jackery Explorer 300 Solar Generator. I have previously reviewed their larger Explorer 500 and Explorer 1500 batteries and found them excellent value. This time, I was curious whether this much smaller battery would suit my needs and the needs of others in search of portable power.
Explorer 500 Specifications
Capacity: 293Wh (14.4V, 20.4Ah)
Cell Chemistry: Li-ion NMC
Life Cycle: 500 cycles to 80%+ capacity
Weight: 7.1 lbs (3.2 kg)
Dimensions: 9.1 x 5.2 x 7.8 in (23 x 13.3 x 19.9 cm)
Usage Temperature: 14-104F (-10-40℃)
AC Output: 110VAC, 60Hz, 300W (500W Surge)
USB-A Output: 5V, 2.4A
QC 3.0 Output: 5-6.5V, 3A / 6.5-9V, 2A / 9-12V, 1.5A
USB-C PD Output: 5V, 9V, 15V, 20V, 3A
12V Output: 12V, 10A
DC Input: 12V-30V (90W Max)
AC Recharge: 4.5 Hours
USB-C PD Recharge: 5.5 Hours
SolarSaga 100W Recharge: 5 Hours
12V Car Adapter Recharge: 5 Hours
Design and Features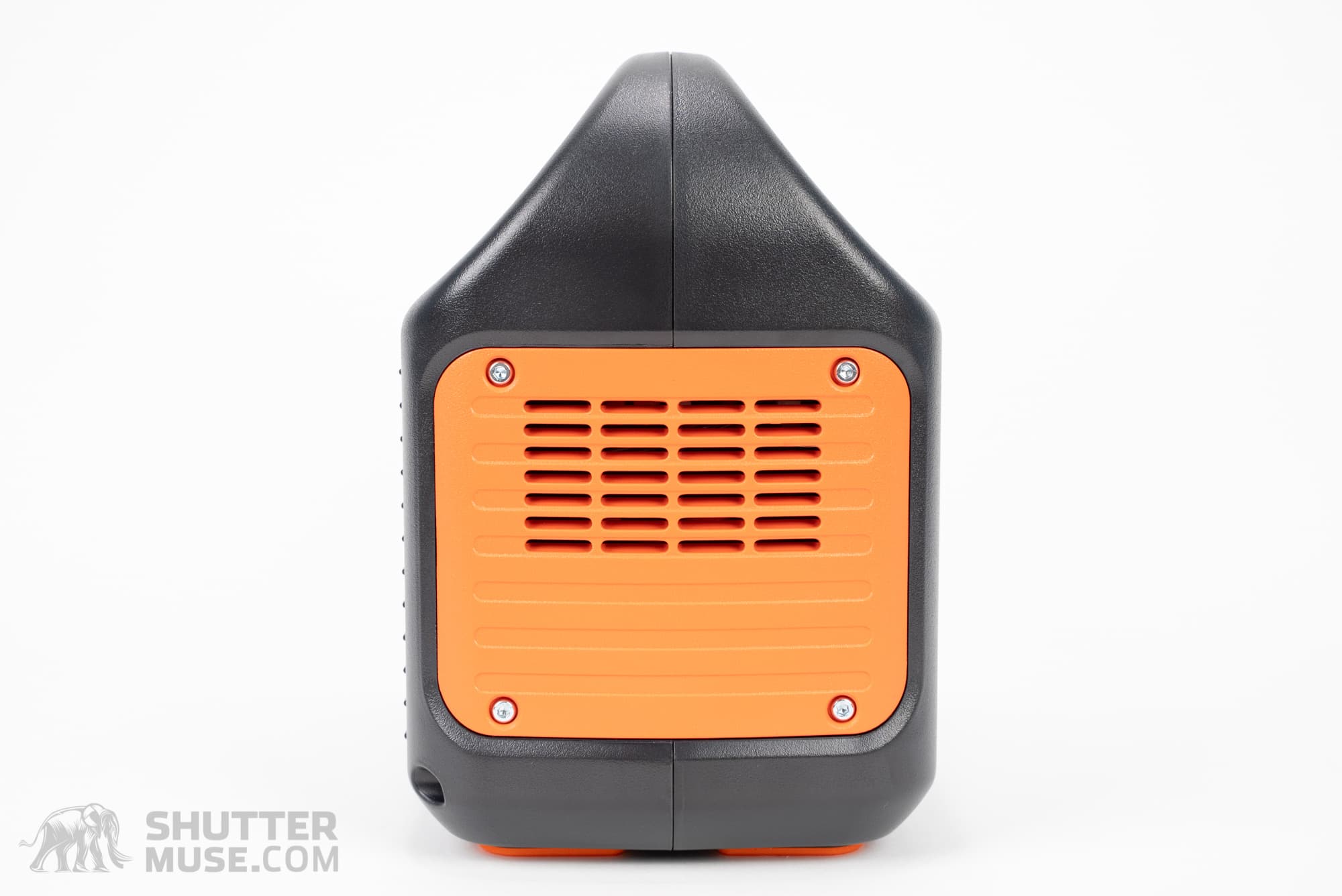 The Jackery Explorer 300 packs an impressive array of output options into a small package. Individual power buttons operate the AC, USB, and 12V DC outputs. On the left-hand side of the front panel, there is a single 8mm input that can be used with the included chargers or a solar panel. Jackery's solar panels are recommended, but any panel with a standard 8mm plug will work.
A small LCD gives you an indication of the remaining capacity and how much power is coming in and out of the battery. Lacking on this smaller model, compared to some of the larger Explorer 1500 and 2000 models, is an estimation of the remaining runtime.
I found the LCD to be very clear when looking down on it from any angle above the device, but almost impossible to see from any angle below. It appears as through the LCD has been optimized to be viewed from above, under the (probably correct) assumption that most people will be looking down on it while it is placed on the floor or a table. This is not a major issue, but something to be aware of if you catch it at a funny angle and suddenly think your LCD is not working correctly.
In The Box – Charging Solutions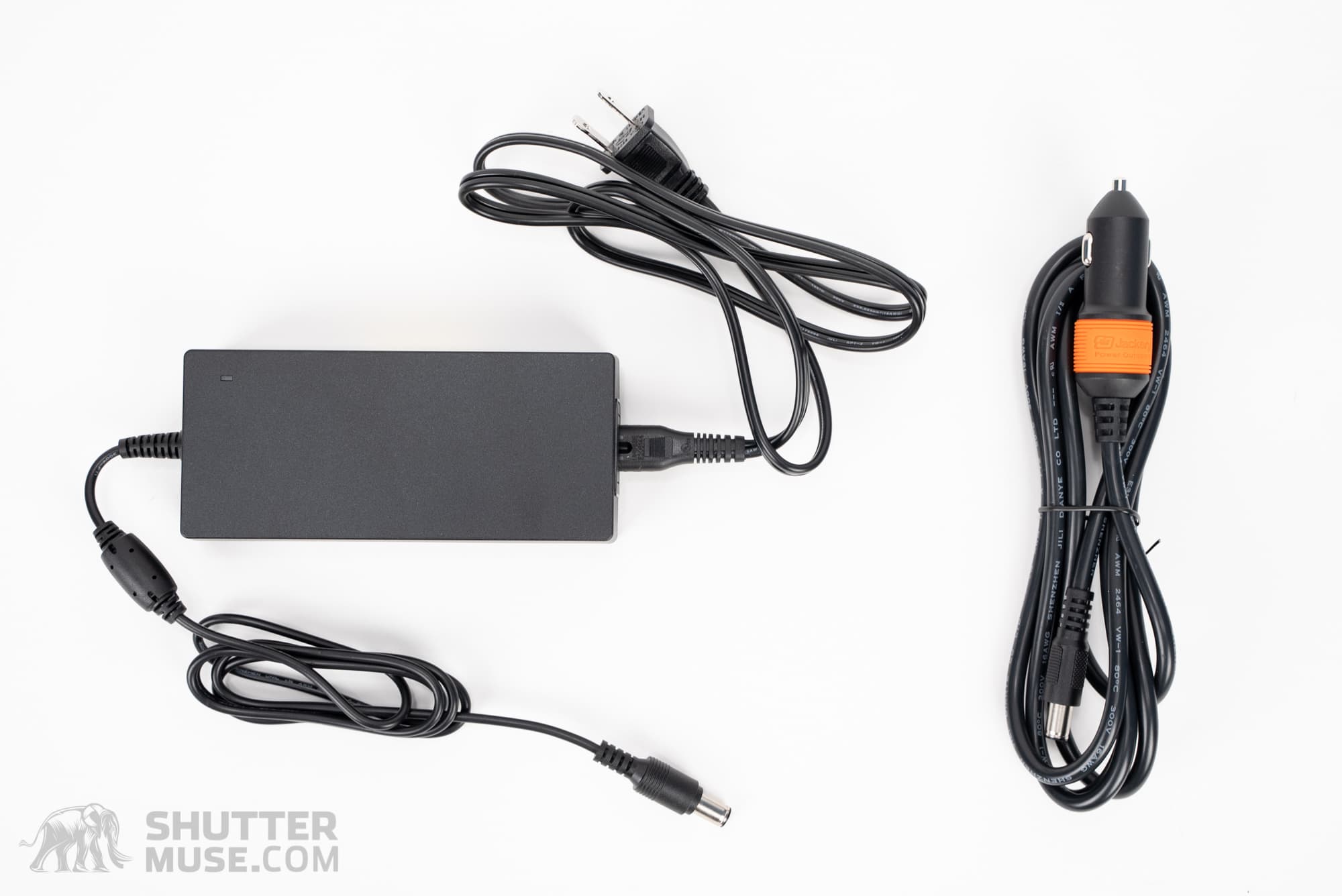 The Jackery Explorer 300 comes with a small neoprene case that contains two chargers. The first is a standard AC wall charger, and the second is a 12V charger that allows you to charge the device from the 12v port in your car. I have always loved that Jackery includes a 12v charger in the box. Other brands, such as Goal Zero, force you to purchase this separately. Also of note is that charge times over 12v or AC are both 5 hours. If you have not charged your battery before heading off on a road trip, no problem, just plug it in while you drive.
New for the Explorer 300 is the ability to charge the battery using USB-C. The Power Delivery compatible USB-C port will take 5.5 hours to charge at its maximum input of 60W. You will need to provide a USB-C cable and USB-C PD charger to use this charging method. For most people, this is not a problem. You almost certainly have one lying around for your phone or laptop.
You can charge the Jackery Explorer 300 using any USB-C PD charge, with any wattage, but the lower the power, the slower the charge. At its maximum of 60W, it will charge in 5.5 hours, but if you use a phone charger that only offers around 18W, your charge time will be well over 15 hours. You can use a charger that provides more than 60W, for example, a 100W MacBook Pro charger, but the Jackery will only draw up to 60W.
I love the inclusion of USB-C charging in this smaller Explorer model. Aside from quickly testing the included AC and 12v charging options, I put them back in the bag and only ever charged the Explorer 300 via USB-C. I already have a USB-C plug in my car, and I have them all over my house. Whenever I needed to boost it, there was always a cable nearby.
Power Station Vs Solar Generator?
Jackery sells the battery pack on its own and calls it the Explorer 300 Power Station. It can also be purchased as a kit with a SolarSaga 100W foldable solar panel. The kit is called the Explorer 300 Solar Generator. The battery on its own retails for $299.99. The kit, battery+solar panel, sells for $599.98. Since the 100W SolarSaga solar panel sells for $299.99, there is no discount when buying the kit.
Over the last three years, I have used the SolarSaga 100W panels while reviewing the Explorer 500, the Explorer 1500 and Explorer 300. They have always been reliable to the point that I sold my Goal Zero panels. At $299 for the 100W version, they are priced very competitively, and you only have to look at the 4.8-star average from over 3,800 Amazon customer reviews to see that this is a great product. While I wish there were a slight discount for buying the panel with the battery, you still can't fault the value when the quality of the product is this high.
When deciding whether you should buy the battery or the kit with the battery and the solar panel, you have several questions. Firstly, if you plan on taking this thing camping, do you have room for the solar panel in your car? If the SolarSaga 100W has one fault, it's the folded size. At 22.83 x 19.69 inches, it is not tiny, and I do find it awkward to pack in a small car by the time you have all your other gears, plus the kids, dogs or both. I wish there were a version of the 100W panel that folded twice to make a smaller package.
If you think you have the space for it, the second question is whether you will need more power than is offered by the Explorer 300. And if you do, are you better off getting the Explorer 300 with a solar panel or getting one of the larger capacity Explorers such as the Explorer 500, 1000 or 1500. This is primarily answered by what you plan to power on your camping trip and how many days you want to be off-the-grid.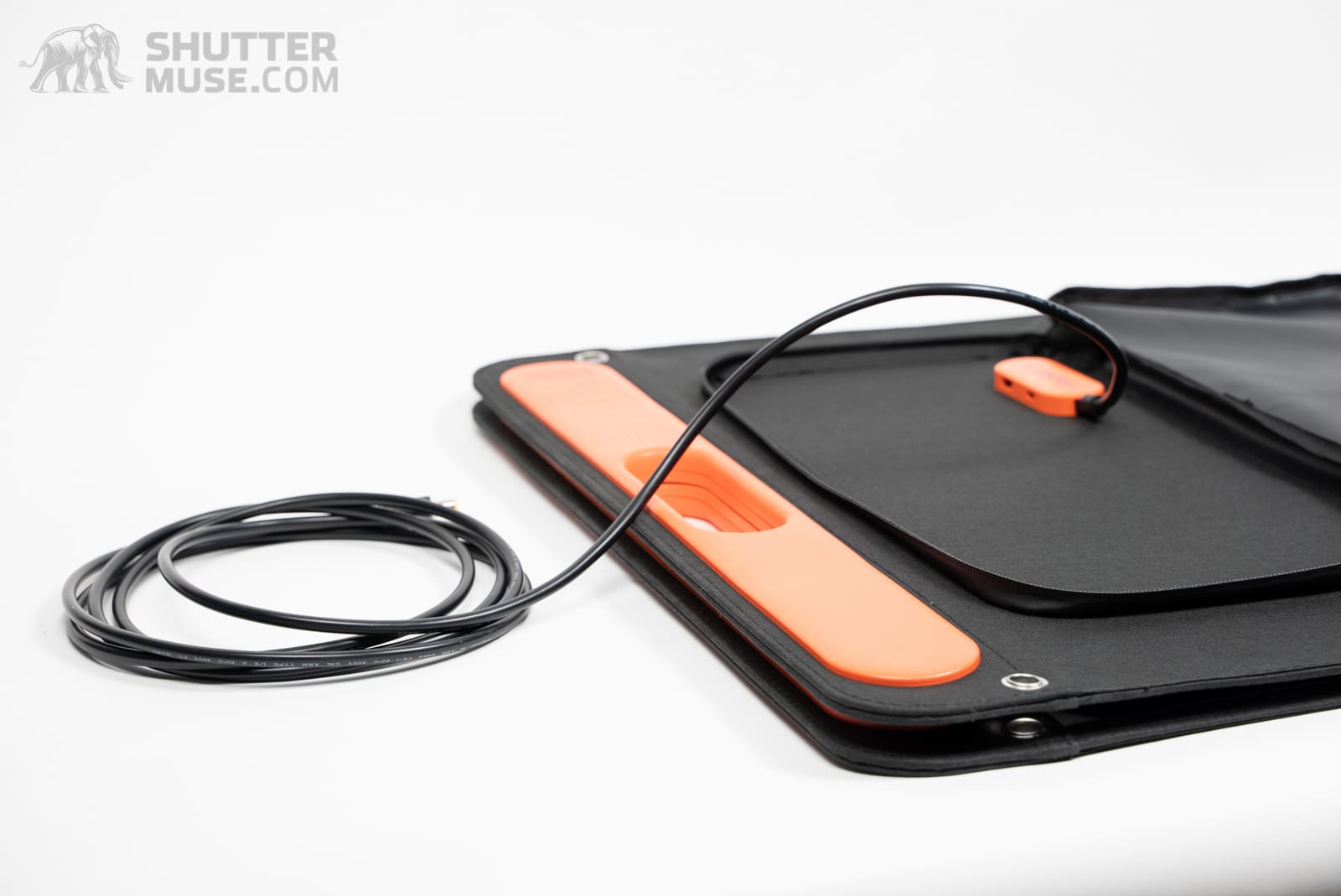 Is The Explorer 300 The Right Capacity For Your Needs?
The Explorer 300 is an ideal size for a family that wants to go camping for a weekend while keeping all of their phones and tablets charged, as well as running some LED lighting in a tent, giving a laptop a charge or two and running a CPAP machine for a couple of nights. The size of the Explorer 300 makes it easy to pack, and easy to place in a tent next to a sleeping pad.
"Can I power a fridge with it?" It is always a popular question. In my experience, when people want to go beyond charging phones and other mobile devices on a weekend of camping, the next thing they think about is running a 12v fridge. To test this, I ran my 45L Dometic fridge with the Explorer 300 and was able to get a run time of 30 hours in moderately cool temperatures. When the compressor has to work harder on a hot sunny day, I expect it to drop to 20 hours or less.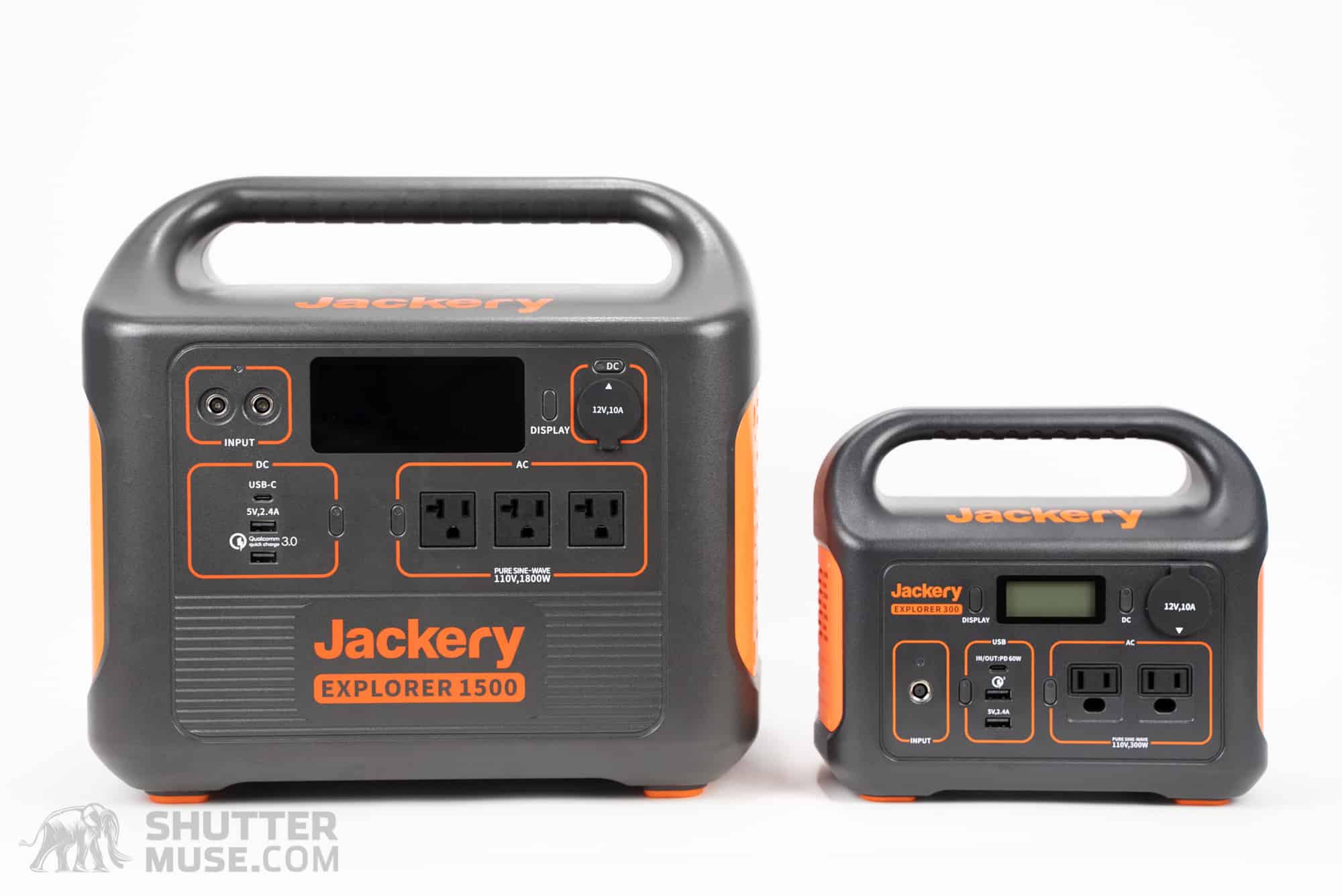 While you can run a fridge off the Jackery Explorer 300, it is not a high enough capacity to confidently say that you will get a full day out of it. You certainly will not get an entire weekend. Of course, you could add charge with a 100W solar panel, but you'd have to be very confident in the sun appearing strongly over the weekend or risk spoiling your food.
Having tested several of the Explorer capacities in the past few years, I think those that want to power a 12V fridge for an entire weekend of camping should opt for the Explorer 500 at a bare minimum – if you are sure you can add power with a solar panel. If you cannot count on the weather, or want to enjoy 3-day weekends and the ability to power other devices alongside a fridge, you should be looking at the Explorer 1000 or Explorer 1500.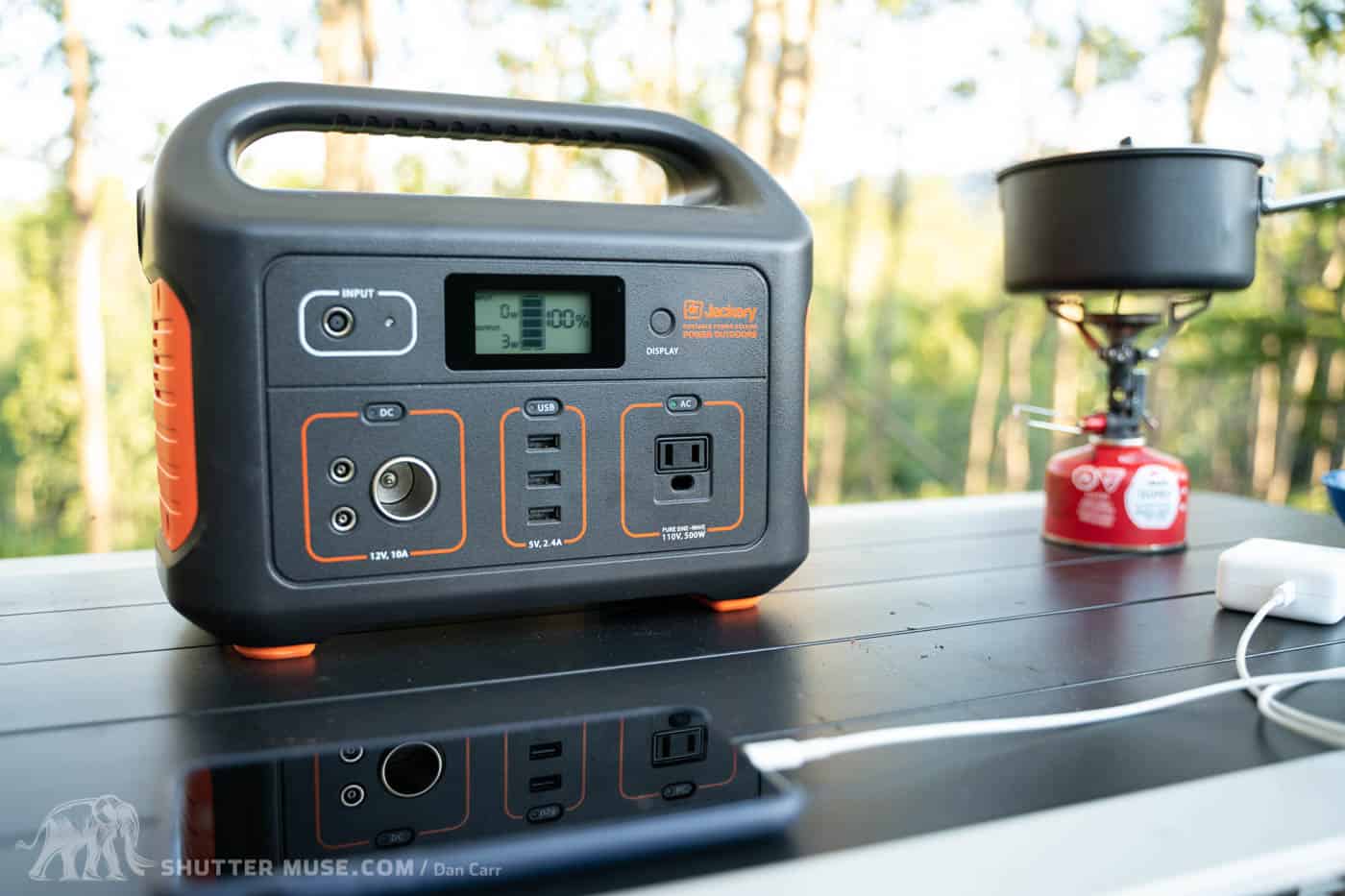 What About Home Use?
Although camping is likely the most popular use for the Jackery Explorer batteries, many people also look to them as a backup power source in a prolonged home power outage. The little Explorer 300 is not going to power your household in a blackout. For that, you need to look towards the largest capacity batteries in the lineup. However, it will keep your mobile device charged, power your WiFi router and keep your computer going for a few hours. Alternatively, it is an excellent battery backup for a CPAP machine, comfortably able to power such medical equipment for multiple nights on a single charge.
Conclusion
The Jackery Explorer 300 packs many power and charging options into a tiny package. In my testing, I found it to be an excellent device for keeping a family of mobile devices and smaller electronics charged during a weekend of camping. For the photographers out there, this is also the perfect road trip companion for charging cameras and drones while chewing up the miles between locations. At $299, it represents excellent value for the broad range of features and excellent build quality.
In particular, I loved the new ability to recharge the Explorer 300 using a USB-C charger. Although the device comes with AC and 12V DC chargers in the box, I set these aside and opted to use the USB chargers already dotted around my house and car.
I always welcome the opportunity to pack fewer items and simplify charging procedures. This addition of USB-C charging meant I could leave the Explorer's power cables and the AC power brick at home. On the road, when I did have the chance to access AC power at a motel or a coffee shop, I used my Apple laptop charger to recharge the Jackery instead of directly charging my laptop, thus giving me portable power that could be used for anything later in the trip. Brilliant!
One thing that has always amazed me about Jackery products is their incredible review scores on Amazon. The Explorer 300 is no exception, with an impressive 4.8/5 star average review score after over 1800 reviews. Although I always test these kinds of products for at least a couple of months before publishing my thoughts, it's great to see that my positive experience with their products is backed up by overwhelmingly positive customer experiences across their entire product range. Jackery is certainly doing something right!
Where to Buy
Jackery products are available directly from their website, or via Amazon.