Solar power solutions can be useful for those that enjoy prolonged multi-day photography road trips. I have always enjoyed trips like this, and since making the move to live in the Yukon they have become even more a part of my year. I have previously reviewed the Jackery Explorer 500 battery pack and found it to offer excellent value compared to similar products from Goal Zero that I have used in the past. When I first tested that battery I was using it with 50W and 100W solar panels from Goal Zero, but Jackery offered to send me their own 100W panel, the SolarSaga, to see what I thought of it.
The Jackery SolarSaga panels are available in 60W and 100W sizes. Both of them have the same folding design and offer the same set of features. In this review, the photos are of the 100W panel that I tested, but if you're considering the smaller 60W panel I'm sure that my experience with the larger panel will parallel someone's experience with the smaller panel.
As you can see from these first mages, the panel folds in two. Once folded, it's kept together by a set of reasonably strong magnets that are embedded in the orange plastic handle of the panel. On the back of each side, there's a fold-out kickstand, and one side features an additional zippered pocket that holds the power output cable and a pair of USB ports.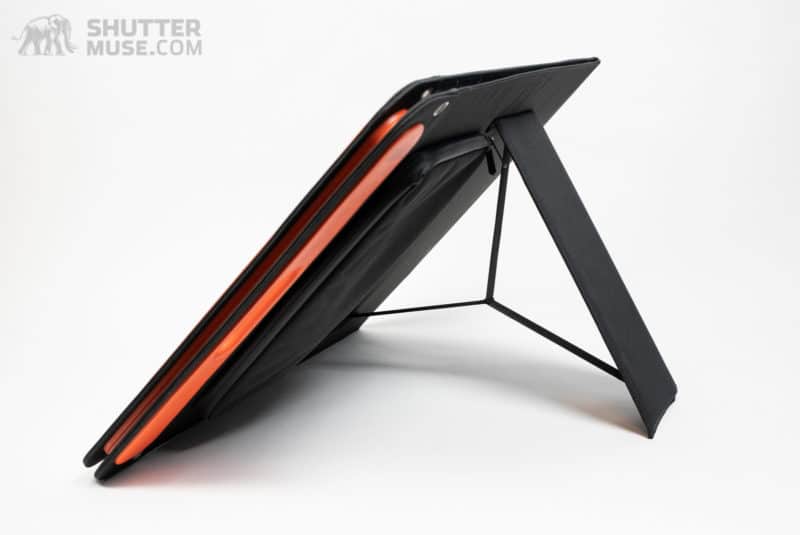 Specifications
Weight: 10.33 lbs (4.69 kg)
Folded Dimensions: 24 x 21 x 1.4 in (610 x 535 x 35 mm)
Unfolded Dimensions: 48 x 21 x 0.2 in (1220 x 535 x 5 mm)
The power output cable from the panel is roughly 6ft long. On occasion, I have found it useful to have a much longer cable, for example when the battery pack is inside the car and the solar panel needs to be placed outside the car. Or when you need to position the panel in direct sunlight, when trees are casting shadows around the camp spot where the battery is being used. Jackery does not make extension cable, but the power cable plug is an 8mm standard that is used by other manufacturers. Goal Zero does make a 30ft extension cable, which I own, and have been thankful for on several occasions. I don't blame Jackery for having this length of cable on the panel itself, but I do think it would be nice if they offered their own extension cable because it would likely be cheaper than the Goal Zero one!
If you don't have a larger battery pack similar to the Explorer series of packs, you can use the SolarSaga to charge a smaller USB battery pack, or even directly charge small devices such as your phone or camera. For this, the rear zippered pocket houses a small hub which features both a USB-C and a USB-A port. The USB-C port will deliver 5V at 3A, while the USB-A port will deliver 5V at 2.4A. When the panel is receiving enough sunlight to output power from these ports, a small LED will light up between the ports to let you know.
Although the SolarSaga panel feels exceptionally well built, it is worth noting that it is not waterproof. If you're used to using waterproof solar panels that can also be bolted to the roof of a van or RV, you'll have to readjust your expectations with this Jackery panel.
Of course, you'd always hope that you'll be unfolding a solar panel in bright sunshine, but you'll have to be careful if you plan on unfolding it and leaving out for the day while you go off to do something else. I expect that it could handle a light shower, but given that Jackery specifically mentions on the product page that it is not waterproof, you'd need to make sure there is no heavy rain in the forecast.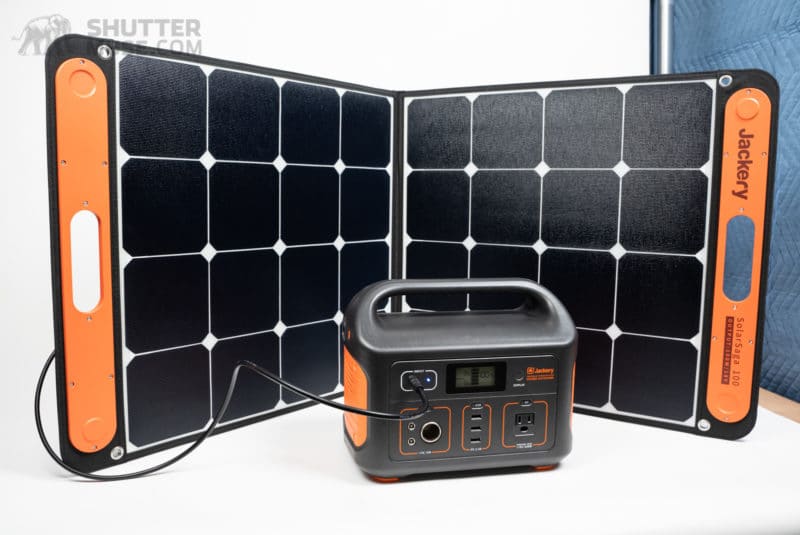 Conclusion
The SolarSaga 100W is a great folding solar panel that takes up remarkably little room when packed into your vehicle. The rounded corners and soft covering also contribute to the ease in which it can be shoved into small places amongst the usual pile of duffle bags and backpacks. Compared to my previous heavy, all-metal 50W Goal Zero panel, it's far more user friendly.
The only real downside to the SolarSaga is the note from Jackery that the panel isn't waterproof. I don't expect a fully submergible solar panel, but other panels are generally water-resistant on the solar cell side, even if the power connectors on the rear are not.
If you're looking for a vehicle-portable high capacity solar panel to charge a USB battery or a larger battery bank, the $299 SolarSaga is an excellent option at a reasonable price point.
Where to Buy
The SolarSaga 100W is available directly from Jackery here. Retail price is $299, but occasionally they offer a discount.= so it's worth checking to see the current price.
Although I would always recommend buying directly from the manufacturer when you can, just in case there are any issues, it is also possible to buy the panel from Amazon at this link.