When I first saw the press release about the Extreme Portable SSD from Sandisk, I remember thinking that a corner had been turned in the portable drive industry. Not because of the impressively small size, but because of the impressively low price for a solid state drive.
Solid state drives are typically at least 4 times faster than a mechanical spinning disk drive, but until recently their prices have placed them outside the means of many creative professionals. The Sandisk Extreme SSD is the first of a new wave of drives that are far more affordable. In terms of $/Gb they are still more expensive than mechanical drives, but the gap has closed and the clear speed and durability benefits of solid state drives make this a gap that's now small enough to be worth considering.
The Extreme Portable SSD is available in 250GB, 500GB, 1TB and 2TB sizes. Prices start at just $99 for the smallest and go up to $309 for the 2TB. For me, the sweet spot is the 1TB version that has a retail price of $179. I have also noticed that these drives, seemingly more than others, are often on sale and can be had for less than retail price quite often from B&H and other places.
Let's talk about that size
Before we get into the performance testing of these drives, it's definitely worth talking about the size and construction. Look how small this thing is! Whenever I travel for my photography, I take a minium of two external drives with me to back up my photos. A pair of drives starts out empty, and I duplicate all my new images onto both drives every night. I will often carry a third drive with me that has images from other concurrent projects. In the past these drives have all been LaCie Rugged drives.
They are incredibly rugged, the name doesn't lie, but they are bulky and heavy compared to these Extreme SSDs. If I were to swap three LaCie Rugged hard drives for three Sandisk Extreme SSDs, the weight and bulk saving would be significant. All three of the SSDs don't even weigh, or take up as much room as one single Rugged hard drive. In a world with ever shrinking carry-on baggage allowance, this does make a difference to me. Their size and shape also makes them much easier to simply tuck into corners and empty spaces among your gear. I no longer have to configure my bag to have a specific empty area for hard drive storage. This is great!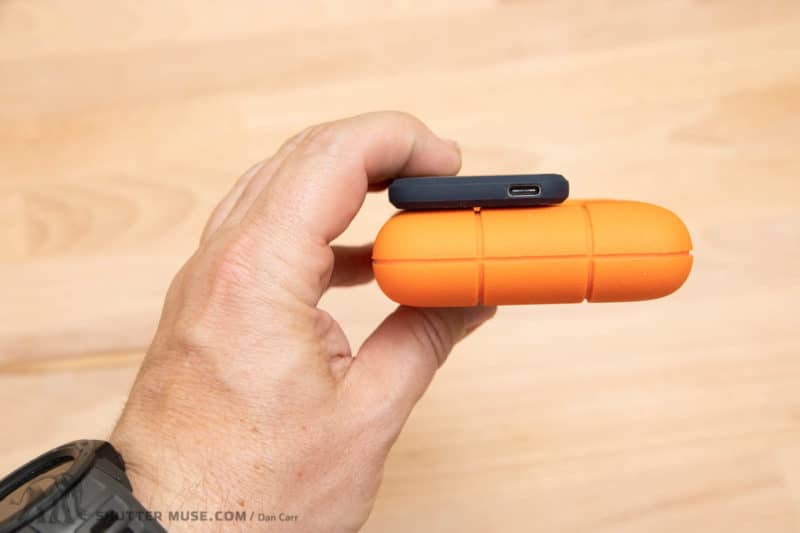 Sandisk Extreme SSD Speed Testing
Sandisk claim read speeds of up to 550MB/s but this is in absolutely ideal scenarios with their lab equipment. In practice you never actually get manufacturer claimed speeds in real life. I was still able to reach read speeds in excess of 500MB/s, though, and I would count this as an excellent result. Much closer to the claimed speed than I was anticipating. Of course write speeds were a little less, but still impressively high.
The important thing for many photographers is to put these speeds in the context of common memory card speeds so that you can imagine the improved speed in your workflow.
A fast UHS-II SD card in a UHS-II SD card reader will be able to produce read speeds that get close to 275MB/s. If you were ingesting your memory cards onto hard drives, which typically max at at around 100-120MB/s write speed, you have a bottleneck caused by the drive. The hard drive can't write the photos as fast at the card reader can read them off the SD card.
Now consider using this Extreme SSD. The bottleneck is gone and you can easily read photos off the card at full speed and write them to the drive. In fact it would leave you with some overhead, which would allow your editing application like Lightroom to be able to generate file previews much faster while the photo ingest from the card is still taking place. There are huge gains to be had. As a conservative estimate you'll be able to download your SD cards twice as fast. With high capacity cards reaching 256GB these days, the time savings from using an SSD will be measured in tens of minutes. Not to mention the time savings during the editing process when file access will also be considerably faster.
Compared to the Extreme Pro SSD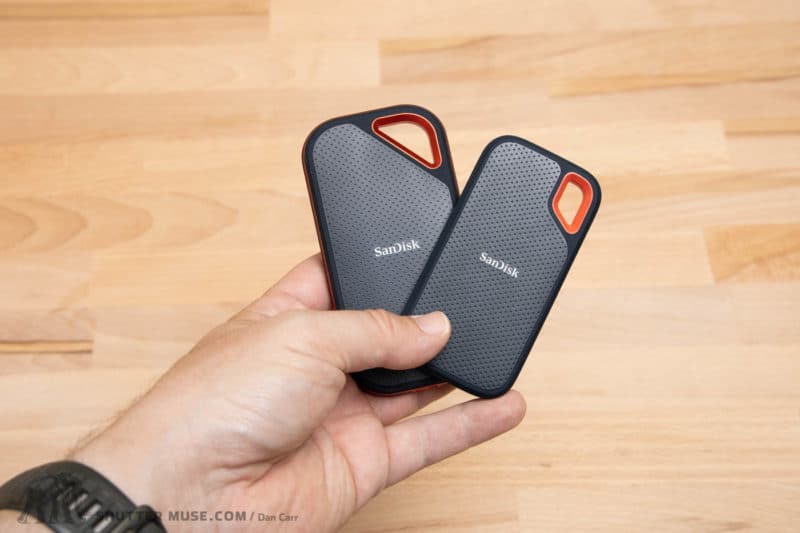 This is an additional section that I added to the review after the launch of the Sandisk Extreme Pro SSD lineup. The Extreme Pro SSDs feature even faster NVMe SSD technology that is theoretically about twice as fast as the drives in these original Sandisk Extreme Portable SSDs. Rather than replacing the existing Extreme SSDs, these new Extreme Pro drives will be sold alongside the original ones as a faster, but slightly more expensive option. Options are good, I'm glad Sandisk is keeping both of them around.
For more details about these newer Pro drives, I would encourage you to check out my Sandisk Extreme Pro SSD review where you'll find all my speed test results.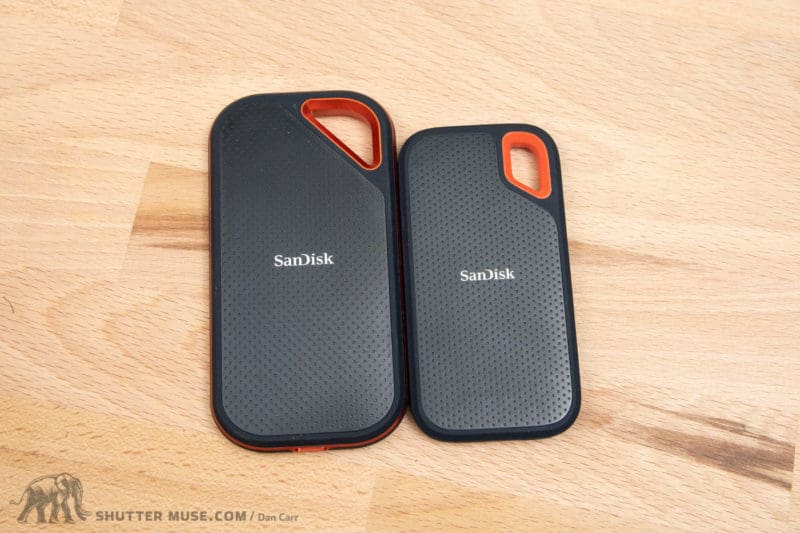 Conclusion
The Sandisk Extreme Portable SSD is the best value solid state drive that I have yet to test. While there are others at a similar price point, it's the sleek, slim form factor that gives the Sandisk drives the edge. They are just so easy to slip into a pocket, or find a place for them in your camera bag. In many cases I'm storing this thing in slots in laptop or camera bags that were designed to hold business cards! How cool is that?! If you have to carry a few drives, as photographers often do, that space and weight saving really adds up.
Solid state drives have always offered a significant speed benefit over mechanical drives. Now we are finally getting to a place where the workflow improvements offered by these faster drives, come at a totally justifiable price point for a wider range of people. With limited maximum capacities compared to hard drives we aren't going to SSDs completely take over for archive storage, but for portable storage it's absolutely worth the investment. You also get the increased durability of a drive with no moving mechanical parts. For a traveling photographer that's trusting their hard-fought images to these things, that's yet another added bonus.