When buying a good ball head for your tripod you will often be confronted by the choice: Lever-release clamp or screw-knob clamp? In this article, I want to discuss the pros and cons of each clamp type, and make some recommendations as to when each of them would be the best solution.
Before we get started, let's make sure we're all on the same page. When talking about lever-release or screw-knobs clamps in photography, we're always talking about clamps that use the Arca-Swiss standard. As the name implies, this quick-release clamp standard was invented by Arca-Swiss, but when the patent expired it was quickly adopted throughout the industry as the de-facto standard.
Arca-Swiss clamps work with matched Arca-Swiss dovetail plates and they allow you to securely clamp a camera to a ball head without having to simply screw the camera onto a threaded stud. If you're using one of these quick-release clamps, you'll need to have an Arca-Swiss standard dovetail plate or L bracket on your camera.
Related reading: 3 Reasons You Should Be Using an L Bracket on Your Camera
L brackets and dovetail plates are produced by a wide range of manufacturers, but some of my favourites come from Really Right Stuff, Colorado Tripod Company, Peak Design and Kirk Photo.
Lever-Release Clamps
Lever-release clamps have spring-loaded jaws that are actuated by a lever. The lever has three positions: closed, half-open and open. When closed, the jaws are clamped tight onto the dovetail plate and prevent all movement. In the half-open position, the jaws are loosened to allow the plate to slide left and right, but you cannot remove the plate entirely. This is a safe way to make a slight tweak to your camera's position but without the fear of dropping the camera. Small studs on the dovetail plate or bracket prevent the camera from sliding out of the clamp on either side. In the fully open position, the camera or lens can be lifted directly off the clamp.
The benefit of a lever-release clamp is the speed at which you can attach and detach a camera from the clamp. It is significantly faster than a screw-knob clamp and therefor suits photographers who often find themselves in a hurry. In most cases, the lever-release clamp is also more compact as it lacks the long protruding knob on the side.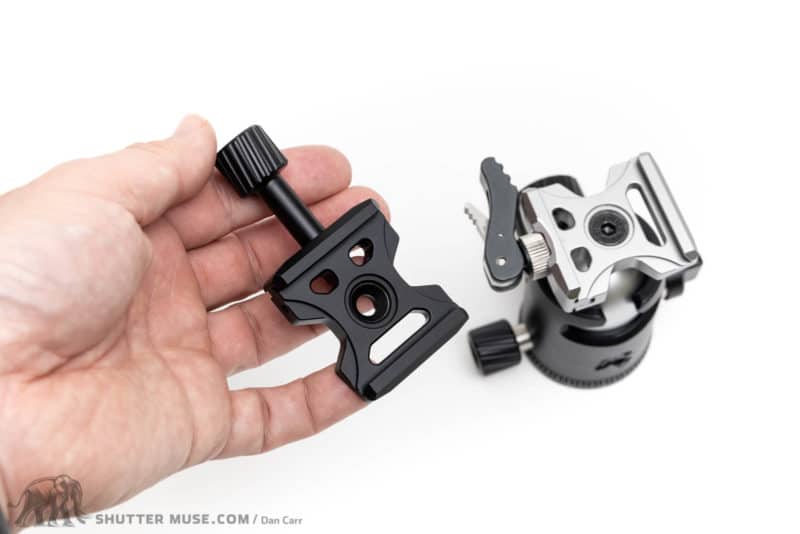 Operationally I prefer lever-release clamps for their speed, but there are some downsides. Firstly, they are more complex to manufacture and therefore more expensive. Secondly, they are often seen as less safe than a screw-knob clamp. If you accidentally catch the lever on something, you could release your camera and send it crashing to the floor. This has never happened to me, but it's certainly a fear that seems to be shared by some people.
The third disadvantage is that there can be compatibility issues with some dovetail plates and brackets. Although there is a "standard" to the Arca-Swiss system, different companies have different levels of tolerances in their machining. The Arca-Swiss standard is very precise and leaves little room for poor production. If you buy a plate and lever-release clamp from the same company, you should be ok. But if you buy a plate and clamp from different places, you might find that the clamp either feels very stiff or very loose when closing.
Locking Lever Release
Some manufacturers are now making locking lever-release clamps. You can see one from Colorado Tripod Company above, and one from Acratech further down the page. These clamps require you to depress a switch on the lever to release the clamp jaws. This dual-action design goes some way to solving the potential dangers of using a lever-release clamp and accidentally opening it. That said, it might still be possible if you managed to get something wrapped tightly around the lever such as a camera strap. In a rare case, this might depress the switch and release the lever.
Screw-Knob Clamps
Screw-knob clamps rely on you turning a knob to slowly screw the clamp jaws together. This is slower than the lever-release but it does mean that the jaws can clamp tightly onto dovetail plates with a much wider range of tolerances. Essentially the jaw width is infinitely adjustable within the constraints of the maximum and minimum positions.
If you are on a tight budget, this will probably suit you best. You can buy the cheaper screw-knob clamp and then find some cheap plates from another company if you need to.
The other benefit is that when tightened, there really is no chance of accidentally releasing the clamp. It is for this reason that I always use a screw-knob clap on my monopod. I often carry the monopod over my shoulder where I can't always be certain that it won't snag on anything. A screw-knob clamp is safer in those sorts of situations.
This really underlines my own personal preference and the way I choose which clamp to use. If I'm putting a camera onto a tripod or monopod temporarily, just to get the shot, I always use a lever-release clamp because I like the speed of setup. If I'm putting a camera onto a tripod or monopod and I intend to leave the camera on it while I move around, I go for the safe option and use a screw-knob clamp. This includes using my monopod, where I have the camera in the screw-knob clamp of the best monopod head, the Wimberley MonoGimbal. It also includes when I have my camera and lens on a gimbal for wildlife photography. In these situations, I often end up moving the tripod while I follow or track an animal. A screw-knob clamp ensures the safety of my gear in those two important situations.
I hope that helps you make your own decisions for your tripod and ball head setup.