In the past I have reviewed the Nixplay Seed digital picture frame and found it to be a good, but not quite perfect product. Recently Nixplay launched a new frame called the Smart Photo Frame, and they asked me to take a look at this next generation of the frame, teasing that it fixed some of the things I wasn't so happy with on the Seed frame.
Quick review: They weren't wrong. This is a fantastic digital frame, and a big step forwards from the one I last reviewed.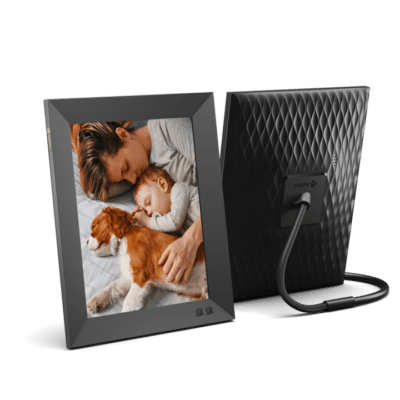 In this review, I am specifically looking at the 9.7-inch version of the Smart Photo Frame, and I would probably suggest that you do too if you are an avid photographer. Although this frame does come in three other sizes, the important thing to know is that the aspect ratio of the 9.7-inch frame is 4:3, the same as many digital cameras, the same as the iPhone camera and not far off the 3:2 aspect of all other digital cameras. On the other hand, the other three sizes of the frame (10.1″, 13.3″, 15.6″) are a much wider 16:9 aspect, the same as your TV.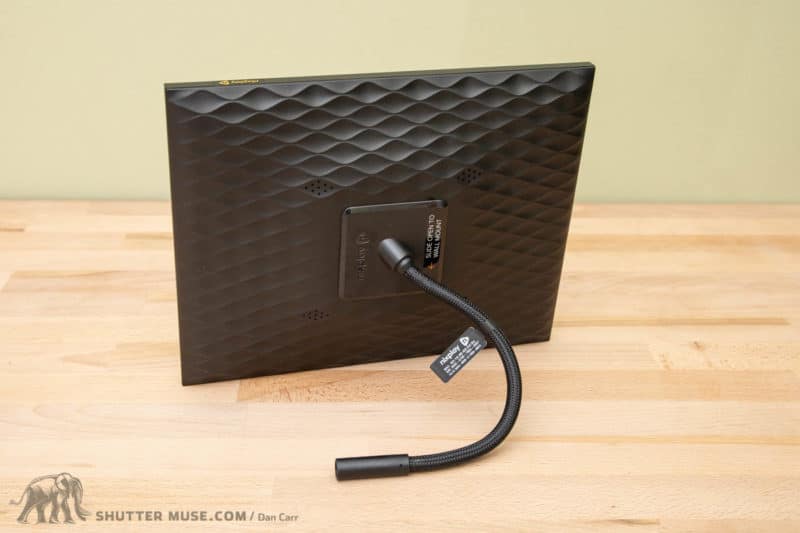 In my review of the previous Seed frame, the 16:9 was my biggest bugbear because it meant that I either had to crop my images significantly to show them on the frame, or I had to have huge black borders on either side. As someone who spends an awful lot of time getting my photos framed "just so" in the viewfinder, I found this annoying. It wasn't limited to Nixplay, either, I had the same reservations about the much more expensive Meural digital frame, too.
This issue is all but solved with the introduction of the 9.7″ Smart Photo Frame with its much more suitable-for-photographers 4:3 aspect ratio. Thank you for listening, Nixplay!
Yes, with my images from cameras that shoot 3:2 images, there is still a little bit of cropping required, but it's not nearly as dramatic and I'm perfectly happy with it. I understand that Nixplay can't offer every aspect ratio under the sun, and I totally get why they went with 4:3 instead of 3:2, which is of course, because of the popularity of smartphones like the iPhone.
The 9.7″ version also has a higher 2k (2048X1536) resolution than the larger versions of the same product, and having all those pixels packed into the small 9.7″ size makes for a beautiful, crisp image. This makes the 9.7″ version the most expensive one, at $329.99, but if you are really into your photography then it's well worth the small premium over the other lower-resolution frames that also have the less suitable aspect ratios.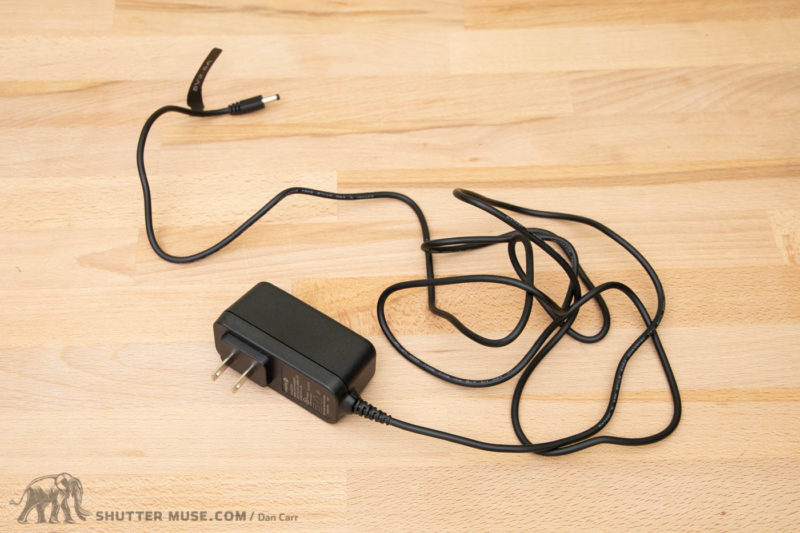 The Frame In Use
The Smart Photo Frame is a little more expensive than the Seed frame, but once you get the box you can see that Nixplay has really endeavoured to make a more premium product. Even the packaging rivals that of an Apple product, and the frame feels beefier and much more high-end than the cheaper Seed model.
Unlike the Seed frame, the Smart Photo Frame also has the ability to be mounted on the wall by removing the rear stand. The frame ships with the mounting hardware you need, as well as a hole pattern template for putting the screw in the wall. The hole pattern on the rear of the frame is also VESA standard, so you can use it with readily available VESA mount accessories.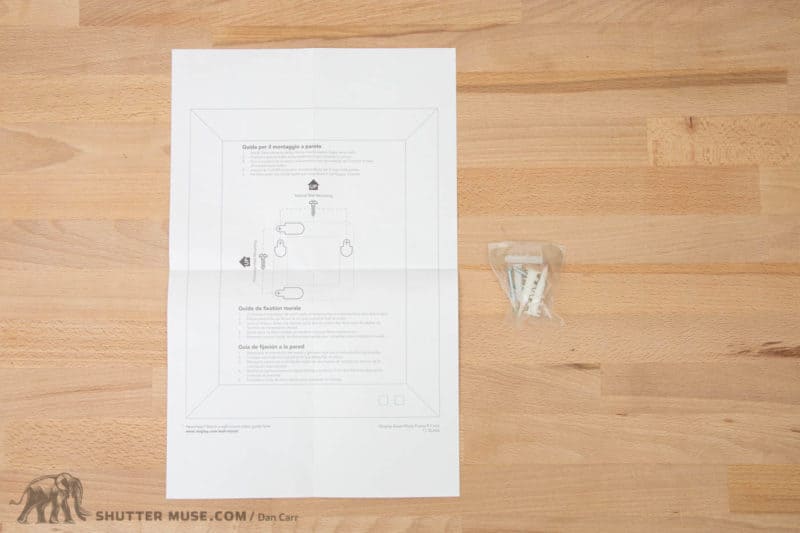 When you first turn it on you will be guided through a setup process which requires you to select your home's wireless network and input the password using the remote control. Once that is done, it will check for new firmware on the frame, and instruct you to download the Nixplay app from the Apple App Store or Google Play Store. With the app installed on your phone, connecting the phone to the frame is as simple as clicking "add a frame" and following the prompts. The whole setup process takes less than five minutes, and it was as simple as I could ever hope it to be.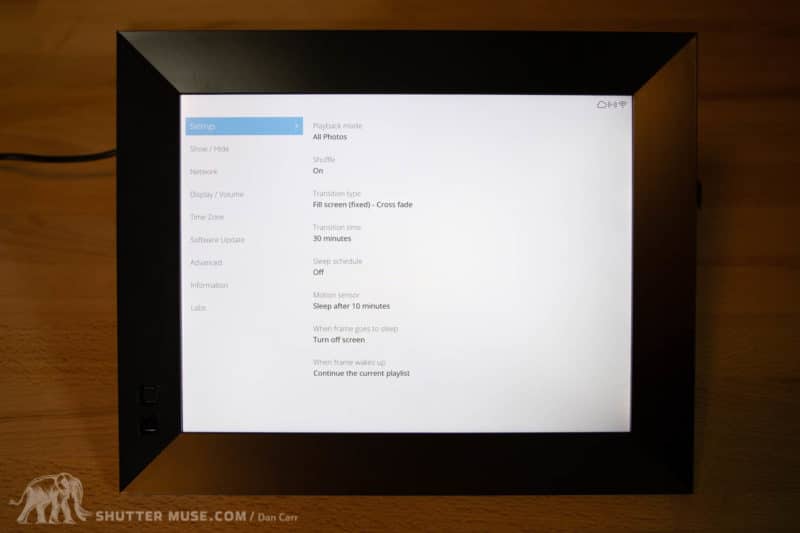 Once you are connected to your frame you need to create your first playlist. This is essentially a gallery of photos, and you can create as many playlists as you want, to organize different sets of photos. Once the playlist is created you can add photos to it from your phone, from Instagram or from other cloud services such as Dropbox. You can create as many playlists as you want in the app, and once a playlist is ready you can send it to your frame.
What's cool here is that if you have multiple frames, you can assign different playlists to different frames, and the frame doesn't even need to be in your house. They could be anywhere that has an internet connection. Once a playlist is sent to a frame, any additional photos that you add to that playlist via the app will get automatically sent to the frame.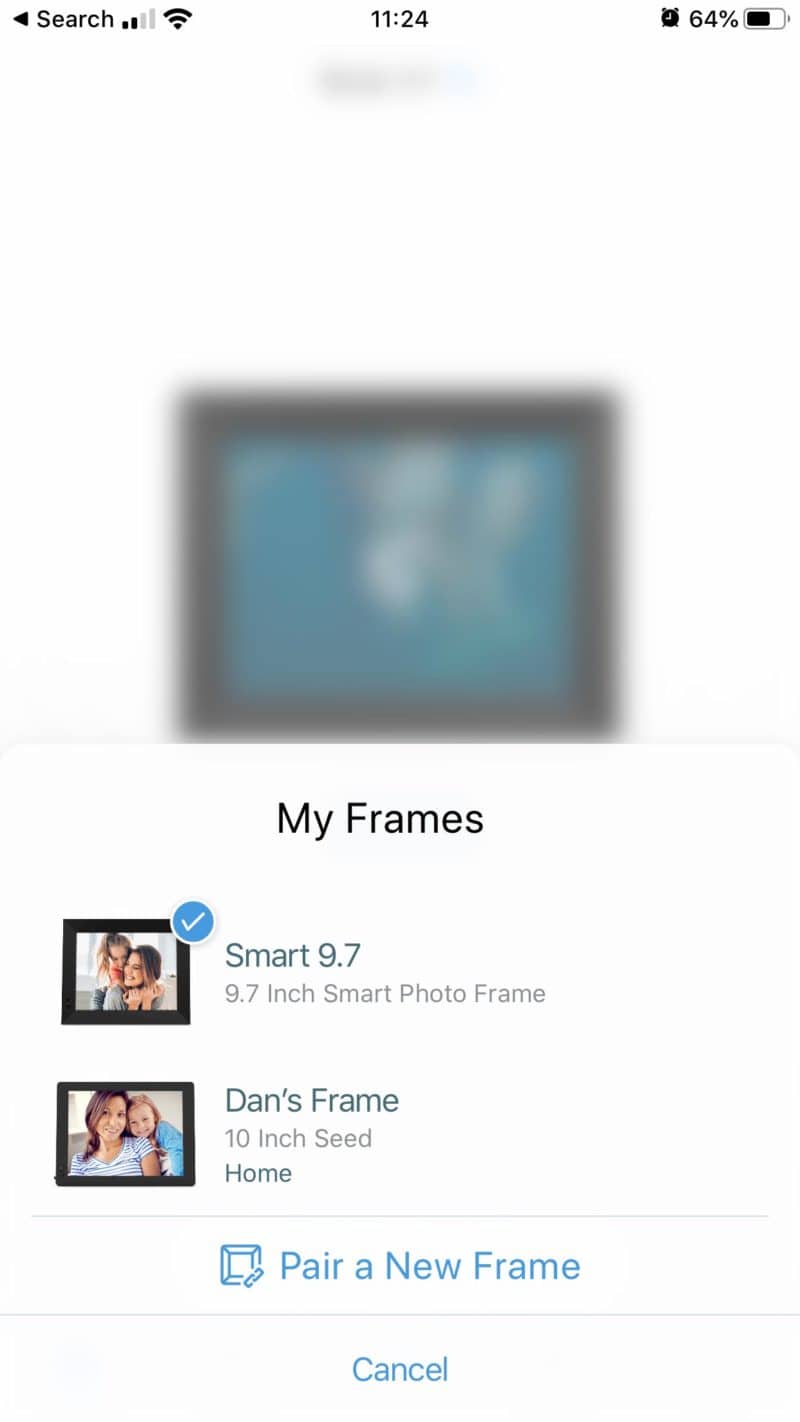 I found this whole process to be smooth and simple. Nixplay has clearly spent some time working on the user experience for this whole process, and I honestly could not come up with any way in which I would like to see it change. You can easily manage a whole host of different frames from the app, as well as huge collections of playlists containing hundreds of photos that are populated from multiple cloud platforms or apps. It just works!
Remote Control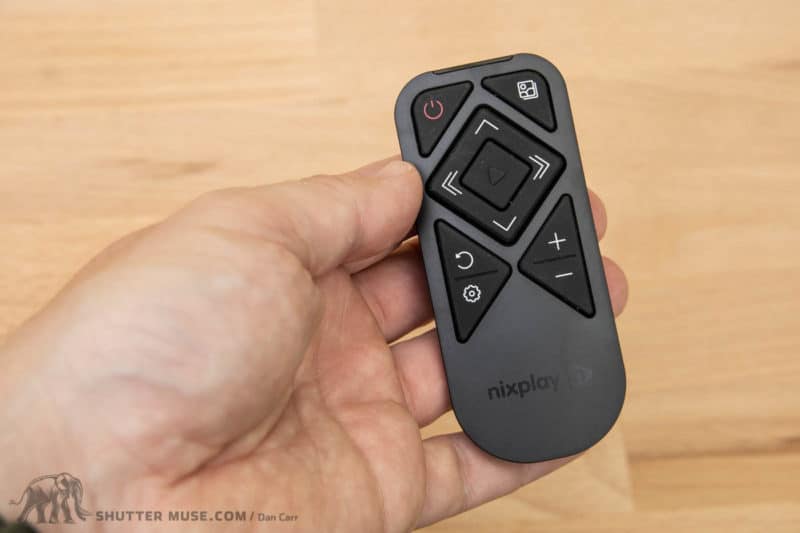 The Smart Photo Frame comes with a remote control that has enough buttons to allow complete control of the frame. Although you will initially need to use the Nixplay app to upload some photos to the frame, once you have it set up, there's no need to use the app again until you want to add more photos.
With the remote you can, at any time, use the directional buttons to advance the photos. This comes in handy if you want to show someone a selection of photos in your gallery, but you have the automatic slideshow advancement set to some longer duration. Personally, I set mine to change the image every hour, for example.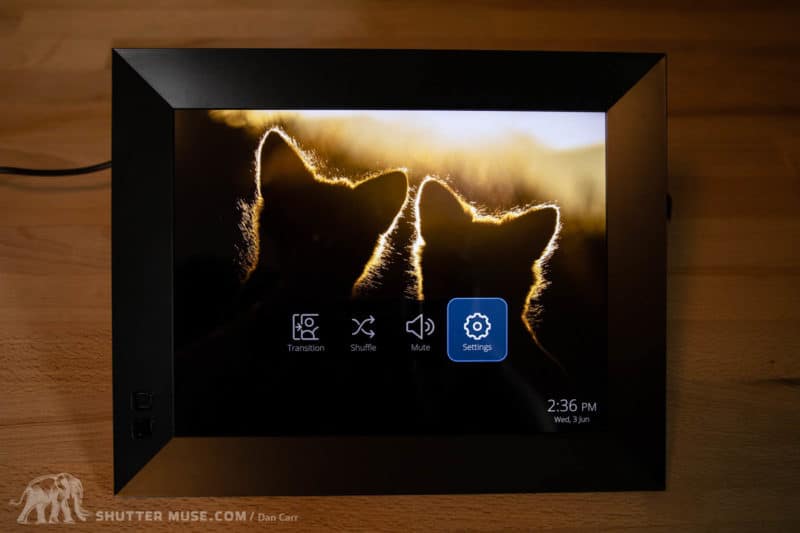 The remote control also gives you full menu access to select different playlists, change the interval duration, change the sort order of the photos, change the transition type… the list of features is long, but that's a good thing. I love that you do not necessarily need to interact with the application once you have it all loaded up with photos. It's nice for me, but it's also nice for less technologically advanced people. I don't know about you, but my parents can use a remote control to flip through photos, but asking them to always use an app would have resulted in it just gathering dust. Overall, the whole remote control experience is more responsive and more useful than the previous Nixplay frame that I reviewed.
Ideas for using the frame
One of the most enjoyable things about this frame is that I can put my latest images on it in my office, and live with them for a few weeks. Sometimes this causes me to go back and make slight tweaks to the edit that I made in Lightroom or Capture One, and sometimes I find that it inspires me to get right back out with the camera again so that I can create the next image to put in my frame. All too often, digital photos are created and never seen again. Sometimes I will take a photo and it disappears onto a hard drive for years before I sell it and have cause to dig it out of the archive again. And you know what? With a digital frame like this one, that doesn't need to be the case, and that's really cool.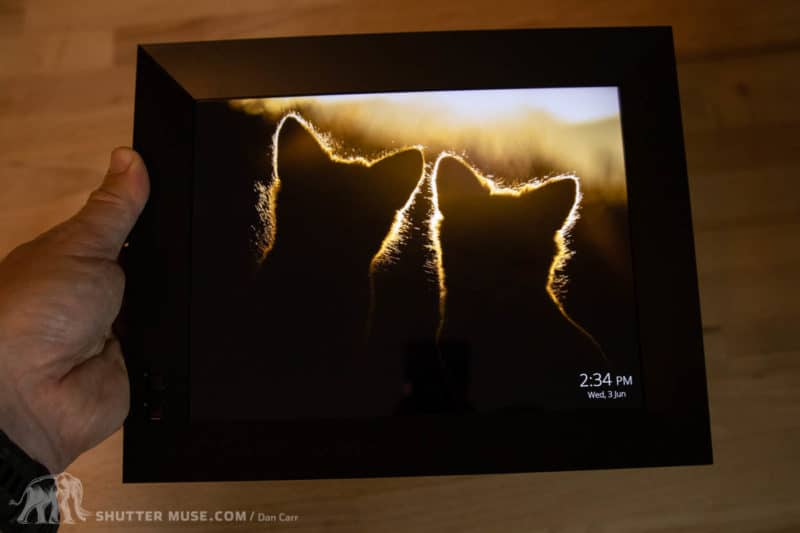 At the moment I keep a pair of playlists loaded into my frame. One of them is a playlist of my favourite photos from the last decade+ of my career, while the other is my favourite photos from the last month or so. Using the Dropbox connection feature, I can even set up an automated process to get these new photos onto the frame. In Lightroom I have an export preset called "Nixplay" and the export destination is simply set to a folder in Dropbox that is synced to my frame. Once I have edited a photo in Lightroom, all I have to do it run the export preset and it shows up on my frame as part of a playlist in a few minutes.
Something I also talked about in my last Nixplay review, is how cool these things are if you give them as a gift to someone in your family. In order to control the photos on the frame, you just need the PIN from the frame when it is first started up. If you give someone this frame as a gift, your parents, for example, you can then get the PIN from the frame and use an app on your own phone to push photos to the frame that is now in their house.
Imagine being able to instantly send photos of your family or children, right to a frame in your parent's house!? Cool, huh? I live on the other side of the world from my parents, and I know that would really appreciate waking up to new photos of me and my family on the frame in their house.
Conclusion
The Smart Photo Frame from Nixplay is a fantastic digital photo frame that has already given me a lot of joy during my test period. I intend to continue to use it in my office for viewing my latest images and inspiring me to get out on my next adventures.
The 2K resolution and 4:3 aspect ratio of the 9.7″ version of the frame make this the clear choice for discerning photographers, and the additional cost over the cheaper models is well worth it in my opinion.
Nixplay has clearly spent time refining their ideas from older products and improving the user experience to create this new model. I get the sense that they really read the reviews out there, and this has made a really positive difference. Currently, the frame has a 4.5-star rating on Amazon after over 1500 reviews. That is no mean feat, so I'm clearly not the only one that is enjoying this product!
Where to buy + Discount
At the time of posting this review, there is a 30% sale on the frame for Fathers Day. Even better!
The 9.7″ Nixplay Smart Photo Frame is available directly from the Nixplay website or from Amazon.