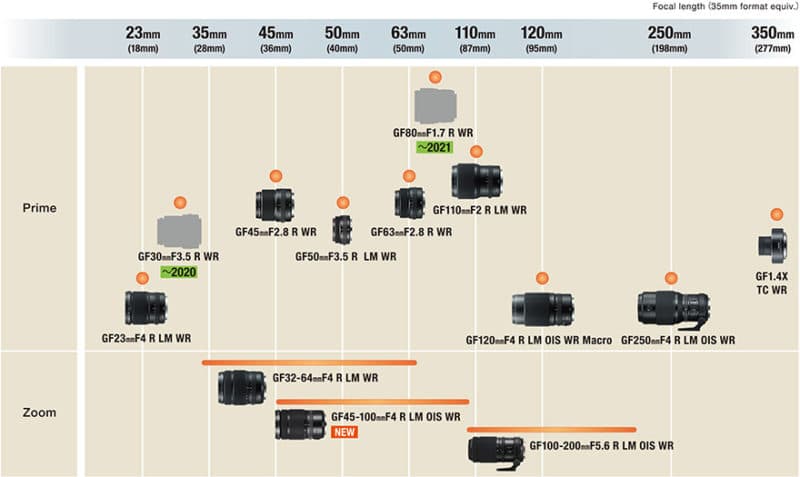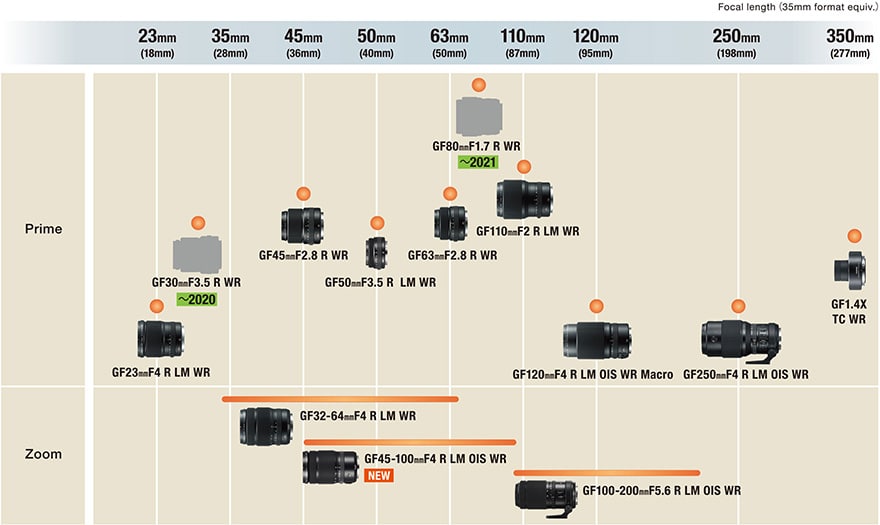 Fujifilm likes to keep people informed about upcoming lenses and about once a year they offer up a roadmap that outlines lens release for the next 12-24 months.
This most recent GF lens roadmap was unveiled in January 2020 and from it we can see two as-yet-unreleased lenses:
Portrait photographers will certainly be looking forwards to the 80mm lens with the widest aperture yet on a GF lens at f/1.7. 80mm. Such a lens on the GF format would be equivalent to a 63mm f/1.4 lens in 35mm terms and should provide some serious bokeh.
Landscape and travel photographers on the other hand will be looking forward to the 30mm f/3.5 lens, which is equivalent to a 24mm field of view on a 35mm camera. I'm actually amazed that Fuji hasn't had a 24mm-equivalent prime lens for this system up to this point, and for me it fills a glaring gap in the lineup. I personally love the 24mm field of view and at one point considered buying into the GFX system, but the lack of a 24mm-equivalent prime lens stopped me pursuing that idea for too long. I know there was the 32-64mm zoom (25-64mm equivalent) but I tried that and was somewhat underwhelmed. Perhaps I will reconsider someday when this new prime lens comes out..
You can view a complete list of Fujifilm GF lenses and their specifications here.