Camera bag manufacturer WANDRD has added a lightweight camera strap to their lineup. The Sling Strap takes clear cues from a few existing, popular strap designs, but the attachment system is new and unique. In this review, I'll take a look at the design features and let you know what I think of it, including how it compares to the Peak Design Slide strap.
Camera Strap Design
The Sling Strap is a compact and lightweight camera strap. It is available in a single (adjustable) size and a single colour. WANDRD's favourite colour: black. The recycled soft-touch nylon strap material feels nice to the touch and will feel soft on the skin where it contacts your neck or shoulder. A rubber non-slip pattern is printed on the inside to prevent your camera from slipping around.
The strap length adjustment is performed by a nylon loop attached to the adjuster by a section of rubberized Hypalon. This system works very well and is one of the best implementations of this mechanism that I have seen. It's smooth and fast. You can easily adjust the strap length between "walk mode" and "shooting mode" as necessary.
Quick Connect and Release System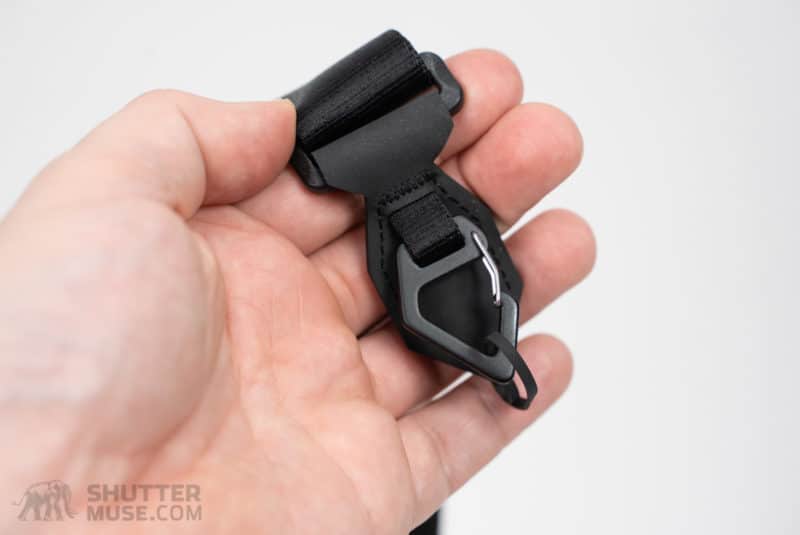 The strap's attachment system is built around a captive carabiner-style clip with a Hypalon loop that gets passed through the strap mount on the camera. WANDRD say that this Hypalon loop is rated to 100lbs so it should be more than capable of carrying any camera you can think of.
This clip and loop system does provide a secure attachment to your camera, but I found that opening the wire gate on the clip and hooking the Hypalon loop to be a little fiddly. If you don't use the existing strap attachment points on your camera, and opt to use the included 1/4″ 20 attachment hardware, it is even more fiddly. With this hardware mounted to the base of the camera, it's basically impossible to pass they Hypalon loop through it without using a screwdriver to loosen it first.
What WANDRD are trying to do here, is to create a release mechanism that doesn't leave things dangling on the camera like the Peak Design system. While this is achieved, it is at the expense of the "quick" in quick-release. If you are someone who likes to constantly remove their camera strap, you should keep this in mind. You can also forget about being able to do this while wearing even a thin pair of glove liners if that is important to you.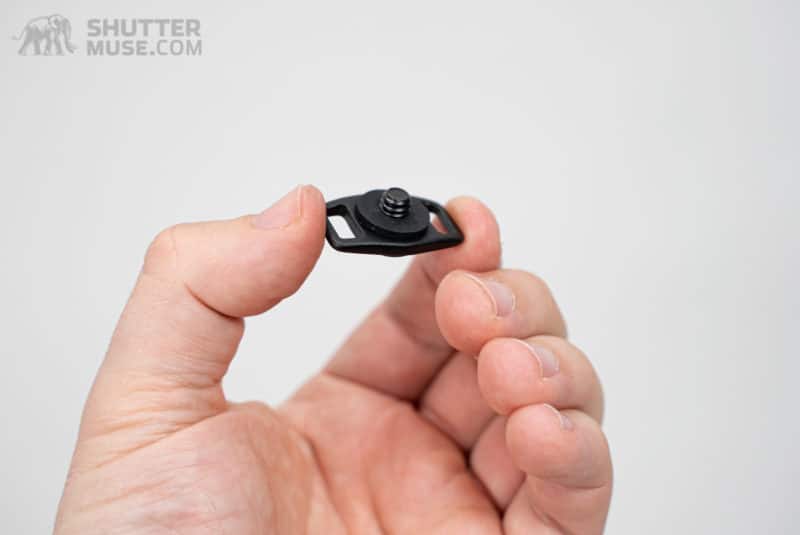 Using the optional 1/4″ 20 mount gives you a total of three different ways to carry the camera. You can hang it from the two strap mounts on the camera, or you can hang one or both ends off the bottom mount. While the use of the mount does take up the 1/4″ 20 hole on the camera, it should be noted that many tripod plates or L brackets offer strap mount holes, allowing you to achieve the same setup, while also having a plate mounted to the camera.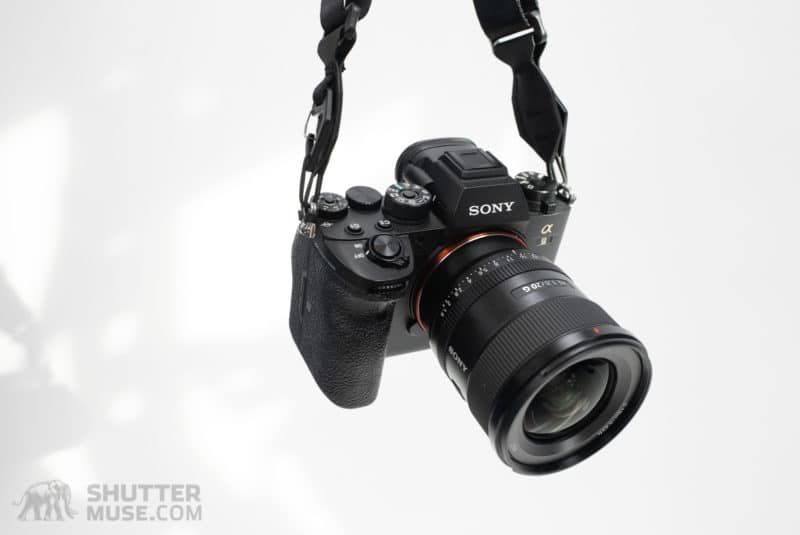 Smaller mirrorless cameras have small triangular or circular strap mounting points that work well with the Hypalon loop of the WANDRD Sling Strap. For DSLRs that have wider slot-style attachment points, a pair of Hypalon tabs are provided that can be used in conjunction with the loops. The photos below do a better job of explaining this than I have done…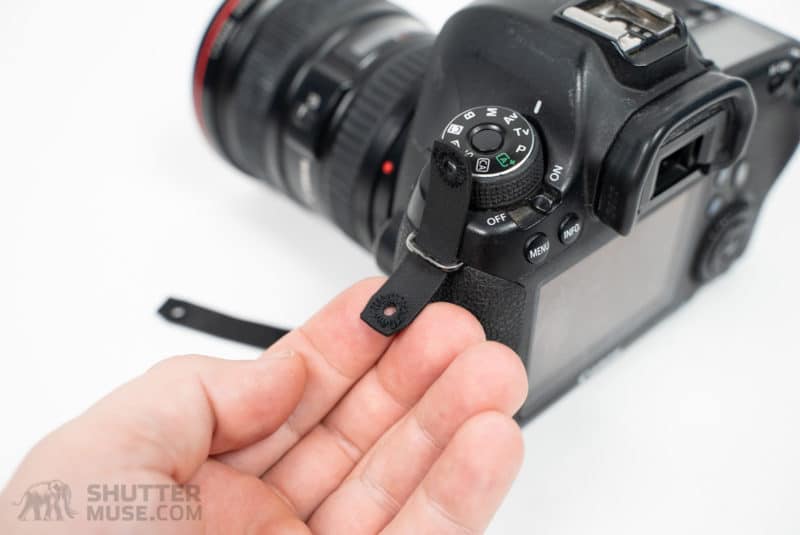 I like the way they are thinking about this solution, but it must also be noted that it adds further fiddling to the strap attachment process. In this configuration, the Hypalon loop must not be passed through two tiny holes on the tabs, on each side of the camera. This does not create what I would call a quick-release system. Yes, you can remove your camera strap from the camera, but it's not something you would want to do multiple times a day.
Compared to the Peak Design Slide Lite
There are many sling straps in my guide to the best camera straps, but the most obvious comparison should be the Peak Design Slide Lite. Both straps are of identical width and offer most of the same features for nearly identical prices. Due to that width, and the similar lack of padding, both straps offer identical carry comfort on your shoulder during a day of shooting.
The biggest difference between the Slide Lite and the Sling Strap is the method in which the straps are connected and disconnected from the camera. WANDRD take a clear dig at Peak Design on their product page by stating that their Quick-Connect hardware leaves nothing left dangling off your camera. But does that actually mean it's a better system?
If the now-famous Peak Design Anchors bother you when they are attached to your camera without a strap, then sure, you will probably prefer the WANDRD mechanism. But in terms of actual ease of use in quickly disconnecting and reconnecting the strap, it's a clear win for the Peak Design system in my eyes.
As I have already pointed out in the review, the connection method for the WANDRD Sling Strap is not that quick to use and has limitations with some types of strap attachment points. WANDRD appear to have been fixated on creating something different to Peak Design in this regard, but they missed the mark on ease of use.
So which to choose? I actually prefer the adjustment mechanism on the WANDRD strap. It's also slightly lighter. This means that the decision will probably come down to how you use a camera strap. Personally, I remove my camera strap constantly, so the easier quick-release system of the Peak Design strap is a better option for me. However, if you think that you will only occasionally want to remove your strap from your camera, the WANDRD Sling Strap would also make a fine option.
Conclusion
When it comes to camera straps, it's hard to innovate. I have seen a ton of copy-cat straps in recent years, and WANDRD has to be commended for trying to do something a little different. In some areas, at least.
The Slide Strap is smart-looking, and if you're a fan of WANDRD's signature all-black-everything style, this will be right up your alley. The length adjustment system is a variation on many existing designs, but it's also one of the smoothest versions I have used to date.
Whether or not this strap is for you, will likely come down to how often you want to remove it from your camera. A decade ago, nobody was thinking about quick-release camera straps. You put a strap on your camera when you got it out of the box, and it stayed there for the duration. That's not true anymore. There are several quick-release straps on the market these days that allow you to attach and detach your strap at will. Some people like this option, some people don't see a need for it.
If you fall into the former category, there are other straps on the market, such as the ones from Peak Design, that are much easier to use. WANDRD's case for their own design is that it doesn't leave anything dangling from your camera. Something which is apparently seen by some, as a negative of the Peak Design system.
While unique, the WANDRD clip and loop connection system is not all that quick or easy to use, though. This makes the WANDRD Sling Strap a good choice for someone that doesn't find a need to constantly remove their camera strap. If that sounds like you, and you want to upgrade from the too-flashy branded strap that came with your camera, the Sling Strap is a fine choice.