Peak Design started off making camera straps, then graduated to camera bags and finally on to camera support gear. Their first foray into the tripod world was the wildly successful Peak Design Travel Tripod, and alongside that, they launched several tripod accessories that can be used with the Travel Tripod and any additional future tripods that they might make.
In this quick review, I wanted to show you the Peak Design Spike Feet Set, and talk about when it might be a good idea to use this accessory.
The Spike Feet Set comes as a set of three for $30. A set of three might seem obvious, but some manufacturers sell their tripod feet individually if the spikes are large, and you, therefore, might not need all three spikes to secure the tripod.
That's not the case with the Peak Design feet. By tripod foot spike standards, these are small spikes and I would definitely recommend you use all three of them if you are going to buy them. Another difference from other tripod foot spikes is that these are not a tool-less installation. You will need to use the tool that comes with your Peak Design tripod, or the hex wrench that is supplied with the spikes. This tool removes the standard rubber feet from the tripod and installs the new spiked feet.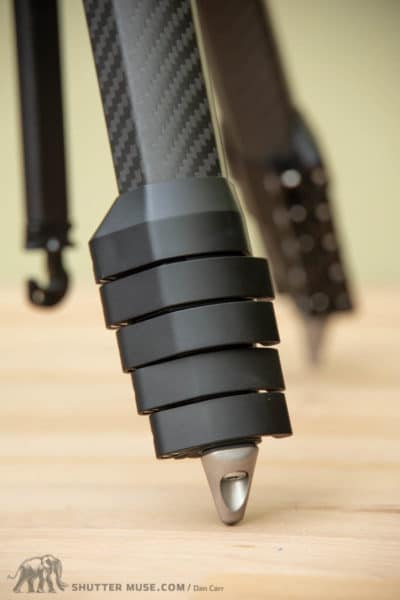 The outcome of this installation method is that you probably don't want to be doing it in the field because it's kind of a pain in the ass. With other tripod feet you would usually carry them in your bag and screw them on as needed, but with these feet, I think you have to decide as to whether this is something you want to have on your tripod all – or at least most – of the time. With the spikes being so small, there is little, if any, weight penalty to having the spikes on the tripod all the time. If you're primarily a landscape photographer then this isn't going to be a problem. However, if you transition from outdoor to indoor photography regularly, you'll want to consider this because the spikes could certainly scratch up wooden or stone flooring.
In the field, they do a good job of giving you added ground grip in soft, muddy or sandy surfaces, and they do a moderately good job of giving you added grip on smooth rock or icy surfaces.
Had the spikes been "spikier", their performance on rock and ice would have been improved, but as you can see from the photos, the tips are still fairly rounded. Something like the Really Right Stuff Rock Claw does a better job – those things can cut through your camera bag if you aren't careful – but you can't use them on Peak Design tripods due to different thread sizes on the tripod legs.
Conclusion
If you need spikes for a Peak Design tripod then you have little choice but to buy these ones. They do offer additional grip on ice, smooth rock and loose gravel/sand surfaces, however, I think it's worth considering the negatives as well because as far as tripod foot design goes, I don't think these are all that great.
First of all, you need to use a tool to switch the spikes with the regular feet, which means you are not likely to bother doing this in the field. I can't imagine exploring the rocky, icy landscapes of Iceland in the winter and then having to deal with small hex bolts and wrenches with gloves on in a howling wind. So you'll likely want to be leaving these spikes on the tripod all the time.
The second annoyance for me is that this design just invites mud and crud to get stuck in the hex bolt and its hole in the base of the spike. This cut-out in the foot for the bolt holds the mud until it dries, and at that point, it falls off into your bag, car, house, office or wherever else you take the tripod. The mud on the floor or in your bag is one thing, but perhaps what annoys me more is that they just didn't think about this when they designed them. It feels like something that was designed in a CAD program and not properly tested in the field by photographers. I did actually test a pre-production version of the Travel Tripod myself, but unfortunately, I was not supplied with the spiked feet so was unable to provide this feedback to them at that time.
Sometimes it's good to reinvent the wheel, and Peak Design proved that when they created a compact tripod with non-cylindrical legs. But in this case, I think a simple screw-on spike would have been a better solution to a problem that just didn't need to overdesigned and cool looking. Like I said though, if you want spikes for your Peak Design tripod, this is your only option. Generic tripod spikes for other tripod brands tend to use a 3/8″ thread to screw them onto the tripod legs, and that is not the same thread being used here on the legs of the Peak Design tripods.
Where to Buy + Special Offer
I always recommend buying directly from Peak Design when you can. The tripod spikes are available for $29.95.