Peak Design are well known for their camera shoulder straps and their versatile quick-release Capture Clip, as well as their Everyday series of camera bags which features backpacks, messenger bags and slings. Now they are launching what they call the Peak Design Travel Line with a fresh Kickstarter campaign.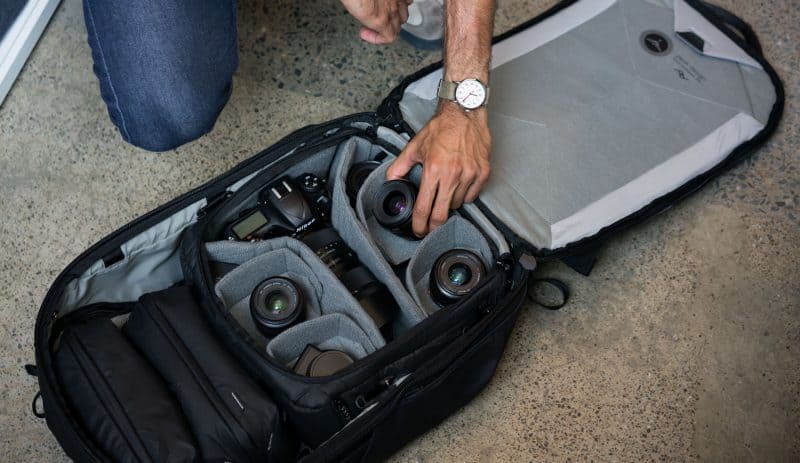 Previous Peak Design products have been made solely for photographers, but the Travel Line expands on that to cater to a broader audience of world travellers and adventurers. Fear not photographers! Whilst the Travel Line targets a slightly broader audience, them company hasn't forgotten their photography roots and the first major offering in the lineup is a versatile backpack that can be configured purely as a photo backpack, or a combination photo/travel bag. The bag is simply called the Travel Backpack, and it's available on Kickstarter now for $235 (eventual retail price will be $299). The Kickstarter will run until September 20th. (NOTE: I will have a full hands-on review very soon with a pre-production version of the bag)
45L Travel Backpack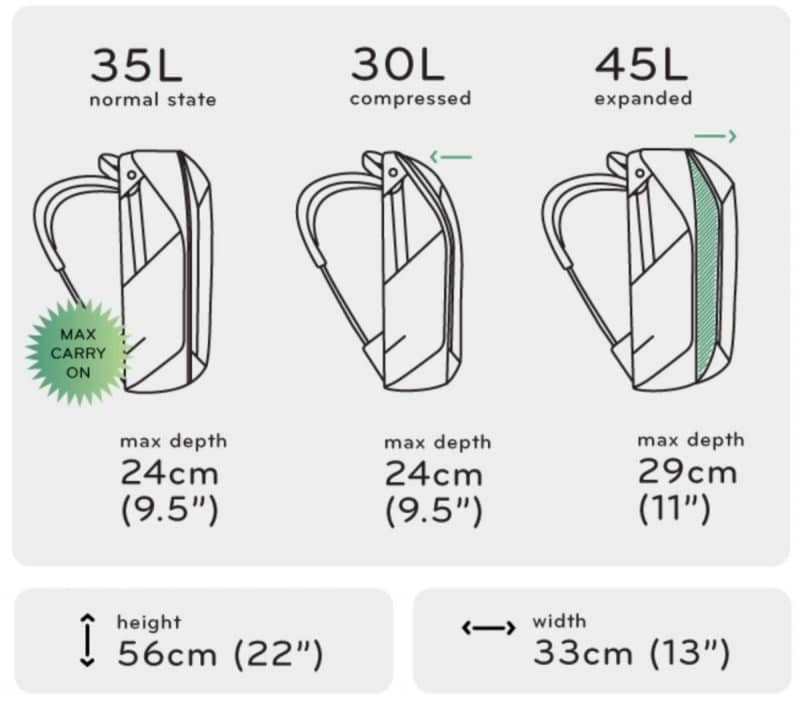 Access
Full back panel-load access for packing
Dual zippered side hatches for instant camera access
Quick tablet & laptop access
Dedicated front organization panel
Soft-lined sunglasses pocket
Hidden passport/document pockets
Bag sits upright on floor when packed or empty
Expansion & Compression
Maximum international carry on size in normal 35L state
Expansion zip gives additional 10L of storage (45L max)
Compressible down to 30L day bag size
Expandable side pockets for water bottles, tripods
Tuck-away external carry compression straps
Organization
Rigidly supported sidewalls for easy packing
Zippered dividing panel separates bag into 2 compartments, or stows away for 1 large volume
Front organization panel contains 4 zippered mesh pockets for smaller items
Mount Camera Cubes (sold separately) internally for back or side access to photo, drone, or video gear
Protected luggage tag holder
Comfort & Portability
Magnetic strap storage system
360-degree grab handles
Full-size padded hip belt with additional pockets and attachment points for Capture & Range Pouch (sold separately)
Axial strap attachments for shoulder & hip straps give constant comfort for all body types and carry loads
Proprietary sternum strap
Luggage pass-through and duffel grab handle
Back panel folds under for increased ventilation & comfort
Security and Protection
400D weatherproof 100% recycled nylon canvas shell
DWR impregnated, PU-coated interior for water resistance
Oversized #8 (front, side) and #10 (back) main zips are weatherproof and lockable
Rugged 900D weatherproof bottom liner
Ultralight padded foam provides security, structure, and aesthetic cleanliness around entire bag
Additional waterproof rain fly available for $29.95, made from 200D rip-stop nylon.
Photo Cubes
From a photographer's perspective, the key feature of the Travel Backpack is the availability of three different sizes of Photo Cube – Small, Medium and Large. Once they hit the market in time for the 2018 holiday season, these will be priced at $49.95, $69.95 and $89.95. However, if you back the ongoing Kickstarter campaign right now there are some significant discounts available when purchased with the Travel Backpack.
The Photo Cubes have zippered back panel access, as well as side panel zippers so that a camera can be pulled from the side opening of the backpack or the fully open back panel. Whether you want to travel with just a camera body and a lens or two, or whether you need to transport multiple super telephoto lenses for an African wildlife safari, the 45L Travel Backpack and Photo Cubes have got you covered.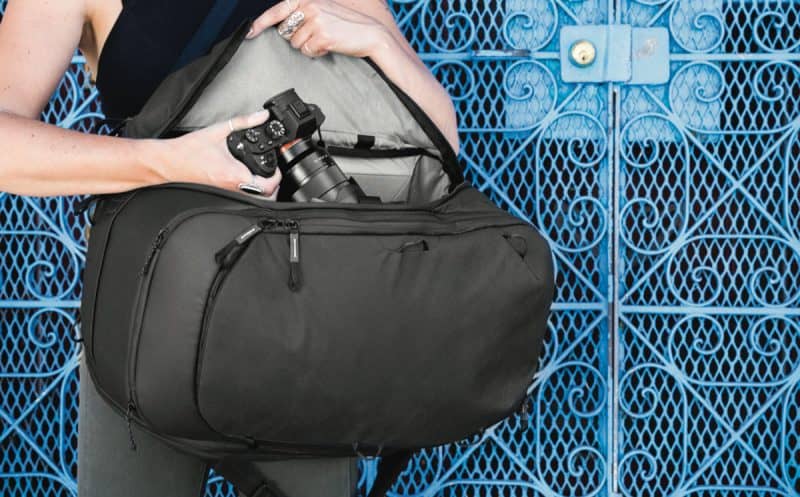 The Cubes themselves also have loops to attach a shoulder strap to them, so if you need to go smaller and lighter when you get to a destination, you could put the Cube to work a simple shoulder bag. The small or medium Photo Cubes would work well that way, and the benefit of both side and back panel opening will again provide some versatility for getting to your gear in this carry mode, too.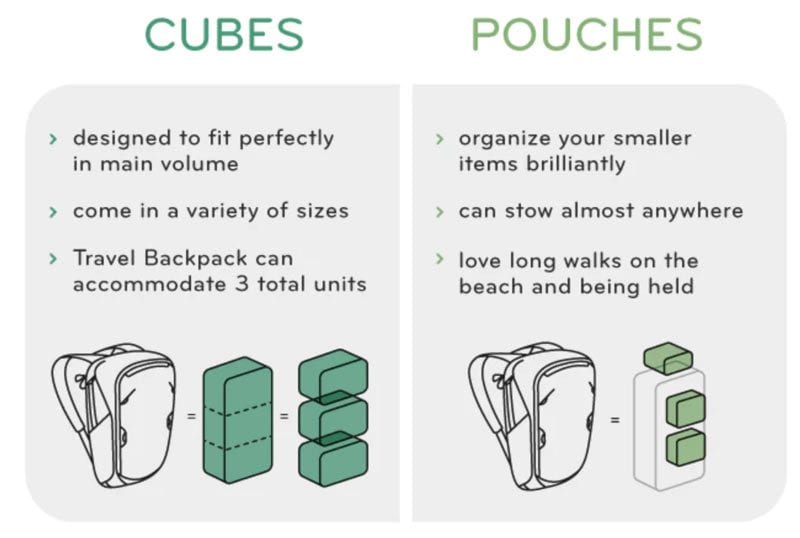 It's also worth underlining the number of Photo Cube combination that would be possible with this bag. Of course you could use a single Cube – S, M or L – but you could also travel with a small and a medium when you need to carry a large volume of gear on the plane. Then, when you get to your destination you could remove one of those cubes and thin your gear down for a day of exploring. I usually carry way more on the plane than I actually need on a day-to-day basis in the field, so this kind of setup will work well for me, and likely many of you! You could even use a pair of small Photo Cubes, and then you'd still have room for the other accessories detailed further down the page.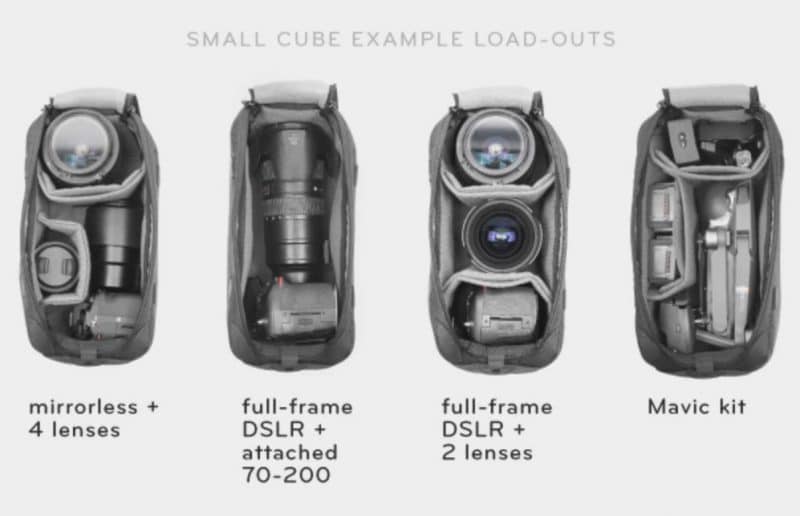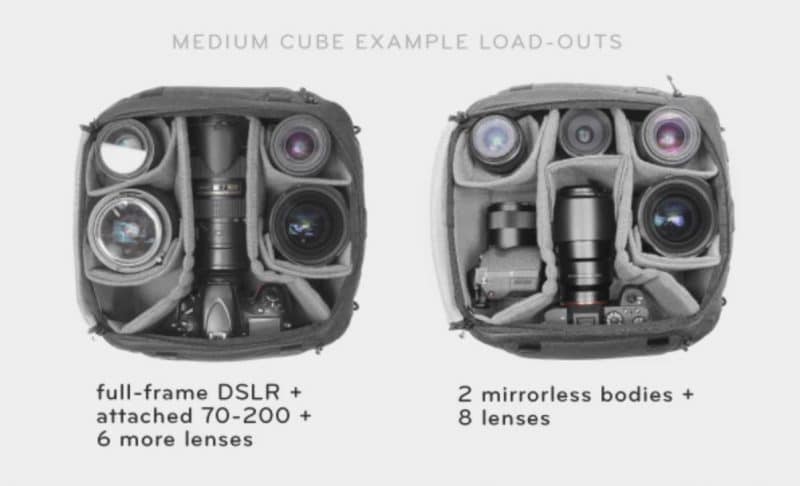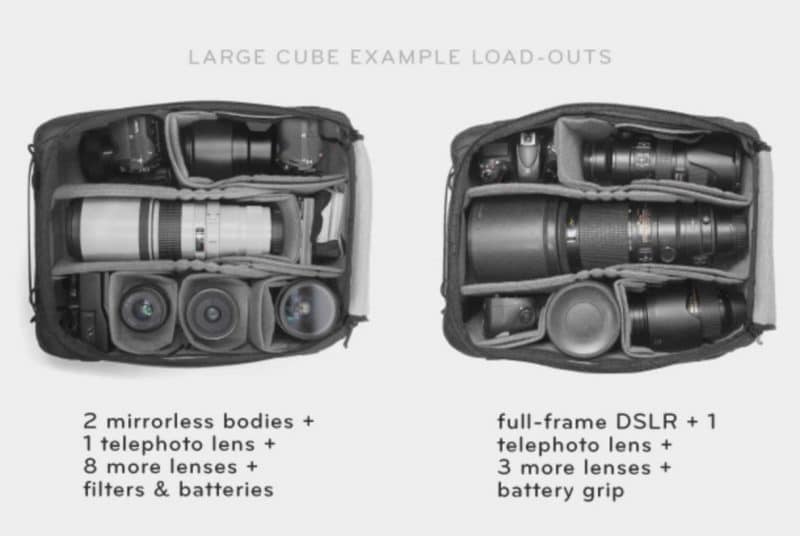 Packing Tools
Whilst you could use this bag simply as a photography pack, one of the more unique features is the availability of several travel centric accessories to help you pack this bag for a variety of situations.
Tech Pouch
This little bag has an accordion style design to hold all your cables, chargers, memory cards and batteries. Having examined the variety of possible bag configurations with the Photo Cubes and Packing Tools, I think most photographers will find the medium Photo Cube, paired with this Tech Pouch, will be a great combination. Even with both of those things in the bag, there's still room left in the main to pack some clothing and food for your journey.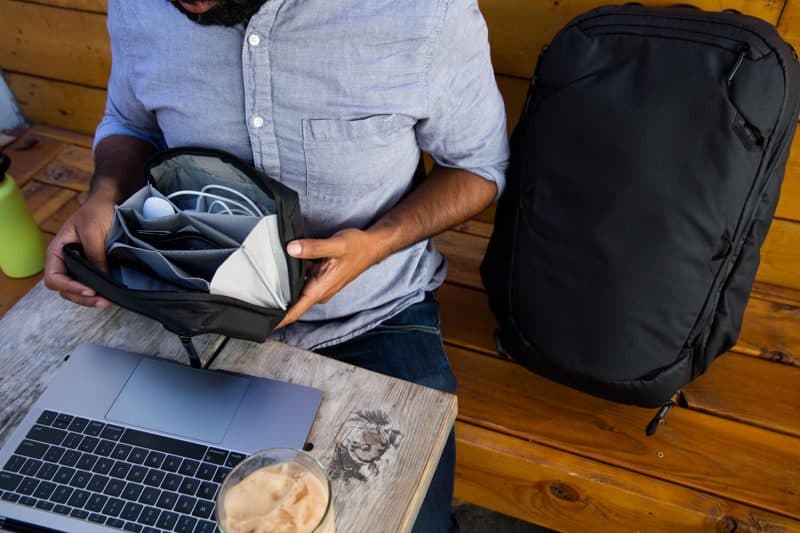 Wash Bag
A similar design to the Tech Pouch, but with a removable, washable toothbrush and razor holder. It also has a hook to hang it up, which also expands the accordion automatically to give you easy access to all your wash bag items. If you're planning on "one bagging" it for a weekend away with your camera, the Wash Bag looks like a great addition to the kit.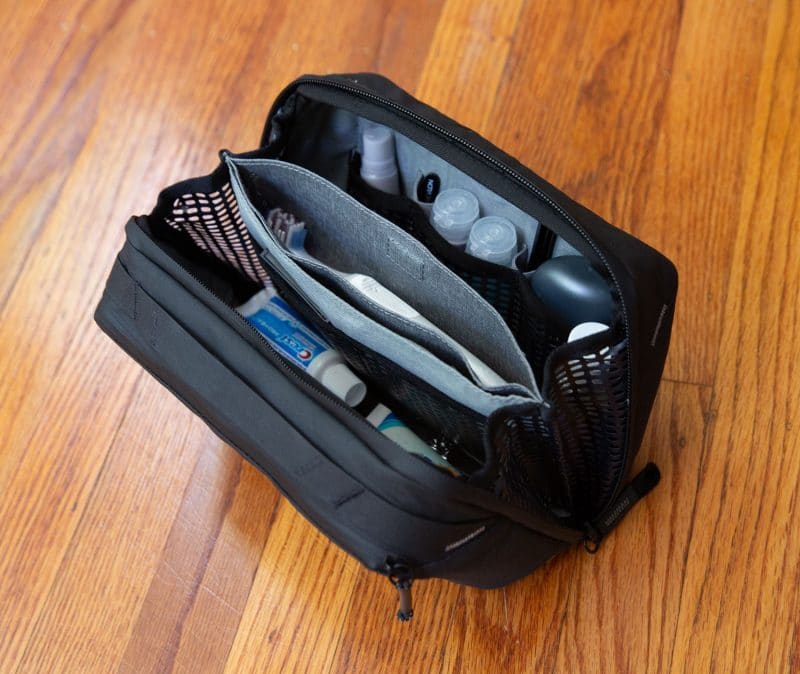 Packing Cubes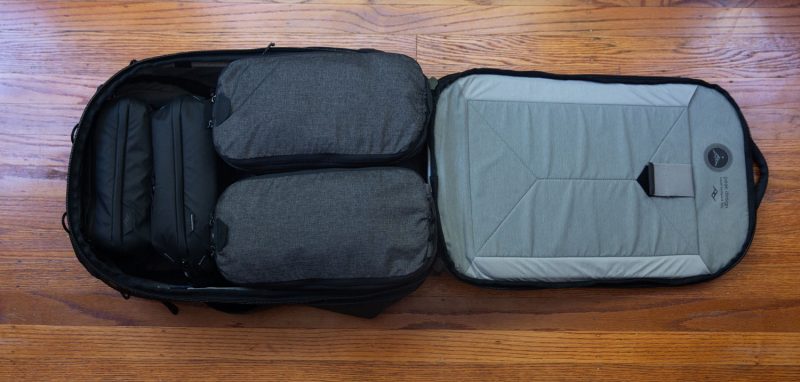 Shoe Pouch
A practical, cheap accessory ($24.99) for protecting your other kit from dirty shoes. If you plan on packing shoes into this bag amongst your camera gear, this definitely makes a lot of sense. Don't want to get things too dusty!
Rain Fly
The bag is already weatherproof and very durable, but if you need to go fully waterproof there's a rain fly available for $29.95. Honestly, initially I thought that the price of this item seemed expensive, but then I looked on the REI website and found that their own in-house brand rain covers for bags of this size are actually $26, so I guess the price is about right after all. Assuming the cover allows you to retrieve the tripod from the side of the bag, it'll be worth getting the right cover for it if you're visiting countries in monsoon season!
Hands-On Review
Coming Soon
Peak Design are sending me one of the very first samples from the pre-production line, so I'll have it in my hands shortly. At that point I'll put it through its paces right away and then wrote one of my usual mammoth, in-depth reviews. There will be a ton of photos, a full video and a proper analysis of how much photo gear the bag can really carry.
Note that I will have the bag in my hands long before the Kickstarter campaign is over, so if you aren't convinced about the bag yet and want to wait to read my review then that will be possible.
Kickstarter Risks?
Peak Design has raised over $15million on Kickstarter through their past campaigns. Every one was funded and delivered to customers. Whilst I would be wary of backing Kickstarter campaigns from some other companies, Peak Design is not one to be worried about at all. By the time you read this, I'm certain the campaign will already be funded, and the fact that they confidently say that products will be available before the holiday season means that realistically, production is already well underway for this Travel Line. Unlike some companies, Peak Design primarily use Kickstarter as a promotional tool and a way to offer customers a great initial discount on the products, rather than actually needing the funds to put the products into production. No need to worry, you're safe when you back a Kickstarter with these guys!