Photography Everyday Carry
I recently launched a completely updated version of my gear guide so I thought I'd follow it up with a gear-related post. Rather than taking a look at the cameras and lenses I regularly use (find those in the gear guide), I thought it would be fun to take a look at my photography EDC kit (EveryDay Carry). Camera and lens choice changes on a per-shoot basis, but this is the stuff that's in my camera bag every day, no matter what I'm shooting. I think a lot of this stuff is pretty universally useful for photographers, but there are a few items that are a bit more specific to my preference for adventure, outdoor and wildlife photography.
Hate Words? Here's a Video
I think once you see it, most of the items in the kit are pretty self-explanatory but I'll try to address a few questions that I suspect might come up. Leave a comment at the bottom if there's something I don't cover, though!
I'm sure you might be wondering why I have two kinds of camera remote trigger in there. The cable release version is the one that gets used 90% of the time, but the tiny IR remote comes in handy when I'm trying to take some sort of self-portrait, usually of me working in some way. You can set the camera's timer delay right on the remote which is super handy. It weights next to nothing, so apart from that usage, it's not a bad idea to have it simply as a backup. I've lost more than a couple of cable releases over the years!
Tools are another important thing in the kit and you can see that I have both a typical Leatherman multi-tool, and a photography specific tool from RRS. The Signal multitool is great for outdoor adventures because it includes a steel for starting a fire, as well as a whistle and a knife sharpener. Depending on your favourite photographic pursuits, your mileage may vary on the usefulness of that particular choice. What the Leatherman lacks is the selection of hex bits that are necessary for tripod maintenance, so that's were the RRS MTX tool comes in.
Why the fancy Bose wireless earbuds? This is kind of a personal choice, but whenever I'm on my own I've usually got something playing in my ears. Either a podcast, or an audio book of some sort. The Bose buds are rugged, weatherproof, and I just love the simplicity of a wireless setup. No pesky cables to get caught in my pack straps as I'm taking my bag off!
The InReach is a really cool satellite communication device that lets me message my GPS coordinates to people when there's no cell phone service, and it also allows me to call for help if I'm in an emergency situation. Thankfully I've never had to use that function, but the price of these kinds of devices has come down so much in the last few years that I think they should be a definite consideration for anyone that spends a good amount of time outdoors, especially if you've often alone.
I've always got a Canon 1.4x extender with me because I'll always have some kind of telephoto lens in my bag. Maybe it's a 70-200, maybe a 100-400, or maybe something bigger like my 400mm f/4 DO II or 200-400 f/4 L IS. Lots of people are scared of using extenders, but when you use extenders correctly they are incredibly useful – many of my favourite images have been captured by taking advantage of extenders. I've also taken to carrying a 12mm extension tube with me as well. Extension tubes contain no optics but they alter the minimum focus distance of a lens, allowing you to capture close-up subjects in a macro-like way, without having to carry a macro lens with you. They are also handy for use with super telephoto lenses when you want to get much closer to an animal. These two items provide me with lots of added versatility in my lens kit, for a relatively small addition of space and weight in the bag.
The Zeiss Terra ED 10×25 binoculars are foldable, so they actually collapse to a much smaller size than they appear in this photo. I absolutely love them! They have a rugged, rubberized feel to them so they're easy to hold in all conditions, and the focus knob is large enough to work with gloves on. They're also waterproof, so they're a great companion to my kayaking trips, as well as snowy backcountry skiing adventures.
---
EDC Kit Bag – Peak Design Tech Pouch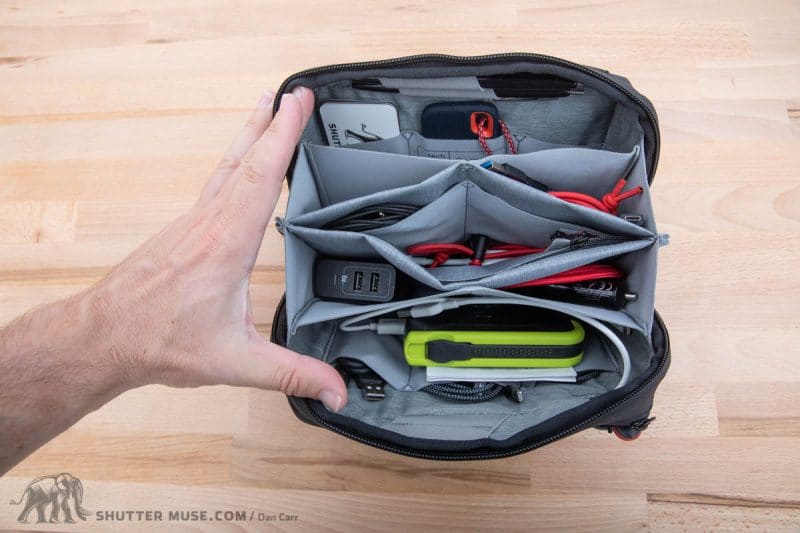 In previous versions of my EDC guide, I have stashed the kit in a Peak Design Field Pouch or an Outdoor Research Organizer. Now I have switched to using the newer Peak Design Tech Pouch, and it's awesome!
The Tech Pouch has an accordion-style design to it that makes it easy to organize cables and smaller items, whilst leaving room for larger items such as camera filters. In the past I have carried my filter kit separately from my EDC kit, but the Peak Design Tech Pouch is actually large enough to carry a few round filters and a few 4×6 Breakthrough Photography graduated ND filters as well. You can keep filters in the cases they come with, or stack multiples together in the MindShift Filter Hive Mini and Filter Nest Mini.
This is ideal for me, because it means that when I swap my camera gear from one bag to the next, I really just need to remember to move over the EDC Tech Pouch and I know I have everything!
What's cool about the design is that the various dividers are so thin that if you don't fill the bag, it still packs really flat. This gives me the option to carry extra filters and batteries if I want to, but doesn't make it feel like I'm otherwise carrying a big bulky case around for no reason.
The Peak Design Tech Pouch is $59.95.
---
What's in Your Photography EDC Kit?
I spent a great deal of time testing and researching items to find the best gear for my kit, but it's always great to hear from other photographers about their experiences. What kind of gear do you consider to be essential every day in your camera bag?
Leave a comment below and let me know!