Sony has launched the a9 III, a 24.6MP full-frame camera capable of shooting still images at up to 120fps with full autofocus and a blackout-free viewfinder. To achieve this astonishing feat, the a9 III is the world's first full-frame camera with a global shutter. The a9 III will ship in Spring 2024 for $5999, a significant price bump from the previous a9 II.
Where most camera use a rolling shutter, reading pixel data line by line, a camera with a global shutter captures data from all pixels simultaneously. This global shutter mechanism completely eliminates rolling shutter artifacts that can hinder still and video capture of fast moving subjects. A global shutter camera can sync with flash at any shutter speed, and the a9 III delivers shutter speeds of up to 1/80,000th. Another world's first.
Make no mistake, this camera represents a seismic shift in camera technology. Stacked sensor technology with a fast-readout rolling shutter is now old news. Somehow, Sony managed to keep this camera under wraps until the very last moment. I think it's fair to say that nobody expected a camera with this kind of speed, and certainly not with a global shutter.
Table of Contents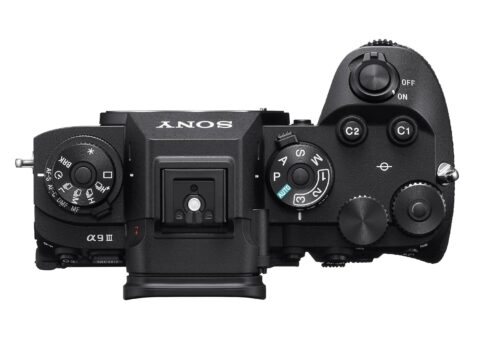 Sony a9 III Specifications
24.6MP full-frame sensor
120fps stills with AF and blackout-free viewfinder
1/80,000 maximum shutter speed
Flash sync at any shutter speed
Pre-capture of up to 1 second, even in 120fps mode
Dedicated AI processing unit
Sony's best AI autofocus system yet
759-point phase-detection AF
AF down to -5ev
95.6% AF point frame coverage
8-stop IBIS
New XS and XL AF points
4k 120p video with no crop
6K oversampling for 4K 60p video
Shutter button moved forward slightly
Adjustable shutter lag
4-axis LCD (same as a7R V)
9.44 million-dot EVF
USB 3.2 Gen 2 speeds of up to 10 Gb/s
Bionz XR processors make it 8x more powerful than the a9 II
New VG-C5EM vertical grip – Identical buttons to the camera, including new C5 button, identical spacing.
$5,999 – available in Spring 2024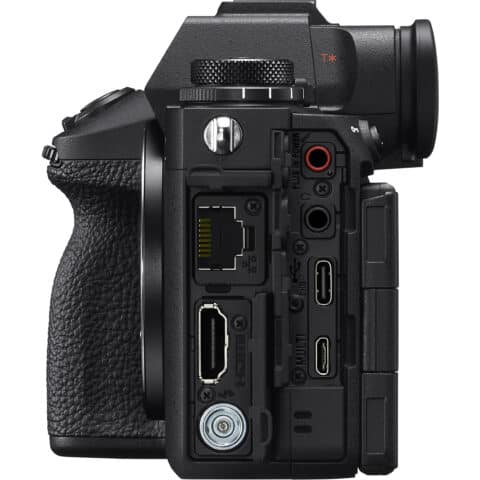 Speed Boost Button
The a9 III features a new C5 custom button on the front of the camera. Although many functions will be assignable to this button in just the same was you can customize C1 to C4, Sony is calling this button the Speed Boost button and, by default, assigning a new Speed Boost function to it.
The Speed Boost function aims to solve the issues that would be created if you constanlty tried to shoot in 120fps mode. Yor CFexpress cards and camera buffer would be full in no time. From a workflow perspective, constant shooting in the highest frame rate would be a nightmare. With Speed Boost, you can press the assigned button at ay time to temporarily switch the camera into 120fps mode. You never even have to take your finder off the shutter button. While shooting with a more reasonable frames per second selection, say, 20 or 30fps, all you have to do is reach another finger to the C5 Speed Boost button to instantly capture a moment with a faster 120fps setting. There is no break in the shooting experience while this occurs.
Pre-Capture
For the first time in a Sony camera, the a9 III features a pre-capture mode that enables you to create images of things that happen before you've even pressed the shutter button. In pre-capture mode, the camera is constantly recording images at 24.6MP, up to 120fps, to the camera's internal buffer. The rolling interval can be set from 0.05-1.0 second. When you press the shutter button, all the images capture before the press of your shutter, for the selected time period, will be recorded to the card. Not only that, but you can immediately keep shooting.
Pre-capture is a feature that wildlife photographers will love. No more missed take-offs of perched birds. What is almost unfathomable is that in 120fps mode, you'll capture up to 120 frames of RAW full-frame images from before you even pressed the shutter. If that doesn't help you freeze the perfect moment, I don't know what will.
4-Axis LCD Screen
The Sony a9 III features the same 3.2″ 2.1m-dot 4-axis LCD screen seen on the a7R V. This is the best multi-angle LCD system I have ever used, and covers a wide DCI-P3 color space.
Video Specifications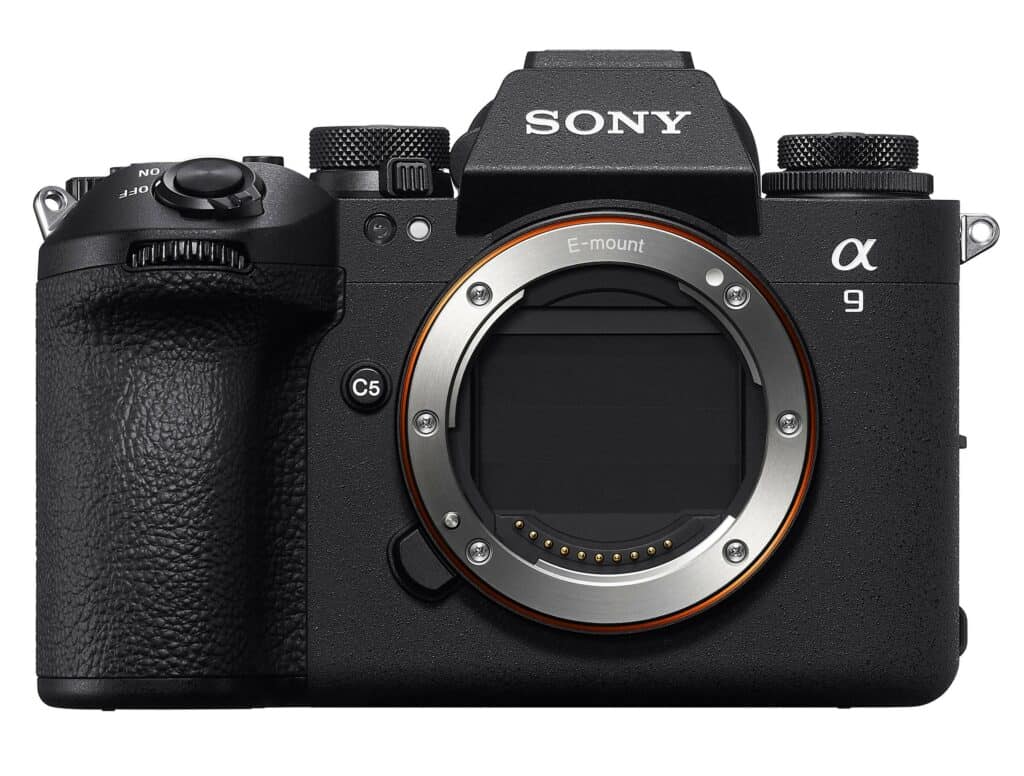 The Sony a9 III captures 4K video up to 120fps with no crop. A 4K 60p mode uses a downsampled 6K image to create a sharper, less noisy 4K image. Of course, the camera can record in 10-bit 4:2:2, and offers 16-bit RAW output from the HDMI port. Notably, this is the first time a Sony camera has offered a 4k 120p image that used the full width of the sensor.
Price, Pre-Orders and Availability
As always, it is appreciated when you use our links for your purchases and pre-orders. The Sony a9 III will ship in the Spring of 2024 for $5999. Preorder starts at 9am ET, Wed Nov 8.
Press Release
Sony Electronics Releases the Alpha 9 III; the World's First Full-Frame Camera with a Global Shutter Systemi
The next-generation Alpha 9 III captures all decisive moments with up to 120 frames per second high-speed shooting, distortion-free and blackout-free images, and flash sync at all shooting speeds
The next-generation Alpha 9 III captures all decisive moments with up to 120 frames per second high-speed shooting, distortion-free and blackout-free images, and flash sync at all shooting speeds
SAN DIEGO- Nov. 7, 2023 – Sony Electronics today introduced the Alpha 9 III camera equipped with the world's firsti full-frame global shutter image sensor. ​
The newly developed global shutter image sensor exposes and reads all pixels simultaneously, unlike a rolling shutter sensor that records images sequentially from the top row of pixels to the bottom. The impressive global shutter full-frame image sensor enables the camera to shoot at burst speeds up to 120 frames per second with no rolling shutter distortion or camera blackout. This innovative sensor is combined with Sony's most advanced AF (autofocus) system to date – boasting AI autofocus with up to 120 times AF/AE focus calculations per second. With the added ability to sync flash at all shooting speeds, the Alpha 9 III opens up a new world of possibilities for professional photographers to capture every decisive moment.
"The Alpha 9 III full-frame camera is a landmark achievement for the industry," says Yang Cheng, Vice President, Imaging Solutions, Sony Electronics. "Designed with the needs and demands of professional photographers in mind, every single update to this camera – from the sensor to even the size to the button layouts and menu functions – has been made to address specific input and feedback from our community. We have listened and are thrilled to bring the new capabilities of the Alpha 9 III to market—capabilities which allow photographers to capture things they've never been able to capture before." Cheng continued, "For professionals everywhere, they can achieve even more dynamic expressions when the Alpha 9 III is combined with our rich lineup of lenses, in particular with the new 300mm F2.8 G Master OSS – the world's lightestii large-aperture telephoto lens."
Features of the Alpha 9 III Full-Frame Camera
A New Dimension of Still Image Performance Created by the World's Firsti Global Shutter Image Sensor
The Alpha 9 III is equipped with the newly developed, world's firsti global shutter full frame stacked CMOS image sensor with approximately 24.6 effective megapixelsiii and built-in memory. Combined with the latest image processing engine BIONZ XR®, the Alpha 9 III achieves blackout-free Continuous Shooting Speed with AF/AE trackingiv of up to approximately 120 fpsiv. The Alpha 9 III is supplied with high-density focal plane phase detection AF. A designated AI processing unit uses Real-time Recognition AF to recognize a wide variety of subjects with high precision. By combining high-speed performance of up to 120 fps with highly accurate subject recognition performance, it is possible to easily photograph scenes and moments that cannot be seen with the naked eyeiv. The AI processing unit in the Alpha 9 III supports movies as well as still photography with accurate subject form and movement recognition. The Real-time Recognition AF and Real-time Tracking provide a significant improvement in human eye recognition performance, allowing the camera to automatically recognize, track, and focus on the eyes of a specified subjectv. The Alpha 9 III is equipped with 8.0 stopsvi of optical 5-axis in-body image stabilization, allowing for high-quality image rendering.
Shutter speed is freed from the limitations of conventional mechanical shutter image sensors and achieves a maximum shutter speed of 1/80,000 second (1/16,000 second during continuous shooting)vii, making it possible to capture at high speed without any distortion. When a compatible Sony flashviii is attached, such as the HVL-F60RM2 and HVL-F46RM (sold separately), it is possible to synchronize the flash and take pictures at all shutter speeds up to 1/80,000 secondvii. Previously, if the user released the shutter at a speed faster than the flash's synchronization speed, the amount of light would drop sharply, but with the full-speed flash synchronization function, it's now possible to photograph scenes that could not be easily captured with conventional technology. Also, when shooting stills or movies under LED lighting, the Hi Frequency Flicker function can significantly reduce high-frequency flicker problems by allowing the shutter speed to be finely adjusted to match the flicker frequency while viewing the monitor.
The Alpha 9 III features selectable release lag modes which allows the user to prioritize release lag or viewfinder/monitor displayix. The newly developed Pre-Capture function allows the camera to continuously record up to one second before the shutter is released, making it easy to capture moments that would otherwise be missed. When selected, the Continuous Shooting Speed Boostx function allows for the user to change to a faster, preset speed set by the user at any time during shooting, and enhanced burst stamina ensures that important moments are reliably captured due to a large buffer memory and increased overall system speed allow up to approximately 390 Fine JPEG imagesxi to be captured in one continuous 30 fpsxii burst.
Customizable focus areas have been expanded to include from XS to XL in addition to the previous S, M, and L sizes. The Preset Focus/Zoom function allows preset focus and zoom settings to be memorized in the camera for quick recall when neededxiii. In addition to the existing custom white balance frame size, the user can now select other sizes as needed which allows for fine white balance adjustment after an image has been composed. The Alpha 9 III has upgraded features such as the latest AF algorithms to achieve high AF precision down to light levels as low as EV-5 in AF-S mode (ISO 100 equivalent, F2.0 lens), AF tracking for continuous shooting at F22xiv and a composite RAW shooting function that gives the ability to combine multiple consecutive images into a high-quality composite.
Advanced Video Performance Without Distortion
The global shutter image sensor provides distortion-free image expression for videos as well as still images. For example, the user can shoot images of nearby scenery from a fast-moving vehicle such as a car or fast-moving subjects with ease. This camera is the first in the Alpha™ series to be able to record 4K 120p high-frame-rate video without cropping, allowing the user to shoot at the angle of view intended. It is also possible to shoot high-resolution 4K 60p videos with 6K oversampling.
The Alpha 9 III has S-Cinetone™, a unique Sony feature which can create a cinematic look straight out of the camera without post-processing. S-Cinetone was created through the development of the VENICE high-end cinema camera and makes human skin tones and subjects stand out beautifully, creating natural highlights. The Alpha 9 III has the latest video performance including rich gradation performance and S-Log3, and when in Log shooting mode, it can reflect and display the user's favorite imported LUT (lookup table). The Alpha 9 III is compatible with the mobile app "Monitor & Control" for video creators.
Operability and Reliability for Professionals
Sony has listened to the voices of professional photographers and created operability and reliability that supports professional users. The shape of the grip is improved and ergonomically designed so that it can be easily held in the palm of the hand to avoid straining the user even when wearing a telephoto lens or using it for long periods of time.
The VG-C5 vertical grip (sold separately), provides the same operability and versatility as when shooting horizontally; the user can comfortably support long shooting sessions. The grip and shutter button area share the same design as the main body, allowing image capture without feeling uncomfortable, with the same operability as the camera. The Alpha 9 III is equipped with a 4-axis multi-angle LCD monitor that can be operated by touch, allowing for intuitive operation using the latest touch menu. The electronic viewfinder uses a 9.44 million-dot Quad XGA OLED and achieves high visibility with the same brightness as the Alpha 7R V and a magnification of approximately 0.90x. Also, a custom button is placed on the front of the camera, and the continuous shooting speed can be changed by operating the custom button assigned with Continuous Shooting Speed Boost with the finger holding the grip, allowing for highly immediate operations. It supports professional photographers when shooting in all environments.
High-Speed Workflow and Scalability to Support Immediate Delivery
New features for the Alpha 9 III include a playback image filter that allows the user to efficiently select a large number of images using high-speed continuous shooting, and a function menu that can be used even during image playback, strongly supporting professional workflows from shooting to delivery.
The "Playback Function Menu" can be assigned in advance, so the user can perform protection, smartphone transfer, File transfer protocol, etc. during image playback. The user can select images narrowed down with a playback filter and play them from the function menu, allowing for quick delivery of specific images. The camera has a dedicated microphone for voice memos on the back, and by positioning the built-in microphone near the user's mouth allows clear recording of audio even in noisy environments. The recorded audio data can be transferred via FTP along with the images. The camera allows the user to set up to 20 presets from the International Press Telecommunications Council (IPTC), an international consultative body in which news organizations from various countries participate. ​
The Alpha 9 III can transfer data up to twice as fast as the Alpha 9 II. 5 GHz communication offers maximum speed and stability for news and sports shooters who need to deliver immediately via FTP, as well as for studio environments. The Alpha 9 III allows stills and movies to be recorded to memory media in numerous ways including the two media slots that support CFexpress Type A cards as well as UHS-I and UHS-II SD cards.
It is compatible with the professional mobile application "Transfer & Tagging" which speeds up the image delivery workflow, and the application "Remote Camera Tool" which allows remote shooting of PCs using wired LAN. Also, Sony plans to support a new version of Camera Remote SDK, a software development kit that allows remote camera operation and changing shooting settings, in Spring 2024.
In addition, the Alpha 9 III is scheduled to support functional enhancements such as FTP operability, relay playback, and C2PAxv ​ format support xvi through a camera software updatexvii.
Firmware Updates for the Alpha 1 and Alpha 7S III Models
In addition to the release of Alpha 9 III, Sony has announced new firmware updates for the Alpha 1 and Alpha 7S III full-frame mirrorless cameras xvii. The new software will provide both models with some of Sony's latest imaging technologies including the highly requested Focus Breathing Compensation feature, IPTC and FTP workflow enhancement, and C2PA format support. The firmware will also update the Alpha 1 with Relay Playback, and the Alpha 7S III with DCI 4K 24.00P shooting format. The camera software update will be available in Spring 2024.
Pricing and Availability
The Alpha 9 III camera is available for pre-order Nov. 8, 2023, at a variety of Sony's authorized dealers, for a suggested retail price of $5,999.99 USD and $8,299.99 CAN.
The VG-C5 vertical grip is available for pre-order Nov. 8, 2023, at a variety of Sony's authorized dealers, for a suggested retail price of $399.99 USD and $549.99 CAN.
Notes:
i Compared to interchangeable-lens digital cameras. As of the November 2023 product announcement. Sony survey.
ii As of the November 2023 product announcement. Sony survey of interchangeable 300mm F2.8 lenses for full-frame digital cameras.
iii Approximate, effective.
iv Sony test conditions. Maximum continuous frame rate may be lower in some shooting conditions. Continuous shooting speed may vary depending on the lens used in AF-C focus modes. Visit Sony's support web page for lens compatibility information. https://www.sony.net/dics/ilce9m3cnlns/ A software update for the lens itself is also required. The software is scheduled to be released after December 2023.
v When subject recognition is ON during AF shooting. Face, eye, etc. recognition status can be monitored when subject recognition frame display is ON.
vi CIPA standards. Pitch/yaw shake only. FE 50mm F1.2 GM lens. Long exposure NR off.
vii Maximum shutter speed is 1/16000 second when F1.8 or larger aperture is used. 1/80,000 second speed not available when shooting movies, when using the Var. Shutter function, or when no lens is mounted.
viii A software update is required. The software update will be released simultaneously with the Alpha 9 III. Some variation in brightness and color may occur between shots when using shutter speeds higher than 1/10000 second. Light level may not reach the manual light output level setting at some shutter speeds, resulting in insufficient light level. Refer to the support page at https://www.sony.net/dics/ilce9m3fl/ for details.
ix With the default [Auto/Off] setting no blackout occurs when shooting is started, and release time is controlled for optimum display latency. The [Fast Release/On] setting provides the shortest possible release time lag with blackout occurring on only the first image in a continuous burst. The [Stable Release/On] setting minimizes variations in release lag with blackout occurring on only the first image in a continuous burst, making it easier to release the shutter at the intended moment.
x Continuous shooting may be interrupted when Continuous Shooting Speed Boost is used to switch from a low shooting speed to a shooting speed higher than 60 fps, or when switching from a high shooting speed to a shooting speed lower than 30 fps.
xi With Sony CEA-G160T CFexpress Type A memory cards (sold separately). Sony test conditions.
xii ​ Sony test conditions. Maximum continuous frame rate may be lower in some shooting conditions. Continuous shooting speed may vary depending on the lens used in AF-C focus modes. Visit Sony's support web page for lens compatibility information.
xiii Preset focus works with compatible lenses such as the FE 300mm F2.8 G Master OSS lens. Preset Focus/Zoom settings cannot be recalled while the shutter button is half-pressed. Only focus can be preset for prime lenses. If a zoom lens without power zoom is attached, the focus position/zoom positions can only be registered and recalled via remote operation using the computer software Remote Camera Tool. For details, refer to the following website. https://support.d-imaging.sony.co.jp/app/remotecameratool/l/index.php Preset Focus/Zoom can only be recalled when the lens that was mounted when the settings were registered is used. Not all lenses are compatible.
xiv When [Aperture Drive in AF] is set to [Focus Priority], the aperture size can be smaller than F22. Results may vary depending on shooting conditions and the lens used.
xv A standards organization that develops open standards and technical specifications for the origin and authenticity of digital content.
xvi Will be available in select countries and regions.
xvii Software update available by Spring 2024