Sony has unveiled the Alpha 1, a new flagship $6500 camera with a 50MP stacked sensor that is capable of capturing still photos at up to 30fps, and video at up to 8k resolution. It features the highest resolution OLED EVF on the market, with a 240fps refresh rate for blackout-free shooting, and is built to withstand the punishment of professional use in nearly any environment.
Headline Features
The Sony a1 is without a doubt the most powerful camera on the market today. Delivering 50MP images at a rate of 30 frames-per-second requires an incredible leap in internal processing from Sony's previously-top-of-the-line a9 II camera which was "only" 20fps and 20MP. Make no mistake, this is Sony's, tour de force.
50.1MP sensor
Up to 30fps still image shooting
New lossless compressed RAW mode
15-stop dynamic range
HEIF image format included alongside JPEG and RAW
Blackout free shooting
New Real-time Eye AF bird mode
759 point full-area phase-detection AF (92% coverage)
9.44 million dot EVF
8k30p and 4k120p video modes
16-bit RAW video output
New Bionz XR (8x faster)
Pixel Shift Multi Shooting mode (199MP)
5.5 stops sensor stabilization
Dual SD/CFexpress Type A card slots
Full-sized HDMI port
Ethernet port
Built-in Wi-Fi supports 2 x 2 MIMO
USB-C 3.2 port (10Gbps)
The Sony a1 looks like it could be a game-changer. In this deep dive article I'm going to go through all of these features to examine what they mean for photographers.
Physical Design and Controls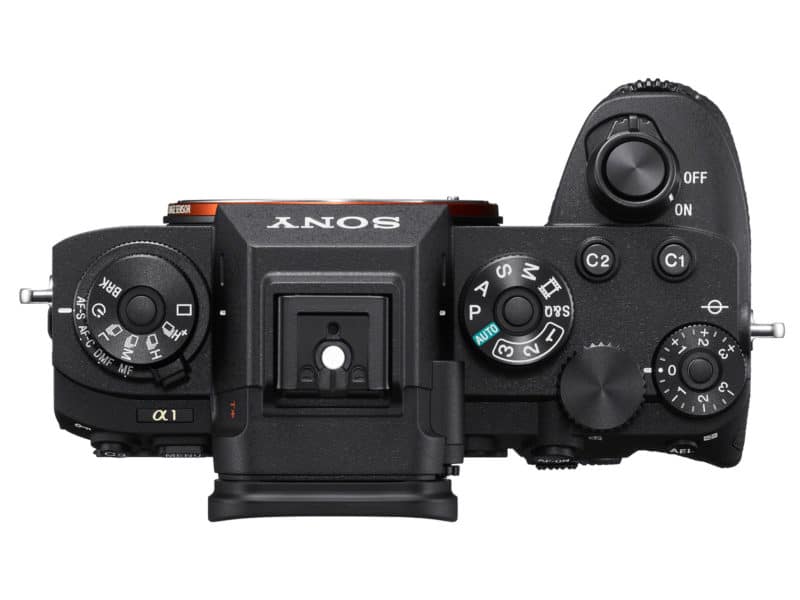 The physical design of the a1 closely resembles that of the a9 II, with only a minor tweak in the shape of the video record button and a small amount of knurling applied to the AF mode selector dial. If you were offered only a quick glance at the camera, it would be almost impossible to tell the difference between the two.
The a1 continues to use the exact same 3-inch 1.44 million dot tilting rear LCD from the a9 II. I'm sure this will ruffle the feathers of more than a few people who will wish that it had the fully-articulating screen from the a7S III.
As someone who owns both an a9 II and an a7S III, I can say that the fully-articulating option is nice, but it definitely doesn't feel as robust as the simpler tilt mechanism. Given Sony's desire to increase the robustness and weather resistance of the a1, even over and above what was accomplished with the a9 II, I'm not altogether surprised that they decided to omit the articulating screen.
Another argument against including the fully articulating screen is that people's primary desire to have one seems to be for vlogging in "selfie mode". Are people really going to use a $6500 camera for vlogging? It seems unlikely. And for those that do opt to use the a1 for some form of video, they are more than likely going to be using some sort of accessory external monitor.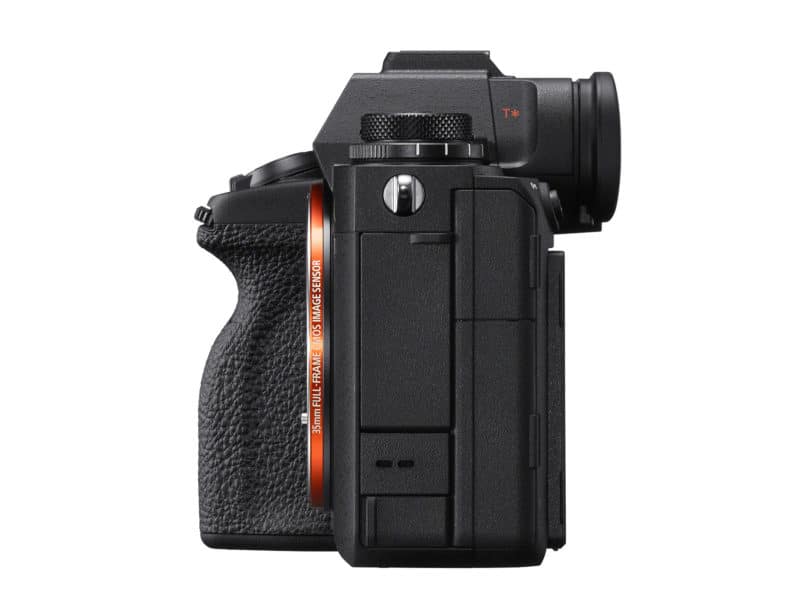 Looking at the sides of the a1 it is again tough to spot differences between this camera and the a9 II. The giveaway in this case, aside from the 8k stamp, is the inclusion of the memory card door mechanism which now includes the sliding lock switch that was first added to the a7S III.
On the left side of the camera, the ports have been re-arranged to include a full-sized HDMI port. This has necessitated a relocation of the USB MULTI port to the left-hand column of ports below the ethernet port and PC sync port. This MULTI port, essentially Sony's cable shutter release port, now has its own rubber flap. This in itself is a minor improvement that means you don't have to expose several other open ports to the elements whenever you want to control the camera with a cabled shutter release. As someone who shoots in the snow a lot, this is a small but welcome change.
In the right-hand column of ports we still have a USB-C connection which can be used to power the camera while shooting, or charge the camera when not in use. You can also use this port to directly connect the a1 to your computer for image transfers. For this use, Sony have used USB 3.1 Gen2 to double the previous transfer speeds and give you up to 10Gbps through the USB-C cable. To my knowledge, this is the first camera to feature the faster Gen2 USB-C protocol, and should make the transfer speeds comparable to using a good memory card reader when importing photos.
Improved Menus
Sony did a ground-up redesign of their menu system for the a7S III. It is a huge improvement, and thankfully it has been fully implemented on the a1. The only difficulty comes when you shoot with one camera that uses the old menu, and one that uses the new menu. The new system flips Sony's thinking about menus completely on its head, and it's hard to develop and maintain menu muscle memory when using different systems. I will likely sell my a9 II when my a1 arrives, and this will solve my extremely 1st world problem.
a1 EVF
The a9 features a 9.44 million dot OLED EVF with a 0.9x viewfinder magnification. This viewfinder resolution is the highest of any camera on the market, aside from the a7S III which also uses this same EVF. New for the a1 is the insanely fast 240fps refresh rate which is twice as fast as the a7S III and the a9 II.
The viewfinder offers up to a 0.9x magnification for an immersive view, and of course, you get the completely blackout-free shooting that has always been a flagship feature of the a9 series. When shooting fast-paced action, the lack of viewfinder lag and the lack of blackout in the EVF of the a9 and a9 II has always, in my mind, elevated them above the competition and made them the only real alternative to a DSLR for professional sports and action work.
The EVF has two different modes. The first mode operates with a refresh rate of up to 120fps and used the full 2048 x 1536 resolution of the EVF. The second mode drops the resolution down to 1600 x 1200 to achieve the faster 240fps refresh rate. To achieve this in the viewfinder, narrow black bars are placed at the top and bottom of the view to house camera settings.
The world looks incredible though the EVF on my a7S III, and I'm excited to experience that same clarity through the a1's EVF.
Image Formats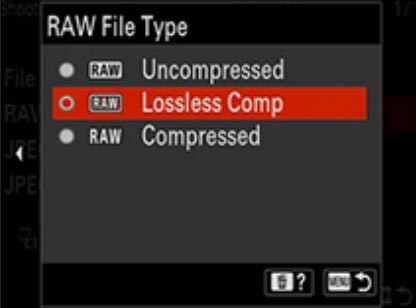 A new lossless compressed RAW image option has been added to the a1 alongside the standard compressed and uncompressed options. It remains to be seen how much difference this makes. There was already a minimal difference between the compressed and uncompressed options to most people's eye. Still, it doesn't hurt to have some more options.
Speaking of more options, the a1 also adds the HEIF (High-Efficiency Image File) image format alongside JPEG and RAW. HEIF looks set to be the successor to JPEG images at some point, so it's fitting that Sony have included it in the a1. Compared to 8-bit JPEGs, HEIF images have 10-bit colour which allows for much smoother gradations in tones, while still managing to maintain similar file size to a JPEG by using a much more efficient compression algorithm.
For those that need the absolute smallest file sizes, a new JPEG Light compression mode has been added to the JPEG quality settings. This is primarily targeted at people who are sending images wirelessly over mobile devices from sporting events or news locations.
Video Specifications
Sony has continued its tour de force in the video department. As well as featuring all of the video resolutions, frame rates and codecs of the a7S III, the a1 can also shoot 8k video internally at up to 30fps in XAVC HS 10-bit 4:2:0. It is claimed that the a1 can record over 30 minutes of continuous 8k without overheating.
8k is a nice buzzword but perhaps more interesting, compared to the a7S III, is the ability to shoot in a Super 35 crop mode that oversamples from 5.8k to create a more detailed 4k image. Although this option is limited to 60p, it should produce the highest quality of internally recordable video from the a1.
Like the a7S III, the a1 can output a 16-bit RAW signal from the full-sized HDMI to an external recorder. While recording RAW externally, you can simultaneously record up to 4k video internally. The HDMI RAW output is a 4.3k signal which will presumably be downsampled to 4k by whichever external recorders decide to support the a1.
Sony a1 Video Recording Resolutions, Frame Rates and Bitrates
The array of video options is eye-opening. I have tried to lay them out below in as simple a form as possible.
XAVC HS 8K – 7680 x 4320 (4:2:0, 10bit)
30p (400 Mbps / 200 Mbps)
24p (400 Mbps / 200 Mbps)
25p (400 Mbps / 200 Mbps)
XAVC HS 4K – 3840 x 2160 (4:2:0, 10 bit)
120p (200 Mbps)
100p (200 Mbps)
60p (150 Mbps / 75 Mbps / 45 Mbps)
50p (150 Mbps / 75 Mbps / 45 Mbps)
24p (100 Mbps / 50 Mbps / 30 Mbps)
XAVC HS 4K – 3840 x 2160 (4:2:2, 10 bit)
120p (280 Mbps)
100p (280 Mbps)
60p (200 Mbps / 100 Mbps)
50p (200 Mbps / 100 Mbps)
24p (100 Mbps / 50 Mbps)
XAVC S 4K – 3840 x 2160 (4:2:0, 8 bit)
120p (200 Mbps)
100p (200 Mbps)
60p (150 Mbps)
50p (150 Mbps)
30p (100 Mbps / 60 Mbps)
25p (100 Mbps / 60 Mbps)
24p (100 Mbps / 60 Mbps)
XAVC S 4K – 3840 x 2160 (4:2:2, 10 bit)
120p (280 Mbps)
100p (280 Mbps)
60p (200 Mbps)
50p (200 Mbps)
30p (140 Mbps)
24p (100 Mbps)
25p (140 Mbps)
XAVC S HD – 1920 x 1080 (4:2:0, 8 bit)
120p (100 Mbps / 60 Mbps)
100p (100 Mbps / 60 Mbps)
60p (50 Mbps / 25 Mbps)
50p (50 Mbps / 25 Mbps)
30p (50 Mbps / 16 Mbps)
25p (50 Mbps / 16 Mbps)
24p (50 Mbps)
XAVC S HD – 1920 x 1080 (4:2:2, 10 bit)
60p (50 Mbps)
50p (50 Mbps)
30p (50 Mbps)
25p (50 Mbps)
24p (50 Mbps)
XAVC S-I 4K – 3840 x 2160 (4:2:2, 10 bit) ALL-I
60p (600 Mbps)
50p (500 Mbps)
30p (300 Mbps)
25p (250 Mbps)
24p (240 Mbps)
XAVC S-I HD – 1920 x 1080 (4:2:2, 10 bit) ALL-I
60p (222 Mbps)
50p (185 Mbps)
30p (111 Mbps)
25p (93 Mbps)
24p (89 Mbps)
Slow and Quick Shooting Mode Frame Rates
NTSC: fps, 2fps, 4fps, 8fps, 15fps, 30fps, 60fps, 120fps, 240fps
PAL: 1fps, 2fps, 3fps, 6fps, 12fps, 25fps, 50fps, 100fps, 200fps
Improved Autofocus
The a1 features a 759-point phase-detection autofocus system with 92% coverage of the frame. Up from 693 points on the a9 II. This is combined with 425-point contrast-detection system. Using the power of the new imaging processors in the a1, the camera is capable of making 120 autofocus calculations per second, twice that of the a9 II. This will undoubtedly deliver increased AF tracking accuracy.
Of particular note to wildlife photographers it the inclusion of a new Real-time Eye AF bird mode. Previously Sony's available Eye AF modes were simply called animal or human. Even when set to animal mode, the a9 II struggled to recognize eyes on small birds, so the inclusion of a specific bird Eye AF mode will be an exciting addition for professional wildlife photographers. Sony says of this mode that "Optimized algorithms ensure that tracking is maintained even if a sitting bird suddenly takes flight, or the framing suddenly changes".
Having struggled with Eye AF on birds myself, and seen the Canon R5 clearly outperforming my a9 II in that regard, I'm very happy to see that Sony didn't just address this in the animal algorithm. Instead, deciding to go one step further and create a special "bird mode".
Sony also claim greatly improved animal eye AF and human eye AF. In fact, they go so far as to say that there is a roughly 30% improvement in accuracy over the a9 II, which is kind of mind-blowing if you have ever used their existing system.
Pixel Shift Mode
The a7R IV was the first Sony camera to introduce a Pixel Shift multi-shot mode for increased resolution. While the a7R IV only combined 4 images for its Pixel Shift mode, Sony says the a1 can combine up to 16 RAW images to create an incredibly detailed 200MP image.
It does this by using the camera's sensor stabilization hardware to shift the sensor in 1-pixel or half-pixel increments to capture a series of RAW images. This creates a staggering 796.2 million pixels of data, which are then composited into a 199MP image (17,280 x 11,520 pixels). Pixel Shift on the a7R IV was good, but it sounds like Sony have taken this function to a whole new level on the a1.
Crop mode capabilities
Sony full-frame mirrorless cameras have always had the ability to operate in a 1.5x crop mode that simulates the field of view from an APS-C camera. With the a9 II this crop mode produced a lacklustre 12MP image size, but with a1, the crop mode delivers a very useable 21MP image size.
Sony has also designed the medium-sized and small-sized JPEG image from the a1 to have the exact same pixel dimensions in both full-frame and crop mode (5616 x 3744)(4320 x 2880). For sports photographers and photojournalists shooting JPEGS for fast delivery, this means you can quickly swap back and forth between the two modes, effectively using the crop mode to add reach to longer focal length lenses, while constantly shooting images of the same size.
For video shooters, the high resolution of the a1's sensor means that the Super 35 video crop mode can deliver a 4k resolution with full sensor readout and no pixel binning. This means that 2.3x the amount of necessary data is available for that Super 35 4K image, resulting in what should be some truly spectacular 4k footage.
Memory Cards for Sony a1
The Sony a1 features dual Multi Slot CFexpress Type A/SD card slots. This means that just like the a7S III, you can use an SD card or a CFexpress Type A card in either of the slots. When the a7S III was launched, Sony was the only manufacturer of CFexpress Type A cards, and that continues to be the case at the launch of the a1. 160GB and 80GB TOUGH Cfexpress cards are currently available.
For stills shooting there is be no requirement to use CFexpress cards, although buffer depth is increased (165 JPEGS, 155 RAWs) if you do opt to use this newer, faster card format. For video shooting, just like the a7S III, there will be some resolutions, formats, codecs and bit-depths that will require you to be using a CFexpress Type A memory card.
Most 4k video modes are available when using an SD card, as are the available 8k modes. The currently-high-cost of the Sony CFexpress cards is something that many people are going to need to factor into their purchasing plans if they do want to unlock every last feature of this camera.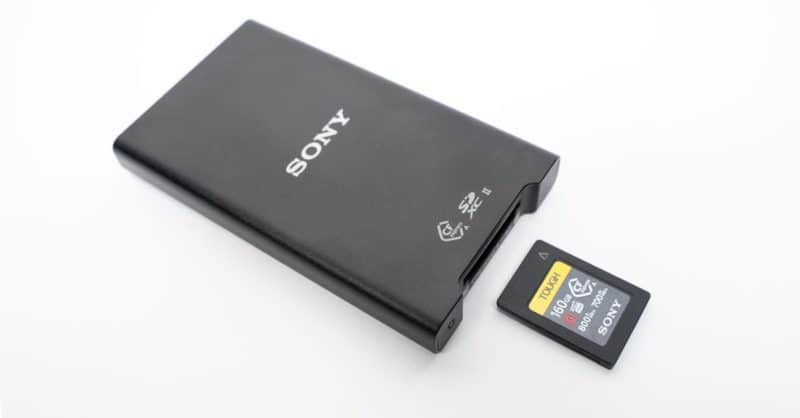 The previously reviewed Sony MRW-G2 card reader is the only CFexpress Type A card reader on the market at the moment, and therefore one that many a1 users will need to purchase. I use this card reader daily and find it to be an excellent professional-grade solution. The all-metal chassis makes it robust, and the ability to use it with SD cards and CFexpress Type A cards means I only need a single, small card reader with me wherever I go.
Batteries and Battery Life
The a1 continues to use the NP-FZ100 that is also used in the a7R IV, the a9 II and the a7S III. Battery life has decreased slightly from that of the a9 II due to the power-hungry new processors and the higher resolution EVF. For reference, the a9 II power consumption using the EVF was 3.9W, where the a1 draws 4.6W using the new 9.44 million dot OLED EVF.
Battery life (CIPA standard) is as follows:
Still Images – Approx. 430 shots (Viewfinder) / approx. 530 shots (LCD monitor)
Movie (actual recording) – Approx. 90 min. (Viewfinder) / Approx. 95 min. (LCD monitor)
Movie (continuous recording) – Approx. 145 min. (Viewfinder) / Approx. 150 min. (LCD monitor)
What is the difference between "actual" and "continuous" recording in the CIPA standard battery tests? My understanding is that continuous is exactly what you think it is. You turn the camera on, press record and simply let it run until the battery dies. However, CIPA also does what they call "actual recording" tests which are used to simulate a real-world shooting pattern where recordings are started and stopped at regular intervals, just as you would do if you were shooting various shots and scenes. The camera is also allowed to enter standby mode and is turned on and off at set intervals.
Sony a1 Battery Grip
The Sony a1 uses the VG-C4EM battery grip. This is the same battery grip that is used by the a9 II, the a7S III and the a7R IV. Using the same battery grip for so many cameras should be applauded by Sony because this is an expensive accessory. I have already reviewed the Sony VG-C4EM battery grip on this site so you can dig into that article if you want deeper details.
It is already an excellent battery grip. I used to hate it when Canon would constantly tweak the shape of their grips for every new camera, forcing you to cough up another $500 for it every time, and often another $200+ for the matching L bracket. Not only that but if you carry several different cameras with you on a trip, you would also have to constantly consider whether you will also carry several different battery grips with you.
Since Sony are using the VG-C4EM for so many cameras, you have the option of just bringing one grip with you and mounting it to the camera that needs it at any particular moment. I currently use the VG-C4EM grip on my a9 II and my a7S III, and generally pick and choose which camera it will be on, based on what my shooting looks like for the day. Now I look forward to using this same grip on my a1, and it also means I can continue to use my Kirk L bracket that is designed for that grip. Yes, the a1 is expensive, but that move from Sony saved me about $700. I guess I can use that saving to go towards the CFexpress Type A cards that I will now need to buy!
X-Sync Speed
A camera's x-sync speed is the fastest shutter speed at which you can shoot with flash at full power without getting any shadow banding in the image. Many full-frame cameras have an x-sync speed of 1/200 of a second. Most professional cameras can up that to 1/250, but the Sony a1 takes this to the previously unheard-of level of 1/400.
For a small sub-set of professional photographers, this is huge news. While many flash systems are able to sync with a camera at faster shutter speeds using various versions of hypersync technology, these modes all rely on flash pulsing, which dramatically lowers the flash power output. If you can stick to the native x-sync speed of a camera, it allows you to shoot with a flash at full power, and thus allows you to overpower the sun much more easily.
Fashion photographers and action sports photographers will be the biggest beneficiaries of this improvement. It will make it both easier to overpower the sun with a lower power of flash, and also easier to eliminate subject edge blurring from rapid movement during the exposure.
a1 Vs. a9 II
Until the launch of the a1, Sony's flagship camera line was the a9 series (currently a9 II). It's an interesting move to call this camera the a1 instead of the a9 III and goes to show how much of a leap forwards this camera really is. But the a9 II is still a phenomenal camera and one that I own myself, so where does that leave it now?
With a 24MP sensor, a blackout-free viewfinder and a 20fps shooting speed, the a9 II remains an incredible option for sports photographers or photojournalists who simply need a rock-solid autofocus system and don't require 50MP images. With a current price-point of $4500, it's $2000 cheaper than the a1. No small margin in these times. If you need to equip yourself with a pair of cameras for professional work, as many people do, that's a $4000 saving that can buy you at least a pair of G Master lenses.
For newspapers and news agencies who need to buy several cameras at once, I still think that many of them will opt to equip their photographers with an a9 II instead of an a1. After all, until the day that the a1 launched, the a9 II was happily working in the hands of many professionals and widely regarded as the gold standard. Don't forget, it still comes equipped with an ethernet port and FTP capabilities for fast image transfers to remote editors. With its smaller megapixel count, the high ISO performance of the a9 II should still match, or even beat that of the a1.
Wildlife Photographers Win
The area where the a1 clearly beats the a9 II is that 50MP sensor. While this kind of resolution is not needed for most sports photographers and photojournalists, it will be appreciated by professional wildlife photographers. Until the a1 came along, wildlife photographers had a tough choice to make. The 62MP a7R IV offers enough resolution for huge prints and substantial cropping, but the 24MP a9 II has a better autofocus system and a faster burst rate. I talked to many people who were having a hard time choosing between one or the other, and I went through that decision process myself before settling on an a9 II.
With the a1 on the market, the best option will finally be clear, if it can be afforded. For wildlife photographers, a camera that shoots 50MP images at 30fps, using a more advanced autofocus system than the already-excellent one from the a9 II, is a dream come true. Bird photographers, in particular, will be happy to see the Real-time Eye AF bird mode.
A smart move by Sony?
We all know that photojournalism is a shrinking marketplace. Print media outlets are downsizing their photography departments at alarming rates, and the advertising fees that drive income for online media outlets are heavily susceptible to fluctuations in the global economic state.
In the past, camera manufacturers have always had one single flagship camera that was the go-to solution for professional photographers. By splitting their lineup and keeping both the a9 and a1 cameras in the current catalogue, Sony is delivering undeniably professional cameras at two very different price points, to satisfy the budgets of a wider array of media outlets.
Had they simply axed the a9 series, or called this new camera the a9 III and increased the price, they would likely have slowed the rate at which professionals and agencies are switching to Sony from Canon and Nikon. By keeping both cameras in the lineup, it gives people choices. If I was a betting man, I'd bet we will continue to see the a9 series for some years to come, probably continuing to use a version of the 24MP sensor and possibly at an even lower price.
Sony a1 Pre-Orders
The a1costs $6500. Pre-orders will be open at 10am ET on Wednesday, January 27th. If you plan on getting one of these cameras, I would highly suggest that you set an alarm and get in the lineup quickly. When Canon launched the R5, those that did not get in the pre-order line had to wait months for their cameras. Many are still waiting! Don't let that happen with the a1. Pre-order links are provided below, and as always, it's much appreciated when you use them.