Sony a7III Battery Life
The Sony a7III is one of the most successful full-frame mirrorless cameras of all time. When purchased new, the camera comes with a Sony NP-FZ100 Lithium-Ion Rechargeable Battery. This official Sony battery has a capacity of 2280mAh, which should deliver, according to CIPA ratings, up to 710 shots on a single charge when using the LCD screen, and 610 shots when using the EVF.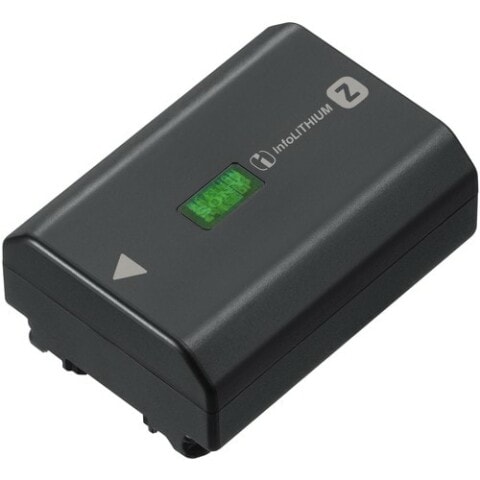 It should be noted that CIPA battery ratings are useful for proportionally comparing the battery life of one camera to another camera, but they are less accurate at gauging the actual number of images you are likely to capture on a single charge. In my experience, I always get a considerably larger number of photos from my Sony a7III on a single charge, particularly when using a burst-shooting mode that rapidly captures photos in quick succession. It would not be unusual for me to get over 1700 shots on a single charge, particularly if I'm being efficient with the power usage by turning the camera off between shooting, instead of simply letting it run to the point of auto-shutdown.
For video shooting you should expect to get much longer recording times if you are shooting longer takes. Starting and stopping recording, while turning the camera on and off will shorten the length of video you can capture on one charge. Of course, if that's how you have to shoot, then that's how it is. I'm not advocating rolling the shot endlessly to capture things you don't need in between!
This battery capacity is a huge improvement over the poor performance of Sony's previous camera, the a7II. The a7 II used the much smaller capacity Sony NP-FW50 battery which only had 1020mAh and delivered just 340 shots using the LCD, and 270 using the EVF. If you're trying to choose between the a7II and a7III, the improved battery life of the latter is one of the biggest differentiating factors.
Counterfeit a7III Batteries
Sony has previously issued a warning about counterfeit Sony a7III batteries. If you bought your camera brand new, this won't be an issue. But if you have bought it second-hand, it's worth taking the time to check your batteries to make sure they are not simply a third-party battery in disguise.
Third-Party Batteries for the a7III
For any a7III running firmware 2.0 or later, you will get an on-screen warning when you insert a 3rd party battery. It will say "The operation and safety of this battery cannot be guaranteed. Continue use?" If you select continue, you will be able to use the camera as normal, but you will not get any indication of the charge level. At first, it seems like you do get charge level because the symbol is on the screen, but in reality, it just shows the battery as full all the time. Useless!
Note: If you receive this warning on the screen even when using your original NP-FZ100 battery, it's a sure sign that you actually have a counterfeit!
Although third-party batteries can save you a lot of money, the annoyance of not having any battery life indicator makes this a non-starter for most people. When you use the original NP-FZ100 battery, you get battery life as a percentage out of 100, and that makes it easy to plan your battery changes and charges throughout a shoot or a trip.
If you really do still want to try using a third-party battery, I have used the Wasabi and RAV Power equivalents with success. But I will underline the fact that I was simply testing out of curiosity, and would never jeopardize the success of a shoot trying to save a few bucks on batteries. For me, as a professional, it's just not worth it. Your mileage may vary if you are a hobbyist on a budget.
Sony a7III Battery Charger and Charge Times
The official charger for the a7III is the Sony BC-QZ1. Charging the official Sony NP-FZ100 battery in this charger will take 150 minutes. The charge time is related to the capacity of the battery. As we already know, the NP-FZ100 is a 2280mAh battery. If you are using this charger with a third-party battery battery that is physically equivalent to the Sony version, it might have a higher or lower capacity, which would affect the charging time.
Charging Your a7III Batteries With USB
USB chargers and USB battery banks are everywhere these days, so it can be useful to charge your a7III batteries using USB. With this camera, you have a couple of different options for charging the battery with USB, and it's very important to understand both of them if you are to maximize your charge times.
You can charge the battery while it is in the camera using the USB-C port. The port does not support USB Power Delivery and pulls charge at a paltry 1.5A at 5V when the camera is powered off. Charging the battery this way is convenient because you only need a USB cable and a small UAB power adapter, but it will take roughly 285 min! When the camera is turned on, for example trying to charge over USB while shooting video, the camera pulls in even less power. You will be at a power deficit and the camera will eventually run out of power.
The second option is, in my opinion, much better. The NiteCore USN4 Pro battery charger is a dual USB battery charger for the Sony NP-FZ100 battery. Using this you can charge one or two batteries using either a standard USB plug adapter or a USB battery bank. It takes roughly 140 minutes to charge each battery, so it is twice as fast, and you can charge two simultaneously if you use a power supply that has Quick Charge 2.0, like the Biolite Charge 80.
Sony a7III Battery Grip
The optional battery grip for the Sony a7III is the VG-C3EM Battery Grip. When you install this battery grip onto your camera you will double the battery life, taking you up to 1420 shots by the CIPA numbers. The VG-C3EM duplicates the shutter button, af-on button, front and rear dials, 4-way af point controller, AEL button and the two custom buttons C1 and C2.
When you customize your Sony a7III using our extensive guide, the custom key settings from the camera will be carried over to the custom keys on the battery grip. This gives you the same shooting experience whether you are shooting horizontally and using the buttons on the a7III, or shooting in a vertical orientation and using the buttons on the battery grip.
Do You Need a Battery Grip for Your a7III?
Although the VG-C3EM battery grips is an exceptionally well-built accessory for your a7III, not everyone should run out and buy one. One of the main benefits of the Sony mirrorless system is the small size of the cameras, and much of that is lost when you use the battery grip.
There are two things you need to consider when deciding whether or not to put a battery grip on your a7III. Firstly, would it really be much of a problem for you to swap batteries in the camera body? While the battery grip does give you more battery life, there is no magic going on here. The grip simply uses two batteries, so of course, it doubles the battery life. The key consideration is that it doubles the time between changing batteries.
You can easily forgo a battery grip and simply carry a spare battery in your camera bag, but is there any potential for missing a shot while you change that battery? That is where the benefit of the battery grip really kicks in. For this reason, I usually recommend that sports and wildlife photographers use a battery grip. Those are two types of photography where you cannot afford to miss a shot while you are rummaging around to change a battery.
The second consideration is how often you shoot photos in a portrait orientation, and whether or not you are using a tripod when you do so. The key here is that it is simply much more comfortable to hold the camera in a vertical orientation when you use a battery grip. If you're a landscape photographer who often gravitates towards vertical images, but usually shoots them from a tripod, it doesn't matter whether you have a battery grip or not.
But if you are a portrait photographer who shoots a lot of vertical images, it is definitely worth considering the battery grip, even if the battery life benefits do not matter to you. Personally, I always buy a battery grip for my cameras, and I always install it for sports and wildlife photography. When I'm just throwing things into a backpack for a hike and some landscape images, I lighten my load by removing the grip.