I picked up my first Think Tank memory card wallet, the Pixel Pocket Rocket, over a decade ago. As far as I remember they were the first to design what I call the "roll-up" style of card wallet.
The company recently introduced a new model to the lineup, called the Secure Pixel Pocket Rocket, and they tweaked a few features on the existing models so it seemed like a good time to do a review.
(From this point on I'm going to abbreviate Pixel Pocket Rocket to PPR within paragraphs.)
Think Tank Card Wallet Pricing
Pixel Pocket Rocket
This model has the largest card capacity in the lineup. It'll fit up to 10 CF cards, or 10 XQD Cards, or 10 CFexpress cards.
For the newly updated version Think Tank added a zippered compartment on the bottom of the wallet, and this also allows you to carry several smaller cards such as SD and Micro SD. I'd estimate that the zippered compartment could hold as many as 6-8 SD cards and many more micro SD cards.
I love this addition to the classic design because the fact is I'm always carrying a variety of cards with me these days, and I'd guess most people would say the same thing. You've got Micro SDs in drones and GoPros, SD cards in mirrorless cameras and larger CF or even CFast cards in pro-sized DSLRs.
The 10-card capacity of this wallet is truly huge though, and I honestly don't know if I have ever filled it! 128GB or 256GB CF cards are normal these days and CFexpress cards are already at 1TB in capacity. Imagine how many photos you would have to shoot to fill 10 cards!
The Pixel Pocket Rocket is, therefore, best suited to the serious event shooter. Someone who is shooting thousands of photos a day onto two memory cards simultaneously. Or, alternatively, someone who is shooting 4k or even 8k video to CFast, CFexpress or XQD. You can certainly burn through cards more quickly when shooting video.
In terms of other features, you've got a lanyard to clip the wallet into your bag, but for the newly updated versions Think Tank added belt loops to the whole PPR lineup, giving you an extra way to keep your cards secure. You've also got a slot to keep a few business cards in.
For only $19.95, it packs a lot of features and the updates to the original version are all positive ones. The PPR is also now available in black/grey, as well as the original blue colour.
Secure Pixel Pocket Rocket
The Secure PPR is the latest edition to the Think Tank card wallet lineup and right off the bat, I'll tell you it's my new favourite.
This card wallet has 3 zippers that secure 6 individual compartments, allowing you to carry a huge variety of card combinations. At its maximum capacity you'll get 6 CF cards, or 6 XQD cards or 6 CFexpress cards, but it's much more likely that you'll end up carrying a combination of those.
For those who want to securely carry large numbers of SD and Micro SD cards, the sky is nearly the limit with this one!
Compared to the other card wallets in the PPR lineup it's very slightly larger, but not by enough that it would ever make a difference in how you pack it in your bag or pocket. Of course, it also has all the other standard PPR features like the belt loops, leash and business card pocket.
When you consider how much money some of these large capacity memory cards cost these days – some are easily upwards of $500 each – it makes a lot of sense to secure them as much as possible, and the zippers do just that.
The universal compartment sizing also makes it future proof for newer card standards that are coming down the line in the next few years.
Available in green and grey/black for $21.95
SD Pixel Pocket Rocket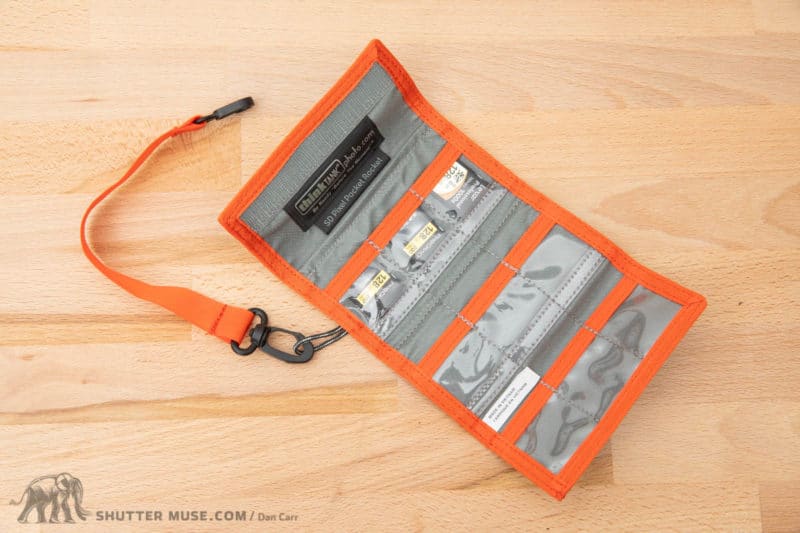 The SD PPR is a simpler card wallet than the previous two versions we looked at. Designed purely to hold SD cards, it'll hold 9 of them and cost a little less at only $16.75.
Personally, even if I was only using SD cards, I'd still spend the extra $5 and use the Secure PPR with its zippered compartments. Partly for that added security, but also partly because it would give me room to use other cards types in the coming years as cameras evolve and new cards hit the market.
Pee Wee Pixel Pocket Rocket
The Pee Wee PPR holds 3 SD cards and up to 4 CF or XQD cards for $16.75. Everything I said above about the SD PPR stands for the Pee Wee PPR as well. I'd much prefer the security of the Secure PPR and it gives me the freedom to use an even larger variety of card types now and in the future.
Conclusion
Having looked at all of these cards holders my conclusion is pretty clear. The newest model, the Secure Pixel Pocket Rocket, is definitely the pick of the bunch. The added versatility and security that is provided by the zippered compartments are well worth the very small additional cost.
It'll keep your expensive memory cards safer, and you'll be able to use the card wallet for longer as you upgrade to different cameras that use different card standards in the future.
If you really need the added capacity of the 10-card original Pixel Pocket Rocket then this is also a fine choice, but I'd certainly recommend either of those two over the more limited Pee Wee PPR and SD PPR card wallets.
If none of these is quite what you're looking for – perhaps you need a hard-sided card case instead – you can always check out our giant group test to see all of the best memory card wallets on the market this year.
Purchase Links
As always, I appreciate it when you use our links to make your purchases. I may make a small commission when you do this, but it doesn't cost you a penny and it helps me to bring you more content in the future.
Get a Free Gift from Think Tank Photo
US Customers get a free gift when they spend over $50 in the Think Tank/MindShift online store after clicking this link. For more details, or if you have any issues, see this post.