The Peak Design Travel Tripod raised an incredible $12million on Kickstarter when it was launched. If you haven't heard of it, you must have been hiding under a rock because this is easily the most famous tripod on the market. Every time I write about or even mention the word tripod in conversation to someone, the same question always follows: "How does it compare to the Peak Design Travel Tripod?"
Regular readers of this site will have heard me talk about the tripod before. I was lucky enough to have a pre-production model in my hands for some time during the Kickstarter launch, and I took it on an epic 5000km road trip to the Arctic Ocean. I commented on that pre-production version at the time, but today I'm gathering even more information together to create the ultimate resource for people to learn about this tripod.
After returning from the Arctic and sending the pre-production version back to Peak Design, I actually went on to purchase my own copy of the tripod. I guess that's a little bit of a spoiler as to my feelings about the tripod, but there's still much to learn aside from my overall opinion.
In this review, we will discuss all the features and performance of the Travel Tripod, as well as comparing the carbon version with the aluminium version, and examining all the available accessories. Let's dive in!
Tripod Design
In order to minimize the folded size of the tripod, it features 5 telescoping leg sections that have a unique cross-sectional shape. Instead of using traditional cylindrical legs, Peak Design sought to shape the leg in such a way that the centre column would be nested closely within the folded legs. When fully collapsed, there are barely any gaps between the legs, leg locks and column.
COLLAPSED DIMENSIONS:
Length: 39.1 cm (15.4")
Diameter: 7.9 cm (3.125″)
WEIGHT CAPACITY:
This clever outside-the-box thinking has truly produced the most compact full-sized travel tripod I have ever seen. Yes, there are some that collapse a little shorter in length, but they also have a shorter maximum height. Where this tripod really wins is the collapsed circumference. I can almost wrap my fingers around the entire tripod, and such a small packed volume makes it a breeze to pack on the side of a camera bag or often inside a camera bag because it's simply that small.
DEPLOYED DIMENSIONS:
Max height (center column raised): 152.4 cm (60″)
Max height (center column down): 130.2 cm (51.25″)
Min height (low mode): 14 cm (5.5")
Tabletop Mode (center column raised): 57.2 cm (22.5″)
Tabletop Mode (center column down): 35.9 cm (13.125″)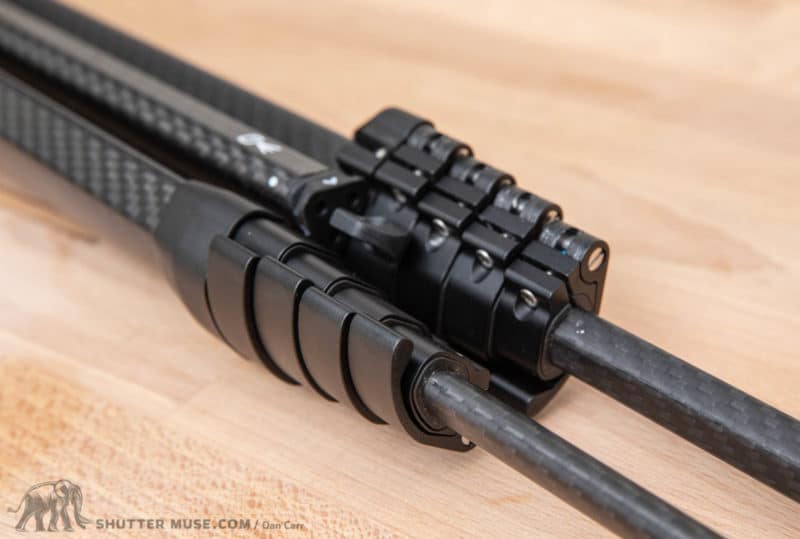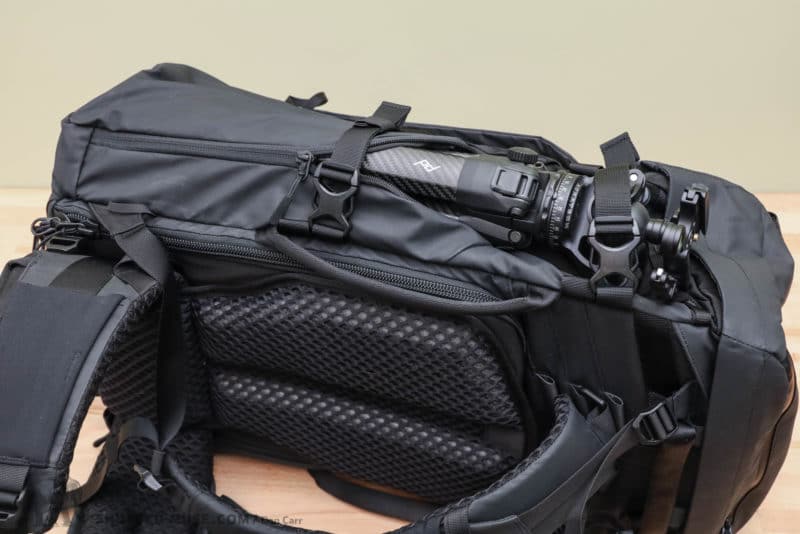 This Isn't a Magic Tripod
Never in history has a tripod received as much online press attention as the Peak Design Travel Tripod. $12million in Kickstarter funds is an insane amount of money for anything to earn, let alone a relatively high-end product from a (sadly) declining photography market.
Due to this media attention, more photographers than ever are aware of this tripod and I have received vastly more questions about it than any other tripod or piece of support equipment. What I started to notice, though, is that a lot of people were considering this tripod when it was clearly not the right choice for them. People want a piece of the hype, and they want what is frankly one of the coolest looking piece of photo gear on the market.
It's important to understand that this is not a magic tripod that has suddenly overcome all laws of physics. This is a travel tripod, and as such, the designers focussed on making it small and lightweight. When you do this, there will always be a sacrifice to the tripod's stability. Period. It's still possible to do a better job than your competitors at minimizing those sacrifices, but they will be there.
For this tripod to be the right tripod for you, you must be looking for a tripod that prioritizes lightweight and compact collapsed size. If you don't really care too much about those two criteria, this is the wrong tripod for you. There will be other larger and heavier tripods that offer a more stable platform.
Not a Replacement For All Tripods
I had people asking me whether they could sell their 2-series or 3-series tripods and just use the PD Travel Tripod? The answer here is a definitive no! I honestly don't really know why people suddenly forgot how to choose the right tripod, but I had enough conversations like this to know it is a thing. Larger 2 or 3-series tripods are more stable than any travel tripod. Even this Peak Design tripod.
Again, there is no magic here. It's a very good tripod, but the light weight means it does lack some stability with heavy camera setups. And it also lacks stability when you have forces applied to the legs from any angle other than directly downwards. Typically this comes in the form of heavy winds. You should be able to look at the cross-section above, and the other photos of the lower leg sections, and see that there will be some flex in these skinny legs compared to larger tripods.
Centre Column Considerations
Keeping the centre column collapsed is always a good idea in anything but the calmest wind conditions with any travel tripod. It will give you sharper images, but you'll have to deal with constantly bending down to use the camera. This is something else you need to factor into the purchase of a travel tripod. It's easy to get fixated on the maximum height of a tripod with its column extended – 152.4 cm in this case. But the reality is that if you want the sharpest images, you will spend more time using the tripod with the column lowered. In this case, giving you a max height of 130.2 cm.
When you consider purchasing a travel tripod of any type, this lower maximum height is another thing that needs consideration. I don't say this as a negative of this particular tripod, it's just a gentle reminder to everyone that you should think carefully about what you are giving up when you decide to opt for a tripod that was built with a focus on its small size and light weight in mind. This is a great tripod, but I really want to make sure that people buy the right tripod for their needs!
Built-In Ball Head
The unique design of the Travel Tripod doesn't stop at the legs. Included with the tripod is a built-in ball head that doesn't look like most head on the market. For this head, Peak Design concentrated on making something that would be extremely light and low-profile when the tripod is collapsed.
Controls for the head are simple. There is an outer locking ring which loosens the jaws around the ball and gives you the traditional tilt and roll movements of a ball head. There's also a small lever that locks the jaws of the head to prevent accidental release of your camera. This clamp is Arca-Swiss compatible, so it will work with any of your existing tripod plates and L brackets when the two stopper screws are removed. With the stopper screws in place (shown in the photo below) only the supplies Peak Design tripod plate will work. You can also remove just one of these stopper screws to allow you to slide the tripod plate in from the side. On top of the head is a bubble level to help you get a nice level horizon.
The strength of the ball head is impressive. In fact, I find it generally more impressive than the overall stability of the legs, and I'm confident you could comfortably lock a heaver-than-specified load as almost any angle. Despite its odd looks, this is a very capable head.
The downside to the low-profile head design is that it doesn't have an independent panning base. Most people would consider being a standard feature on anything but the absolute cheapest of tripod heads. In many situations, a panning base is not 100% necessary, but it is nice to have when you want to make small compositional adjustments in landscape shots. For people looking to take panoramic photographs, a panning base is a must-have feature. If pano photos are your thing, you'll want to pay attention to a following section that discusses options for adding 3rd party heads to this tripod.
The other downside to this design is that the head is designed to nest into the top of the tripod legs when fully collapsed. The jaws around the ball slot neatly into the area between the leg joints. This helps to keep the collapsed length of the tripod down, but it means that you have to extend the centre column about an inch before you can adjust the angle of the tripod head. it's one more thing to have to do when setting up the tripod, and it somewhat negates the speed benefits of the fancy fast opening leg locks.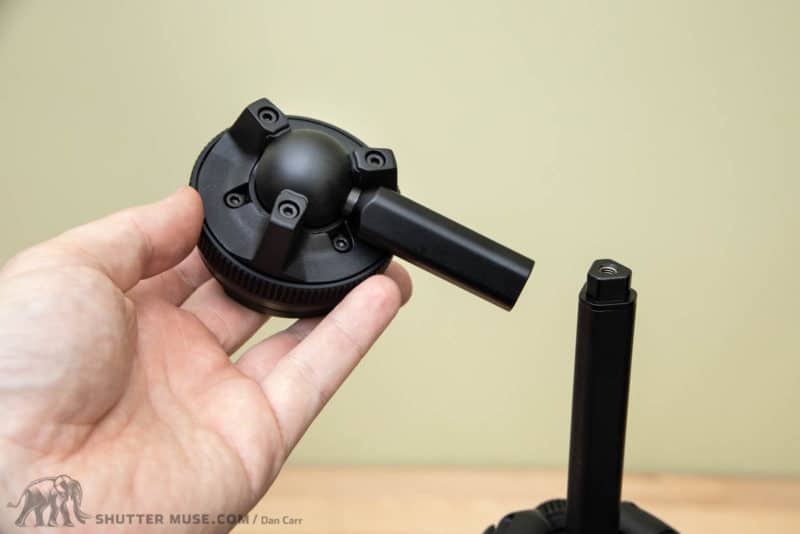 I often try to use a tripod without extending the centre column as this always provides increased stability, therefore this requirement was a slight annoyance. Also, with the provided tripod bag being such a tight squeeze, if you don't collapse the column down after using it, re-seating the head into the top of the legs, you won't actually be able to fit the tripod into the bag.
I totally get why they have gone with this design. it clearly provides a lighter tripod that is shorter when collapsed. So this just comes down to what I was saying earlier: Travel Tripods always have compromises. Your own goals need to line up with the tripod designer's goals for this to be the right purchase for you.
One way to get around this is to use a 3rd party ball head, and the various options for this will be discussed below in another section.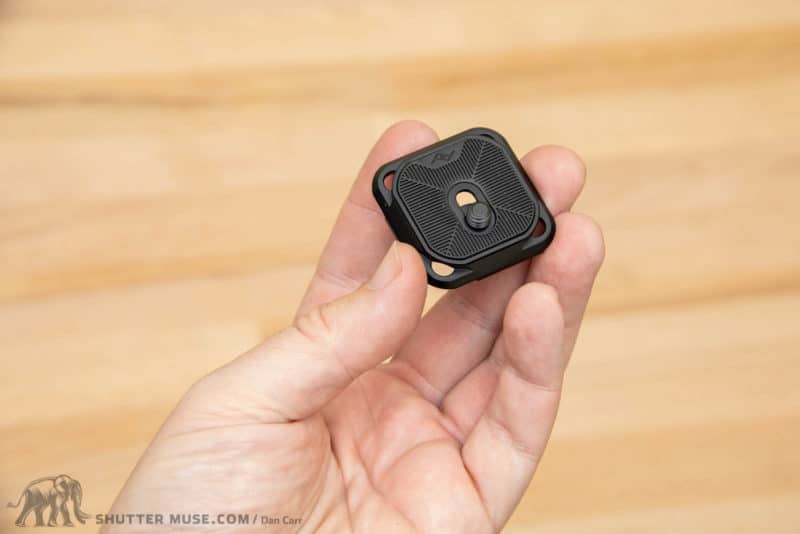 Included Accessories
Phone Adapter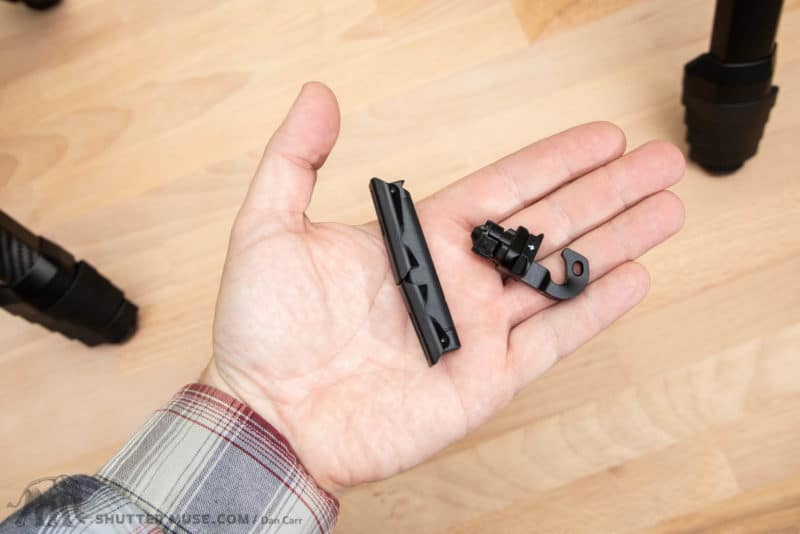 The Travel Tripod includes a phone adapter that can be used on the ball head to hold your phone. I doubt that many people will buy this tripod for the sole purpose of using it with a phone, but Youtube creators will likely find it handy for behind-the-scenes shots, b-roll and time-lapses. All of which phones are highly capable of capturing these days.
The foldable phone holder is cleverly hidden inside the centre column, accessible by rotating and removing the centre column's bottom hook. Although designed for this tripod, you could use the phone holder in any other Arca-Swiss compatible clamp.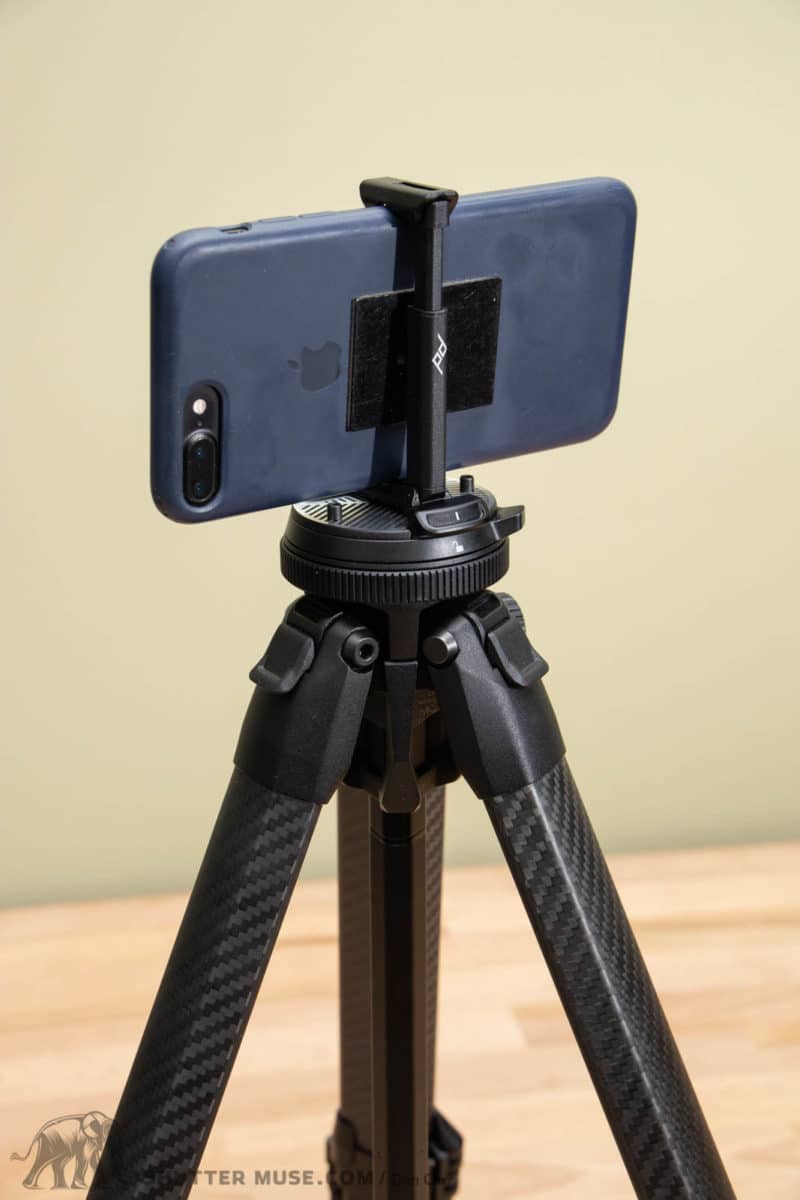 Tripod Tool
Almost every time you buy a tripod or a ball head you'll find one or two hex wrenches in the box. Peak Design has taken this one step further and created a bespoke mini multitool that can be stored in your bag or attached to the leg of the tripod in a removable plastic sheath. It's these kinds of small details that set Peak Design apart from everyone else. Even the most expensive tripods from the likes of Gitzo and Really Right Stuff don't go to this level of detail.
I'm sure that little touches like this, and the phone holder, are the sorts of things that put customers at ease with the cost of their relatively expensive purchases. I don't expect anyone to be feeling buyer's remorse with these tripods, and I do expect Peak Design to make some fans of their products for life.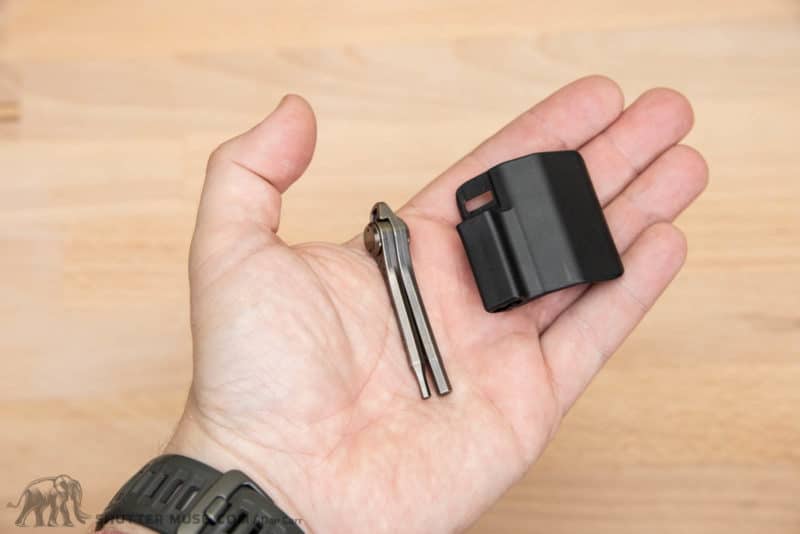 Tripod Case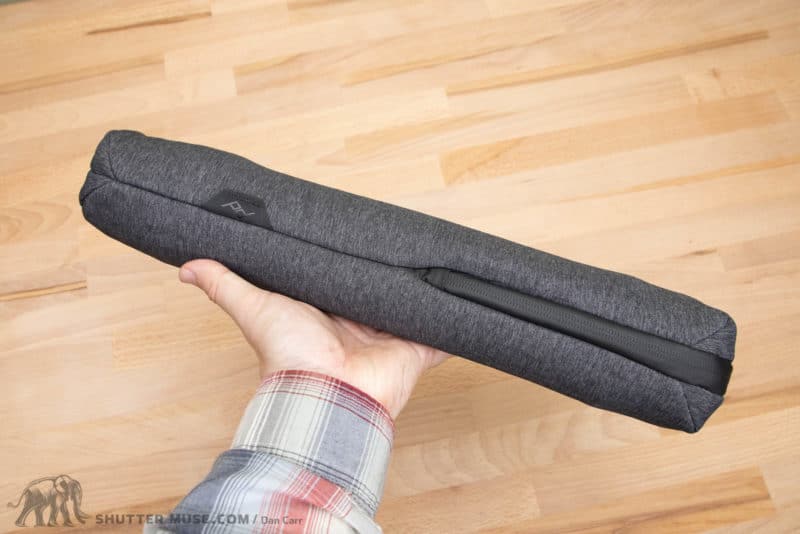 Much like the multitool, Peak Design has also gone to great lengths to make a good tripod bag. A hidden internal pocket can be used to store the multitool shown above, and in that pocket, you will also find a small tool to help you remove the tripod legs for cleaning or addition of optional tripod feet.
Peak Design Travel Tripod Weights
Any conscientious buyer will be comparing the specifications of various tripod options. The Peak Design Travel Tripod is available in two versions, and then there are further options to adapt the tripod by adding accessories or removing unnecessary parts. As such, the actual weight of the tripod isn't going to be that clear from the single specified weight on the PD website.
In the table below I have provided my measured weights for all individual parts of the Travel Tripods, as well as combined weights of the most common setups using included parts and optional accessories. You can use these weights to give a much more accurate comparison to any other tripods you might be considering.
| Tripod Configuration or Part | Weight |
| --- | --- |
| Travel Tripod – Aluminum – Standard as-shipped configuration – [Includes centre column, head, phone holder] | 1613g |
| Travel Tripod – Carbon – Standard as-shipped configuration -[Includes centre column, head, phone holder] | 1307g |
| Travel Tripod – Aluminum – [Ball head swapped for Universal Head Adapter] | 1487g |
| Travel Tripod – Carbon – [Ball head swapped for Universal Head Adapter] | 1181g |
| Travel Tripod – Aluminum – centre column removed | 1562g |
| Travel Tripod – Carbon – centre column removed | 1256g |
| Travel Tripod – Aluminum – centre column removed + ball head swapped to Universal Head Adapter | 1436g |
| Travel Tripod – Carbon – centre column removed + ball head swapped to Universal Head Adapter | 1130g |
| Travel Tripod – Aluminum – Ultralight Conversion Kit installed – No centre column | 1033g |
| Travel Tripod – Carbon – Ultralight Conversion Kit installed – No centre column | 727g |
| Travel Tripod – Aluminum – Ultralight Conversion Kit installed – No centre column – Ball head swapped for Universal Head Adapter | 907g |
| Travel Tripod – Carbon – Ultralight Conversion Kit installed – No centre column – Ball head swapped for Universal Head Adapter | 601g |
| Travel Tripod Case (comes included with tripod) | 86g |
| Tripod tool + clip (comes included with tripod) | 26g |
| Universal Head Adapter (optional accessory) | 88g |
| Phone Holder + Hook (comes included with tripod) | 22g |
| Included ball head (standard included tripod part) | 214g |
| Centre Column (standard included tripod part) | 51g |
| Individual leg weight (removed when Ultralight Conversion Kit Installed | 204g |
| Ultralight conversion kit feet x3 | 83g |
As you can see, by removing the centre column and making use of the various optional accessories, you have options here that range from 1613g all the way down to just 601g. This Travel Tripod as a system is incredibly versatile.
Travel Tripod: Carbon Vs. Aluminum
Once you decide to purchase the Travel Tripod, the inevitable next question is "carbon or aluminum?".
The Aluminum version of the tripod costs $349.85 and weighs 1613g in the standard configuration. The carbon version costs $599.95 and weighs 1307g in the standard configuration. That's a weight saving of 307g for the price increase of $250. In other words, for every gram of weight you save, you spend an extra 83cents!
If you go for the carbon version, you'll spend extra money, but do you get any extra performance?
Unfortunately not. The capacity of both versions of the tripod is the same, and as far as I can tell from my own testing, there is really no measurable difference in the stability that is provided by both options. It really just comes down to weight, and whether you want to carry that extra 307g on your hikes and travels.
It's not insignificant weight. Just by way of example, my beloved Sony 20mm f/1.8 G lens weighs 370g, and there are lots of other small lenses out there that have weights in that range. So, do you save 300+ grams of weight on your total carrying load, or, does carrying the carbon version of the tripod allow you the capacity to carry an extra lens in your bag that you might otherwise have left at home?
These are the questions you will have to ask yourself, and the answers will be personal. Fitter, younger photographers might not bat an eyelid at an extra 300g, but you certainly will feel that difference on a long day of hiking as you get older.
One other thing I should mention is value. At $349.95 I think the aluminum version of the Travel Tripod is excellent value. You're getting a lot of clever design for your money here, and there are fewer competitive products. With the price of the carbon version way up at $599.95, I would class that value as good, but not excellent. It's a heck of a jump from $350 to $600, for a tripod that performs the same and looks almost identical to boot.
Owners of the carbon version can rest safe in the knowledge that they bought the best of the best (at least from Peak Design), whereas aluminum owners can sleep safely knowing they probably got the better deal and spent their money very wisely.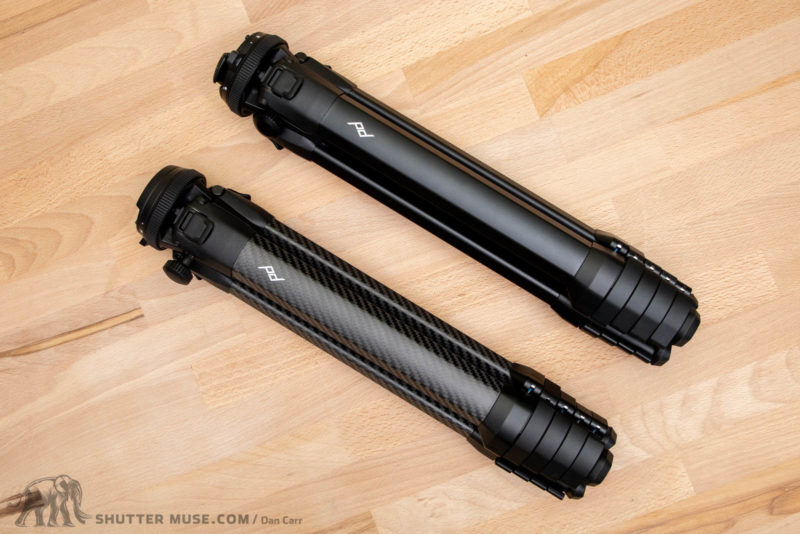 Travel Tripod Optional Accessories
Universal Head Adapter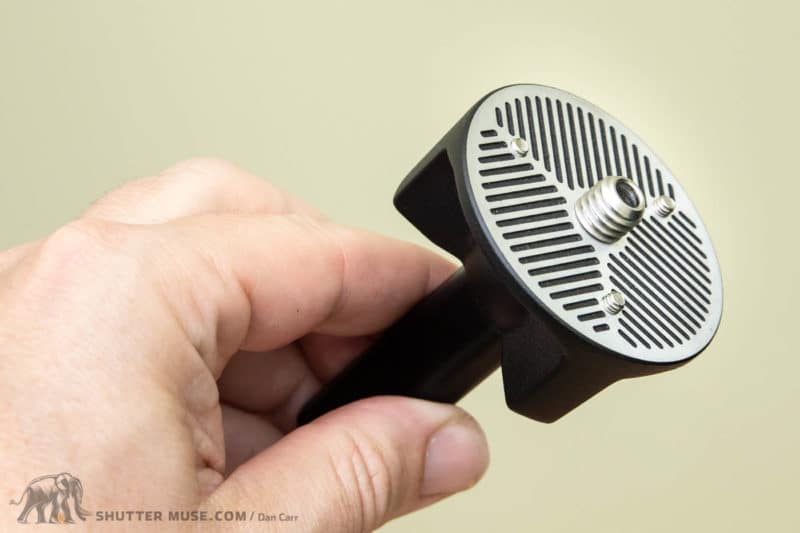 If you want to use your own ball head on the Peak Design Travel Tripod, the included inverted ball head can be quickly removed and replaced with the Universal Ball Head Adapter. It costs $40 and is compatible with the centre column. Any ball head that you place on it, can be held in securely by a trio of set screws that come up from beneath the head.
The platform diameter is 5.4cm (2.13″), but you could use a head that is bigger than this if you needed to. That said, anything larger than this might not be the ideal pairing because it's likely a large and heavy head that would make the tripod top-heavy. Try to find a small to medium-sized ball head if you go this route. I personally use an Acratech GXP on mine in this way.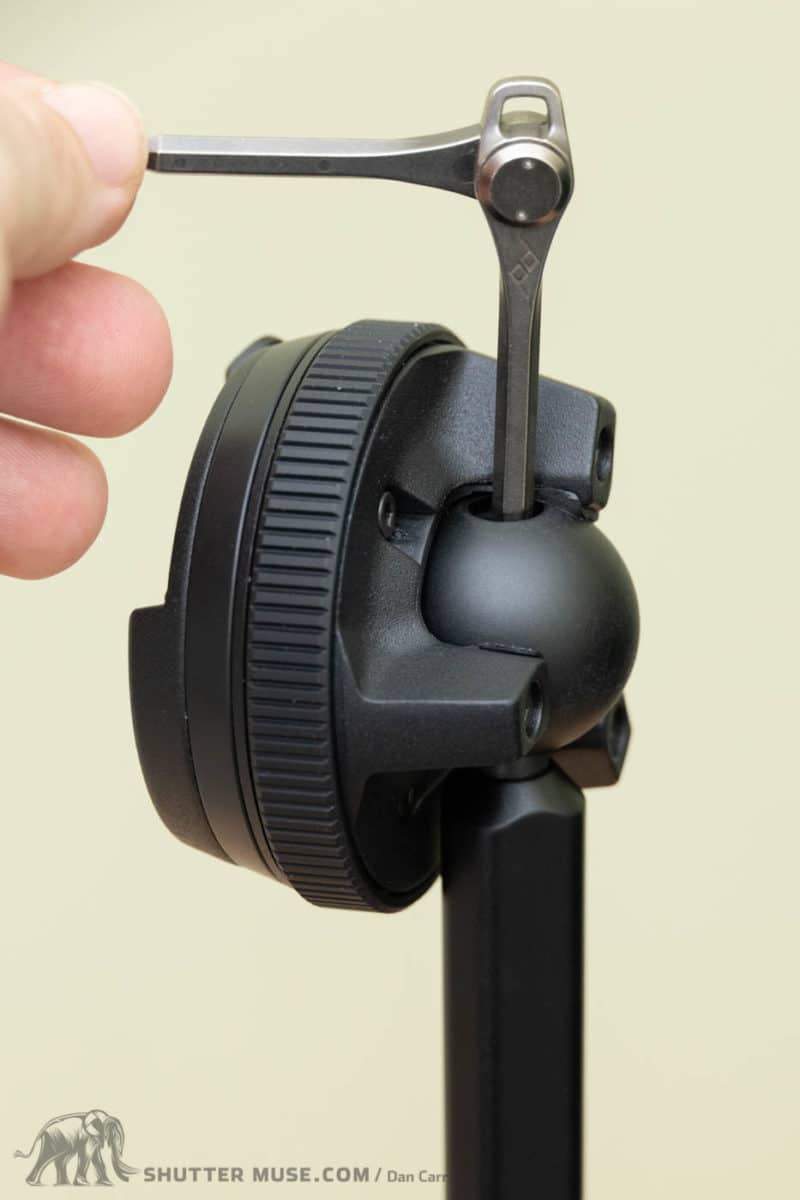 The included ball head weighs 214g and the Universal Head Adapter weighs 88g. This means you save 126g by removing the ball head, but of course, you then need to find a ball head of your own to install. It's doubtful you will find a head for less than 126g, so going this route does increase the overall weight of your setup. However, a standard ball head will give you the benefits of a proper 90-degree drop notch for portrait shooting, as well as a panning base foe panoramic photography. Depending on your head choice, it's very likely that your standard ball head will also have a higher load capacity and just generally be more ergonomically friends than the somewhat fiddly head that comes with the tripod.
Should you go down this route?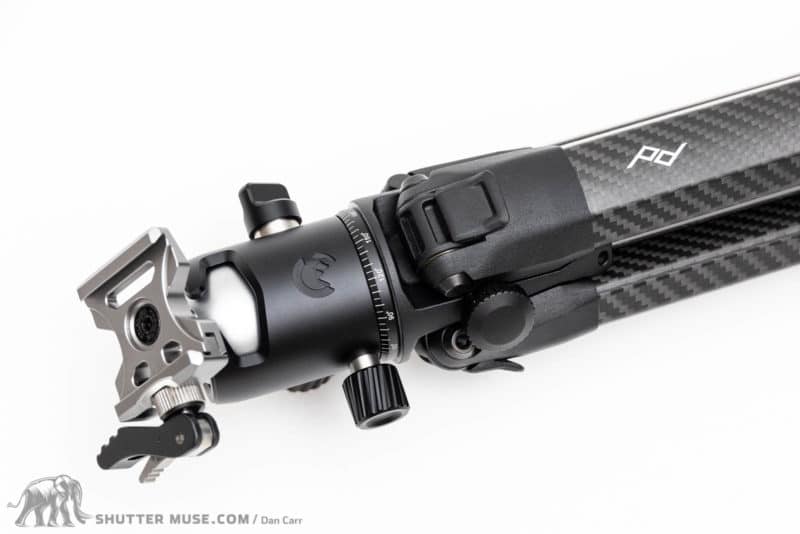 If you plan on putting a camera setup on this tripod this is pushing up towards the specified weight limits, then yes, I think this is well worth doing. It's the only way that I use the tripod myself. I have chosen a very lightweight head in the form of the Acratech GXP, and this gives me full-sized ball head controls and a 50lb load limit. I'm much happier with this setup than I was when using the included ball head.
That's not to say that the included head is totally useless, though. If you want to keep the setup as light as possible, there's no better way to do it. And there could very well be a case one day when I want to do such a thing myself. Perhaps an extremely long multi-day hike.
Another reason to just use the included head is the cost of entry for the system. The included head gets you started if your budget is limited. In the future, you can always look to add the flat base and a 3rd party ball head when it makes financial sense.
Ultralight Conversion Kit
The Ultralight Conversion Kit costs $40 and converts your Peak Design Travel Tripod into a tabletop tripod. The conversion process is relatively simple and involves the removal of the telescoping leg sections using an included tool. Once removed, new rubber feet are placed onto the tripod. You can choose to still use the centre column, or it can be removed. The height with the conversion kit is as follows:
Max height (center column down): 36.3cm (14.29″)
Max height (center column up): 58.1cm (22.87″)
Removal of the main leg sections results in a dramatic weight loss for the tripod. With this kit and the centre column removed, the carbon tripod weighs just 601g.
If you think you can get by with the height reduction, this is another cool upgrade for your tripod. Unlike the Universal Head Adapter, it's unlikely to be a configuration that you use all the time. If you did this it would be a very expensive tabletop tripod. However, it's nice to have the option if you want to do a lot of low-level landscape photography or macro work. Or, if you are willing to rely on natural height assistance from rocks or fallen trees when you need extra height.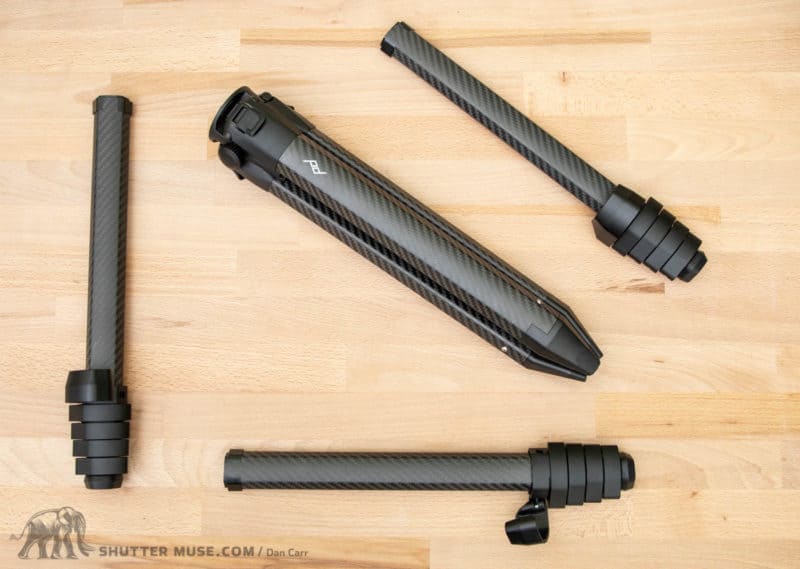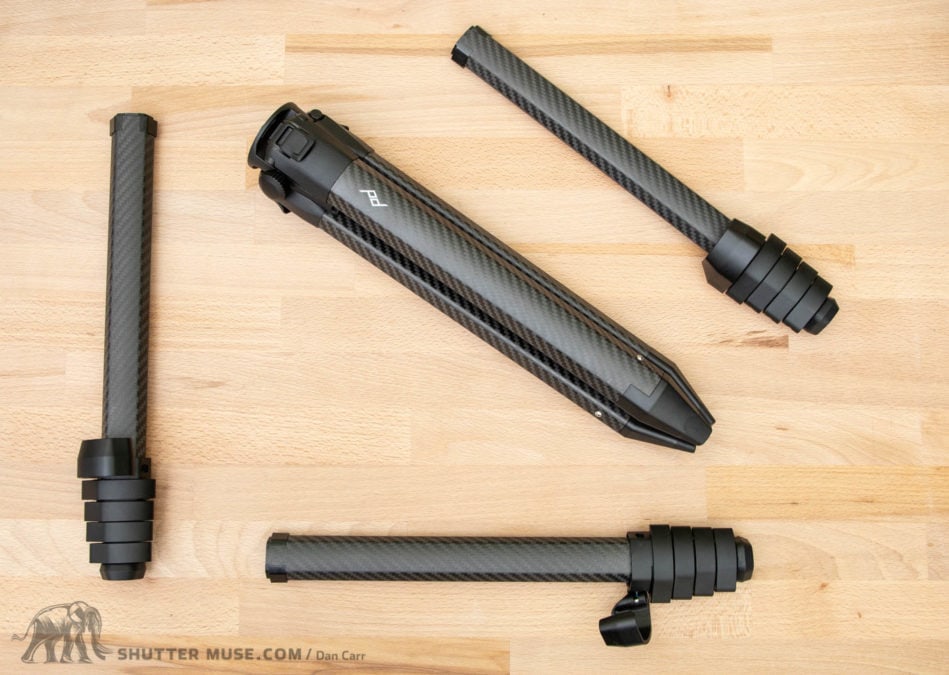 Spiked Feet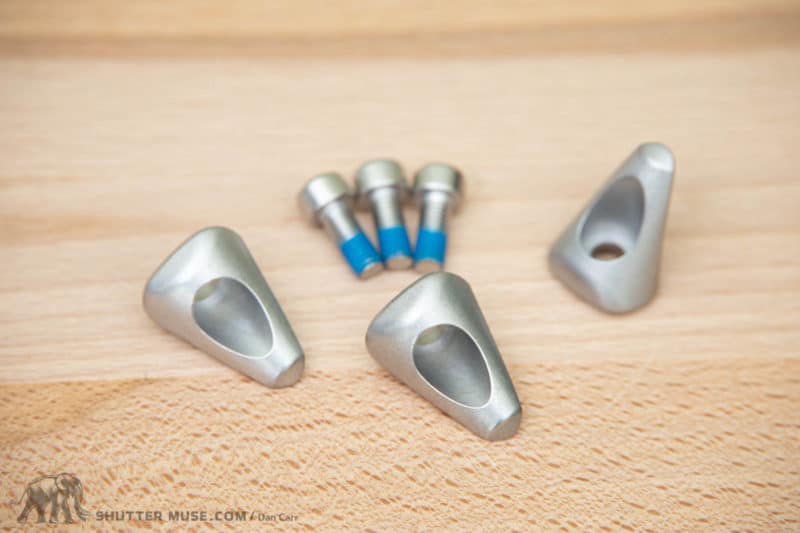 The Spike Feet set for the Travel Tripod are designed for use on softer ground. At $40 they are quite expensive, as as far as spiked tripod feet go, they are fairly mediocre. As you can see in the photos, the end of the spikes are not that sharp at all. This makes them on in soft mud or loose gravel, but not a lot of use on ice or smooth rock. They're fine, I guess, but I wish they were sharper.
Shoulder Straps
Both the case for the Travel Tripod and the tripod itself has connection points for the Peak Design Anchor System. This system is a feature of all their camera straps and means that can of them can be paired easily with this tripod. The Anchor System allows a strap to be quickly disconnected, so you can swap it from the tripod to the tripod bag in a few seconds if need be.
In terms of strap choice, the Leash or the Slide Lite makes the most sense. Of course, if you already use one of these on your camera, you can quickly disconnect that and use it on the tripod, too.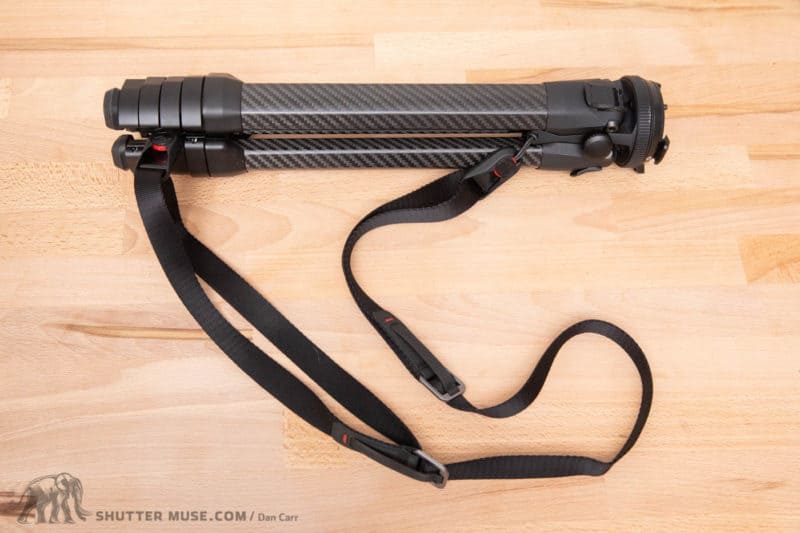 Additional Way To Use 3rd Party Ball Head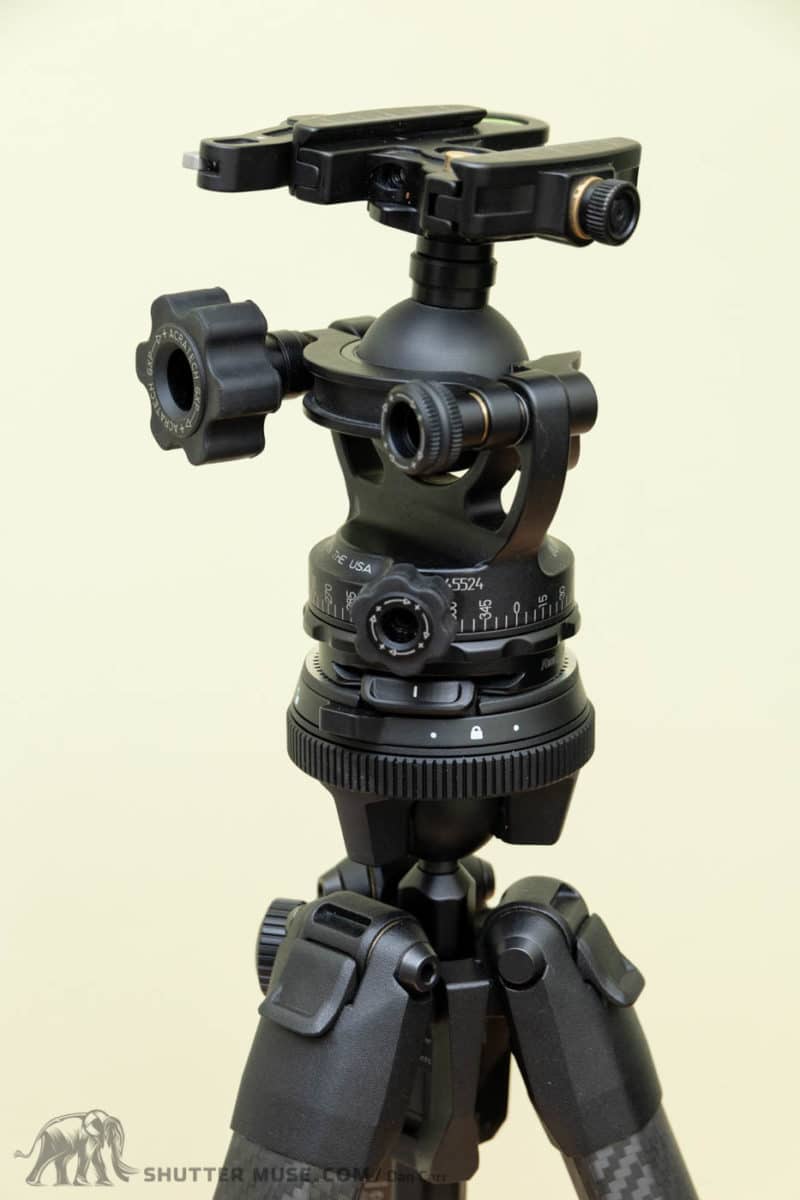 We've looked at the Universal Head Adapter as a way to use a 3rd party head on this tripod, but there is another option. By installing a reducer bushing into the 3/8 16″ thread on the base of your ball head, you can then attach the included Peak Design tripod plate onto the head and directly mount it to the built-in ball head of the tripod.
This makes a taller and heavier setup, but it has the benefit of being faster to swap between using the built-in head and using a 3-rd party ball head that has additional panning features and more ergonomic controls. Another benefit is that the tripod's built-in head than acts as a leveling head, enabling you to quickly set up a perfectly flat base for the second head for panoramic photography or filmmaking. Both things that require that perfectly level starting point.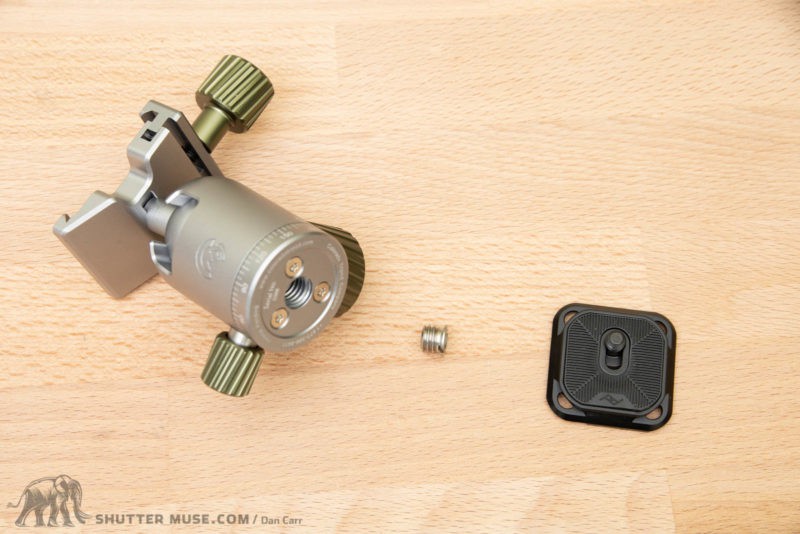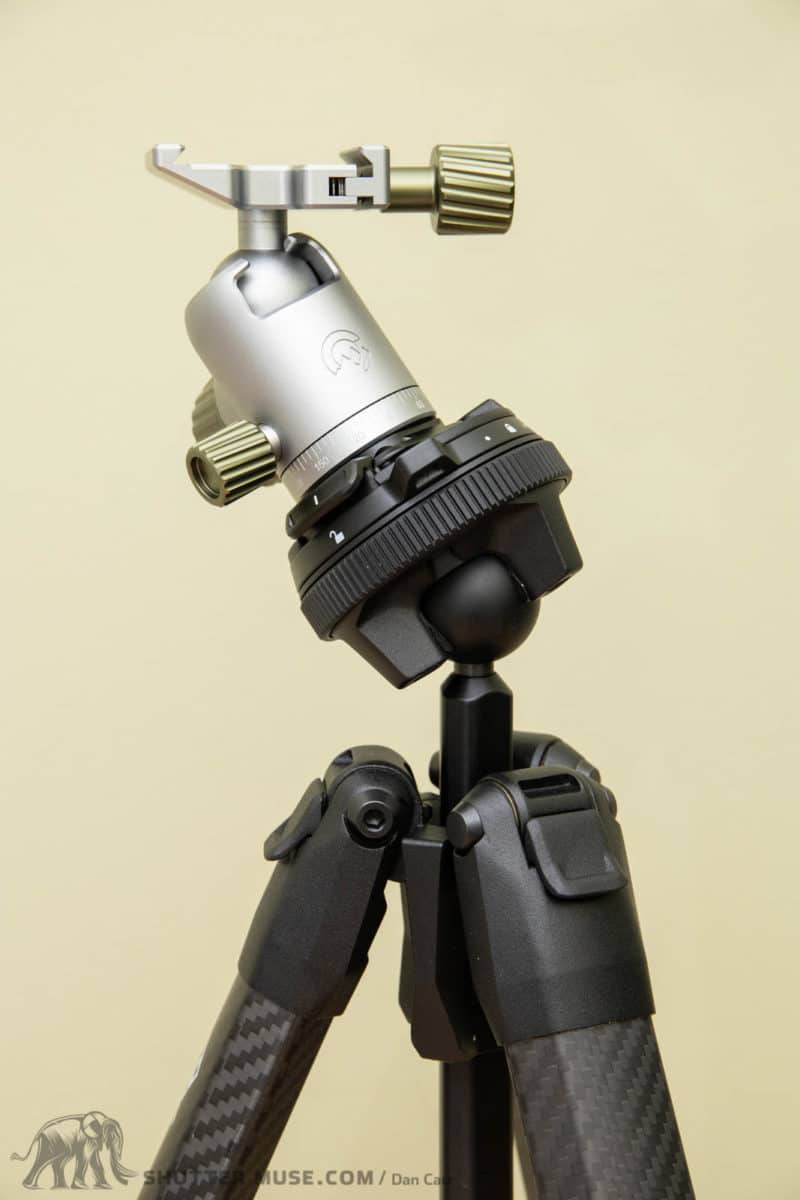 The Perfect Gimbal or Pano Head for the Peak Design Travel Tripod
Gimbal heads are incredibly useful for wildlife photography with longer lenses and panoramic photography. The problem is that most gimbal heads are quite tall and heavy. Putting a heavy head on a compact ultralight travel tripod would typically result in a setup that is far too top-heavy and unstable.
For a long time I simply ruled out using a gimbal with a small tripod, but then I came across a new gimbal while I was researching updates for my in-depth guide to the best gimbals on the market. The gimbal in question is the Fotopro E-6H.
Fotopro is a Chinese tripod company that makes some very high-end equipment. In the West, we tend to associate the Chinese photo brands with cheaper, low-end photo gear, but Fotopro should not be thought of in this way. While they do have a broad product range that includes cheaper tripods, their top-of-the-range Fotopro Eagle tripods and gimbals are easily Gitzo and Really Right Stuff levels of quality, stability and price.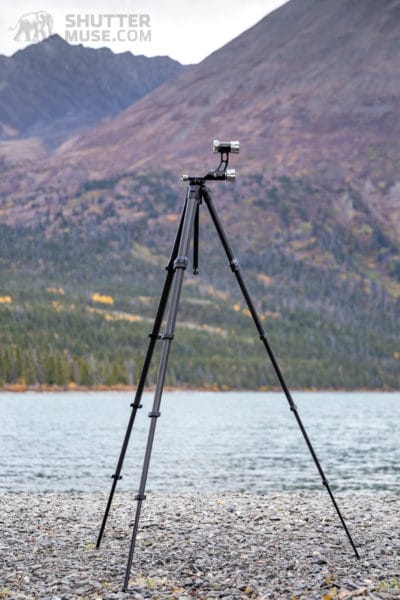 The E-6H gimbal is absolutely tiny compared to every other gimbal on the market, yet it is rock solid and has by far the smoothest pan and tilt motions of any gimbal I have ever tested. Not only is it strong, smooth and stable, but it also has the unique ability to rotate the vertical gimbal arm forwards or backwards up to 180 degrees in 45-degree increments. This means you can shoot straight up into the night sky, straight down for macro work, or simply fold it downwards to make your tripod more compact for travel.
Panoramic photographers will appreciate the unique click stops that can be engaged on the panning base to allow for easily repeatable panning positions, and filmmakers will appreciate the included panning arm that lets you create silky smooth pan and tilt movements that are far cleaner than you get with low-end video fluid heads. This gimbal really is a jack of all trades.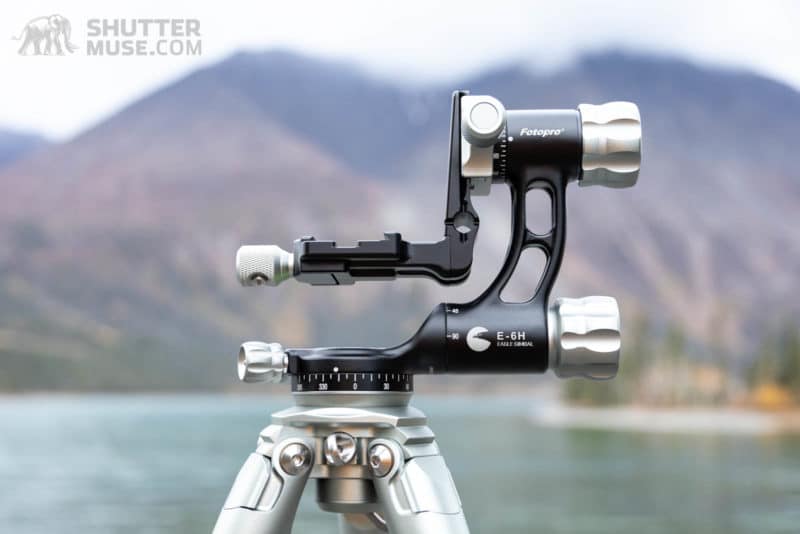 As you can see in the photos, the size of the Fotopro E-6H gimbal is a perfect match for the Peak Design Travel Tripod when you have the Universal Head Adapter in place. At $449 it's not a cheap piece of equipment, but it is easily one of the best tripod heads of any kind that I have ever tested for this site.
Conclusion
To jump into a new segment of the market with such a unique design, and do it so successfully, is very impressive. Starting from a clean sheet of paper instead of being influenced by iterated designs from a current product lineup has catapulted Peak Design into the upper echelons of the tripod market. If you're looking for a travel tripod, you'd be mad not to have this one on your shortlist.
If your budget can stretch to it, I think the carbon version is worth the extra money for the weight savings. But if you can't stretch that far, the aluminum version is actually a better value. Due to the cleverly compact design, even that version is actually lighter than the carbon travel tripods from some other brands, so it is by no means a heavyweight.
But before you rush out to buy one, I must once again underline my earlier point about the general nature of travel tripods. All travel tripods make sacrifices in stability in order to achieve their compact folded size and light weight. There is nothing magic about this tripod in that regard. There are many other tripods on the market that are more stable than the Peak Design Travel Tripod, but they are heavier and larger 2-series or 3-series designs.
An alarming number of people have asked me whether this tripod can replace all their tripods, or replace things like a 3-series Gitzo tripod, and of course there the answer is no. This is still a travel tripod, and if you are planning on buying one then you must be prioritizing small size and light weight, otherwise, this isn't the right tripod for you. It would be a mistake for most people to downsize from a larger 2-series or 3-series tripod to this one because you will find that it is less stable. A mistake that is, unless the primary reason for downsizing is to get something much smaller and lighter at the expense of some stability.
So, to sum it up, there's a good reason why this is the very travel tripod I spent my own hard-earned money on. It can hold it's own against the much more expensive Gitzo Traveller and the RRS TFC-14/TVC-14. If you need a travel tripod, it comes highly recommended. For people with very lightweight mirrorless camera setups, it's possible for this to be your only tripod. For those with larger mirrorless setups that use heavier lenses, and DSLR users, you are probably going to want this tripod as a second tripod. For use when the situation dictates that an ultralight setup is the best tool for the day. If you understand what you are buying, and when such a tripod makes sense to use, you are going to be very happy indeed with this purchase.
Where to Buy + Special Offer
As always, we appreciate it when you use the links on this page to make your purchases. For Peak Design gear I always recommend buying directly. They have free shipping to many places and their customer service team are always on hand to help if you have any problems.