The PolarPro Apex is a tabletop tripod that was released alongside the Traverse strap mount and the Belay camera strap as part of PolarPro's new Quickdraw product series. PolarPro is traditionally known for drone filters and camera filters, but they began branching out into products for larger cameras with their Summit filter system. This new Quickdraw product series pushes further into new markets.
PolarPro Apex Tripod Versions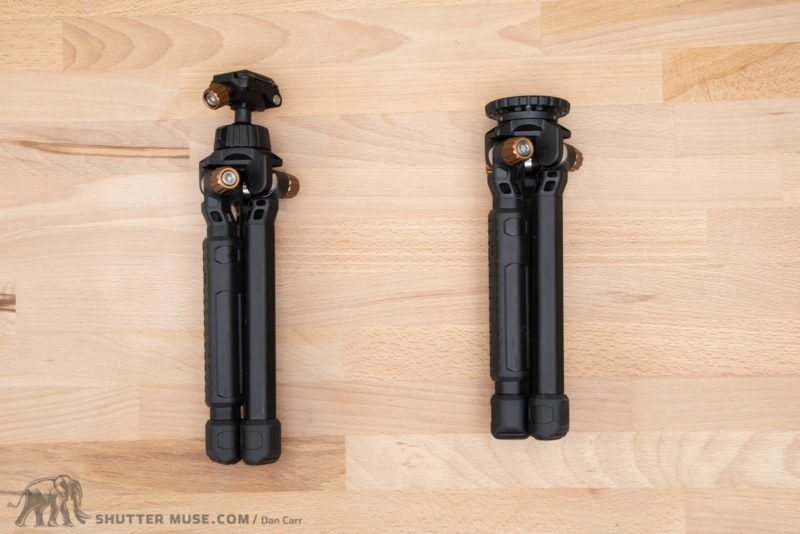 There are two versions of the Apex tripod. One comes with a built-in ball head and the other has a flat base for you to use your own ball head. Both versions are the same price. It would have been far better to design one tripod with a removable head. That way you could start off by using the included head and then upgrade at a later date to use a better head.
For reasons we will be getting on to, you don't want to buy the one with the built-in head anyway, so it has become a moot point. But I don't understand the logic in wanting to lock people into one design or other. At $140, these tripods are not cheap throwaway devices. You need to be delivering some adaptability.
Tripod Design and Function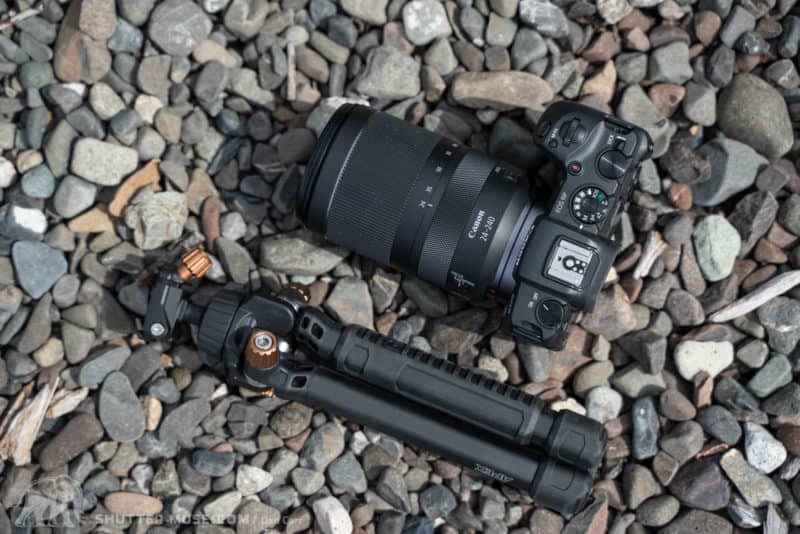 Size and Weight
The Apex tripod is an odd size. PolarPro says that "at only 16oz" it's a lot less weight than a travel tripod. And while that might be true, it ignores the fact that at 16oz this is incredibly heavy for what is ostensibly a tabletop tripod. The popular Feisol tt-15 tripod weighs only 6oz, and there are plenty of other ones that come in at even lower weights.
It could be argued that the Apex is taller than most tabletop tripods. This is true, but only by a matter of 2-3 inches. And once you have a tripod that doesn't have any collapsible legs, realistically you are going to be relying on the height of nearby objects. The slight added height of the Apex isn't going to make your shot, and the tripod is all the heavier for it. There are even carbon tripods that are cheaper than the Apex that actually does have 2-section legs, and does extend considerably higher. See the LeoFoto LS-223C.
Those Leg Locks
Now we get onto the leg "TiltLocks" as they call them. On any other tripod when you want to take a photo you splay the legs open and set it down on your chosen surface. A process that takes less than 1 second with the several other small tabletop tripods I have in the office. Then you finesse the camera angle using the tripod head.
With the Apex tripod, you need to individually unlock each leg using the knurled knob. If you want to make sure each leg is set to the same angle you then have to squint very carefully at the tiny numbers on the locks to make sure the teeth are all lined up in the same place on all three legs. This drove me nuts. What is the point? Just to be different? it takes forever compared to any other tripod, and then you have to unlock them all to put the legs away afterwards.
Not helping this annoyance was the fact that the laser-etched numbers were in different places on different locks. Sometimes the number would sit on the spike of the tooth, and sometimes opposite the trough. Which number is it set to?!? Add this to the list of quality control issues.
On their website, PolarPro sells this TiltLock feature by saying there are 144 leg position options. But why would I want that many options? Leg position locks on tripods are there to make large sweeping changes. Once you have it roughly right, you use the tripod head to position your camera to perfection.
That is how a tripod works. Why would you want to fuss with making tiny angle changes on the tripod legs when you can change the camera angle on the ball head so simply? There's a fundamental disconnect between the ideas here and the way that photographers actually want to work. What photographer ever stood in the field and said: "gee, I sure wish I could adjust one of my legs by just 5 degrees."
Stability
The Apex tripod head is rated to 3lbs. One of, if not the lowest tripod head weight rating I have ever seen.
A 3lb rating is a joke for a tripod of this bulk and weight. This means that you can't even put a Sony 24-70mm + Sony a7R IV on this tripod without it being over the specified weight limit. This would be about 3.5lbs. As far as I can tell, some of PolarPro's own promo material for this product is using camera setups that go beyond their stated weight rating.
And you know what, I'd even question the rating. No matter how hard I cranked on the ball head lock, I couldn't get it to lock solidly. I could always continue to move it. I even spent time applying a comical amount of force to it that you'd simply never use in the field, and I could still push the camera around. The ball head lock simply doesn't work well enough for anything more than a mobile phone. It's inexcusable when there are sub-$20 ball heads on the market that are many times better.
Oh, and those ball heads? They have panning bases on them. The head on the Apex doesn't have a panning base.
What about the legs?
The legs of the Apex are aluminum but if you look closely at the top part of the leg where it mates with the TiltLock, you'll see this part is plastic. As soon as you put any weight on this tripod, these plastic parts flex an unnerving amount. Apparently, the legs are rated to 25lbs, but there is no way I would trust them to anything like that. They give you absolutely no confidence, and just feel flimsy compared to other similar styles of tripod. My pocket-sized RRS TFA-01 tabletop 'pod doesn't flex a bit with a 20lb load on it, and I can fit that in my back pocket! Costs less, too.
Again, this is all a shame. If it had only been the ball head that was terrible, I could at least have found a positive way to use the product by putting a good ball head on the Base version of the Apex. But then you'd still be plagued by the TiltLocks, heavy weight, bulky size and questionable rigidity.
Conclusion
I don't take any pleasure in writing review conclusions that are predominately negative, but in this case, I'm left with little choice. I cannot recommend this product to anyone.
The Apex tripod is frustrating to use due to the screw-locks on every leg. These need to be individually loosened just to set the tripod up, and then you need to pay additional attention to leg positions by peering at tiny numbers on the leg clamps. It takes a needlessly long time to set this tripod up compared to literally every other tripod on the market. Of course, it all needs to be repeated in reverse to close the tripod.
The Apex is touted as "95% aluminum construction", but unfortunately the 5% that is plastic is the part that joins the legs to the top of the tripod. This is exactly the part that you don't want to be made of plastic. As a result, even the tiniest amount of weight on the tripod causes everything to flex in an unnerving way. Despite the tripod looking chunky and solid from a distance, it feels anything but. All the more remarkable considering the heavy-for-a-tabletop-tripod weight of 16oz.
Yeah. I know they call it a "travel tripod" and not a tabletop tripod, but that's simply ignoring all common industry understanding of tripod features and product positioning. Consumers are not stupid, they are going to look at this and compare it to a tabletop tripod, not travel tripods. And to be honest, it would review just as badly if I compared it to a travel tripod because it simply doesn't have the features to match that category either.
On the version of the Apex that includes the ball head, good luck getting it locked tight enough to clamp anything heavier than your phone. Even then, after tightening the ball with all my might, I could always get it to slip. When trying to release it just enough to make minor adjustments, it releases abruptly and entirely, leaving minor camera position changes a chore. There are sub $20 proper ball heads on the market that do an infinitely better job than this, and those heads also have a panning base, which the Apex head does not.
The vertical flip function of this head inexplicably tilts more than 90 degrees, and because it doesn't have a lock, it's impossible to adjust the camera's horizontal position in the vertical mode. If you move the camera, the flip mechanism simply collapses back on itself instead of adjusting the camera angle. There's a very good reason why there are no other heads like this on the market. Infuriating to use.
If you absolutely must buy one of these Apex tripods for some reason, at least save yourself some of the frustration and buy the Base version that just has a flat plate on top and no ball head. You'll still have to deal with the fiddly leg locks, slow setup time. heavyweight and questionable feeling rigidity, though.
On top of the design features that just don't work for me, I saw a host of quality control issues. From misaligned leg log engravings to laughably incorrect "level" lines on the ball head, totally non-functional tripod plate screws and a poorly applied rubber grip on the plates.
I'm struggling to think of another product that has missed the mark for me as much as this one. I spent quite some time trying to imagine how this could even happen, and can't say I came to a clear answer because I don't know how PolarPro's design's R&D process works. It's as if a non-photographer designed the tripod to look cool on a computer screen. Then pre-release testing, if there was any, was performed by a bunch of YouTube influencers who simply nodded silent approval because they feared losing some association with a cool brand. This doesn't even really explain how the product seems to ignore the specifications of existing products. It just seems to have been designed in a vacuum.
Will PolarPro take these criticisms on the chin and step up to the plate to address them in the future? We'll have to wait and see.
Retail price for these tripods is $139.99. My advice for a small tripod would be to buy the Feisol TT-15 Carbon Tabletop Tripod for $69. It's half the price, less than half the weight(!), smaller, simpler to use and much more stable.
Where to Buy
The PolarPro Apex tripod is available from the following vendors: