Clamps that allow you to mount your binoculars to a tripod are handy. For stargazers with high magnification binoculars, they are a must-have item. They can also be very useful when you want to sit and watch a scene for a prolonged time. The problem with most binocular tripod adapters is that they are heavy and have awkward shapes. This makes them a pain in the ass to carry in your already-heavy backpack or complicated, perhaps impossible, to use with a bino harness or slimline bino case.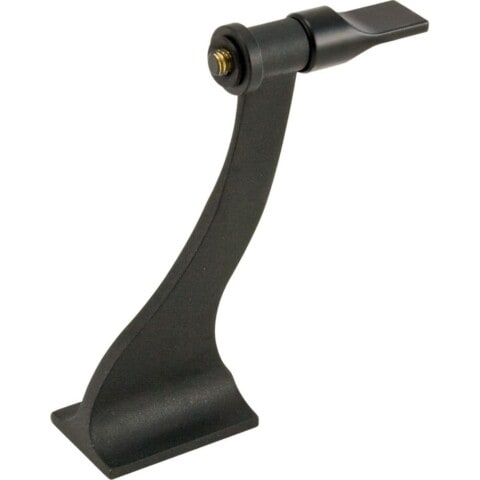 To solve both of these problems, Aziak Equipment has created an ultralight binocular clamp that weighs less than half an ounce and features both a 1/4″ 20 attachment point and an Arca Swiss compatible dovetail for use with quick-release tripod clamps.
Disclosure: This product was provided by Aziak Equipment for review. No money changed hands, and they did not get to see the review before it was published.
Specifications
Arca Swiss Dovetail & ¼"-20 threaded socket
Ultralight – 0.3 oz. (8.5g)
Clamp material: Nylon
Low profile – slides right into a bino harness while installed
100% Designed, manufactured, and assembled in the USA
Design and Features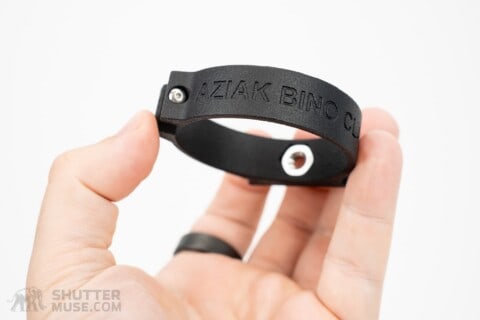 The Aziak Bino Clamp is made from nylon and weighs just 0.3 oz (8.5g). Once installed on your binoculars, you won't notice the weight. Whether or not you feel the presence of the clamp will depend on your hand size and the size of your binoculars. Many people will be able to position it far enough in front of their usual point of grip that their hand doesn't touch the clamp at all.
For those with small binoculars or larger hands, you might find that your hand will be clasped over the top of the bino clamp. Again, the small size of the Aziak clamp is helpful in this situation. The circular part of the clamp is only about 2mm thick and will not give you any discomfort. If you are wearing gloves, I doubt you would even notice it.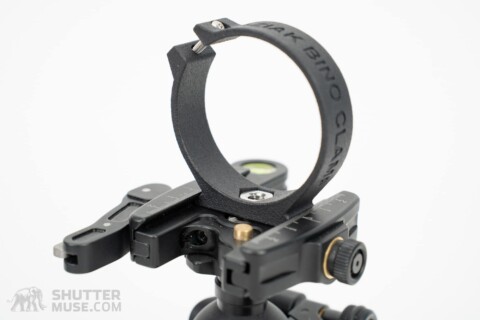 All of my tripods have ball heads with Arca Swiss clamps on them. These days I would not use a binocular adapter that wasn't compatible with one of these quick-release clamps. This allows me to get my binoculars (or camera) on and off my tripod in seconds instead of painstakingly screwing them onto an exposed 1/4″ 20 stud. For those who want to use a 1/4′ 20 connection, the Aziak Bino Clamp holds a small threaded nut for this purpose, although I would highly recommend moving to an Arca Swiss clamp if your budget allows.
Before testing, one concern was the longevity of an Arca Swiss dovetail made from nylon. Necessarily, some clamping force is applied to an Arca Swiss compatible dovetail by the clamp's jaws. I was worried that through constant use, the nylon might suffer some indentation, thus making it less secure in some Arca Swiss clamps that do not have adjustable widths. So far, I can report that this has not been an issue after two months of use. Nor did I see any mention of this as an issue in other user-generated reviews on the brand's website.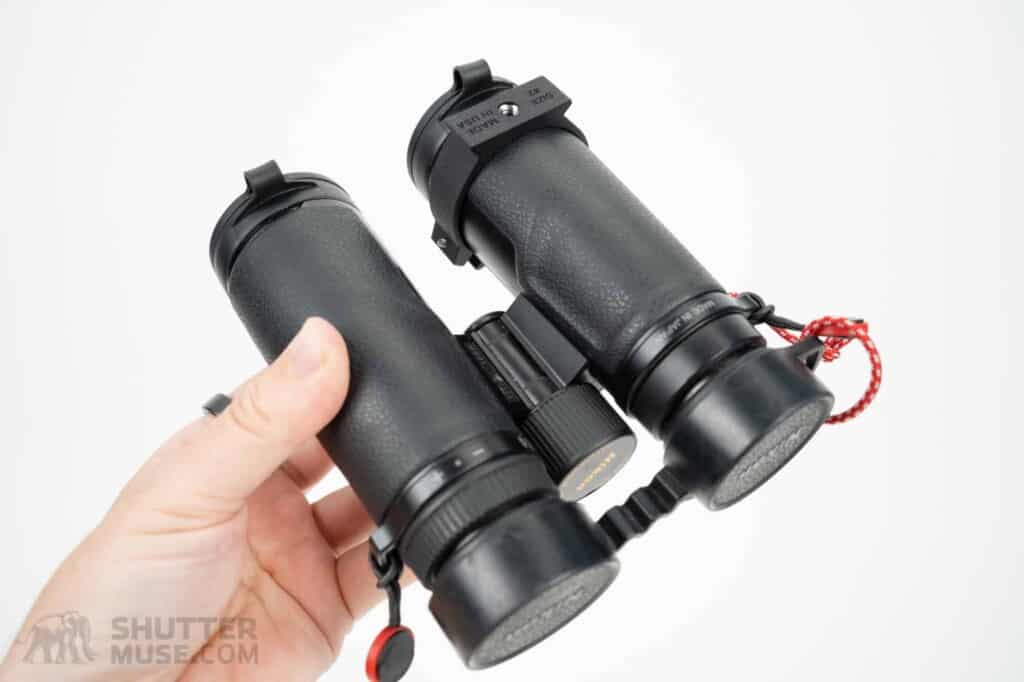 Aziak Bino Clamp Sizing
Aziak will have a Bino Clamp for whatever the size of your binoculars. Before placing your order, consult their extensive sizing guide, which contains the most popular binoculars from major brands such as Zeiss, Leica, Swarovski, Leupold, Maven and many more. Even if you cannot find your particular model in the size guide, they will have one that fits. It only means they have not yet measured that model. Drop them an email and they will help you choose the right one.
Conclusion
The Aziak Bino Clamp is a cost-effective, ultra-light binocular tripod adapter that doesn't get in the way when switching to hand-held glassing and still allows you to use a chest-mounted binocular harness or case. You can use it with an Arca Swiss quick-release clamp or screw it onto a 1/4″ 20 stud.
The remarkably light 0.3 oz (8.5g) weight makes it a set-and-forget item—no need for constant removal and reattachment. It's there when you need it, and unlike all other binocular tripod adapters I have used, you forget about it when you don't need it. If Arca Swiss compatibility and light weight are on your tripod adapter wish list, I highly recommend taking a look at the Aziak Equipment Bino Clamp.
Where to Buy
The Aziak Equipment Bino Clamp can be purchased directly from their website for $36.99.