The Really Right Stuff Cinch-LR BA is a rather unique adapter for allowing binoculars to be securely mounted to the ball head on your tripod or monopod using an Arca-Swiss standard dovetail. A good pair of binoculars is one of my wildlife photography essentials, and as a fan of RRS products, I knew I needed to take a closer look at this when it launched. Mine was purchased at full price from B&H Photo.
Most of the time while I'm on the move my binoculars are either hanging in a pouch on the side of my camera bag or slung around my neck. When I'm in my Tragopan Monal V2 blind, though, I often spend long periods of time watching and waiting. Since I always have my tripod in the blind with me, this adapter makes it simple for me to use it as rock-solid support for my binoculars.
There are various binocular tripod adapters out there on the market, but none of them has the Arca-Swiss dovetail built into them, and most are awkwardly shaped contraptions that stick down from the binocular hinge, thus making them harder to pack away into your bag, and just generally rather unwieldy.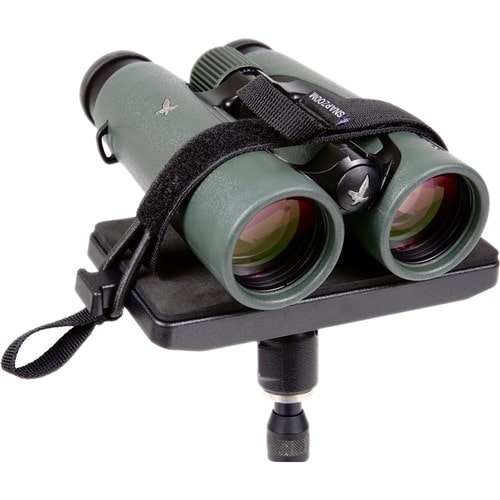 The beauty of the RRS adapter is that you can simply leave it on your binos every day. The smooth satin finish of the machining is comfortable under your hands while holding the binoculars up to your eye in normal use. On top of that, the dovetail doesn't stick out very far, so leaving the adapter on there all the time is not going to mean that you suddenly need to find a larger case for your binoculars. And, if you do want to remove it, just flip the latch open and it comes right off. I'm often impressed by the clever engineering that comes out of the RRS factory, and this is right up there with the neatest products I have seen them produce. Elegant, lightweight, low profile, secure and simple.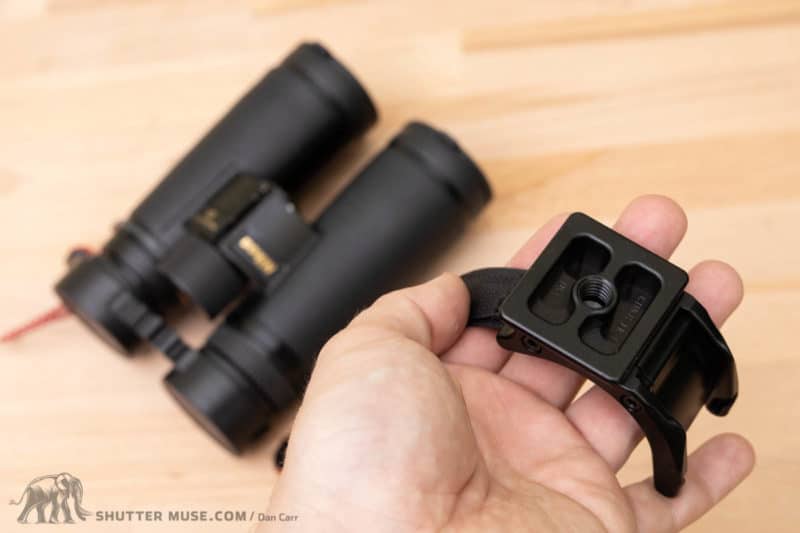 Binocular Sizing
RRS state in the specifications that the Cinch-LR BA is designed for binoculars with a diameter of between 1.77″-2.56″. Roughly speaking this is going to fit all popular 42mm binoculars, most 50mm binoculars and some 32mm binoculars. Check the dimensions of your own pair before ordering the adapter.
As you can see in the photos, the adapter is easily altered for different sizes by simply lengthening the nylon strap. Excess length on the strap can be tucked under the binoculars, or cut off if you are sure you aren't going to want to move it to a different pair. While adjusting the strap length for your binoculars, you want to make sure there's a reasonable amount of resistance when you try to close the latch, but not so much pressure that the nylon strap permanently digs a groove into the rubber shielding of the binoculars.
Does it help to solve the age-old debate between 8x and 10x binoculars?
Even moderate binocular aficionados will probably be aware of the constant debate between 8x and 10x power binoculars. Of course, 10x gets you "closer" to the wildlife, but it also amplifies the shake in your arms more than a pair of 8x binoculars. Many people will adamantly state that 8x is better because you will get a sharper image due to the reduced shake, but there's usually a good number of people that are sure their arms are steady enough to use 10x binos.
What's interesting about the RRS binocular adapter is that it will allow you a quick and easy way to stabilize your binoculars to the point where 10x magnification will certainly be a very usable option, and in fact, some might even go further than that to 12x or 14x.
If you have the time and the right spot to set up a tripod, great, but I can see this also being incredibly useful on a monopod. A monopod is much easier to carry around and much faster to set up. With a good monopod head, you will easily be able to make a huge stability improvement while still keeping yourself relatively mobile.
Conclusion
This is a fantastic product that suits a few specific needs cleverly. If you often find yourself sitting in one spot for a very long time using your binoculars, this is a great way to use a tripod to take the strain off your arms and add stabilization to your picture. Patient wildlife photographers and hunters, I'm looking at you here.
Alternatively, if your extended years generally make it hard for you to get a steady view through your binoculars, combining this RRS bino adapter with a monopod will dramatically improve the sharpness of your view through the eyepiece, helping you resolve more details and making it easier to identify the birds and other wildlife you are observing.
The third scenario that comes to mind is people who want to use magnifications that go beyond the likes of the generally-most-popular 8x and 10x binos. There are many great 12x and 14x optics out there, but for effective use, they do need to be supported in some way. The RRS Cinch-LR BA, with either a monopod or a tripod, is the best way to do that.