CFexpress Type A cards first began to appear on the market when Sony launched the a7S III mirrorless camera. Since then, Sony has continued to add compatibility for this card type to their new camera models, following the a7S III with the Alpha 1 and the FX3 Cinema Line camera. I'm sure others will follow suit.
At the moment, Sony has something of a stranglehold on the CFexpress Type A card marketplace. Although they are currently the only manufacturer of these Type A cards, I know for a fact that a few other card manufacturers are preparing their own entries into this marketplace.
In terms of card readers for CFexpress Type A cards, the options are also slim. But at least there are some options.
Sony MRW-G2 Cfexpress Type-A + SD Card Reader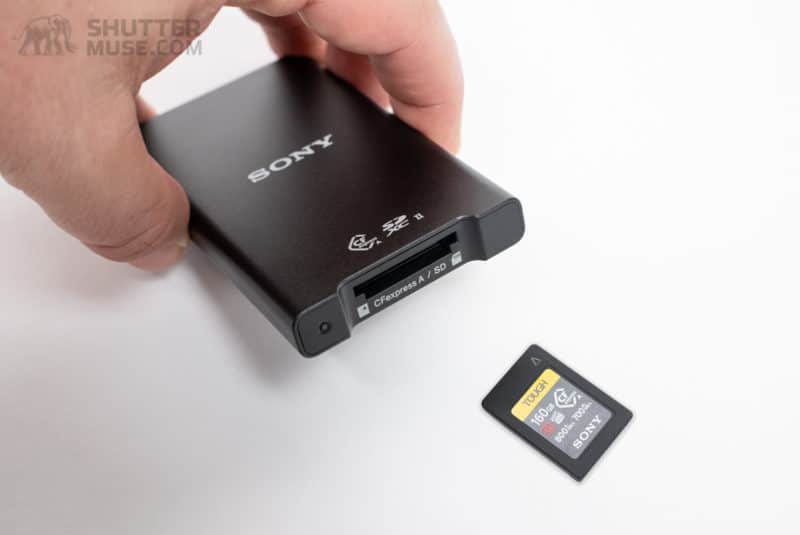 The Sony MRW-G2 CFexpress Type-A readers uses the same combo slot that Sony uses in their cameras. This slot is capable of accepting either a CFexpress Type-A card, or an SD card. The clever combo design keeps the thickness of the card reader to a minimum.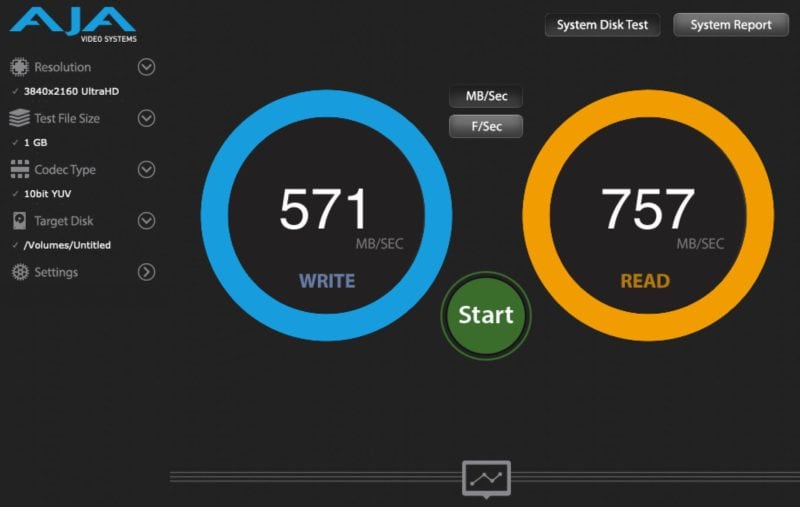 Coming in at around $118, this isn't a cheap card reader, but it is built to an exceptional standard. It feels "pro" in every way, constructed entirely from metal. On the back of the reader is a USB-C port that uses USB 3.1 Gen 2 to deliver up to 10Gbps of throughput. 10Gbps is actually more than the maximum speed of CFexpress Type-A cards, so this reader will never be a bottleneck in your workflow. A USB-C to USB-C cable is provided, as is a USB-C to USB-A cable.
I tested the speed of the MRW-G2 using one of Sony's TOUGH 160GB CFexpress Type-A cards, and was able to achieve speeds of around 570MB/s for write, and 757MB/s for reads. Considering the theoretical maximum read speed of those cars is 800MB/s, this falls into what I would consider to be "very good performance" terriroty.
ProGrade Digital CFexpress Type A & UHS-II SDXC Dual-Slot Reader
ProGrade Digital make a series of excellent stackable memory card readers, many of which I have reviewed on this site in the past. As soon as I started using CFexpress Type A cards in my own Sony a1 and a7S III, I was excited to see that ProGrade Digitial was the first of the non-Sony brands to develop a Type A card reader. Even better, at $79.99 it is $40 cheaper than the Sony CFexpress reader.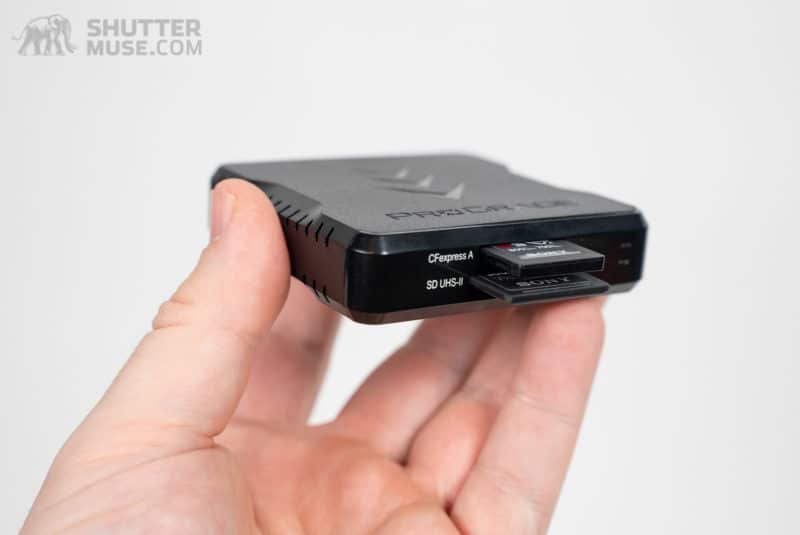 As they have done in the past with their other readers, they designed this reader to accept two different types of memory cards: CFexpress Type A, and SDXC cards. A big difference between this reader and the Sony MRW-G2 reader, is that the ProGrade reader has two distinct card slots, instead of one combo slot. This means that you can use the ProGrade reader to download both an SD card and a CFexpress Type A card simultaneously.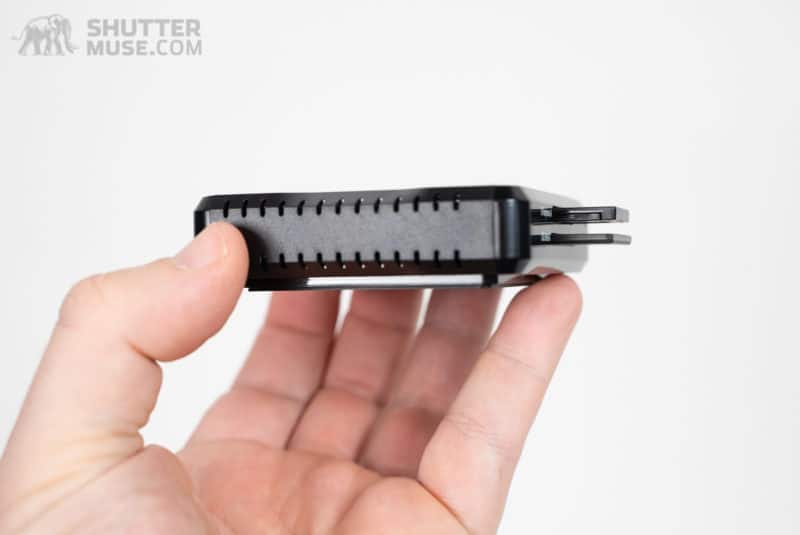 This card reader also matches the ProGrade card reader lineup, and that means it comes equipped with a magnetic base for quickly and securely stacking multiple card readers together on your desk. All of the ProGrade readers feature a USB-C port with USB 3.1 Gen 2 10Gbps protocol.
The reader also comes with a stick-on metal plate for your laptop, allowing you to quickly mount the reader to your screen to keep the workspace tidy. For those that often work on planes or in cramped media rooms, this is a handy feature.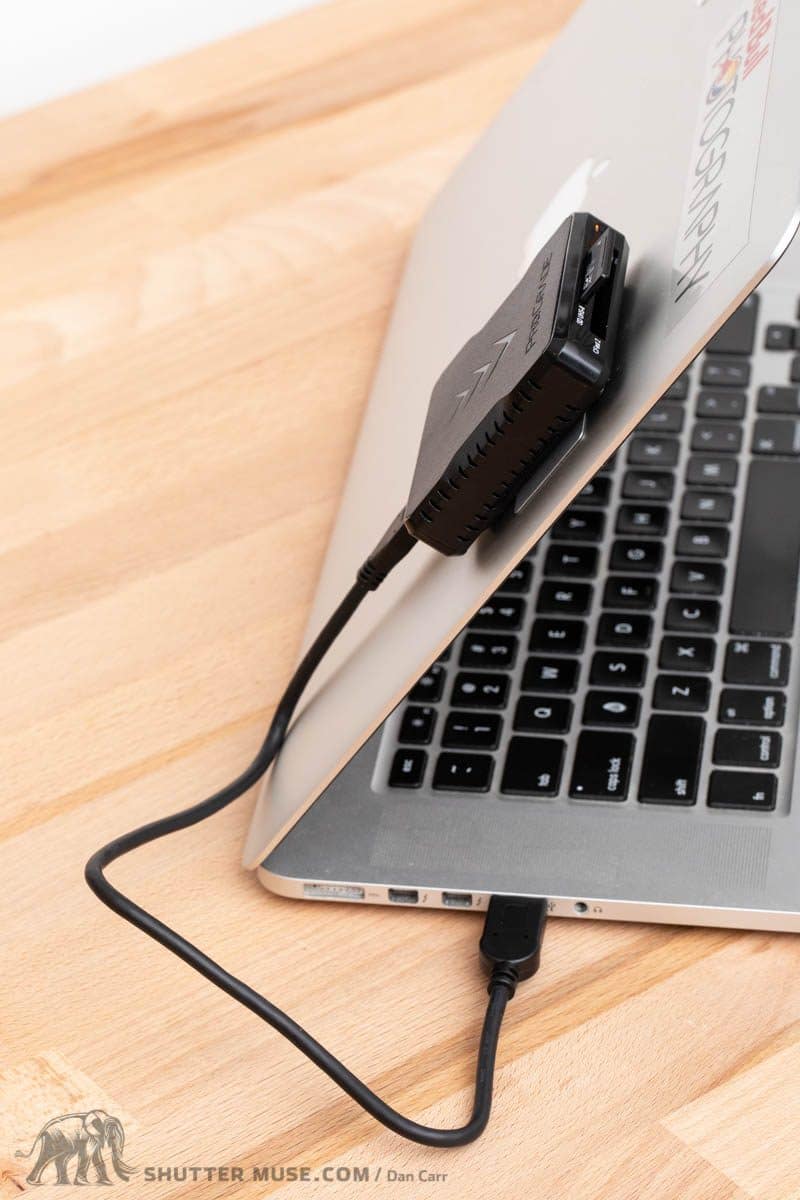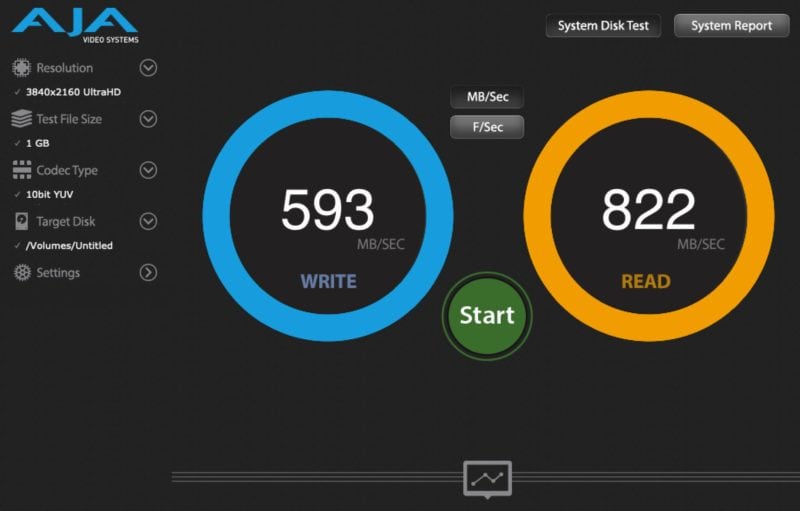 In my own speed tests, the ProGrade Digital CFexpress Type A reader consistently outperformed the Sony MRW-G2. I often saw speeds in excess of 820MB/s for read speeds, which is remarkable given that the Sony card I used for testing only claimed a max of 800MB/s. Repeated tests made it clear to me that the ProGrade Digital reader is much faster. This is an excellent result considering that it is quite a lot cheaper.
Conclusion
There isn't a lot of choice for CFexpress Type A card readers at the moment, but both choices are excellent products. Personally, I would give the edge to the ProGrade Digital reader because of its dual slots, the handy magnetic features, faster speeds and the not-insignificant $40 savings over the Sony MRW-G2 reader.